BTS21: More braking, less replacing
---
Remove the headache of brake defects with the Tru-Shu solution
With the release of Tru-Shu in 2019, many freight operators have taken up the opportunity to keep their fleet on the road by cutting maintenance costs and eliminating some common brake defects.
Do you want to join them? Reputable operators like Whiteline Transport, Stef's Transport, Matic Transport, Diamond Bros and many others are saving money and time, Tru-Shu manufacturer ASET Services says. TMC uses Tru-Shu as original equipment on a range of its axles and therefore passes on the benefits to its customers.
WHAT IS TRU-SHU?
For too long the industry has had to put up with brake shoes that twist out the side of the drum and need premature replacing. Excluding the cost of downtime, replacing one set of brakes is in excess of $1,000 – usually closer to $1,500 as drums will need replacing when this problem occurs, ASET Services says.
Although not all brakes will do this, the problem can happen on a new trailer on the first set of brakes. Braking capacity is reduced and the truck or trailer can become defective once the brake shoe is out of alignment. You only need one of your brakes to do this.
In addition to unnecessary replacement, the S-Cam can come loose as a result, smashing into the drum bolts and disintegrating them.
---
Click here for all your 2021 Brisbane Truck Show news and updates!
---
The team at ASET Services developed a solution now known as Tru-Shu – a patented, tested and engineer-approved solution to a decades-old problem and a simple-to-apply, one-off remedy.
For an outlay of a few hundred dollars per trailer, the problem is instantly eliminated, it explains. Not just reduced, but gone for good! Whenever brakes are replaced, the Tru-Shu will bolt back on with only the addition of new single-
use bolts.
ASET Services says that this will probably be the best return on investment decision you are ever likely to make! Consider the costs that will no longer occur:
• All too common, unnecessary brake shoe replacement
• Frustrating downtime
• Disruptive major defects
• Occasional major damage to brakes and axles from S-Cam detachment.
All this benefit for the price of a night out with the family.
Even if your brakes have started to twist out the side of the drum, the application of Tru-Shu will pull them back into alignment without the need for replacing the brake shoes or drums.
The shoes will bed back in and you will get maximum wear out of what is left. Putting off the decision is only costing you money, it states.
Don't wait until the problem has started. If you are familiar with this problem, you will know it is just around the corner. The best value is to add Tru-Shu from new or insist your new trailer comes with it as standard, ASET Services says. That way you will gain maximum usage and your brakes will be the best they can be.
Whether you have one truck or a fleet – savings are significant and the outlay is pocket money.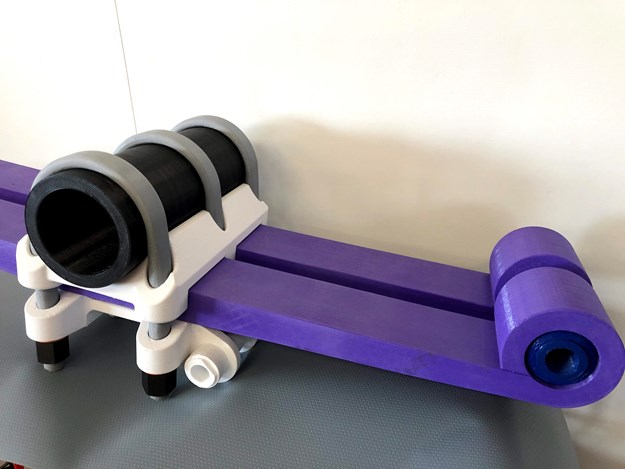 EVEN MORE TO COME
Ken, Gordon, Mitch and the rest of the team that brought you Tru-Shu have not been resting on their laurels. Buoyed by the benefits of Tru-Shu to the fleet at ASET Services and many others around the country, they have been working on a range of brake and axle products to save their own business time and money, and to pass that benefit on.
The brake shoe (currently in trial) is a changeover brake shoe incorporating the benefits of Tru-Shu – no twisting and constant even wear along with other benefits such as:
• Quick change – halve labour costs when changing brake shoes
• Eliminates the need to disturb sealed bearings
• Change over brake shoes available to cut costs and minimise waste.
The brake drum (currently in trial) is self-cleaning, which quickly eliminates water, brake shoe dust, grit and even gravel, maximising brake power and leading to longer-lasting brake components.
The axle (currently in development) aims to keep your trucks on the road and out of the maintenance shed. This is done by developing an axle that halves brake maintenance, minimises maintenance and keeps your mechanics free to really make improvements to your fleet.
Come and see how this is done on the stand, where ASET Services has a 3D printed working model of the R&D work on this project. Some of the benefits include:
• Lubrication improvements
• Components interchangeable with drive axles
• Modular components that allow maintenance without disturbing hubs and bearings
• Elimination of wear on some parts such as the axle thread
• Simplification of changing wheels and tyres.
Finally, a steel spring over air springs suspension is in development that aims to achieve easier maintenance and greater stability, combined with a softer ride and increased adjustability for aligning with loading docks.
Come and see these new products on the Mezzanine Level, stand 175.
Subscribe to our newsletter
Sign up to receive the Trade Earthmovers e-newsletter, digital magazine and other offers we choose to share with you straight to your inbox
You can also follow our updates by liking us on Facebook. 

Loaders For Hire | Dozers For Hire | Excavators For Hire | Forklifts For Hire | Machinery Attachments For Hire