A digger's tale – Ron Horner's life in earthmoving
---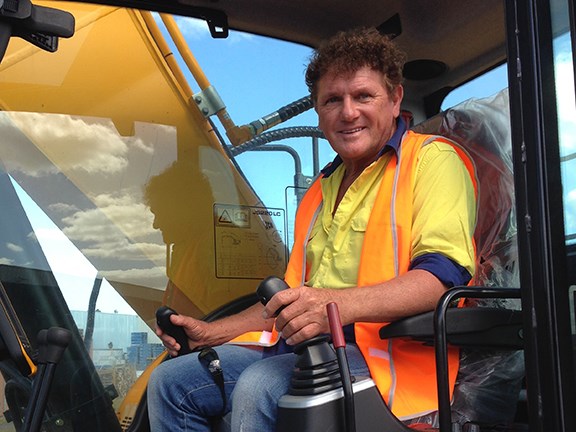 Ron Horner at the controls of a JCB JS220-LC excavator for an upcoming TradeEarthmovers review.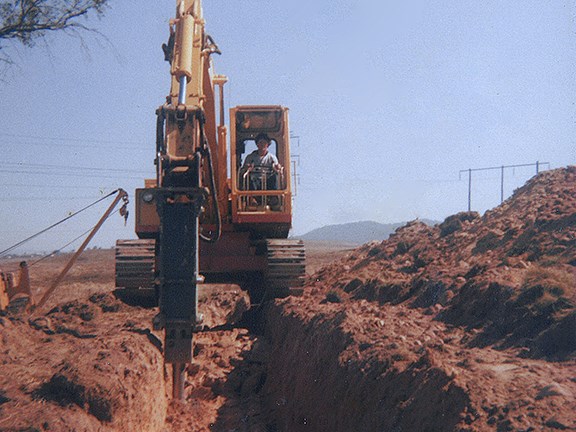 The first contracted pipeline Ron ever undertook was this water diversion line around Lake Lyell in Wallerawang, NSW in 1978.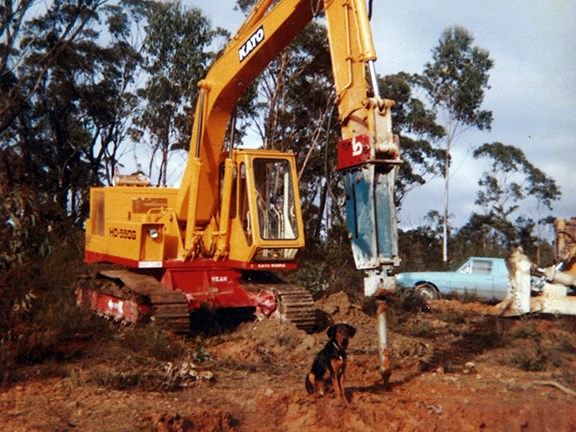 The first excavator (a Kato 550G) fitted with a hydraulic rock breaker (a Krupp 600) in Australia in 1976/77.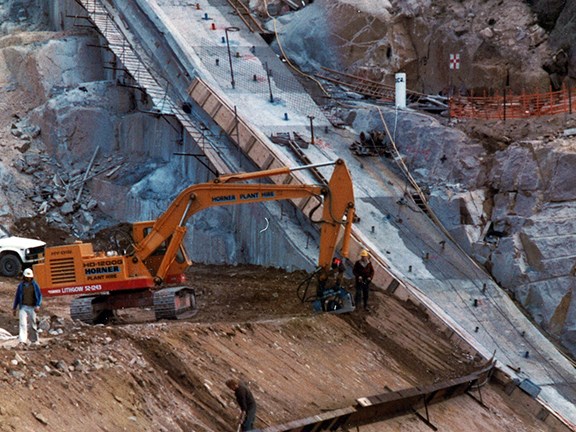 Hydraulic attachments started to come thick and fast during the 1980s. Here's a compactor plate on a Kato 1200 during the construction of the Lake Lyell dam wall in NSW (maybe 1979/'80).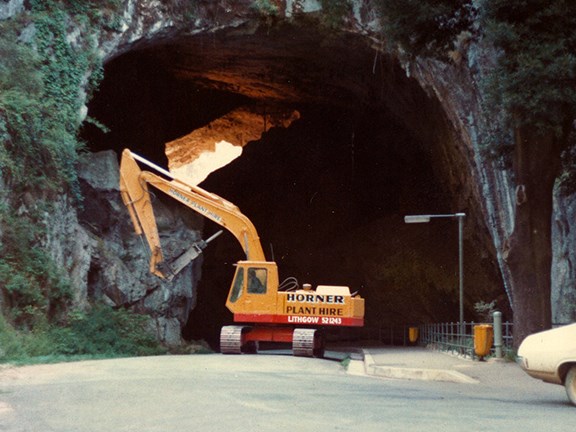 Detailed rock excavation in a sensitive ecological environment — Jenolan Caves, NSW.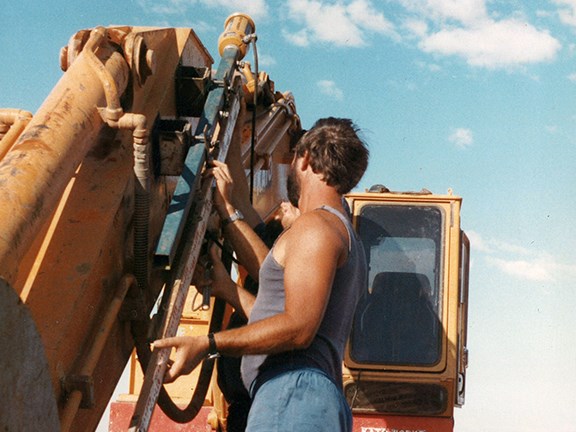 Installation of the first rotating grade laser to an excavator at Hillston, NSW, for use in the cotton development channels.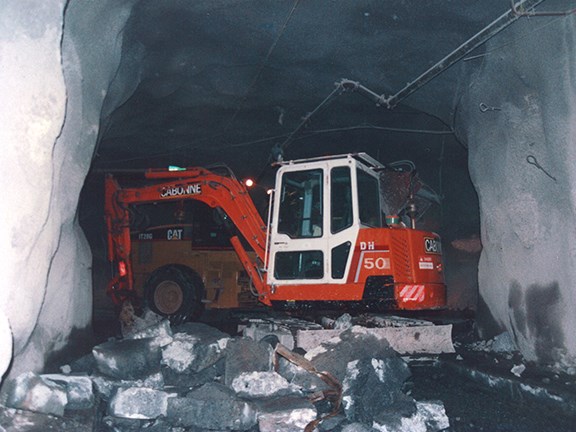 Maximum utilisation of excavators: when Ron took them underground, some stayed there for two years.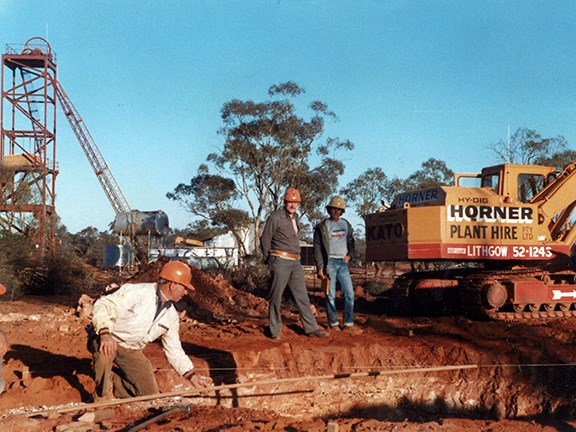 Excavation of the first 40 foot (12m) of the main shaft at Eloura Mine in Cobar for Allied Construction.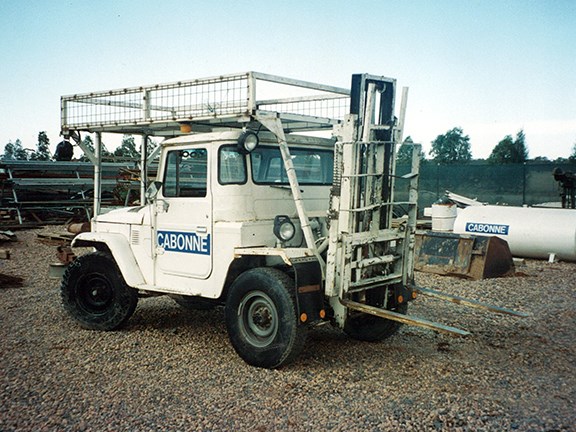 Always think outside of the box … underground Toyota forklift.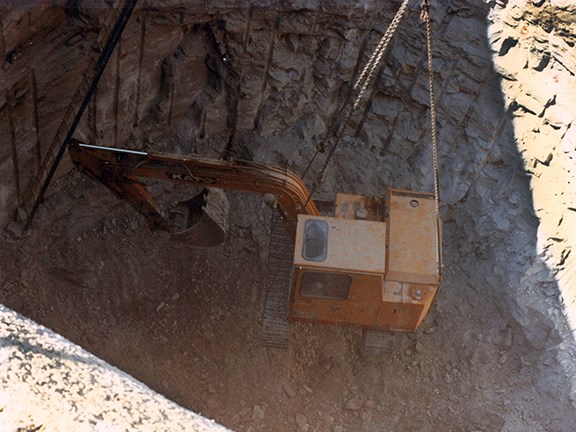 Shaft-sinking with a Kato 180G excavator for Jim Abignano in 1981/82.

Every time we catch up with our machinery reviewer Ron Horner he has some great tales to tell. So we thought we'd get him to tell the story of a lifelong fascination with excavators and the importance of hard work and 'having a go'.
This was an unbelievable learning curve for me as I was able to learn about all facets of  pipeline construction from front end to back end.
I transferred from the Clevelands headed up by Russell Tebbs and moved onto the excavators as I thought they could lead into something in mainstream work at the end of the pipeline project. I was in awe of them and often contemplated what work they were capable of other than digging ditches.
A few Victorians gave me all the training a 21-year-old guy could have ever wished for. Mick Callanan, Bob Ridley and Steve Parsons taught me the rights and wrongs and, after they discussed it with P J Hall, I was eventually elevated to run one of the Warner-Swasey HOPTO 700A excavators imported from the US specifically for this job.
 As we hit the run up to the Blue Mountains APC bought the first Kato 1500 to be brought into the country — at about 40 tonnes it was the largest digger on the job. I was fortunate to operate it for a lengthy stint when Mick Callanan, the permanent operator, had time off due to ill health.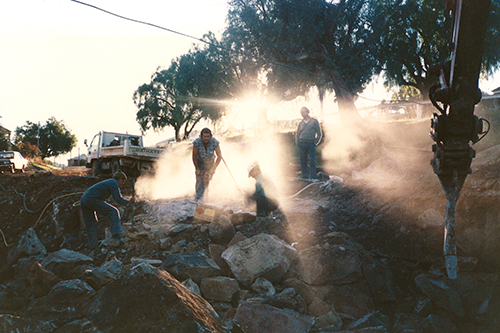 Prior to the introduction of hydraulic rock-breakers most detailed rock work excavation required intensive labour in drilling and blasting.
So what happened when the pipeline was finished?
At the end of the Moomba job I was taken by APC to work on the Melbourne to Albury gas pipeline. Another great learning and money-making experience was had before I headed north at the end of the project to start a short-term stint with Red Ru Pipelines at Oakey.
Unlike the industry today, the gas was always a hit and miss industry back then. It was in its infancy and one had to find alternate employment to fill in the gaps between contracts.
Working in Queensland was pretty good in those days so I settled in Toowoomba and worked in concrete wheat silo construction and civil works on the Darling Downs around Roma, Toowoomba, Dalby, Miles, Pittsworth and Millmerran, plus the courthouse in Toowoomba.
I started to get a bit homesick after a year or so and felt the need to get back home to see my parents so I packed up and went back to Wallerawang where I successfully started work on another extension of the old Wallerawang Power Station.
I secured work as a scraper, excavator and compactor operator before moving on to Western Gold (a large bulk coal handling and transportation company based at Lidsdale, NSW, which went into liquidation in the late '70s) as their loader operator, then for Jim Abignano on an old JCB, and then to Eric Newham (Wallerawang) as a multi-skilled plant operator.
Eric Newhams had an extensive array of heavy plant but my favourite was the excavators. However, the supervisors failed to take advantage of my passion and experience (not that many excavators around in those days) and kept me on the old D8s, loaders, dozers, backhoes and so on.
How did you get into contracting?
In late 1976 I heard that there was a major reconstruction programme listed to rebuild the Main Western Railway Line over the Blue Mountains, specifically lowering 6 kilometres of rail track into bedrock, through 10 tunnels near the old Zig Zag east of Lithgow. This was to enable the new double-decker electric trains to traverse this very dangerous and inaccessible portion of the line.
Being frustrated with Newhams by not being on excavators I headed up to see if I could get a job on this project as an excavator operator … only to find Eric Newhams had two 14-tonne Hitachis already working on the job.
I was gutted!
On the end of the dipper arms the Hitachis had air hammers with bull hoses attached to a fixed 6-inch airline which traversed the full length of the job, fed by a series of suitably positioned Gardner Denver 600cfm air compressors.
The thought of procuring my own machine had been on my  mind for some time and I had done considerable homework  on the pricing of  different sized  excavators and, believe it or not, a range of hydraulic rock-breakers which were due into the country.
I had secured pamphlets on the full Kato excavator range and Krupp hydraulic hammer range, and had carried those brochures with me for several months.
I knew I would meet with no luck as an operator with the management of Roberts Constructions (South Africa) and British Rail (the design engineers) so I spun them a yarn and told them I had an excavator and was contemplating fitting a hydraulic rock-breaker to it. I left the brochures with them to assess the possibility of getting some hire work and drove home to Wallerawang.
When I got home my mother came to see me and said that someone had rung to hire the excavator with the hammer.
"And what did you tell them?" I asked.
She replied: "I said you must have the wrong number as Ronnie doesn't own an excavator."
BLOODY HELL WOMAN!!!!
I quickly returned the  call and told them that my mother didn't know what I was doing in my life. We discussed the possible hire, Roberts agreed to a proposal and I spun another yarn stating that it would take at least a few weeks to have the hammer installed and to get it onto site.
No contract, no hand shake, just a phone call and some pamphlets. That's how business was done in those days.
Needless to say it was very hectic to gain finance, find a suitable machine to suit my very lean budget, view a hydraulic hammer for the very first time and arrange for it all to happen within a fortnight.
Burwell Plant Hire in Sydney had secured the rights to import Krupp hammers from Germany and had fitted them to a couple of backhoes for demonstration, but this was, to my knowledge, the very first excavator to have a hydraulic hammer fitted.
The year was 1976. I purchased a clapped-out chain-drive Kato 350G (ex Thiess), had it plumbed and a Krupp 200 hammer fitted, and it was delivered to the project within the allocated time frame.
I was put beside the Hitachis, but to my dismay the Krupp 200 was too small and light, the Kato was on its last legs and something had to be done immediately to resurrect my reputation.
In principal, we all agreed that the excavator with the hydraulic hammer was the way to go as it allowed full 360-degree slew, better access, less labour and significant cost reductions in the running of the 6km of airline.
I made an urgent phone call to Banbury Engineering, and ordered a new Kato 550G and a new Krupp 600 hammer for immediate delivery as replacement for the existing equipment.
Peter Calder of Banbury sold me my first of several KATO excavators. The service in those days was excellent and the deal was done without a hitch.
Well … that decision to secure another machine, and the confidence shown by the management of Roberts and British Rail certainly changed my life. It was the first excavator fitted with a hydraulic rock breaker in Australia, and the first excavator to work in a tunnel project. With 24-hours-a-day hire for 12 months, it laid a base for me to work on for many years to come.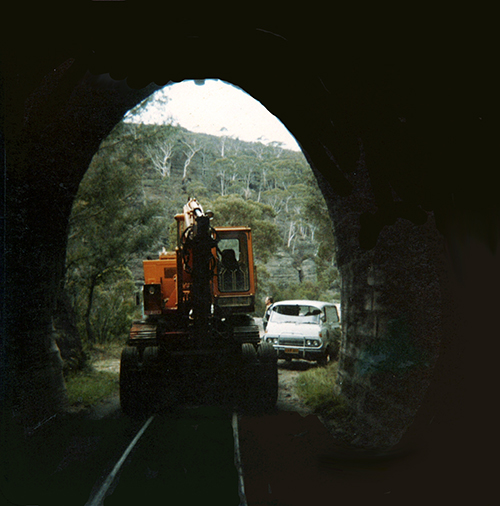 The Zig Zag tunnel project over the Blue Mountains in New South Wales in 1976/77 — part of the rebuilding of the Main Western Railway Line. The contractors were Roberts Constructions (South Africa) and British Rail.
How did you grow into a major contractor?
I have never, ever wanted a fleet of anything … I only ever wanted to operate an excavator for someone but could never get a job. The pipeline days had given me an unbelievable passion for operating excavators which to this day has never waned. I just love 'em.
That said, by 1980 I was one of the largest excavator and hydraulic hammer fleet owners in NSW. I was engaged as a demonstrator in NSW and Queensland for Kato (Banbury) and I also demonstrated for Krupp, who flew me to Germany for the Bauma fair in Munich.
Convincing local government and roads representatives that excavators were the way to go was always going to be difficult. They were so entrenched in the old dozer-loader-truck methods of moving dirt, especially in road cuttings, that it took several years for them to consider the change.
(Nowadays the first machine on site is an excavator and grader … go tell!)
The 1980s were pretty heady years with work pretty steady and opportunities to push the excavators to new levels and boundaries just there waiting for someone to have a go. I loved to challenge them and to expose them to different environments — I still push them to their limits.
Banbury Engineering was importing the Nissan N3 mini excavators but they could never sell as they were much too antiquated. In principal, though, the idea was good. So Banbury decided to import the first range of Kato mini excavators, the 180G.
I demonstrated the first of the Kato mini excavator range in Australia and promptly purchased the first Kato 180G conventional arm and the first articulated Kato 180G bought into the country.
I pushed them into many jobs and they were quickly and readily accepted into the market and workplace. Smaller than a backhoe, out-dig a backhoe, quicker than a backhoe … all prerequisites to win over the clients.
Kato (through Banbury Engineering) held an unbelievable 60 percent-plus excavator market share in those days.
The mini excavator came into its own when, in about 1981 I was asked to assist Jim Abignano (now Abigroup) in the construction of twin 20-foot (6m) diameter shafts 70 feet (21m) deep for the Shoalhaven Water Scheme out of Nowra.
From my recollection I was the first to put mini excavators into a shaft-sinking project where we would excavate the muck off the floors after blasting, load material into 5-cubic-metre kibble buckets and trim the walls of proud rock before being craned back out of the shaft and making way for the drill and blast team or concreting crews to be craned back down and commence work.
At about the same time I was engaged by Mick Callanan on a cotton irrigation channel project in Hillston, NSW. We set up what I believe was the first rotating grade laser ever fitted to an excavator.
I was engaged to dig 11km of trench, 2m wide, 2m deep with a gradient fall of 1 percent. The main trench was completed in seven days with a Kato 1200G, with 45-degree side slope battering completed by two 550G Katos. (This was in 1982.)
In the '80s I worked projects all over the state of NSW, including: jack-hammering rock for Canberra's new Parliament House; railway tunnel projects on the Ulan to Sandy Hollow line with White Industries; coal mine construction around Lithgow; main shaft excavation at Eloura Mine in Cobar with Allied; cotton development in Bourke, Hillston and Hay; water dams at Wallerawang with Thiess; Lithgow, Mudgee and Nowra with Abignano; pipelines in Sydney andNewcastle; Mt Piper power station with Roche Bros and Leighton; earthworks on the Expo in Brisbane; and numerous NSW local and state government projects.
Being involved with excavators has enabled me to meet so many good people, to generate a good income and to create a wealth of knowledge in a wide range of industries.
During the early '80s I had purchased basically the full range of Kato excavators and had several in the range of 180G, 550G, 750B, 850G and 1200G. I also had my own low loaders and floats as well as a couple of Volvo articulated dump trucks.
In the late '80s I worked on the F3 Freeway (now the M1 Pacific Motorway) construction with Abigroup, did some high-rise demolition and unit construction in Sydney with Harry Triguboff of Meritons, worked on the Lithgow Gaol construction and secured a contract at Manildra with Jack Honan for demolishing and rebuilding the Manildra Flour Mills.
Then, in 1993, I moved to Parkes, NSW, to secure work on the upcoming Northparkes block cave copper and gold mine.
At this time I had Kubota, Takeuchi and Komatsu machines, and I subcontracted the 35km water line from Parkes to the gold mine. Once onsite and over the next six years, I successfully won principal contracts both on the surface and underground and had about 100 personnel on the books.
I successfully took excavators of between 7 and 30 tonnes with hammers underground, and some stayed there for two years before coming out. 
My fleet expanded to over 35 pieces of equipment and, with a few years of mining under my belt, I successfully started drilling operations for limestone around Bogan Gate, purchased the former 'BHP Gold' London-Victoria gold mine in Parkes and also secured the Fort Bourke gypsum mine on the western side of the Darling River just outside Bourke in western NSW.
I developed the 'high tech' London Victoria Gold Mine site to grind up limestone, gypsum and other agriminerals. By modifying the Ball Mill, conveyors, overhead bins and crushing facilities we were able to develop a blended, fine-micron-sized bulk product for use in broadacre farming.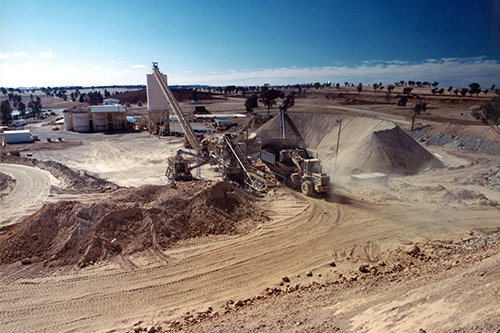 Ron bought the London Victoria Gold Mine and converted it into an agrimineral plant.
In the late '90s I also contracted trenched sections of the West Wyalong to Dubbo gas pipeline for Lucas (Komatsu/Cat), completed the civil components for the Scraper Stations on the Wagga Wagga to Wodonga gas pipeline, 3km of highway near Wagga for the NSW Roads and Traffic Authority, or RTA (now split between the Roads And Maritime Services and Transport For NSW) and numerous mining-related projects all over the state.
At the same time I was requested to send a crew down to the Eastern Distributor tunnel project in Sydney, where we specialised in detailed excavation in rock and also drilling thousands of down-holes.
I purchased a Tamrock 500 hydraulic drill and converted a Daewoo 5-tonne excavator into a hydraulic drilling rig. By fabricating the appropriate adaptor heads and installing hydraulic diverter lines, valves and switches we were able to supply enough oil for about 70 percent of full operation level on the drill.
The Daewoo was used as there was little headroom height in our work area. It was small and compact, wide enough not to impact on tunnel through-traffic and it was cheap enough to flick if it all failed. We also provided the contractor, MacDow, with several items of hired plant including a couple of new 420-3 loaders, skid-steers and other relevant underground items of equipment.
I suppose I've owned over 50 excavators during my life thus far.
What have you done apart from earthmoving?
During the '80s Paul Jones and I purchased Allan Moffatt's Chevy Monza, which was ex Daytona in the States. Banbury Engineering was approached to sponsor the race car and, to my recollection, was the first Australian based heavy machinery importer to be fully involved in a national race car as a sponsor.
Today, of course, we have Caterpillar and Komatsu, John Deere and a myriad other similar importers involved in the sport. Why, JCB have developed a 1000HP backhoe with a top speed of 180km/h.
Anyway, Allan Moffatt convinced us to go Touring Car racing and in 1982 I converted my road-going Mazda RX7 into a Group C Touring Car and we raced the Group C Endurance series at Oran Park, Sandown and the James Hardie 1000 at Bathurst in the same year.
In the early '80s I bought a pub in Lithgow, and when I was in Parkes we procured a couple of real-estate agencies. Later that decade I also bought a couple of florist shops in the Sydney suburb of Pennant Hills.
In 1998 I was engaged by Ford in Kentucky, USA, as the only independent Australian evaluator of the now famous F250 Ford truck range.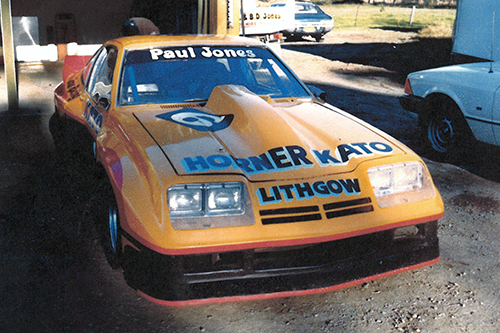 Banbury Engineering sponsored Ron's ex-Allan Moffatt Chevy Monza for two years from 1980-82.
And what are you up to now?
I suffered a severe work injury in early 2001 and relocated my family to Queensland. I now live in the southeast of the state on the farm, consult to the mining and pipeline industry in Western Australia and Queensland, still demonstrate excavators (having just completed demonstrating and reviewing a Heking floating excavator in Brisbane).
I am pleased to be associated with Bauer Trader Media's TradeEarthmovers.com.au website and Earthmovers and Excavators magazine, and I am hoping we can get some very interesting stories out to the boys in the field.
Subscribe to our newsletter
Sign up to receive the Trade Earthmovers e-newsletter, digital magazine and other offers we choose to share with you straight to your inbox
You can also follow our updates by liking us on Facebook. 

Loaders For Hire | Dozers For Hire | Excavators For Hire | Forklifts For Hire | Machinery Attachments For Hire