Sandvik looks back at 20 years with Northparkes Mines
---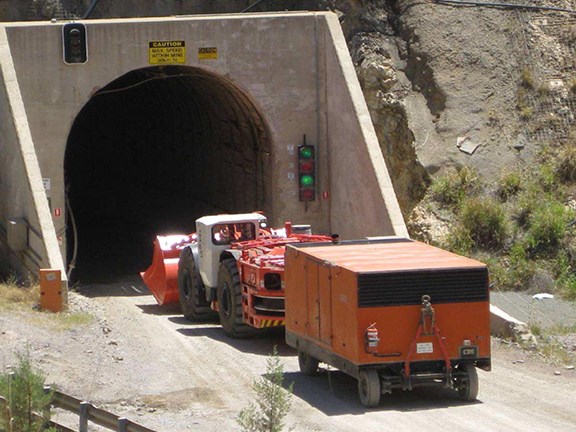 THEN: A Sandvik LH514E LHD with original genset enters Northparkes Mines.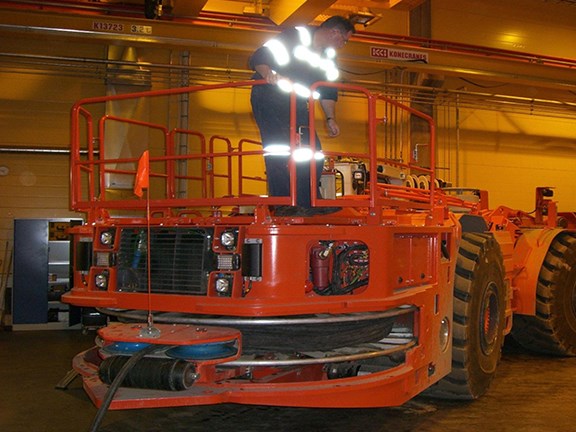 THEN: Servicing a Sandvik LH514E LHD at Northparkes Mines.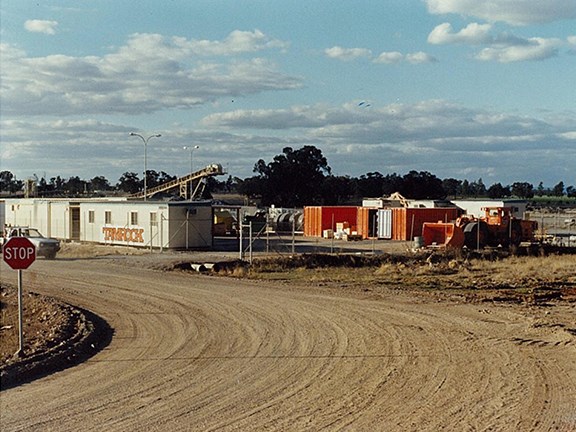 THEN: Northparkes Mines' Tamrock office in 1995.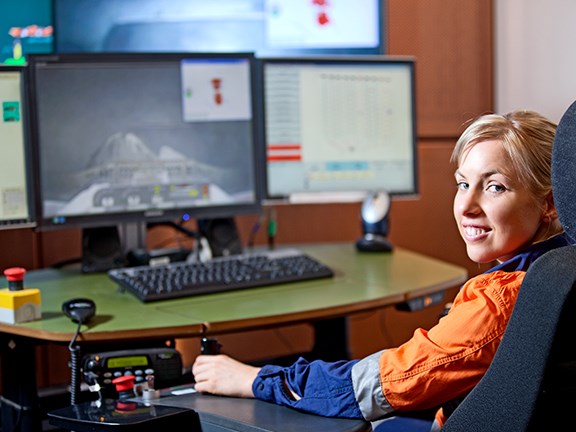 NOW: Northparks Mines technician Amanda Hartin.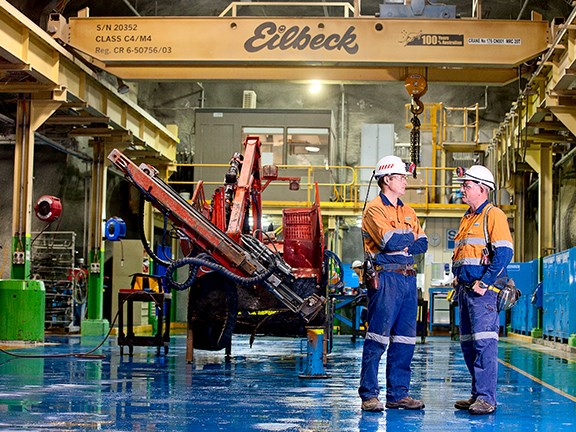 NOW: A Sandvik service bay at Northparkes Mines.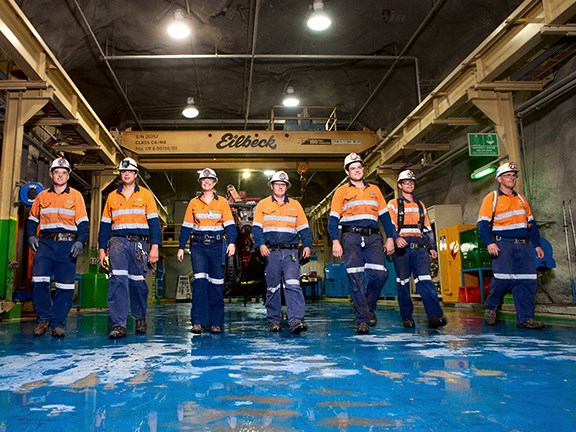 NOW: The Sandvik team at Northparkes Mines.

Sandvik Mining is celebrating the 20th anniversary of the Northparkes Mines copper/gold mine in the Central West of New South Wales by highlighting its own involvement in supplying and maintaining the mine's underground production equipment since 1994. Here's the story from the Sandvik team:
Where did you grow up?
I was very fortunate to have had a brilliant upbringing in the bush. I grew up in the Blue Mountains in a little place called Wallerawang near Lithgow in NSW. On leaving school I worked for the Post Office, starting in Wallerawang in 1968 and resigning in Cobar in 1971 after disagreeing with a decision to post me to Dubbo.
How did you get into the earthmoving industry?
Leaving the Post Office was the best thing that happened to me as I immediately started work with Cementation Thiess (Thiess Bros Australia and Cementation Canada) on the 3200-foot (975m) Chesney Shaft Sinking Project in Cobar. Presto!!! . .. I had broken into the mining and construction industry.
Not knowing how long this mining job would last I decided to continue with what turned out to be a very lengthy stint as a professional kangaroo shooter around Cobar, Ivanhoe, Wilcannia, Louth, Tilpa and Bourke.
My idyllic lifestyle came to a grinding halt when I got the Vietnam call up in '71/'72.  I left Cobar and went home to Wallerawang to spend some time with my family prior to deployment. However, Whitlam's Labor Government was appointed to office and subsequently cancelled all national conscription and bought everyone home from Vietnam.
I had been saved the anguish of war at the last minute but as I was only just married and now unemployed I had to find work.
 I immediately made contact with Thiess. Prior to leaving Cobar they informed me that they would be keen to keep me engaged should my circumstances change; fortunately they offered me a role on the Shell Oil Refinery at Clyde and then in their Sydney head office as a project clerk.
After that, it was on to work as a builder's labourer in the construction of the Wallerawang power station for Transfield  (earthworks and civil) and Reyrolle Parsons (boiler installation). It was with Transfield that I laid eyes on my very first excavator … an English-manufactured Hymac.
In those days the Builders Labourers Federation (BLF) were running rampant on all construction sites. With Jack Mundey at the helm there were some outlandish union claims and work became very scarce so I took a punt on gaining employment on the newly commenced Moomba to Sydney gas pipeline construction.
Who gave you your biggest break to get into the industry?
A mate of mine, Bobby Jakeman, and I drove out near Mount Hope in search of a crank up on the pipeline. We camped under a tarp for 10 days, ran out of food and lived on shot rabbits and handouts from the boys at the Australian Pipeline Construction (APC) camp some 3km up the road.
I used to drive into that camp every day at 5am and ask for a job, and was rejected every single time.
One day P J Hall, the Yankee ditch boss from APC called into my bush camp and offered me a job as a spotter on the Cleveland bucket wheel trenchers.  We stayed very firm friends for many years until he went back to the United States.
I could not believe my luck, took the role and worked 12 hours a day for the next six months by turning up to the office just before everyone was heading off on leave and offering my services to work through the breaks on the 'catch up crews' — the crews who were hastily put together to work through leave breaks to assist other crews who may have been a bit behind schedule.
Northparkes Mines is recognised globally as one of the most innovative and leading edge producers in the mining industry. The mine's drive to adapt the latest new technology into the underground production environment has been supported by Sandvik's own development of advanced automated mining products through to its advanced AutoMine autonomous load-haul-dump system used at the mine today.
Sandvik's involvement with Northparkes Mines, owned and operated at the time by North Ltd, began in October 1993, when construction started on its E26 underground block cave mine – Australia's first.
(Ron Horner, chief reviewer for TradeEarthmover.com.au, was also involved with the mine from the start, initially subcontracting the 35km water line from Parkes to the mine. You can read his story here. — Ed.)
Once production started, Sandvik supplied six Toro LH450E electric load-haul-dumps (LHDs), with the first of these going on site in mid-1996.
From its earliest days, the Northparkes mine was pioneering remote operation of equipment, with a number of trials conducted in the E26 Lift One and E26 Lift Two block caves.
These original remotely operated LHDs featured a CECAM on-board monitoring system, Nautilus Powercam tele-remote on-board operating system and a generator set used to transport the loaders from surface to underground. They were controlled by operator stations installed in the underground operations control room.
Other equipment supplied by Sandvik included two Tamrock secondary break drill rigs, which are still in service, and a 'high hang up' secondary break drill rig.
These machines were covered by a maintenance contract, including on site parts and a 10-person support crew to fully maintain the fleet.
At the time of their commissioning in 1996, Northparkes' electric tele-remote LHDs were unique in Australia, says Sandvik Mining account manager Gary Lyons, who was on site for three years from the initial machine delivery and commissioning in 1994.
"Northparkes has had a strong commitment to state-of-the-art technology right from the beginning," he says. "The initial program had just six loaders being used at a time, and the aim back then was to reach a planned 4.5 mtpa (metric tonnes per annum) production target, which required them to be handling 14,000 tonnes of material a day.
"We have also had a service and parts contracts at Northparkes Mines from the very start – and which has continued to this day. By the time those loaders were up to 30,000 hours, our service team had them running at lower hourly costs than when they were new," he adds.
Lyons says that despite the LHDs initially having tele-remote operating capability, it was still essentially a manual operation with a single operator controlling a single loader in real-time. 
Today, the mine runs a fleet of fully automated Sandvik AutoMine-controlled LHDs, with the option to take manual control if required.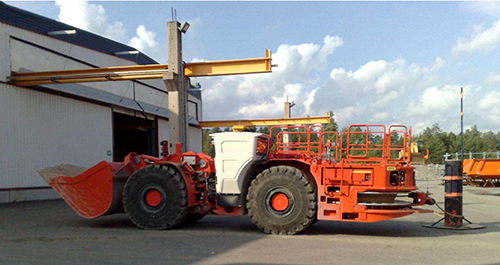 This AutoMine system controls Sandvik loaders in the mine's E48 block cave, consisting of 10 extraction drives with a total of 214 draw points. Seven Sandvik LHDs – six LH514Es (pictured above) and an LH514D – all fitted with AutoMine, allow for safe, autonomous operation from the surface control room
As operator input is only required for a brief portion of the production cycle (filling the LHD bucket at the drawpoint), each operator can control up to four autonomous LHDs. The loaders then tram autonomously with full buckets to the ROM bin, dump and return to the next designated draw point.
Sandvik's AutoMine system produces 80 percent of the Northparkes mine's underground production.
"We would like to congratulate Northparkes Mines on its remarkable achievements over the past 20 years," says Sandvik Australian country manager Rowan Melrose. "Sandvik is very proud to have been involved with the mine's underground operations since the earliest construction phase.
"This relationship has grown and developed over the past two decades, to the point where it is a world-renowned underground hard-rock mine using highly advanced automated mining technology.
"Over its life, Northparkes has pioneered a number of innovative mining techniques and systems, developing a reputation for being one of the safest and most productive underground hard rock mine operations anywhere in the world," Melrose adds. "We are delighted to have had on-going opportunities to play a part in its success over the past 20 years."
Besides Gary Lyons, two long-standing employees still with Sandvik, and who have been involved with Northparkes, are Paul Evans, now responsible for Sandvik Mining's national load  and haul product support, and who was involved in the original service contract at Northparkes, and Drew Zammitt, who was project manager at the time of the original contract and is currently Sandvik Mining's regional service centre manager.
"I doubt there is another mine like Northparkes anywhere in the world," Lyons says. "It's a pretty special place – and we have been privileged to be a part of its operations over the past 20 years."
Subscribe to our newsletter
Sign up to receive the Trade Earthmovers e-newsletter, digital magazine and other offers we choose to share with you straight to your inbox
You can also follow our updates by liking us on Facebook. 

Loaders For Hire | Dozers For Hire | Excavators For Hire | Forklifts For Hire | Machinery Attachments For Hire