The real deal – Bauma China 2014 roundup
---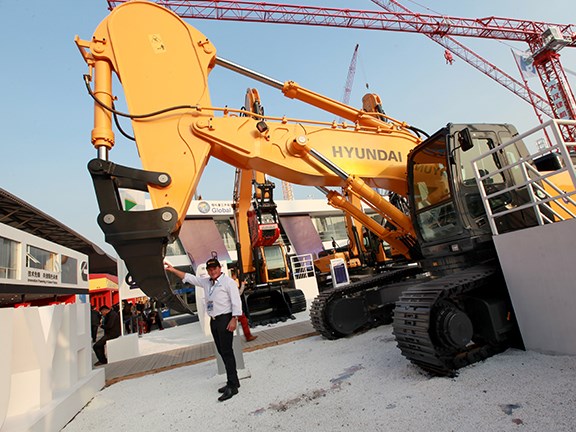 Bauma China 2014: Ron Horner checks out a newly designed ripper and rock dipper arm from Hyundai.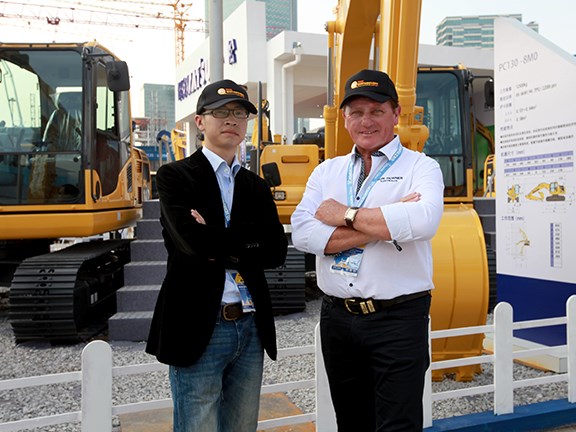 Bauma China 2014: Yang (Dicky) Hu and Ron Horner.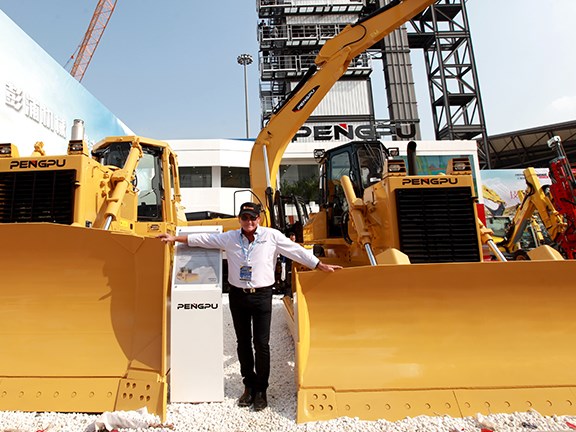 Bauma China 2014: A pair of Pengpu dozers.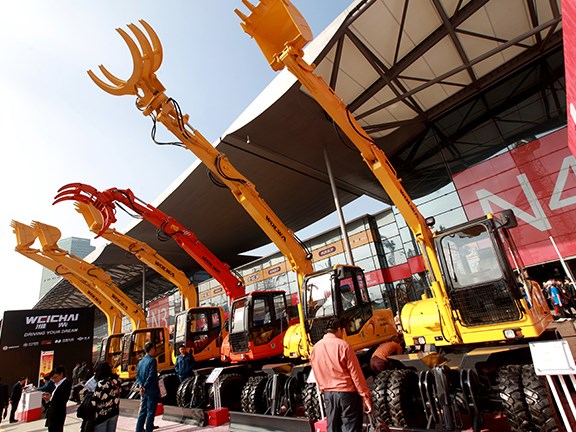 Bauma China 2014: Rubber-tyred excavators were big this year.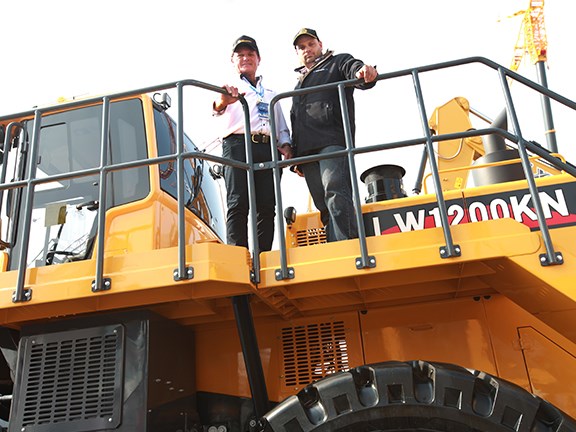 Bauma China 2014: Ron Horner and Ranger CE's Bernard Shapland on the XCMG 1200 loader.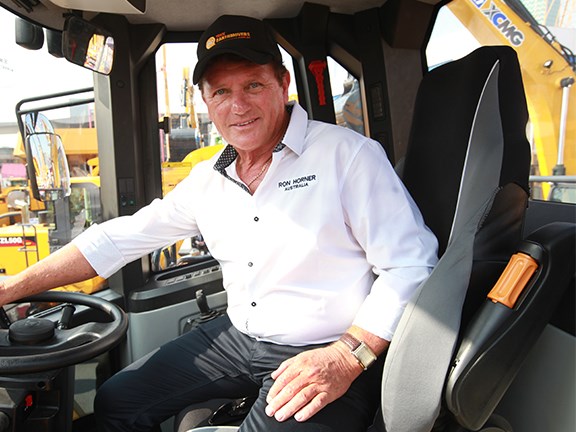 Bauma China 2014: Ron in the operator's seat of the XCMG 1200 loader.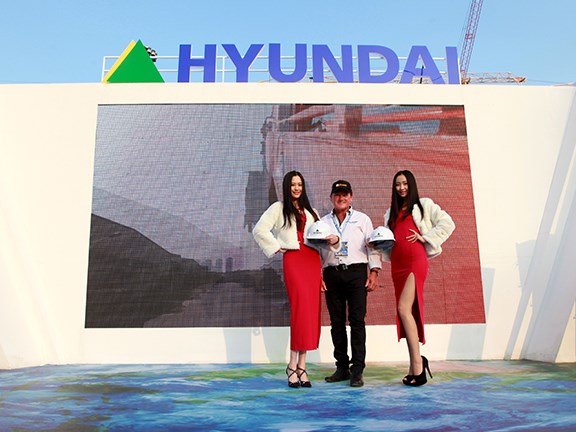 Bauma China 2014: Ron and the Hyundai girls.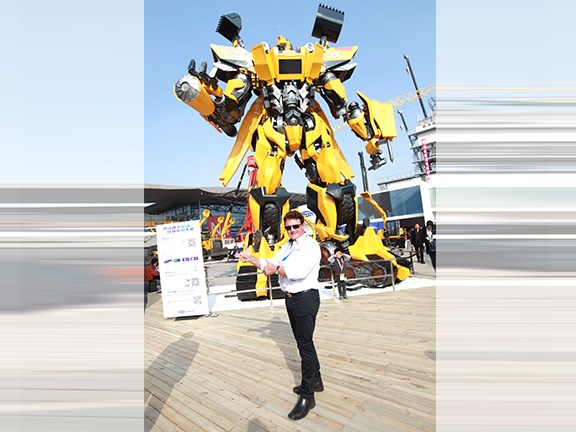 Bauma China 2014: What would a Chinese expo be without a giant Transformer?

Chief reviewer RON HORNER gives his thoughts on Bauma China 2014, a huge earthmoving and construction vehicles and equipment expo which attracted close to 200,000 visitors to Shanghai in late November.
I have just returned from Shanghai where I was so very fortunate to visit and report on Bauma China and to visit several of the major, and some minor, Chinese heavy machinery manufacturers.
I was accompanied by my good mate Yang (Dicky) Hu, who arranged a fantastic itinerary covering all the bases for a journo with little time to spare and even less understanding of the Chinese language. Over the coming months I hope to bring to you several great live interviews and stories I have secured on my visit to what has to be one of the most exciting countries I have ever visited.
November 25, 2014 — It all started with an early-morning 300km/h bullet train ride on the way to the expo before coming back to earth with a trip on the Shanghai Metro to get us into the show. I have never been one to frequent the dance floors but I quickly learned the 'Shanghai Shuffle' while tripping the Metro.
We had pre-registered for Bauma some time back so we thought we may have had a good chance to get in early. This was not to be; the popularity of the event was soon on show as we waited in the extremely long queues.
Bauma China is the largest and most important earthmoving and construction trade show in Asia, held every two years in Shanghai. In this, its 7th year, it attracted 3,104 exhibitors from all around the world. China was naturally the largest exhibitor, but there was also representation from Korea, Japan, Europe, Russia, India, Thailand, Taiwan, Indonesia, Great Britain, the US and even Australia.
Bauma ran for four days (I would need 14 days to get around everything of interest) and saw 191,000 visitors walk around the 300,000 square meters of exhibition space at the Shanghai New International Expo Centre. The world may be in the midst of a recession but you would never know it from the enthusiasm shown by both exhibitors and buyers … even on the gloomy and wet first day.
Quoting Li Fangyu, Volvo Construction Equipment's VP marketing China, "The show is not only a platform for product presentation but also a grand industry party for communication and cooperation for further growth. This trade show was very encouraging and gives us vitality, hope and spirit."
Chinese hospitality
Upon entering the main open exhibition arena I couldn't believe the number of items on display. Initially I was lost for words and then I was like a kid being let loose in a candy store. Let an old digger driver loose on 3,000 innovative and advanced technological displays … "Oh my god, I think I'm in heaven."
I quickly composed myself and realised that we had a job to do so we set out to find as many interesting and innovative sites as we could. The show was covered by all the major suppliers and numerous smaller exhibitors so I set our goals at securing access to, and one-on-one interviews with, as many exhibitors we could possibly handle.  One in particular I was keen to have a crack at was XCMG, the largest heavy machinery manufacturer in China and the 5th largest in the world.
We were lucky to get some great assistance from Bernard Shapland, general manager of Ranger CE (importers of XCMG equipment into WA and SA), who introduced us to Ren (Eric) Hua, the general manager of XCMG Oceania.
Eric was so generous with his time and knowledge that he insisted he be personally involved with all the interviews and display visits — and even opened the company's factories for me to visit while in China.
XCMG displayed the most exceptional hospitality with a 'no-holds-barred' approach.
"Ask me any question, Ron, and I will answer it," Eric said. "Request to see any machine, Ron, and I will arrange it. If you would like to visit any of our factories, Ron, I will make it happen."
And make it happen he did … Eric was true to his word and we have a great story and photos from Bauma, the XCMG loader factory (largest in the world) and the excavator factory to show you at a later date. Don't miss this one! 
Everything in one place
Excavators and loaders, dozers and cranes, crushers and hydraulic attachments for all types of equipment, robots and concrete pumps, buckets and wheel washers … if you couldn't find what you were looking for here at Bauma you must have had your beer goggles on!
Rubber-tyred excavators were very well represented this year, showing just what direction the Asian market is heading. In the conventional excavator market 12-tonne to 20-tonne machines were the most popular. Australia is one of only a few countries in the world where 30-tonne machines are still hot property.
Many stands had entertainment in some form or another. If not related to the skills of the demonstrator operators and equipment, it was music and dance set against the glorious Asian background and featuring glamorous Asian beauties.
There was even a gigantic Transformer-style robot on display, and I must admit that I found my way to it during the four-day event.
I was very pleased to see a good Australian contingent of exhibitors and visitors … in upcoming issues of Earthmovers & Excavators magazine we will have some good interviews with Atlas Engineering and how they have made the transition from an Australian-based company supplying a good quality item for the local market to a worldwide exporter … a great story.
I will give you the inside information onto why I think China is the 'Real Deal'. Previously viewed as an imitator, copycat or master of illusion, China has turned the corner and, using an old trotting analogy, is one out and one back as it heads up the straight and has a good tailwind … China is here in full force and other manufacturers in the world had better watch out.
Subscribe to our newsletter
Sign up to receive the Trade Earthmovers e-newsletter, digital magazine and other offers we choose to share with you straight to your inbox
You can also follow our updates by liking us on Facebook. 

Loaders For Hire | Dozers For Hire | Excavators For Hire | Forklifts For Hire | Machinery Attachments For Hire