New revenue ideas for your compact excavator
---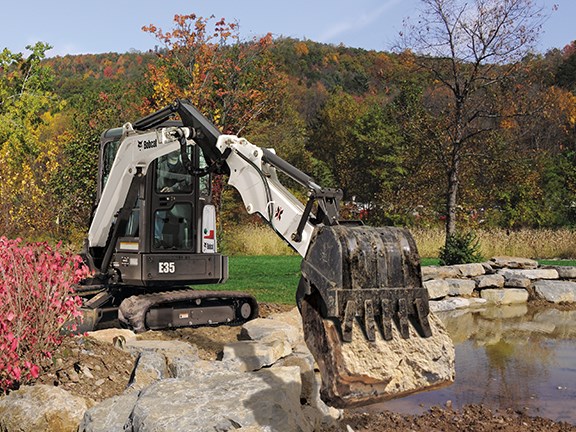 A Bobcat E35 compact excavator landscaping with an extended arm.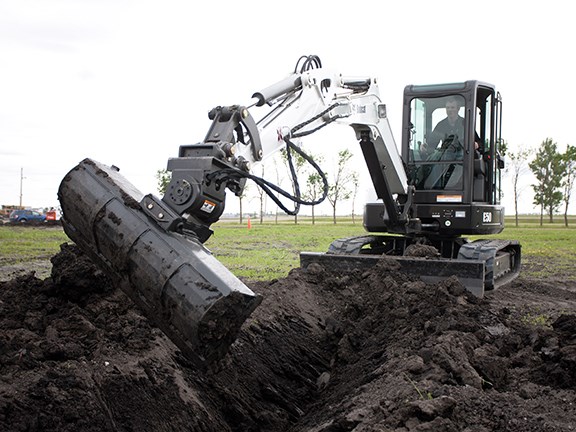 A Bobcat E50 compact excavator fitted with Hydra-Tilt and a grading bucket designed for tasks such as finish grading, cleaning ditches and back-filling.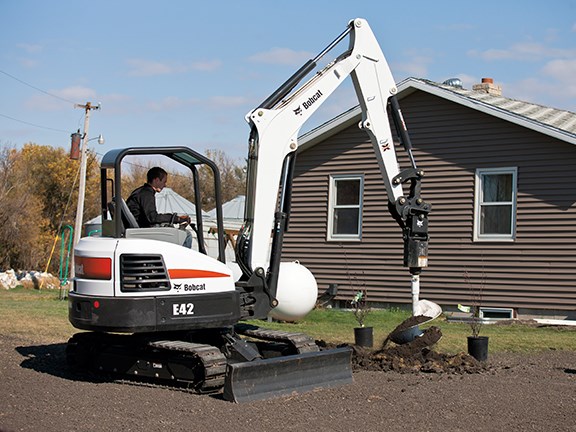 A Bobcat E42 compact excavator planting trees with an auger attachment.

Your compact excavator offers versatility far beyond digging jobs, writes Bobcat's TOM CONNOR. With the right attachments, you could bid on jobs you may not have previously considered. Here are four jobs you could perform with a compact excavator:
Hardscaping/landscaping
When recreating an outdoor environment, building an elaborate hardscape or constructing retaining walls, compact excavators with a three-tined grapple  paired with a clamp attachment provide the grasp and precision you need to load/unload and sort material or move vegetation.
Or combine the Pro Clamp System with a three-tine grapple for a perfect solution to handle landscape boulders or timber in the construction of waterfalls and ponds.


Park and recreation construction
The same machines and attachments you use to perform construction tasks for residential or commercial properties are also needed in parks and recreational facilities.
Buckets and grapples assist with: site prep; cleaning and clearing land; and building campsites, shelters and marinas. Clamps move broken concrete, logs, tree stumps, boulders and other odd-shaped objects — even old playground equipment.
A compact excavator's large footprint provides strong grading capabilities. Grading blades assist with rough or finish grading, backfilling and levelling in boat ramp and beach construction and reclamation, while grading buckets and tilt accessories can complement your efforts with their ability to cut swales and shape contours.


Trail development
Constructing and maintaining asphalt walking/biking trail systems and golf cart paths is tough to do with most machines, but is easier with a compact excavator equipped with a trenching bucket and grading blade.
With a ripper attachment, these machines can penetrate and scarify hard-packed ground.
Excavators are ideal for clearing, grading and applying fill material to prep pathways of about 1.5m wide with minimal disruption. They also provide the precision to chisel and sculpt sloped land, and the versatility to cut, grade and compact fill material.


Retaining wall construction and maintenance
With a growing emphasis on climate change and wet weather patterns, many urban and rural areas are seeing increased stress on dike and levee walls.
With a grading bucket and an extendable arm available on some compact excavators, walls can be reshaped by re-forming levy shelves. The soil can then be rolled downhill and sloped with a tilt accessory for improved mowing and spraying.
Likewise, these same features allow contractors to groom land prior to constructing large stone retaining walls along freeways and metropolitan roads.
The Bobcat compact excavator is built to handle as much versatility as you can throw at it with more standard equipment, including the quick-tach system, hoses and couplers, controls and clamp mounts. Check out the range of attachments available for your compact excavator. Who knows? Maybe you'll expand your business into new markets.
Tom Connor is an excavator product specialist with Bobcat Company, a compact equipment division of Doosan Infracore Construction Equipment America. Connor has more than two decades of compact equipment experience in product and attachment development, demonstration and training. He has a degree in agricultural mechanization and has been active in the Society of Automotive Engineers. Connor focuses on the core competencies of machine performance, operational efficiencies and market innovations. He specialises in the development of new generation excavators and the implementation of those concepts into product training and dealer instruction in North America.


Click here to find Bobcat excavators for sale.
Subscribe to our newsletter
Sign up to receive the Trade Earthmovers e-newsletter, digital magazine and other offers we choose to share with you straight to your inbox
You can also follow our updates by liking us on Facebook. 

Loaders For Hire | Dozers For Hire | Excavators For Hire | Forklifts For Hire | Machinery Attachments For Hire