Why China is the real deal – Part 2
---
Fresh from a trip to the Bauma China construction machinery and equipment trade fair and a number of factories around the country, chief reviewer RON HORNER expands on why he thinks China is now a force to be reckoned with in the earthmoving industry.
Bauma China's home city of Shanghai is one of the most architecturally aware cities in the world, where design boundaries have been thrown aside to create a strikingly beautiful city.
Here, as in other Chinese cities, you can witness life as it was three generations ago integrated with a thriving, 21st-century world power. The new generation of Chinese have grown with the change and have embraced both the old and new China; they are proud, articulate, knowledgeable, well-mannered and very well educated in both Chinese and western cultures.
These are people who have witnessed enormous changes in their culture and China's development over a 20-year period. This has helped them to develop a fierce determination not to slip back into a repressed society and will do anything in their power to succeed and create a business relationship with suitably endorsed foreign Investors/partners.
While travelling around China on assignment for TradeEarthmovers.com.au I witnessed a thriving country with unbelievable and, so far, sustainable growth.
Internally, China is undergoing enormous changes and construction is at the forefront. Massive infrastructure, building, construction, rail and road projects are underway at every turn. The 300km/h bullet trains traverse many areas of China and are prime examples of how far China has moved into the 21st century.
Old meets new at Bauma
I saw the old and new China in my travels and at the Bauma expo.
The Shanghai exhibition proved one of great interest where I could inspect and view the varied exhibits and displays. Immediately I could see that the design and technology of the equipment on display was not necessarily 'up there' on each and every stand.
Clearly displayed were a number of the older-style Chinese/Asian-designed machines which have their place in a safe market within the local industry. I found those machines of great interest as they showed that not all Chinese manufacturers intend to seek distributorships overseas, with some relatively content to supply the very buoyant local market.
The price suits the local contractors and they are familiar with the locally manufactured equipment — no inflated prices here for equipment designed to conform to the West's OH&S policies, just good old raw, local products with parts that are easily affordable, accessible and plentiful.
The Chinese contractors have developed relationships with the local manufacturers over many years and stick to the old adage, "If it ain't broke, don't fix it."
However, with that said, there is the other half of the story … the one I was sent to report, review and assess: Chinese and international manufacturers playing on the world stage.
Over 3000 overseas and Chinese exhibitors graced the stages at Bauma, with most competing for overseas markets and distributors. To make it on the world stage, especially during a worldwide economic downturn, you have to be prepared to provide a quality product in a price-driven market against ever increasing competition.
 I am pleased to say that every single one of the eight Chinese manufacturers I interviewed over a two-week period conformed to the above.
XCMG – big and getting bigger
For example let's take XCMG, which is China's largest, and the world's 5th-largest, heavy machinery manufacturer. It clearly has its eyes set on ranking among the world's best brands within the next five to 10 years. To accomplish this it will have to knock Komatsu, Cat, Hyundai or Hitachi from their positions. One hell of a difficult task one would think … well, not if you know XCMG.
The company has been designing and building equipment for over 50 years, engaged over many years under contract agreements to manufacture parts for the very majors they are now competing against.
XCMG has learned its trade by supplying to the local Chinese markets and from Western heavy machinery manufacturers taking advantage of China's cheap labour and inexpensive manufacturing industry.
Fast-forward some years and XCMG now operates the largest loader manufacturing plant in the world — one capable of building between 30,000 and 40,000 units per year. This is merely one of eight factories they have in the city of Xuzhou, located some 700km north of Shanghai.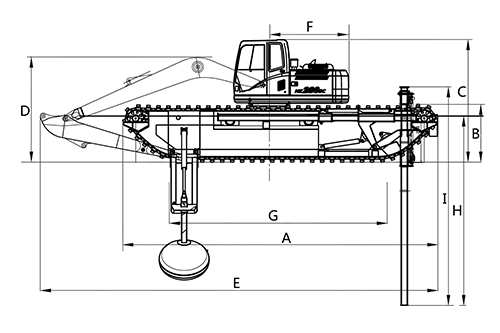 Heking – the other end of the scale
On the other end of the Chinese heavy machinery manufacturing scale I travelled to the city of Hefei to interview Anhui Hekuang Machinery Company CEO Hu Qiangui and visit the factory where they make Heking-brand floating excavators.
I took up a personal invitation from Mr Hu to inspect the factory at Hefei and, even though Heking is relatively small and at the opposite end of the manufacturing scale from the giant XCMG, the attitude from Heking was ever so typical of the Chinese manufacturers I interviewed.
All were extremely well mannered, caring and positive, with a professional approach, a desire to supply a quality competitive product and a passion to provide a service unequalled in the world.
While Heking builds a range of excavators and trucks for the local Chinese market, it has also created a niche worldwide market specialising in the construction of floating excavators, such as the one I reviewed for Earthmovers & Excavators magazine and TradeEarthmovers.com.au.
The company now exports to Australia, Britain, South Africa, Uzbekistan, Malaysia, Thailand, Indonesia, Canada, the United States and several South American countries.
The quality control, pride, craftsmanship and workmanship displayed by the workforce was clearly on show in the factory. The Heking engineers were keen to hear what an Australian contractor would like to see improved and how the company could improve its image and products should it secure a distributor Down Under.
I was so impressed with what I saw that I am preparing a story covering both XCMG and Heking.
Chinese pride
I am by nature a very inquisitive person and I needed to source interviews from a cross section of Chinese exporters, not just machinery. I asked my good friend Dicky Hu whether all Chinese exporters were this accommodating and, if so, would it be possible to arrange some meetings with a cross section of the Chinese business community.
Over the following week I visited a modular home manufacturer which supplies emergency and construction housing to nine countries, an engineering firm with six overseas clients, a landscaping design company with four overseas clients, and several electrical and high-tech IT-related exporters.
All those I met had the same willingness to show me through their business, spoke with pride and a passion to learn more of Australia, had ISO qualifications and inquired about what was required to attract Australian investors or distributors.
I also paid a visit to the booming city of Wuhan in central China. After leaving Shanghai and the coastal cities I was not sure of what to expect, and it was an eye-opener for me.
Wuhan has a population of 10 million people, and I was told that there are 10,000 major infrastructure and construction projects being undertaken on any one day across the city. I witnessed proof that when the Chinese decide to construct something they do so in one hell of a hurry.
I visited a brand new, fully paved pedestrian mall in the centre of Wuhan. Constructed in just 12 months, the 2km strip consists of both single and multi-story buildings, two five-star hotels, an opera house and a 3km canal off the Yangtse River.
Absolutely amazing … In Australia we couldn't even get approvals signed off in that time.
Final thoughts
History has a wonderful way of repeating itself. The days when Japan and Korea palmed off inferior materials and products to the western world have long been forgotten. Both countries have risen to become world leaders in the supply of machinery, motor vehicles, ships and high-tech products.
And China is in the process of doing the same.
After a frenetic two-week China visit, interviewing suppliers and manufacturers and witnessing first-hand the passion to provide a world-class product and service at a competitive price worldwide, I can only say this: Australia will not survive without China. We have to open our eyes to what is happening in Asia before it's too late as we can't afford to be left behind here.
China unquestionably is the real deal.
Subscribe to our newsletter
Sign up to receive the Trade Earthmovers e-newsletter, digital magazine and other offers we choose to share with you straight to your inbox
You can also follow our updates by liking us on Facebook. 

Loaders For Hire | Dozers For Hire | Excavators For Hire | Forklifts For Hire | Machinery Attachments For Hire