Factory visit: Thinking big at XCMG China
---
RON HORNER pays an eye-opening visit to three XCMG factories in the Chinese city of Xuzhou, including the world's largest wheel loader manufacturing plant
On my visit to the Bauma China expo in Shanghai late last year I interviewed several leading Chinese heavy machinery manufacturers with an eye to giving our readers some insight into how the industry was performing and to gain some inside information on their technology, design and quality control.
One of those companies was XCMG, the largest construction machinery manufacturer in China and the fifth- largest in the world.
Bernard Shapland, the general manager of Perth-based Ranger CE and the man who distributes XCMG machinery in Western Australia and South Australia, introduced me to XCMG Oceania manager Ren (Eric) Hua at the show.
Ren was so welcoming and courteous in our discussions that he not only gave freely of his very valuable time at Bauma but opened up the opportunity for me to visit any of the eight major XCMG manufacturing factories in the city of Xuzhou in Jiangsu province, a quick 700km, two-and-a-half-hour bullet train trip north of Shanghai.
I jumped at the chance, particularly when he advised me that XCMG had just opened the largest wheel loader manufacturing plant in the world, capable of producing between 30,000 and 40,000 units per year (that equates to 300 a month!). He also insisted I visit the XCMG excavator and crane factories in the same city.
Hu described XCMG as the most competitive and influential construction machinery conglomerate in China with the most complete product range including truck cranes, crawler cranes, compactors, wheel-loaders, backhoe loaders, telehandlers, cold planers, bulldozers, paver finishers, motor graders, excavators, soil stabilisers, concrete pump trucks, concrete and asphalt mixing plant, rotary and horizontal drilling rigs, railway equipment, aerial fire-fighting equipment, special dedicated vehicles, special chassis, heavy-duty trucks, hydraulic components, slewing bearings, drive axles and other engineering mechanical parts.
A 30,000-strong workforce produces products for local use and export to over 140 countries worldwide, including Australia and New Zealand.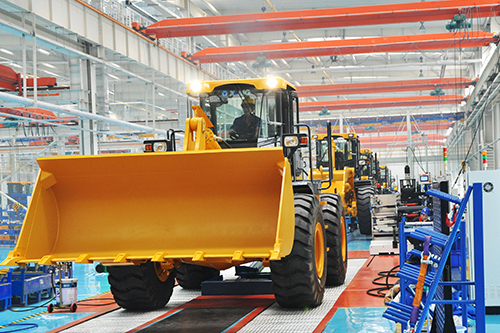 The wheel deal
The wheel loader factory is a state-of-the-art production complex and although photographs were kept closely under wraps I was fortunate to get some interesting shots during my visit.
While there we had the opportunity to look over the new range of wheel loaders. I was advised that XCMG is always looking at improving the functionality and quality of their machinery and works closely with its dealers and contractors to achieve this.
Ren told me that all design and modification suggestions — including those from Australia and New Zealand — had been taken on board by the XCMG technical advisors, with many now being incorporated into the new loader range.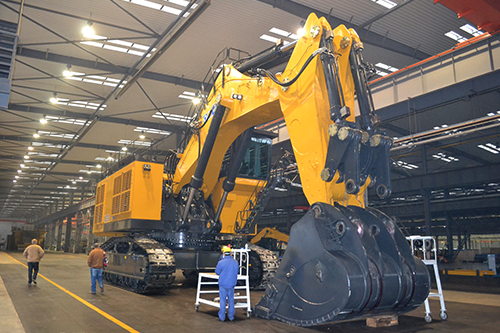 Excavator heaven
Next on the itinerary was the excavator plant, about 10km away. XCMG has been designing and building equipment since 1963, when it produced a truck-mounted crane for the Chinese armed forces. The same truck (pictured below) graces now stands outside the factory as a legacy to its first endeavours in manufacturing.
Being an 'old excavator tragic' from way back I was in my element. Excavators of all sizes, types and models lay before me in various modes of assembly. The production line was abuzz with activity and new models kept churning off the production line not unlike bread from the baker's oven. Absolutely awesome!
I was in my element at the excavator factory and regret not having had more time there. I would have requested another stay over and done it all over again, so interesting was the visit.
But I was also keen to inspect XCMG's crane manufacturing plant. (More to the truth, I was keen to get inside another factory as it was wet, windy and a horrible three degrees outside.)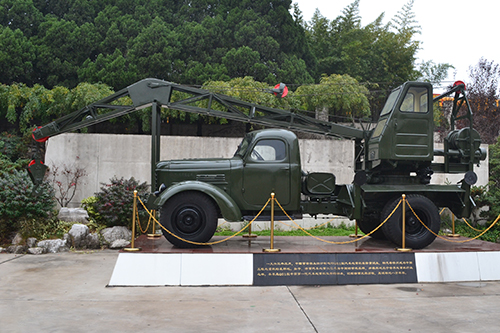 A head for heights
XCMG is now the largest crane manufacturer in China and one of the largest in the world. For many years, the company has been engaged under contract agreements to manufacture parts for the majors they now find themselves competing against. Now it's refined its manufacturing plants, quality and technology to become world leaders in its field.
At the crane factory I was booked for an inspection of the world's largest crawler crane — the 4000-tonne-capacity XGC88000. Regrettably this didn't eventuate, but I was fortunate to secure some brilliant photos and video footage of the crane in action on a major Chinese infrastructure project where the crane was engages to hoist a 1080-tonne tower in place.
I can only say this is awesome footage, and make sure you view it above. This won't just appeal to the crane buffs out there; if you are in the construction industry (or even if you are not) this is absolutely compulsory viewing.  
Australian expansion
XCMG, continuing with its global push, has recently opened up another distributorship in Australia. The company's Brisbane, Queensland, branch is operated by Luca Maggiolo and is located at Unit 110 Links Avenue South, Eagle Farm, It complements the Perth-based WA/SA branch operated by Bernard Shapland.
Ren Hua told me that the complex should be in its first stage of operation by the end of the first quarter of 2015, with a range of XCMG excavators on display.
Although the weather was absolutely abysmal, I came away from Xuzhou  with a warm feeling of satisfaction, knowing that many of the major Chinese heavy machinery manufacturers — and especially XCMG — are exuding innovation, foresight, vision and a passion to provide quality, reliable products at a competitive price.
As I reflect on my China experience, it has become so clear to me to see why XCMG has its sights set on becoming the world's No.3 heavy machinery manufacturer over the next few years.
I've said before that China is the real deal. I don't think so … I know so.
Click here to find KCMG heavy equipment for sale.
Click here to compare XCMG heavy equipment specifications.
Subscribe to our newsletter
Sign up to receive the Trade Earthmovers e-newsletter, digital magazine and other offers we choose to share with you straight to your inbox
You can also follow our updates by liking us on Facebook. 

Loaders For Hire | Dozers For Hire | Excavators For Hire | Forklifts For Hire | Machinery Attachments For Hire