Factory visit: Floating high with Heking excavators
---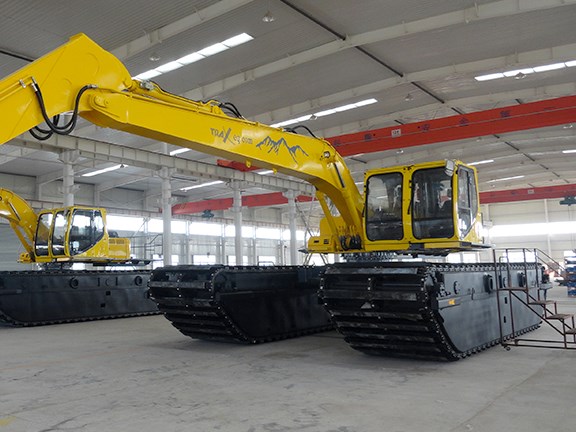 Dual operators' cabs fitted to a Heking floating excavator bound for the Canadian lakes.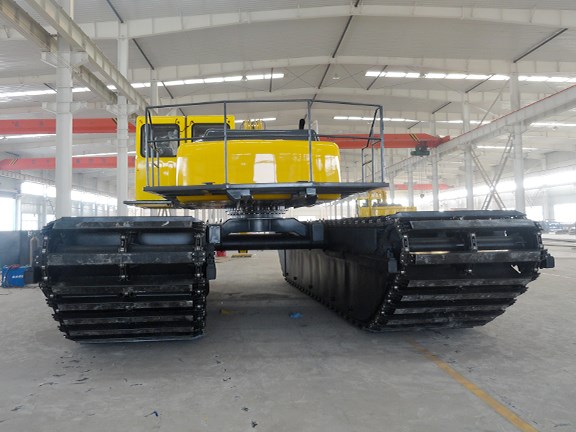 Safety handrails fitted to a Heking floating excavator as suggested by Ron Horner.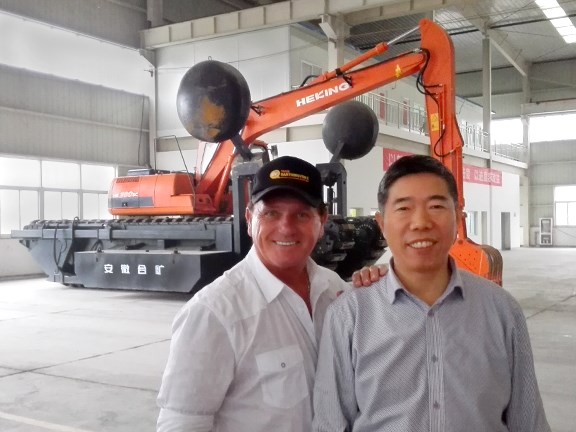 TradeEarthmovers.com.au reviewer Ron Horner and Anhui Hekuang Machinery (Heking) CEO Hu Qian Gui at the Heking factory in China.

RON HORNER heads to the eastern Chinese city of Hefei to check out the manufacturing facilities of Heking, an up-and-coming company specialising in floating excavators.
On a recent visit to China I had the opportunity of meeting Hu Qian Gui, the CEO of Anhui Hekuang Machinery  (Heking). Hu and I had been in regular contact last year after I had completed a TradeEarthmovers.com.au review on the only Heking floating excavator located in Australia.
The review was emailed to my very good mate in China, Yang (Dicky) Hu, and I asked him if he was ever close to the city of Hefei would he be kind enough to call in and give a copy to the design engineers at the Heking factory.
My review was forthright and honest and gave my opinion of the good and not so good points of the machine. After my Heking demonstration on a Clean Waterways Project for the Gold Coast Council in 2014, I became a firm believer in the potential of such a machine even though it had some issues.
I believed that if the factory could be made aware of those issues I felt required modification, it could become a very sought-after, near-mine-compliant item of plant just busting to get into a very niche market here in Australia.
The result of all this was an invitation from Hu Qian Gui to visit the Heking factory, an offer which I could not refuse.
My itinerary was pretty well booked solid by Dicky Hu, so after a visit to the XCMG factory in Xuzhou, Jiangsu province (which is another story altogether), I once again hopped on the bullet train and, after a few comfortable hours at 300km/h, I hit the manufacturing city of Hefei, in the eastern Chinese province of Anhui.
The warm, gracious greetings and fantastic hospitality extended from those at Heking more than made up for the fierce Chinese cold winter I was enduring, as the temperature desperately tried to hit a maximum of two degrees. (C'mon, I live in Queensland!)
Small but powerful
Not knowing on what scale Heking manufactured heavy machinery, I was interested to see that it was on the complete opposite end of the scale to XCMG in size.
XCMG is the largest construction machinery manufacturer in China, and Heking —although it manufactures various sized dump trucks, floating excavators and a full range of conventional excavators for local distribution —pushes out a small number of units in comparison.
However, Heking does manufacture something that I did not see at the XCMG factory — it specialises in the manufacture of a range of floating excavators, creating a niche market through innovative engineering and becoming one of the leaders in this field.
Heking has a good share of the Chinese market with its products, but it is through innovation and the competitive pricing structure of the floating excavator range that the company's products are now being eyed of the rest of the world.
Heking is now exporting to Australia, the United Kingdom, South Africa, Uzbekistan, Malaysia, Thailand, Indonesia, Canada, the United States and some South American countries, and supplies its floating pontoons, under contract, to a number of major companies.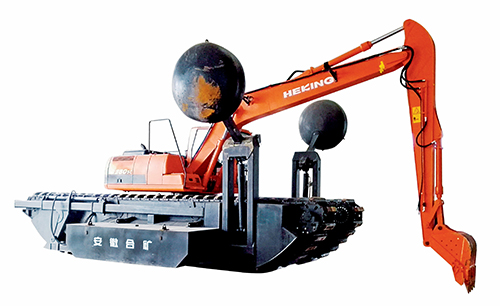 The new 28-tonne Heking HK280SC floating excavator with front outrigger pontoons, propeller, rear stabiliser jacks and half-size bolt-on buoyancy pontoons.
On the factory floor
The current Heking factory in Hefei is small and bursting at the seams, but during our meetings I was shown the plans of a massive new complex earmarked for the site over the next two years. Growth in China is still the envy of the Western world and, with floating excavator sales expected to increase, Heking is setting itself up for some quite heady times.
I was very happy and surprised to find that, of the 12 modifications I had suggested to make the Heking HK150SD a more compliant and useable machine for Australian conditions just a few months before, six had already been applied to the new range of floating excavators: factory-fitted handrails, fire extinguishers, E Stop, a redesign of the cab access, larger and more powerful hydraulic drive motors (there are four on the new model) and window tint.
Hu said the company assessed the review and the constructive criticism, agreed that the suggestions would make the floating excavator a better product suited to a worldwide market, and accepted the challenge.
He also said that other changes and modifications would be introduced as new models were brought into the market as it was Heking's aim to make the best possible product for the best possible price.
Keen for a swim
I was given a fantastic tour of the factory and was also invited to demonstrate the new 28-tonne Heking HK280SC floating excavator in the company lake.
This machine was fully equipped with front pontoon-based outriggers, fully hydraulic rear stabilising legs, bolt-on side buoyancy pontoons and a hydraulically operated propeller. Regretfully the weather was so poor I had no option but to decline the generous offer. 
I wish I could have obtained some video of this machine working as Heking has also designed hydraulic weed harvesting attachments and hydraulic pumping attachments.
Hu also showed me photographs of a specialised cabin design the engineers have fabricated and installed on a 30-tonne floating excavator for a Canadian client who required dual cabins — one for the operator and another for the relief operator, due to the long hours the operators have to endure and the difficult access conditions across the vast waterways in which the work is undertaken.
Whichever end of the heavy machinery market you look at, the Chinese players breaking onto the world's heavy machinery scene certainly do not lack innovation, initiative or passion, are most welcoming to suggestions on how to make a better quality product, are open to discussion and negotiation, and are manufacturing good products at very competitive prices.
 
Click here to find excavators for sale.
Click here to compare excavator specifications.
Subscribe to our newsletter
Sign up to receive the Trade Earthmovers e-newsletter, digital magazine and other offers we choose to share with you straight to your inbox
You can also follow our updates by liking us on Facebook. 

Loaders For Hire | Dozers For Hire | Excavators For Hire | Forklifts For Hire | Machinery Attachments For Hire