Case study: Toyota Huski 5SDK-8 skid steer loader
---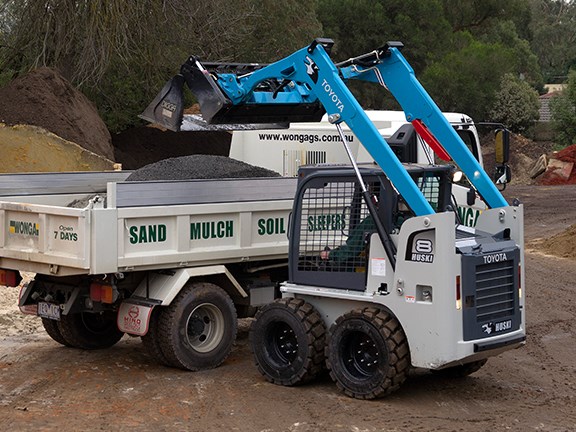 Wonga Garden and Building Supplies' new Toyota Huski 5SDK-8 skid steer loader.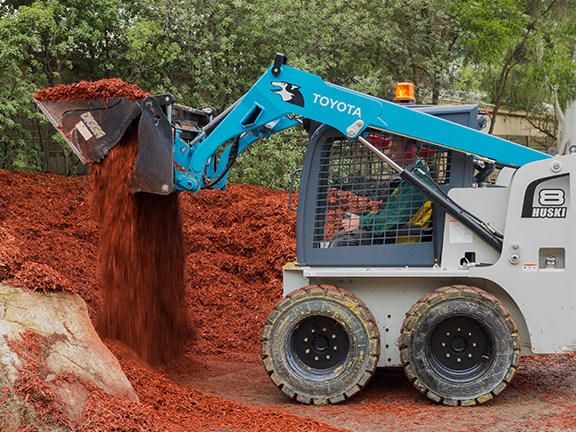 The 5SDK-8 skid steer can lift, load and shift a third of a cubic metre at a time.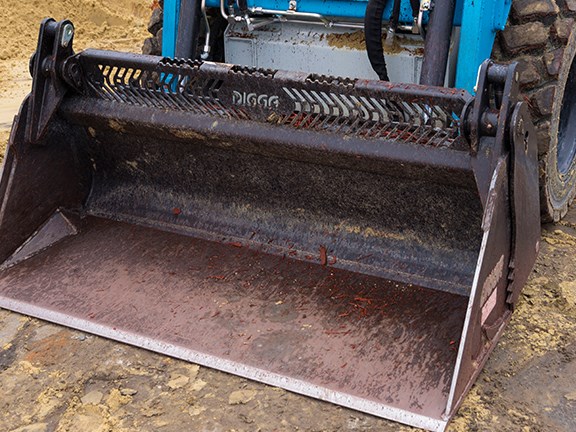 A bucket is standard, with a range of accessories available.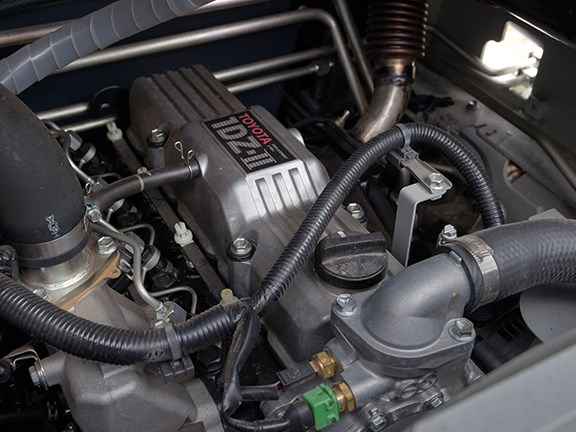 The Toyota iDZ-II is a 2.5-litre diesel that delivers 39kW at 2400rpm.

Wonga Garden and Building Supplies' new Toyota Huski 5SDK-8 skid-steer loader runs hard from dawn to dusk, shifting loads through tight spots without missing a beat, writes STEVE KEALY.
Although there's precious little connection these days between Toyota Material Handling and the maker of sensible, smart and well-engineered cars of the same name, they do share a couple of attributes: the  sensible, smart, well-engineered bit and also remarkable levels of customer loyalty. Drivers of Toyota cars and utes have one of the highest satisfaction ratings in the automotive world.
It could be argued that there's little room for sentiment in the cold, hard business of picking stuff up and shifting it about for a living, but that loyalty is borne of cold, hard business sense.
Although owners and operators are buying new Toyota equipment daily, a remarkable number of those buyers are already existing Toyota owners and operators.
From the company's point of view, this is more than just a comfortingly warm fuzzy feeling. Any business analyst will tell you it's easier — and cheaper — to sell to an existing client again than it is to create a new one.
For the users and the choosers of the equipment, continuing relationships aren't as important as knowing their machine will perform consistently, day after day, month after month, with only routine maintenance, no down-time and no unexpected nasty surprises.
The new Toyota Huski 5SDK-8 bought by brothers Russell and Craig Thompson, owners of Wonga Garden and Building Supplies in Victoria's Warranwood, is their third Toyota skid-steer. They ran each of their past machines for three or four years before trading in.
Their yard is compact, well-stocked and busy, offering a wide range of sands, soils, aggregates, scoria, pebbles and mulches, so the machine's seldom still for long.
This time they've opted for the 5SDK-8 — two up from the smallest machine in the Huski range. This choice was driven as much by physical size as its capability of lifting, loading and shifting a third of a cubic metre at a time.
It's a good size for loading clients' utes and trailers — which always seem to get parked in exactly the wrong place — and can also fill up the yard's own delivery vehicles swiftly. The yard also runs a heavier front-end loader, but it's now blowing a bit of smoke so a replacement's already on the way.
The Huski runs hard from the time the first tradie comes through the gate each day until the final DIY last-minuter leaves; it's driven by several different employees in all weathers, and the user who makes the Toyota dance the hardest steps is business co-owner and co-boss, Russell. He knows his machinery and he knows his yard, down the last millimetre.
With a band of operators, the Toyota skid-steer's cab needs to accommodate the long and the short and the tall, which it does just fine. The seat may appear small, but the fact is that no operator is in it for very long at a stretch.
With full FOPS, ROPS and cut-outs on the seat bar and a seat pressure-switch, the Huski looks after the man at the controls. Operation and brake switches must be released before the machine will move.
The Wonga machine has the standard glass rear window and a clear roof panel with mesh side protection: visibility over the job ahead is good and so long as the lifting arms are lowered, sideways vision is pretty good too. Helping this is the positioning of the instruments to the sides of the roof panel: visible, but not in the line of sight.
While regular servicing is handled by a Toyota Material Handling-trained mobile mechanic, routine maintenance extends as far as fluid level checks and a weekly greasing regime: there are 10 nipples and running a grease-gun over them takes a handful of minutes, plus a few more to blow through the radiators in dry and dusty conditions.
The rear engine bay cover opens up in seconds, while tilting the cab back for full access to the entire engine and hydraulic pump takes a couple of minutes and the application of a 17mm socket-spanner.
While the smaller 5SDK-5 uses a Yanmar engine, the DK-8 and its bigger brothers all use Toyota industrial diesel engines. In the case of the DK-8, that's a 2.5-litre, four-cylinder model that appears in several other Toyota applications and is well-proven, reliable and efficient. It's rated to deliver 39kW at 2400 rpm and 160Nm at 1600 rpm.
Dimensionally, the 5SDK-8 Huski skid-steer loader is compact at 1530mm wide across the four-way bucket, 1945mm high and 3095mm long, including the bucket; this means it can get into — and out of — tight spots. The hydrostatic transmission and low-effort control levers give finely controlled steering within the loader's own length.
And although the skid-steer loader is equipped with all the necessary lighting gear and indicators for on-road use, it seems relatively few are fitted with number-plates, perhaps thanks to the exorbitant licence and rego fees. At 2510kg, the machine could be towed on a trailer by a regular ute.
In fact, Russell and Craig's machine almost never leaves the yard and if it did, it would probably go up a pair of ramps and into one the trucks.
Although the Huski is supplied with a bucket as standard, there's a wide variety of accessories available through Toyota Material Handling branches. While some users specify a couple of extra tools, for most, the finely-controlled bucket is versatile enough for most working tasks.


Click here to find Toyota Huski skid steer loaders for sale.
Subscribe to our newsletter
Sign up to receive the Trade Earthmovers e-newsletter, digital magazine and other offers we choose to share with you straight to your inbox
You can also follow our updates by liking us on Facebook. 

Loaders For Hire | Dozers For Hire | Excavators For Hire | Forklifts For Hire | Machinery Attachments For Hire