Case study: Morgan Earthmoving and Topcon
---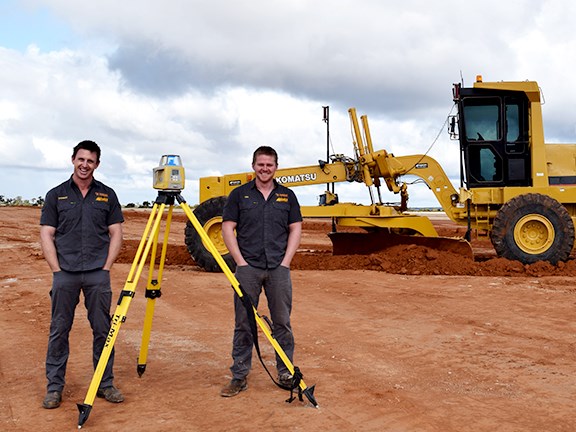 Morgan Earthmoving brothers Stewart (left) and Ashley Morgan with the Topcon System 5 automatic 2D machine control system. Stewart started the company with their brother Rob 16 years ago.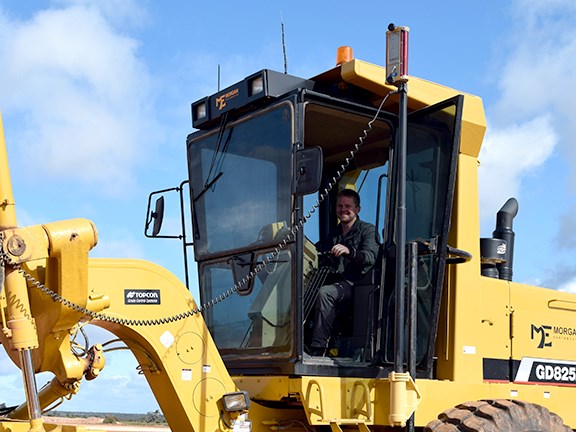 A Topcon LS-100 receiver mounted on a Komatsu GD825A motor grader.

South Australian contracting firm Morgan Earthmoving says it hasn't looked back since introducing Topcon automatic machine control five years ago.
Specialising in all forms of civil and agricultural earthmoving applications, including sub divisions, site preparation and road construction, Morgan Earthmoving has 15 years' industry experience and caters for clients throughout South Australia.    
Established 16 years ago by brothers Stewart and Rob Morgan, Morgan Earthmoving's recent projects include waste water dams for Mount Barker and Strathalbyn councils and, most recently, a considerable number of chicken farm sites throughout the state's southeast.
"Chicken farms have kept us busy for the past three to four years," Stewart says. "I have my pilot's licence and it's quite striking to see how many there are now when you fly over the region."
The company now has a fleet of earthmoving plant including 30-40 tonne scrapers, excavators, tip trucks and trailers, dozers, graders, vibrating rollers and water trucks.
Stewart says that since introducing Topcon automatic machine control five years ago, they are able to complete jobs faster and more efficiently.
"The operator doesn't have to make as many passes and the work is more accurate with machine control," he says. "Our company motto is 'get the job right the first time' and Topcon machine control certainly helps us to achieve that."
Auto operation
Morgan Earthmoving has Topcon's System 5 automatic 2D machine control systems installed on a Komatsu GD-825 and a Volvo 720 grader, with a third system soon to be installed on another Komatsu grader.
System 5 is an advanced, automated machine control solution that delivers consistent hydraulic response to the machine blade for smooth grading operation.
With slope capabilities of up to 100 percent, it is ideal for use in a wide range of applications including pads, railways, dams, commercial sites, sports grounds and bulk earthworks.
Combining a trackerjack laser receiver, sonic tracker, slope sensor and easy-to-operate control box mounted inside the cabin of the machine, the Topcon system automatically controls the blade of the machine to get to grade faster.
"Before investing in the automated system, we used the manual machine-mounted laser receivers," Stewart says. "We still use them on our scrapers and for other bulk work, but for fine tolerance grading you can't go past the automatic system.
"Our operators love it because they complete the work faster and more efficiently, plus it reduces fatigue because you don't have to follow the system manually."
Having never used a stringline to complete a project, Stewart says contractors need to embrace technology because the productivity and efficiency gains are too big to ignore.
"Before we got our automatic machine control we used the manual receivers, and before that we used dumpy levels and tape, but I've never used a stringline and I never would!" he says.
"By the time you've set up stringlines you could have just about finished the job. Plus there's the additional manual labour to set them up and take them down," Stewart adds. "The machine control system is so easy to use, you just hop in the cab, set it to auto and away you go. I can't understand why anyone would use stringlines nowadays."
In terms of accuracy, Stewart is proud to say that all their work falls within 10-20mm tolerances. 
"We get our lasers serviced and calibrated regularly at Position Partners' local branch in Adelaide to make sure they're always working in optimum condition," he says.
Morgan Earthworks uses a Topcon RL-200 dual grade laser across all applications on site, including bulk earthworks, grading, drainage and pipe work.
Position Partners describes the RL-200 as "a hard wearing, easy to use laser with slope capability up to 25 percent without slope blocks". It comes complete with a full-function remote control.
The receiving end
In addition to using the grade laser with the 2D automatic systems for grading applications, Morgan Earthmoving uses the laser with Topcon LS-100 machine-mounted receivers.
The LS-100 series is ideal for bulk earthworks applications for dozers, scrapers, excavators, backhoes and drag boxes.
"Featuring simple, secure mechanical mounting, 360 degree beam detection and adjustable on-grade accuracy, the LS-100 series helps users get to grade faster and more efficiently," Topcon says. "They are easy to swap between machines to give you flexibility for use throughout the project."
When asked why Morgan Earthmoving chose Topcon lasers and machine control, Stewart says, "I think if you find something that works, you stick with it. I've always used Topcon and found it to be a very reliable and easy-to-use brand, so I'm not going to change a good thing."
As the company has grown, so too has the need to complete jobs as efficiently as possible, he says.
"I wouldn't say that the machine control systems have helped us to win more work, but they have certainly helped us to deliver on larger, more complex projects and complete the work on schedule and on budget."
In terms of training employees on how to use the systems, Stewart says the systems are quite intuitive to use.
"The guys from Position Partners helped us initially with some on-site training but, to be honest, they are so easy to use that once you've got a basic understanding you can figure the rest as you go," he says.
Stewart adds that having local support from Topcon's Australian distributor, Position Partners, is important:
"It's great to have a local branch and the support of the team behind us if we need them," he says. "Although they sometimes get really busy, I've always found them to be very knowledgeable and quick to help us if we need support. I couldn't ask for anything more."


For more information contact Position Partners on 1300 867 266 or www.positionpartners.com.au

Subscribe to our newsletter
Sign up to receive the Trade Earthmovers e-newsletter, digital magazine and other offers we choose to share with you straight to your inbox
You can also follow our updates by liking us on Facebook. 

Loaders For Hire | Dozers For Hire | Excavators For Hire | Forklifts For Hire | Machinery Attachments For Hire