Ronnie's Road Trip: Andy and his Cat combo
---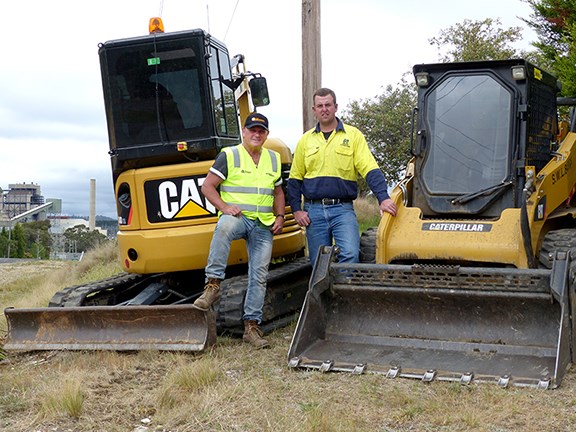 Ron Horner and Andy Sheather with the Cat excavator/skid steer combo and Wallerawang Power Station in the background.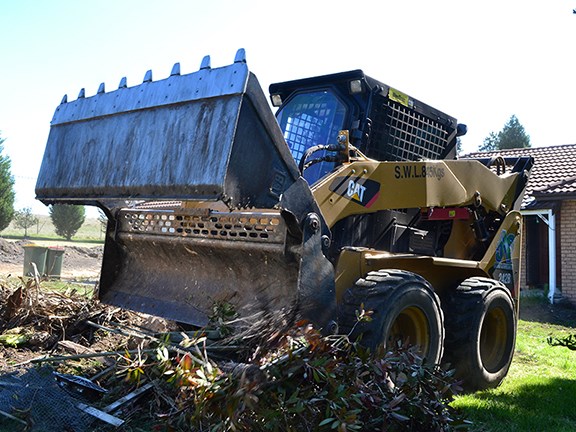 The Cat 242B skid steer loader in work mode.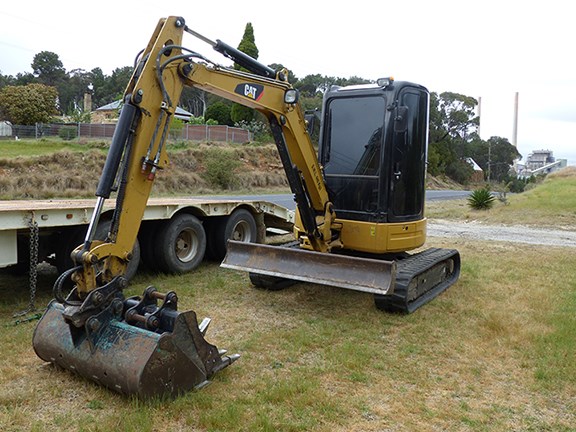 The 4-tonne Cat 304D-CR excavator's blade leaves much to be desired.

In the Ronnie's Road Trip series of articles, Ron Horner will be travelling the length and breadth of the country looking for interesting contractors and earthmoving equipment. In this story he's in the Blue Mountains of NSW, in the small village of Lidsdale, where he came across local contractor Andy Sheather working a house block with his Caterpillar excavator-skid-steer combo.

Andy Sheather was born and bred in the Lisdale, NSW, area and now runs a tidy earthmoving operation in the region.
His fleet consists totally of Caterpillar equipment including graders, excavators, rollers, trucks, tippers and trailers. However his personal favourite is the Cat combo — a 304D-CR mini excavator paired with a Cat 242B Series 3 skid steer loader.
Both machines have close to 1000 hours on the clock, have provided a trouble-free run and are more than adequately serviced by Westrac out of Bathurst some 40km away.
With the now defunct Wallerawang Power Station as a backdrop, we met up with Andy while he was engaged in some small shed demolition, vegetation clearing, material removal landscaping on a one-acre house block just outside of Wallerawang.
Although Andy has several employees working his equipment on other projects, he has a liking for the combo and, when possible, gets his bum in the seats of both the 4-tonne 304D-CR excavator and the 3-tonne 242B-3 skid steer.
These two items of plant proved to be ideally suited to the job when working in tandem. Andy used the excavator to clear the taller and thicker vegetation out of the corner of the boundary lines and also to demolish the sheds.
Once the trees and overgrown vegetation was removed the sheds were pulled to the ground and some of the larger items broken into sizes more suitable for the skid steer to handle. The skid steer with its 4-in-1 bucket could pick up the material and load a 10m tipper for off-site removal.
This approach kept the site clean and safe, and using one very competent machine operator ensured minimal cost to the client. Carefully choosing the equipment for the job made sure this project worked safely, efficiently and cost-effectively … all prerequisites for a good contractor like Andy.
Hands-on
I was able to get a chance to get an hour or so operating the gear while I was on site and I was impressed, to say the least. I have never owned a combo as such, but I can see how so many owner-operators in Australia have started their businesses like this.
To run the two machines in tandem is a very efficient method of moving dirt on a smaller scale, and the truck can be utilised as a tipper or to haul a tag-a-long float.
I found the Cat 242B Series 3 skid steer loader to be a powerful and speedy workhorse as it shouldered most of the work on site.
The sealed cabin, good vision and operator-friendly controls and control panels made the transition quite easy and my time on the machine proved to be rather productive, notwithstanding my dislike for operating skid steers (my old age and body shape are not conducive to skid steers, regretfully).
The Cat has all the standard mod cons to make the operators' life easy with radio, air conditioning, 2-way and emergency stops all within easy reach.
To make it easier on me the site was quite level and well grassed, and traveling when loaded or empty was not an issue. The dumping height to access the tipper was no problem and the little Cat loader came out with a tick in lots of boxes from me.
Dig this
Anyone who reads my columns will be aware that I have a liking for all excavators. Colour, creed, make, country of origin and size do not faze me as they are all equal … it's just that "some may be more equal than others".
I eventually got to take control of the 304D-CR mini excavator as we pulled vegetation into stockpiles and then demolished the sheds. The zero tail swing proved to be perfect for tight spots
The cabin on this little Cat is great. For a small machine, its operator comfort is good and all round vision is perfect. There is a lot squeezed into the cab, and all the bases are covered with air-con, radio, excellent gauges and monitor visuals, auxiliary attachment control, blade control, 2-way radio, dark window tint and emergency stops.
This was the first time I'd operated a rubber-tracked version of a 4-tonne machine. It lost traction under wet and slippery conditions but not to a point where it cost productivity in any way.
I did find that the machine needed to have the blade engaged on the ground while operating because, in my opinion, it was just not grounded and balanced enough to push the boundaries too far. Once firmly engaged on the ground the machine performed admirably.
I have owned a couple of steel-tracked 4-tonners fitted with blades and I can only presume that the design of the blade on the 304D-CR is to keep the overall dimension of the machine to a minimum.
While it is extremely well constructed, it's not positioned for production pushing. In my opinion it's set a touch too close to the cabin to be able to see it well.
Excavators are under-rated when it comes to pushing material with a blade, and it seems the designers are somewhat reluctant to push the boundaries.
When pushing material a small, badly positioned blade allows dirt and materials to rise up over the blade and spill under the tracks. When this happens the operator has immediately lost his level as his tracks travel over the spillage.
This becomes very frustrating and mostly leads to the operator having to trim the area with his trimming bucket. This is neither efficient nor cost-effective. However, in this case the skid steer could take control in that department.
After taking the blade issues into account I found that the Cat excavator performed well overall. The machine is very quiet, fuel-efficient, operator-friendly and comfortable.
Ease of maintenance is a big factor and this machine is right up there with the best on this. The swing-out, rounded rear door for engine access is a beauty, with the dip stick, fuel filters, oil drainage points and engine all easily accessed.
Similarly, the rounded door on the right hand side gives easy access to the hydraulics and gives the machine an appealing look.
As with all Cat gear the greasing points on this machine have been well defined and easy to reach.
This CAT 304D-CR excavator and 242B Series 3 skid steer loader combo ticked a lot of boxes with me, and with young guys like Andy Sheather working through the ranks you can bet that the Australian earthmoving industry is in more than capable hands.
Subscribe to our newsletter
Sign up to receive the Trade Earthmovers e-newsletter, digital magazine and other offers we choose to share with you straight to your inbox
You can also follow our updates by liking us on Facebook. 

Loaders For Hire | Dozers For Hire | Excavators For Hire | Forklifts For Hire | Machinery Attachments For Hire