Ronnie's Road Trip: Hanoi style
---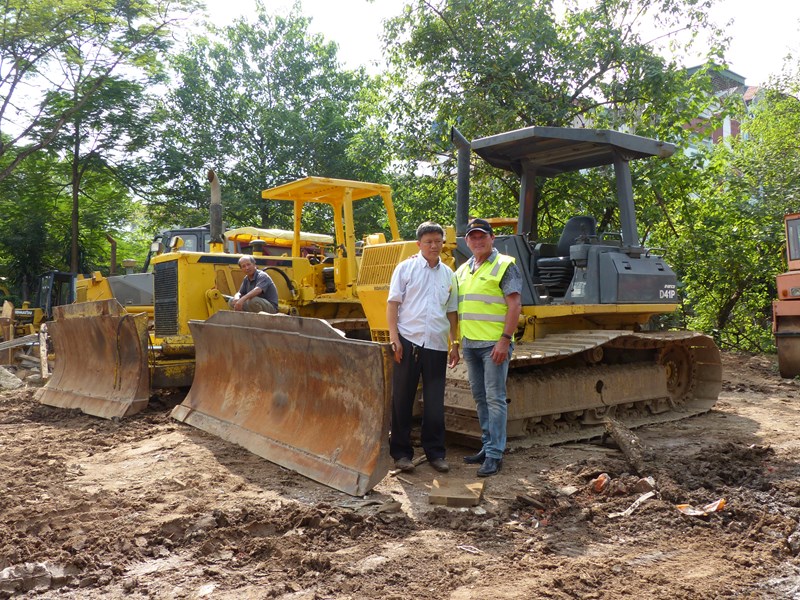 Le Van Dinh, the owner of the used machinery yard in Hanoi with Ron Horner.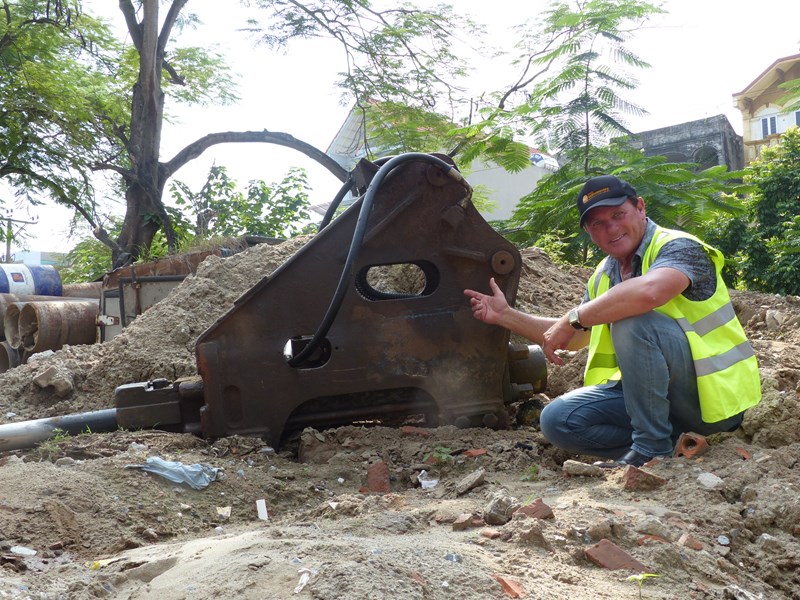 The Hydraulic Rockbreaker with the typical Asian style side-mount adaptor plates.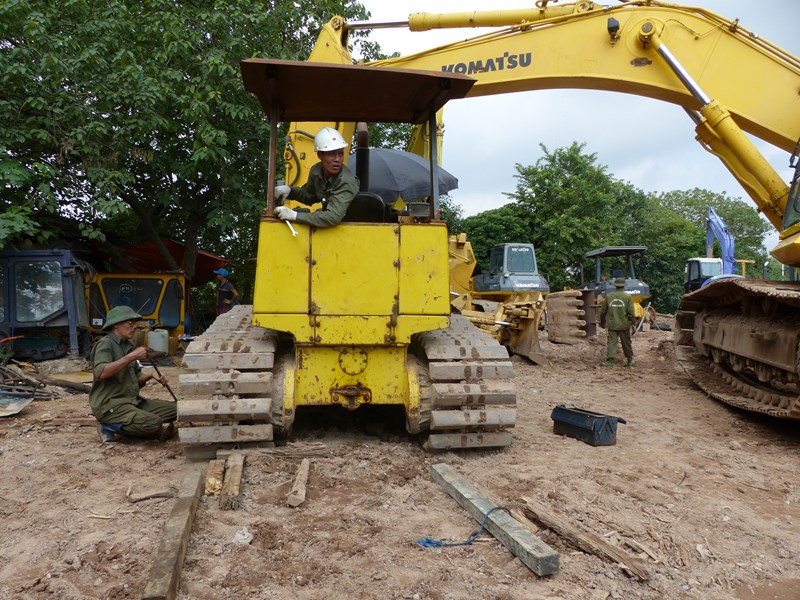 The machinery yard is open to the elements without cover or hardstand.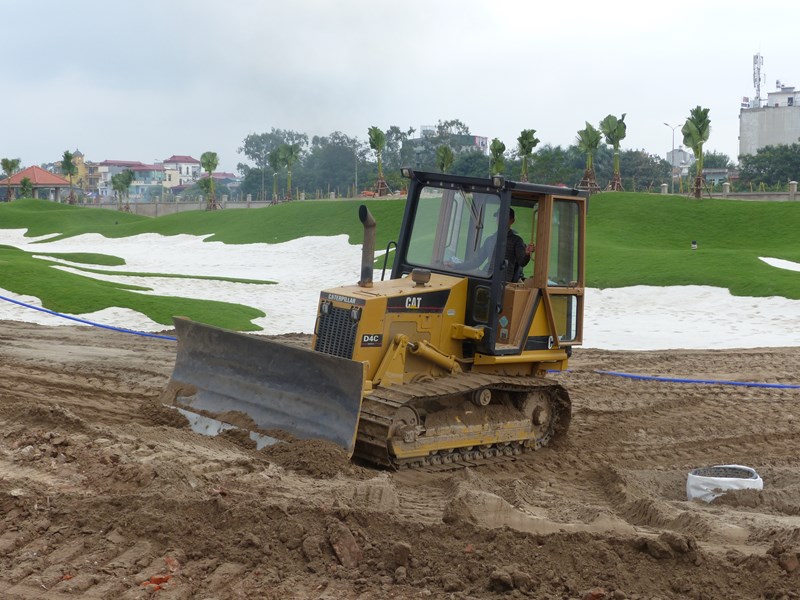 The Vietnam Military and Korean Government Joint Venture Golf Course under construction.

Ron Horner visits the Vietnamese capital of Hanoi and, while not being interrogated by armed guards, finds that the heavy machinery sales market is vastly different over there


Ever wondered how business was done in some of the poorer countries throughout the world?
When I visited Vietnam on one of 'Ronnie's Road Trips' I was able to get some insight in how they sold, serviced and repaired used machinery for the local domestic used machinery market in Hanoi.
It seemed like a lifetime ago when I received my papers stating that I had been called up for national service and looking at a posting in Vietnam during the war of the 1960s and '70s.
History tells me that without the intervention of the Whitlam Government I would have been in the midst of it, along with many of my friends and countrymen who so bravely went to war in a campaign that just seemed so foreign to us young blokes at the time.
Fast forward some 40-plus years and I find myself in the north of Vietnam on a more friendly  mission and keen to see just what makes the place tick these days, especially when it comes to earthmoving 'the Vietnamese way'.
The first thing that sticks in my mind is the traffic — the unrelenting hum of the motor scooters, the horns blasting and the number of busy people scurrying around the city streets.
Outside the city you see the extensive flood plains and deltas that extend from the Red River and its tributaries to the foothills and to the city.
The crops and flooded irrigation rice paddies and fields confirm that Hanoi's cropping area is based around the rich river flats and its plentiful water supplies.
The Red River forms, in part, the border between China and Vietnam and is subject to huge flooding in the wet seasons. A series of dykes and levees have been built to protect the farming lands and the villages.
My pre-arranged meeting and tour of Vietnam construction projects with Australian Embassy officials had failed to eventuate and time was of the essence and running out fast.
With all the flood plains around Hanoi, I wouldn't find too many mining operations in close proximity to the city, so I set my sights in finding a local who could help me find a local machinery contractor to visit.
I met up with Tuan, who sold books in the old sector of Hanoi and spoke perfect English and, after explaining what I was looking for, he said he would help me meet locals in the earthmoving industry.
I received a call from Tuan early the next day saying he was picking us up from the hotel and had a meeting arranged on a golf course construction site and machinery yard.
Getting in strife
After a 30-minute drive from the centre of Hanoi we arrived at the site, set up the camera gear and started filming the crews working on the golf course construction project, which had the longest sand trap I've ever seen.
But just as we started filming we were confronted by an angry, armed security guard who quickly shunted us towards a building complex some 500 metres away.
Once inside this area, our team was confronted by several upset and armed security men and escorted into a waiting room where a full interrogation commenced.
Unbeknown to us, and our new-found friend Tuan, this particular golf course construction site was run by the Vietnam military and the Korean Government and so was out of bounds to the public.
We were suddenly facing trespass charges and a court listing, unless I could talk my way out of this sticky and unpleasant situation.
If you have ever had to bargain a deal on the streets of a foreign city and desperately required an interpreter, this was one of those moments.
Minutes appeared to be hours as the sweat and frustration of the language barrier and severity of our actions started to sink in, but Tuan eventually convinced the security guards to allow us to speak to a senior representative.
I eventually got to discuss our cause with a partial-English speaking executive of the golf course project and he accepted our excuse, but promptly advised us to "get the hell out of here and don't ever come back".
After all of our details were logged, passports copied and our travel documents were handed back to us we were promptly ordered away and left wondering what on earth had just happened to us.
Under close scrutiny of the firearm-wielding security guards we then headed off to our next venue, a used machinery yard that was in close proximity. 
Yards apart
It rains a lot in Hanoi and is extremely humid all year round, which causes many problems for westerners not familiar with this high 75 percent humidity range.
We found we were definitely not ready for the long hours of sweat after leaving the hotel each day and truly suffered, especially on this day.
If the sweat incurred during the interrogation wasn't enough, there wasn't any shade or cover for us to hide under while doing this next story.
Now if you think you've seen an untidy and most unlikely place to sell, service, maintain and paint machinery … you ain't seen nothin' yet!
The used machinery yard was located in, or should I just say squeezed into, a small muddy patch of dirt between a major highway and a polluted creek.
It is here I met Le Van Dinh who is the owner of the Minh Thanh Trading Company and the yard where he buys and sells earthmoving equipment from all over the world for resale into the local Hanoi and wider Vietnamese market.
The yard has a public lane going through the centre of it, with no hardstand to be seen and mud everywhere.
Atop this highly unsuitable surface lie about 30 pieces of earthmoving machinery of different makes and models. Some are low-hours machines, but many appear to be what we would consider 'scrappers'.
One thing that I did find in common was that most of the machinery was built around low ground pressure or swamp track configurations, which would be well suited to the wet and muddy conditions of northern Vietnam.
Surprisingly no front-end loaders were in the yard, but Le Van Dinh claims he has many enquiries on rubber-tyred excavators and he is searching worldwide to fulfil his orders.
The bulk of the machinery consist of excavators, dozers and a few track loaders.
Le Van Dinh says that Komatsu and Hitachi are the most popular brand of excavators and are big sellers from his yard in Hanoi.
I found several workmen busily repairing, applying putty, sanding and buffing several Komatsu excavators in readiness for painting in one section of the working area.
This work was being undertaken in full open-air conditions as there was no workshop, no crib shed or cover to speak of, no PPE equipment and power leads running across the open ground to each machinery source.
Our beloved Australian workplace health and safety officers would have a field day over here, provided they could get through customs and not have their passports confiscated upon entry.
Tucked away in another corner of the yard I found an old hydraulic rockbreaker with a typical Asian-style breaker carrier fitted.
The hammer was located atop a dirt bank and there was no lifting equipment available at that moment, so I was unable to precisely determine its brand, make or model.
The difference between the standard design accepted in Australia and that of Asian countries is that the hammer carrier in Australia is top-mounted and in Asia they prefer to side-mount the hammers.
Taken for granted
Sometimes we, in our predominantly safe, secure and comfortable western civilisation, take so many things for granted.
It is not until you get to witness how the other half of the world live can you appreciate just how lucky we are to be living and working in Australia.
We are fortunate to have sales yards providing quality used plant items for sale, with great workshop facilities and skilled and well educated staff.
We have worldwide internet access for sales and a certain guarantee that when and if we are in the market to purchase used equipment, we can hold some degree of confidence the machinery has been assessed and repaired prior to sale.
The boys in Vietnam and in Le Van Dinh's yard in Hanoi particularly, do hard yards every day but have the passion, energy and vigour to do as good a job as possible under adverse conditions.
My trip was an enjoyable one and only made possible by the efforts of Tuan and Le Van Dinh. I thank you both for your exceptional hospitality and efforts in making this insight into the Vietnamese used machinery market a memorable one.
This article is dedicated to my old mate Snowy Van Der Velden of Wallerawang and all those who fought in, and have been affected by, the Vietnam conflict.
Subscribe to our newsletter
Sign up to receive the Trade Earthmovers e-newsletter, digital magazine and other offers we choose to share with you straight to your inbox
You can also follow our updates by liking us on Facebook. 

Loaders For Hire | Dozers For Hire | Excavators For Hire | Forklifts For Hire | Machinery Attachments For Hire