Volvo's Gravel Charlie haul truck turns 50
---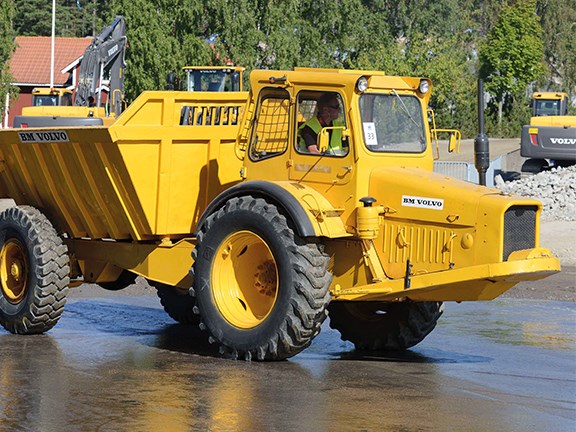 The Gravel Charlie Volvo articulated haul truck had a load capacity of 10 tonnes compared to the 40 tonnes of today's Volvo off road trucks.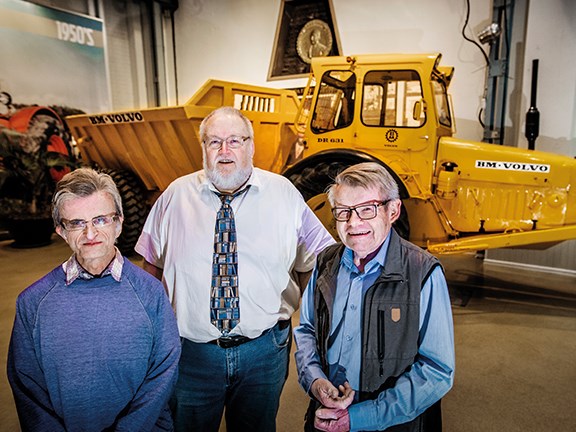 Jorgen Forsrup, Per-Arne Pettersson and Lennart Oknegard with Volvo's Gravel Charlie articulated haul truck.

Volvo CE's iconic articulated haul truck Gravel Charlie is celebrating 50 years, writes Cathy Smith.

PICTURE the scene: the early '60s in the south of Sweden. A young man, the son of a farmer, is sitting at his kitchen table sketching ideas for a vehicle which could haul timber and manoeuvre through the trees on the snow-covered slopes for the country's all-important forestry industry.
Wiking Björn knew that to prevent the front wheels from skidding in the snow, he had somehow to synchronise the wheels of a tractor and trailer. So, he started to sketch a tractor without front wheels.
"He realised the axle was in the way all the time," says Lennart Öknegård who is co-writing a history to mark the 50th anniversary of the revolutionary machine which became known as Gravel Charlie.
"So he got rid of the axle and sketched a driven trailer with power coming from the tractor – the first hydraulic articulated steering. It was such a great idea."
It was 1964 and Björn, who had recently started work at Livab, a local engineering company in the village of Braås, had managed to convince his boss that he was on to something.
Now in his 80s, and living near Braås in Sweden's south, Björn remembers being given the go-ahead to launch what was to become a top-secret project to build a prototype. Different parts of the machine were constructed in different parts of the factory to keep the secret under wraps.
"Just two of my closest colleagues were assigned to the secret project," he recalls.
Testing times
The first tests were carried out undercover at a farm outside the plant.
"It worked well for such a breakthrough machine – it was a strange feeling to operate the machine for the first time," Björn says.
What made the articulated concept possible was the tractor hitch which prevented the tractor from rising when pulling heavy trailers. This was patented by Livab in the early 1950s.
The small team was under pressure to complete the project quickly as it was due to be unveiled at a trade show near Eskilstuna attended by none other than the Soviet President Nikita Khrushchev. There is no record of what the Soviets thought of this new machine – they did not buy it, but Sweden's forestry industry did.
This was the answer to a forester's prayers – the impressive vehicle had been built in just three months and had articulated steering, all-wheel drive, an operator's cab and a boom. But it needed a name and so became known as Timber Kalle (Timber Charlie) after Livab owner Carl Lihnell.
By now, Lihnell had signed a cooperative agreement between Livab and Bolinder-Munktell (Volvo CE's precursor), recognising that the real potential was yet to come. It was clear that the same technology could be used to build an all-terrain articulated dump truck for the construction sector. This was going to revolutionize earth moving in steep, muddy conditions which often proved impassable to other vehicles.
Trendsetter
In 1966, 50 years ago, the DR 631 – better known as Grus Kalle or Gravel Charlie – was born, the first series-produced articulated hauler in the world.
Gravel Charlie had a load capacity of just 10 tonnes (compared to up to 40 tonnes of new articulated haul trucks) but Björn's unique concept was there: based on a tractor without a front axle and a hauler coupled to it with an articulated joint. It was unsprung and lacked the operator's comforts of today, although it was fitted with a safety cab – a feature which impresses Öknegård.
"It is fantastic to see the standards they had for these products," he says. "They really cared about the safety and comfort of whoever was going to operate it. Volvo has always been a trendsetter in this area."
Öknegård, who is co-writing the 200-page history of Volvo haulers up to the present day, is not a disinterested chronicler. He was part of Charlie's story as the person responsible for administering the contract between Livab and Bolinder-Munktell to produce the articulated machines.
His career with Volvo has spanned more than 40 years and he is now a volunteer at the Munktell Museum in Eskilstuna which commissioned the book and where one of the original Gravel Charlie haulers is on display.
"It is a fantastic story," he enthuses. "It was great teamwork. At that time there were a lot of inventors and ideas.
"The people involved had much broader practical and acquired skills than today, and more leeway, so they could see the bigger picture. You could not imagine a vehicle being produced from an idea to a prototype in just a few months today."
And Björn agrees: "I will never forget those days when I had the possibility to contribute with my sometimes unorthodox ideas."
Revolutionary
Of course, Gravel Charlie was just the beginning. A year later, in 1967, came yet another model – the DR 860 – which added a bogie to the design enabling loads to be kept stable however rough the driving conditions. 
That was the real breakthrough, according to Öknegård, with construction, mining and quarry companies snapping up the machines.
The manoeuvrability of the new articulated vehicle was nothing short of a revolution, he says. Its ability to "wriggle like an eel" meant it could operate on extremely steep, difficult terrain, and was used for many complex construction projects, such as building nuclear reactors for Britain's fledgling nuclear power industry.
The Munktell Museum book will document the development of the Volvo hauler right through to the state-of-the-art machines of today.
As part of his research, Öknegård has spoken to Björn several times. He says he was amused to see him still sitting at his table dreaming up ideas. "He is not an engineer – he was self-taught — but he is a brilliant man."
If you're looking for articulated off road trucks for sale, check out our listings here.
Subscribe to our newsletter
Sign up to receive the Trade Earthmovers e-newsletter, digital magazine and other offers we choose to share with you straight to your inbox
You can also follow our updates by liking us on Facebook. 

Loaders For Hire | Dozers For Hire | Excavators For Hire | Forklifts For Hire | Machinery Attachments For Hire