Profile: Total Rockbreaking Solutions
---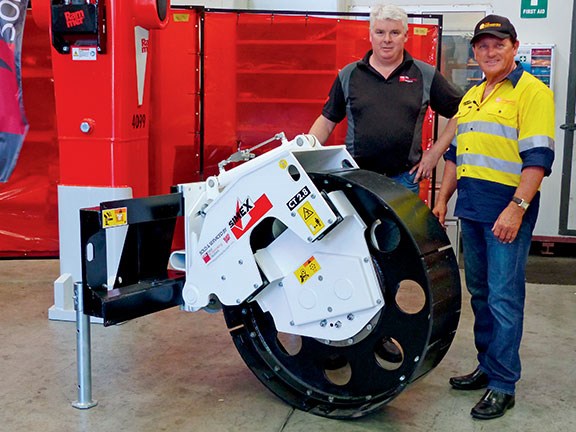 Jeff Jackson and Ron Horner with the Simex wheel compactor.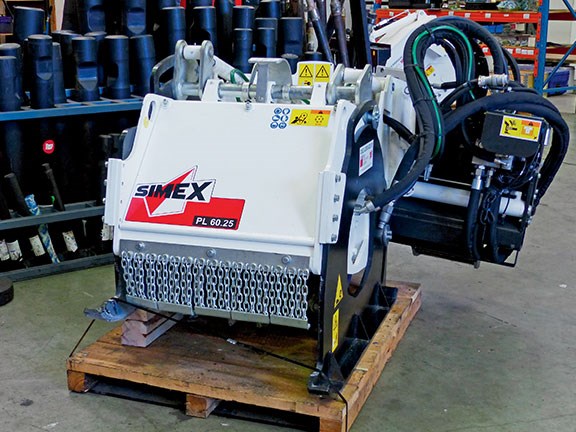 The Simex PL self-levelling planer.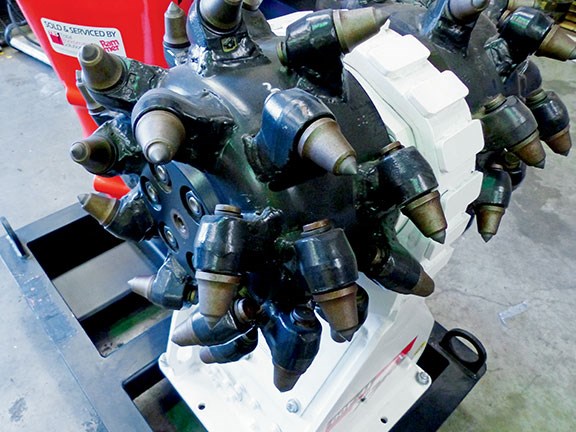 Ron Horner reckons excavators owe their versatility and longevity to hydraulic attachments, so in this edition of Ronnie's Road Trip he takes time off from a trip to Western Australia to nip into Perth's Total Rockbreaking Solutions (TRS).

Have you ever wondered why excavators have developed such longevity and versatility in the earthmoving marketplace and why we're seeing ever-increasing sales of these much-beloved pieces of equipment?
Well, part of the reason is that the excavator is such a brilliant, uniquely designed piece of machinery that just 'keeps on keeping on', but it hasn't got to this point on its own accord.
It required a little outside help from hydraulic attachments.
First impressions
Way back in the early- to mid-'70s I found myself working on the original 1,300km-long Moomba to Sydney Gas Pipeline in western New South Wales. It was an incredibly wet year and the two major contractors, Saipem and Australian Pipeline Construction (APC), were already late in starting the project due to the flooding conditions.
The client, in an attempt to have the contract completed on time decided to take several kilometres off the APC contract and hand them over to Saipem to at least allow the latter a break from the enduring effects of the big wet.
Saipem headed west from Mt Hope just south of Cobar in NSW, heading for the gas fields of Moomba in South Australia, and APC headed east on its long haul to Wilton, south of Sydney.
I was engaged in the APC front-end crew, operating excavators and, at times, a machine used to clear an access for the pipeline's right-of-way, called a Hydro Ax. 
It was the first time I had ever seen a hydraulic attachment fitted to any machine. This was ground breaking for me at the time as this hydraulic slashing attachment was like a tractor three-point linkage run slasher, replacing the bucket on the front of a loader, yet it was hydraulic.
From that day on, I constantly wondered just what would happen if someone invented hydraulic attachments that could fit on an excavator.
Ground breaking
Fast forward to 1976/77 and after a couple of years of hard slog and earning big money I bought my own excavator and, some would say, the very first hydraulic rockbreaker fitted to an excavator that ever came into the country.
This Krupp attachment opened the door, and now the ever-increasing availability and variety of hydraulic attachments available to the earthmoving, mining, farming, transport and forestry industries is nothing short of amazing.
One company supplying, servicing and repairing hydraulic attachments is Total Rockbreaking Solutions (TRS), and award-winning dealer based in the Perth suburb of Welshpool.
That award came from Sandvik — one of the world's most recognised manufacturers of mining equipment and Rammer hammers — which gave TRS the Australian Rammer Dealer of the Year award in 2014.
I was keen to see just what put TRS on Sandvik's leaderboard, so I jumped at the chance to visit them while in Perth recently.
I got a personal tour of the TRS workshop and the background low-down on the how, when and why TRS was started and its rapid rise to top spot.
Jeff Jackson, his wife Tuija, Mark Godsell, Paul Ingleson and a team of hydraulic specialists distribute, sell, service and repair all types of hydraulic attachments and can sort out your hydraulic issues on any machine or piece of equipment.
They have a fully fitted and equipped customised workshop which is stocked with a wide range of hydraulic attachments suited to loaders, excavators and skid steers and sized to suit anyone from owner-operators to mining magnates.
Total Rockbreaking Solutions is the WA distributor of Rammer hammers, Simex hydraulic attachments, CB crusher buckets, Pneuvibe compaction plates, Daehan grapples, Bretec breakers, GTS diamond saws and Tefra quickhitches.
And it has just taken on the distribution of the brilliant, Australian-designed ShoulderMaster, a one-stop-shop paving machine used for road shoulder repairs.
The background
Jeff has worked in this industry for more than 20 years and has developed a team of hydraulic specialists with both the technical knowledge and practical experience to not only supply quality and reliable products to the remote areas of WA but to also provide backup with quality and reliable service.
"WA has 90 percent of its mineral related workforce and projects in some of the most remote areas," Jeff says, "and they are dependent on not only a cost-effective solution but a quick turnaround of the repairs to their equipment.
"We feel we are achieving our goals here."
TRS has a very stable and widespread customer base — it caters for a full, across-the-board market from owner-operators and local or state government bodies, to rural industries and the huge mining projects and companies which are littered throughout the remote areas of WA.
The well-appointed workshop offers a very efficient and professional repairs service for the clients.
I viewed several large excavator booms and large hydraulic rams from the mining industry being repaired, serviced and replaced, while in another location in the workshop a small skid steer rockbreaker was being repaired.
"Everyone gets the same quality of service and priority here," Jeff says, "As you can see we handle the largest to the smallest of repairs."
Wide range
In the workshop I found a huge variety of new hydraulic attachments for sale or ready for shipment to clients.
They included some of the run-of-the-mill items you would expect — hammers of all sizes suited to 1-tonne or 45-tonne machines, hundreds of through bolts, nuts and moil points — but there were also some of out-of-the-ordinary items which caught my eye.
Most of the Simex range of hydraulic attachments distributed by TRS is suitable for adaption to the skid steer, mini excavator or small loader market.
Simex is one of the world's leading hydraulic attachment manufacturers, and TRS has certainly got behind this product range. Included in their stock is a Simex PL self-levelling planer suitable for a skid steer loader and used for the scarification of urban road surfaces and asphalt pothole repairs.
Along with the Simex ST asphalt floats and CBE crusher buckets, TRS demonstrated the workings of the CT vibrating compaction wheel, which is capable of compacting those awkward-width trenches ranging from 200mm to 400mm. This is definitely a cost-effective and speedy method of compaction.
Also interesting were the Simex T trenching wheels which are ideally suited to trenching depths of 800mm and widths ranging from 30mm to 250mm. Again, this method is proven to be highly successful and cost efficient.
But I have to say that one of my two favourite attachments is the Simex TF twin-header rock grinder which adapts so easily to an excavator and is designed for the final trimming of concrete, rock trenching, face finishing of sheer rock walls, mining and tunnelling.
I have personally used these in many applications and can swear to the effectiveness of this rock grinding tool.
The twin header is a spin off from the underground mining machines once suited to coal mines and softer sandstone tunnelling operations. This twin-drum grinding machine grinds the rock away to a fine finish (50mm in mining applications) and guarantees a sheer face and neat finish, with perfect tolerances should a shotcrete application be required over the top of on the rock face.
The ground-up material can also be used as suitable backfill, under-slab base or trench fill material for any site application.
And my other favourite? The Australian-made and -designed PneuVibe Compaction Plate.
The bottom line
Without advancements in hydraulic technology the excavator market in Australia would be very stagnant and boring.
Did you know that Australia leads the way in adopting such attachments? There are many countries still to be convinced that quick-release buckets and hitches are the way to go, let alone accept the idea of hydraulic attachments.
Jeff Jackson and his team have looked well into the future and can see that technology is not in decline. Every year something new turns up on the market and TRS is staying abreast of the times.
It's obvious that TRS has the expertise, knowledge and intestinal fortitude to push through the current industry downturn and can guarantee a premium service and support to all levels of industry in WA for many years to come.
Subscribe to our newsletter
Sign up to receive the Trade Earthmovers e-newsletter, digital magazine and other offers we choose to share with you straight to your inbox
You can also follow our updates by liking us on Facebook. 

Loaders For Hire | Dozers For Hire | Excavators For Hire | Forklifts For Hire | Machinery Attachments For Hire