Ronnie's Road Trip: No-bull Bulmer
---
In this edition of Ronnie's Road Trip, Ron Horner heads to the Queensland town of Goondiwindi and checks out L Bulmer & Co, an earthmoving business run by the same family for 50 years.

I GET around a bit on my travels for work or pleasure, and recently found myself in the beautiful South Western Queensland town of Goondiwindi.
Depending on your standpoint, this buzzing, busy and very friendly place is either:
A. The first township over the New South Wales border when entering God's Country to the north via the Newell Highway (up the back road); or
B. If you are travelling south, Goondiwindi is the last goddamned Queensland town you have to see before entering — some say — the "more civilised areas" of NSW or Victoria!
The region is famous for its rich alluvial flood plains split by the mighty McIntyre River. The McIntyre is based at the headwaters of the longest river system in Australia, and  flows for 3,000km as it joins the Dumaresque, Barwon, Castlereagh, Darling and, eventually, the 'Mighty Murray' rivers before entering the ocean in South Australia.
This river is the lifeblood of western NSW, and 'Gundy' in particular.
The successful management of the river allows for the agricultural sector to engage in irrigation, and suitable water allocations provide confidence for cotton, cropping and cattle-producing families to survive.
 While on Gundy's attractions, who could ever forget the nation binding exploits of the much-loved Goondiwindi Grey — the brilliant thoroughbred racehorse Gunsynd.
For those who may not know, 'Gunsynd' is short for Goondiwindi Syndicate, a group of Gundy folk who took a punt and bought one of Australia's most loved and famous racehorses.
The courage and determination shown by Gunsynd in his racing days is synonymous with the personalities of many of the people who call Goondiwindi home.
Remote, hot, dry, dusty, flood-prone and fly-blown, Goondi calls for big-hearted and resolute inhabitants.
Like the Bulmers. 
All in the family
L Bulmer & Co is a family-run earthmoving business operated by Col and Leanne Bulmer, who took over the reins from Col's dad, Lenny, several years ago.
Len Bulmer came to Goondiwindi some 50 years ago and started his business with the purchase of a single-axle truck which he used for contracting small jobs in roadmaking and haulage.
During those 50 years L Bulmer & Co has grown to become one of South West Queensland's most respected contractors.
The Bulmer fleet of equipment includes graders, scrapers, loaders, rollers, trucks and excavators and provides a service to the local shires, main roads, rural and agricultural sectors.
L  Bulmer & Co is located smack bang on the Newell Highway just past the famous Gundy BP on a perfectly positioned, extremely well presented 3.6-hectare block of industrial land.
First impressions count with me, so we decided to 'cold-call" Col and drove into his yard.
Well presented
From the very start we realised that this guy knows how to set up a yard and must know something about earthmoving: "Everything has a place and everything in its place."
Col not only has his spotless workshop in order but his laydown yard is all hardstand, the office is well- appointed and the staff are very welcoming. If I was a first-time client this first impression would be sticking in my mind for a long, long while.
Col explains to me that most of his cash flow is pretty well evenly spread across the board between the rural, council and private sections of Gundy's community.
Col has a large supply of rock (raw, quarried and screened), sand, topsoil, aggregates and road base stockpiled in his yard, hence the 9-acre plot.
"We supply just about everything we can around here," Col tells me. "The materials we source are not that close to Gundy so we stockpile materials in the yard for immediate use and, if contracted on larger supply jobs, we haul it in directly from the source to the job with our side tippers."
Part of the reason he stores this amount and range of materials is because if it rains out here you just can't get off the bitumen for days on end so these are also classified as emergency supplies.
Although Col has some other brands of equipment in his large fleet, he has a preference for Caterpillar gear. He claims that the Caterpillar service and spare parts availability are the best in this area and, as minimal downtime out here is critical to running a successful business, you just have to go that way.
"Price doesn't hold a factor in my choice of procuring or purchasing equipment," Col says, "but service, spare parts availability and reliability sure does."
Life blood
If you've lived and worked in in remote areas of Australia you'll understand just how important businesses are to the survival of rural towns.
Companies like L Bulmer & Co are always sponsoring local sporting teams, donating money to schools and local fund-raising clubs, become members of community based organisations and clubs, and some of the businesspeople even become local councillors.
Col Bulmer and his workmates are just another example of how Australia's earthmoving industry integrates with other prime sectors of the community.
The agricultural, cattle producing and earthmoving industries complement — and are reliant upon —one another and must continue to do so if we are to survive the tough times in this cyclical industry.
During my short stay in Goondiwindi I learned of some very innovative businesses operating out of the town. Gundy people are resilient, tough and innovative and won't take any talk of a recession sitting down. I have all intentions of coming back here.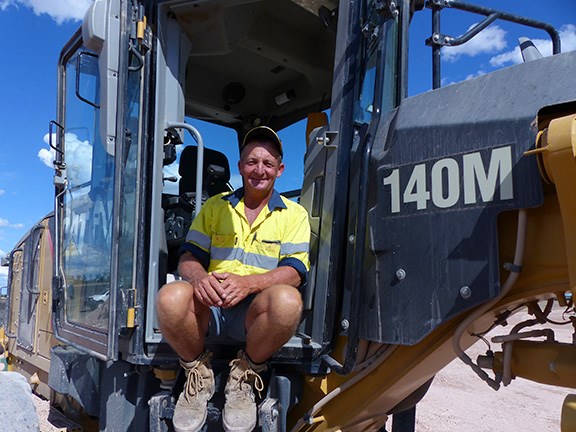 Russell 'The Gun' Lambert with Bulmer's Cat 140M grader.

Subscribe to our newsletter
Sign up to receive the Trade Earthmovers e-newsletter, digital magazine and other offers we choose to share with you straight to your inbox
You can also follow our updates by liking us on Facebook. 

Loaders For Hire | Dozers For Hire | Excavators For Hire | Forklifts For Hire | Machinery Attachments For Hire