Ronnie's Road Trip: Toxic mine remediation
---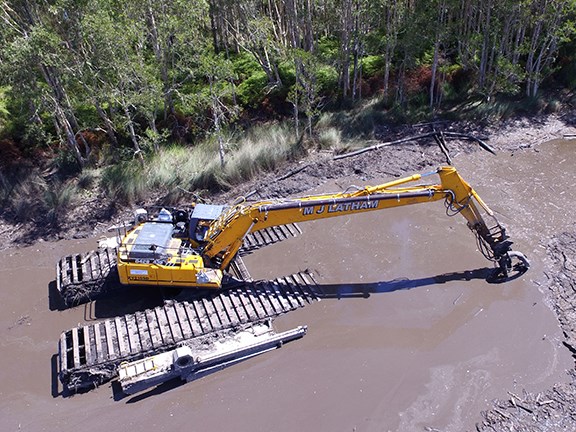 The big machines get to work on the Uranga site.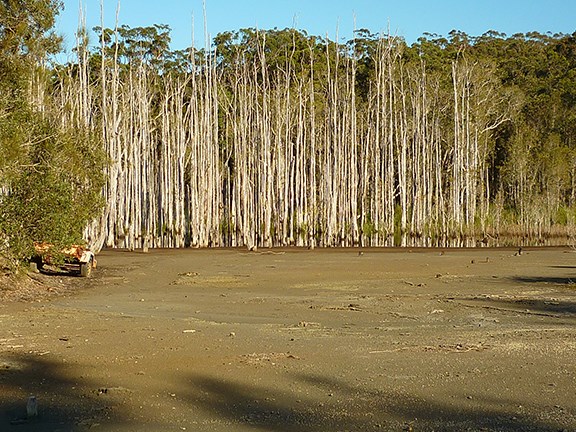 Decades of pollution have destroyed local Melaleauca trees.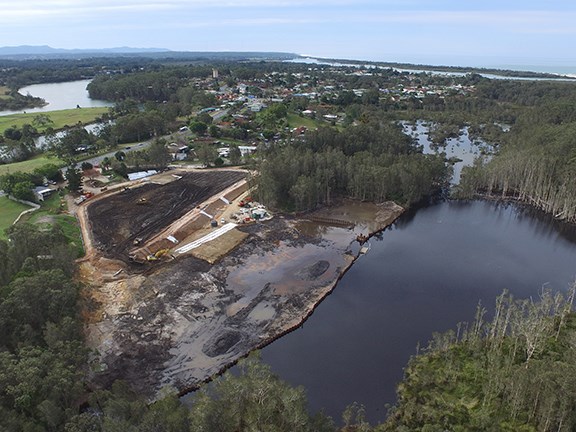 The Uranga site remediation is well under way.
Ron Horner checks out the remediation of a toxic antimony mine site in NSW, and says the big mining clean-up is not only environmentally beneficial, it's also a boon for operators of heavy equipment.

SOMETIMES you can get a really lucky break. Sticking my nose into places where it's not too welcome has been part and parcel of my life but this time it has turned in my (our) favour.
I just happened to come across a construction site along the Pacific Highway south of Coffs Harbour on the Mid North Coast of NSW where a few things caught my eye. Large white 'Soil Conservation of NSW' banners surrounded the site and, as I had not much on my plate, I thought why not investigate further?
I introduced myself to Urunga project manager Clayton Colmer, who was more than accommodating with my curiosity, and openly sat and discussed the issues confronting him as he contemplated the myriad difficulties in remediating a disused and toxic mine site previously used  for processing stibnite (antimony ore) which released vast amounts of antimony, arsenic and mercury in its treatment as well as cyanide and phenolic acids for treatment of antimony which used vast amounts of arsenic in its treatment.
Not too big of an issue until you realise the site is located on a pristine waterway and is slowly killing off native wetlands, is creating a higher-than-acceptable toxin flow to the ocean, is located on a major highway, in a small beachside community, has a pre-school as a neighbour, a high water table and a limited area to treat the 30,000 cubic metres of toxic material expected to be extracted.
Strict NSW Government Department of Primary Industry (Lands), WHS and EPA guidelines have to be adhered to. And that's not even getting in to the budget constraints.
Looking outside the conventional box has always intrigued me and it didn't take long for Clayton and I to see we both had attention to perfection and detail as a common virtue. These projects require a level-headed leader with a lateral thought approach to ensure a successful outcome, specialised plant and equipment suited for a specific task and quality staff and contractors with a similar view.
I requested Clayton's permission to put together a series of articles on the project during construction and a review of some of the specialised heavy machinery used during the many phases of the job. Thankfully we got the green light.
The buck stops with us
We may be going through a mining downturn and that in itself is creating issues with our economy and, of course, our mining contractors.
I look at it this way … as a contractor, when work is scarce we tend to get our house in order, servicing and repairing the machines and ensuring we have a clean slate for when the action starts again, which undoubtedly it will.
Maybe it's time the miners looked at themselves and got their house in order while the pressure of 'producing' is low.
Everything in life has a balance. Mining valuable mineral resources in Australia usually means "dig it, crush it, transport it, sell it" but we have a responsibility after "digging it up" and that is to "fix it up". This is where the costs come in and phase 2 of the mining story begins.
Up until recently rehabilitation of mining sites was, in my opinion, a token gesture. State or federal governments took on a bond system where the successful mining applicant would pay a pre-determined fee or holding bond to the relevant departments to ensure rehabilitation or remediation was carried out to a satisfactory level once the mining operation was completed.
Today, of course, we find that those 'bonds' fall well short of what are considered satisfactory levels of remediation and more often than not we find unscrupulous mining companies walking away from their remediation responsibilities.
This leaves the environment in a totally unusable state, with the Australian taxpayer eventually footing the bill.
A dollar figure that was acceptable on approval will not stand up if the mine has been operating for 20 to 40 years.
Recently it was exposed that a very senior major Australian mining company advertised its massive coal mine operation in Queensland for sale for a token price of $1. This is, of course, under the proviso that all rehabilitation costs would be handed over to the new owner.
This may seem to be a gift to some people until you realise just how much money it takes to remediate a mine site.
If the new junior mining operator takes on board this offer and can't make enough money out of it during a downturn in the industry, how will it afford the tens or even hundreds of millions of dollars required to remediate such a site?
If the company falls over we have another mining burden on our hands for which the taxpayer will have to foot the bill.
On a smaller scale, the area located around Lightning Ridge (one of Australia's richest Opal regions), is being investigated by the NSW Government in an effort to extinguish deserted mining leases, remediate and hand back that defined mining area to the existing landowners in an effort to minimise the safety issues surrounding exposed shafts and conform to EPA Guidelines.
The Urunga site
This site in Urunga was developed as an antimony processing site. The mineral was mined off site and hauled to the wetlands area and treated with massive doses of arsenic, which has in turn created major environmental implications to the downstream wetlands in the 40 years since the operation ceased.
Environmental issues were rarely identified during the '60s and '70s and the next generation will be footing the bill for our indiscretions.
There are over 50,000 abandoned mine sites in Australia and recently Queensland has identified enough abandoned sites to chew up a massive $3 billion remediation bill. There is little or no cash in the kitty to complete anywhere near the required works to suit a 21st-century EPA standard.
At Urunga, this particular antimony site may have only generated approximately $8 million (at today's rate) of saleable product during its operation, but it has already cost that much (or thereabouts) to remediate it at taxpayers' expense. And this is for a contaminated area of just 1.8 hectares.
A freehold land parcel, this processing plant was in operation from 1969 to 1974, when it was abandoned by the owners without any remediation work being undertaken.
In 2011 the EPA served a remediation order on the owner but he was unable to fund the works so the land was transferred to the department of primary industries (lands) as Crown land. The remediation covers all the affected wetlands, and forms part of the Urunga Lagoon and Kalang River systems.
Federal and state governments are now seriously looking at the current and previous levels of 'bonds' imposed on mining companies and are considering the costs of cleaning up those affected abandoned mining sites.
Looking ahead, this could well and truly be an area where the mining industry takes a complete turn around and contractors once engaged to mine valuable mineral resources are once again engaged in cleaning up and remediating the sites to an acceptable environmental standard.
Not all is lost in the mining world. Environmental accountability is generating a new industry in which we could be involved and creating a new area for construction and mining machinery to once again be engaged.
Subscribe to our newsletter
Sign up to receive the Trade Earthmovers e-newsletter, digital magazine and other offers we choose to share with you straight to your inbox
You can also follow our updates by liking us on Facebook. 

Loaders For Hire | Dozers For Hire | Excavators For Hire | Forklifts For Hire | Machinery Attachments For Hire