Barnsey's Birdsville Battler
---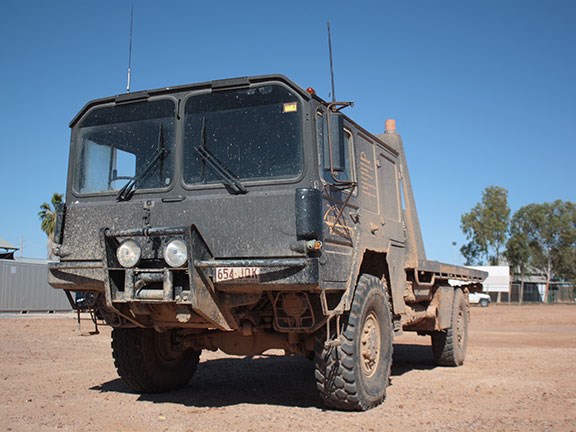 The MAN KAT was a popular beast of burden for NATO forces during the Cold War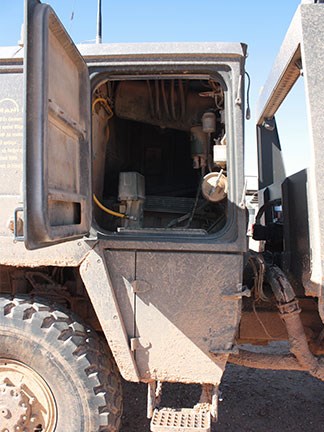 A 265hp air-cooled Deutz V8 lurks in the back of the cab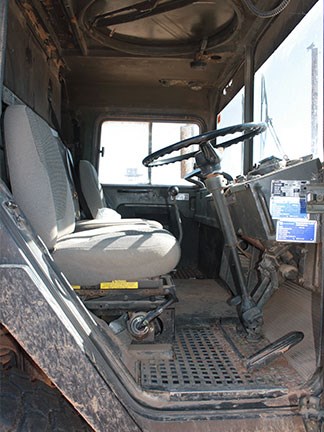 It may not look luxurious but the MAN is surprisingly quiet and comfortable inside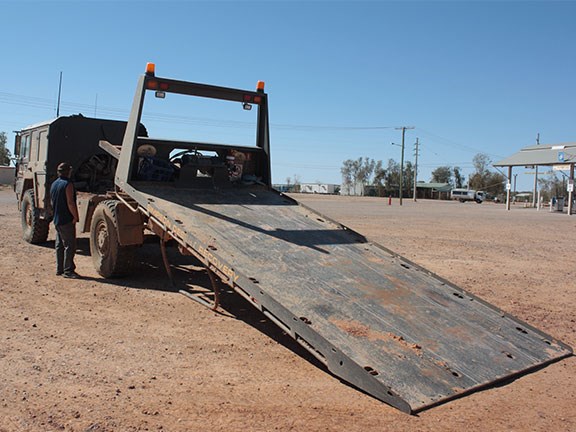 Barnsey inspects the driveline under the Bozmac tilt tray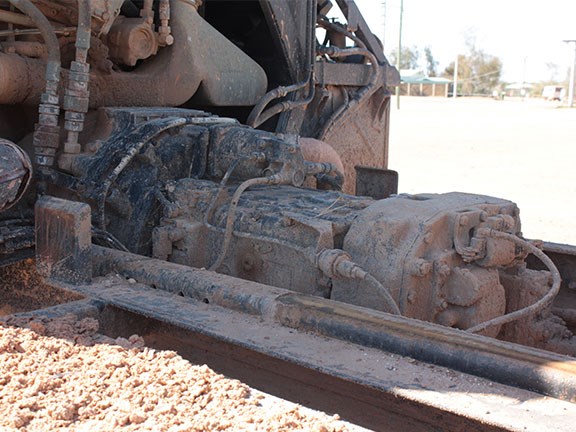 The six-speed 'box also features a lock up torque converter which gives awesome tractability in any gear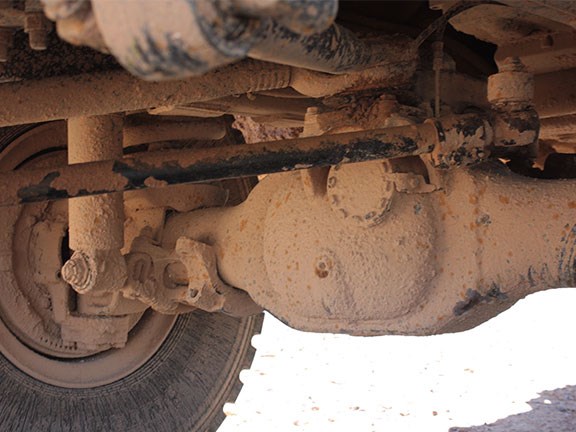 The underside may have a healthy coating of clay pan mud, but the planetary drive is tough!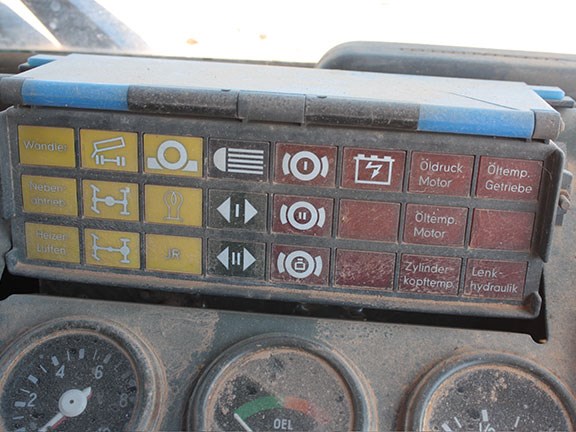 So I may need to brush up on my German, but I reckon anything that lights up red is bad news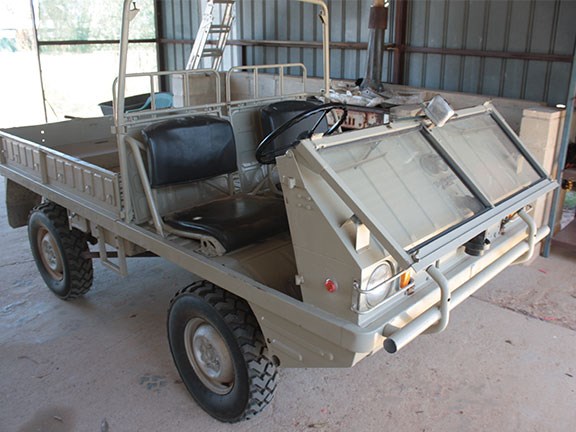 Barnsey also has a Halflinger in the shed, it may not be able to tow much, but you'd be hard pressed to bog it

Birdsville is famous for its annual racing carnival, and its also famous for being in the middle of bloody nowhere. Matt Wood catches up with a truck that has built up its own fair share of fame.

The Australian Outback has a way of absorbing man and machine into its vast interior. The skeletons of mechanical relics littler the landscape like the desiccated carcasses of dead livestock sinking slowly back into the parched earth. The cast-offs of man's industrial flirtations in an ancient landscape.
But there's one Outback relic that won't be reclaimed by the shifting sands anytime soon. And that's the MAN KAT tilt tray, owned by Birdsville based Peter Barnes. It's a relic of the Cold War from a time when the threat of nuclear annihilation cast a long shadow over the globe. Television news stories from the 70s and 80s of military parades often showed these trucks laboring under a deadly explosive payload; The sinister silhouette of the war machine waiting for an excuse to pounce.
So it seems quite appropriate to find this nuclear-age survivor coated in mud and dust on the edge of the Simpson Desert. A battered old warrior in an almost post-apocalyptic landscape.
Cab-over? Or cab-under?
I've driven plenty of trucks with the engine under the cab, often the muted purr of a European six or an eight. I've even driven plenty with the engine under a bonnet out front, a 15-litre burble that thrums through the floor. But until recently, I'd never driven a truck with the engine behind the cab.
'Barnsey', as he likes to be called, is a well-known fella out Birdsville way. Together with his wife Judy, Barnsey owns and runs the Birdsville Roadhouse which keeps outback travellers stocked with groceries, fuel, permits and other knick-knacks as they pass through south west Queensland. Barnesy also runs a workshop attached to the business, tacking things back together that the bush may have broken. And, on top of that, the Roadhouse would have to be one of the most remote RACQ agents in the state.
Sitting in the ruddy dust out front of the servo is perhaps the Roadhouse's most famous staff member – the aforementioned giant ex-German Army MAN KAT truck.
The towering dark green (no, it's not black!) 4x4 attracts admirers on a daily basis as they trail into town. But with a tilt tray on its back, the people who admire it the most are usually the ones stranded in the middle of the Simpson Desert with a major mechanical issue. Because it's this old V8 brute that will be barging through the dunes to drag them back to civilisation.
RACQ breakdown
As the RACQ agent, Barnsey is often called upon to rescue crippled vehicles. But most jobs are handled by one of the two 6x4 UD CK320s also based at the Birdsville workshop.
"She probably only gets a serious run half a dozen times a year, really," he reckons. "It sits around most of the time."
In fact, most desert recoveries are handled by his trusty 70-series Toyota Landcruiser and a tow rope: "We just weigh up what's needed to do the job."
So the big MAN only usually gets a run if someone is seriously bogged in the desert, or as Barnsey says, "someone's wheels fall off." Basically the KAT only comes to the rescue when travellers break axles or blow motors in the desert.
It makes sense, of course, to only run the big German brute when needed. It weighs nine tonnes and is eight-foot wide, so the narrow tracks of the Simpson aren't exactly ideal for it.
Back in the 1970s, the original design brief for the KAT was for it to be amphibious, which explains the weird shape and engine placement on the MAN. But this proved to be a bit pricey for the powers that be at the time. So the amphibious bit was dropped, but the fixed cab and the cab-mounted engine was kept. Another element of the design was to make sure it could be squeezed into a military cargo plane, which explains the relatively low cab profile.
Cross-country express
These MANs were a mainstay of the West German army and European NATO forces during the height of the Cold War. They're a constant 4x4 with coil springs all-round and have a wading depth of 1200mm. 6x6 and 8x8 models sported turbochargers and intercoolers for more grunt. The idea was that these trucks should be able to match the pace of battle tanks over the same terrain.
Payload for the 4x4 model is about five tonne, but Barnsey starts looking at the dirt and kicking stones around in the gravel with a lop-sided grin on his face as he mutters this, so I'm guessing it's seen some big loads in its time.
In fact, one of the bigger jobs this old truck had was standing a triple stock-crate road train back up on its wheels after a rollover. With the help of a CAT grader, the KAT eventually winched the triple back onto its feet.
Deutz in the cupboard
In a cupboard at the rear of the cab sits a 265hp air-cooled V8 Deutz diesel engine, which is in turn mated to a 'Ramsmatic' six-speed synchromesh 'box that also uses a lock-up torque converter. Power is then fed to the four wheels through a single speed transfer case. You can pretty much go as slow as you like in any gear and the torque converter will keep the wheels turning, which makes for pretty incredible tractability.
Barnesy has owned the MAN for about 20 years after buying it in Brisbane.
"I saw it and I just liked it," he says with a shrug. "Converting it to right-hand drive was a bastard, but we got there."
A coat of drab army green was applied over the MAN's white civilian clothes and a motorhome body was fitted. The Barnes family used the truck as a home base as they travelled through parts of Australia.
After stints working in Papua New Guinea and managing a station down the Strzelecki, the Barnes family settled in Birdsville. The motorhome was removed from the old girl and eight years ago a Bozmac tilt tray body was fitted.
Over-engineered
The MAN is over-engineered in true military fashion. And, over the last two decades, it hasn't missed a beat. Just a regular grease and oil change.
"She just plugs away, it always does the job," Barnsey says.
In fact, the only thing the MAN does go through quite a lot of is tyres. As it never really sees asphalt, they cop quite a flogging, and Barnsey usually runs only about 50psi in them. That desert sand can get pretty soft, especially in the summer months.    
We stuck our heads underneath the mud-splattered beast, and Barnesy points out the strength of the driveline and the planetary drive hubs.
"You'll never break those diffs," he says with a confidence that I can't help but share.
Climbing behind the wheel presents a Spartan and basic control layout, as you'd expect. This is an interior you could hose out if you spilt your coffee.
Barnesy fires up the big bent eight to get some air up. At ground level, the rumble makes its presence felt, but surprisingly in the cab it's not that intrusive at all. We had to make do with a drive around the outskirts of Birdsville as Barnsey had to head to Longreach that afternoon. However, he was keen to show off the MAN's off-road prowess before I climbed behind the wheel.
It was peak tourist season in Birdsville when I arrived, and just a couple of weeks before the races were scheduled to take place. As a result, there were people camped everywhere. With a truck like this you don't really need a road, so we just pointed it where we wanted to go along the banks of the Diamantina River.
The look on the faces of some campers we surprised was priceless as the mud-streaked MAN barged out of the scrub before them, bellowing like an enraged water buffalo.
After demonstrating the KAT's off-road prowess, it was my turn to take the wheel. The beauty of the lock-up torque converter is that I was able to select sixth gear and start off from a standstill. Once up to speed, the converter locked up and we were cruising down the dirt. The V8 maintained a civilised rumble behind my head, and I was amazed at how quiet this thing was inside the cab.
Maybe I've been driving too many old bangers of late, but I really thought I'd be yelling to make myself heard. You'd even be able to listen to the radio if you wanted to.
Cruises at 80
Top speed for the KAT is about 90km/h, but happy cruising speed is 80. And the big old army truck was comfortable cruising along the dirt. The coil suspension all-round even made it quite comfortable. I was initially quite surprised at the thought of long distance travel in this truck, but it's more comfy than it looks.
Plus, being quite lazy myself, I was taken with the idea of a truck that you only had to change gear when you wanted to, rather than when you needed to. For an old military vehicle, the KAT is a really nice bit of gear to drive. That driveline would make it almost unstoppable off-road. Though I'd hate to get it stuck; you'd need a D11 dozer and possibly some gelignite to get it out again!
As a fan of all things off-road, Barnsey has a history of flogging Suzuki LJs and Sierras around race circuits. His son also campaigns an off-road buggy. But there was another off-road surprise lurking in Barnsey's shed. An Austrian-made Haflinger, powered by a two-cylinder air-cooled Steyr-Puch motor. Of course we had to take that for a spin as well. It was like riding in a military grade golf buggy!
But the MAN was a great bit of gear, a relic of the nuclear age, and no doubt it will continue to chug out into the dunes to answer the call of duty on a regular basis for many years yet. Myself, I just love the idea of having a truck with a gun hatch in the roof!
Specifications: 1979 MAN KAT 4x4
Engine: Air-cooled Deutz V8
Power: 265hp
Transmission: Six-speed synchromesh manual with lock up torque converter
Drive: Constant 4x4 with centre and rear diff locks
Tare Weight: Nine tonnes
Payload: Five tonnes
Subscribe to our newsletter
Sign up to receive the Trade Earthmovers e-newsletter, digital magazine and other offers we choose to share with you straight to your inbox
You can also follow our updates by liking us on Facebook. 

Loaders For Hire | Dozers For Hire | Excavators For Hire | Forklifts For Hire | Machinery Attachments For Hire