Brawny Beddie still hauling and huffing
---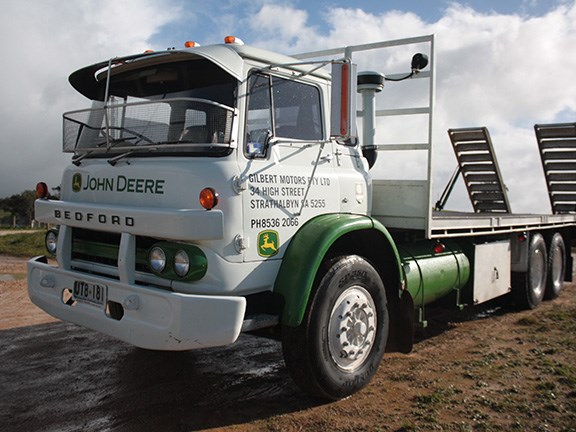 John Deere dealership Gilbert Motors' 1973 KM Bedford truck.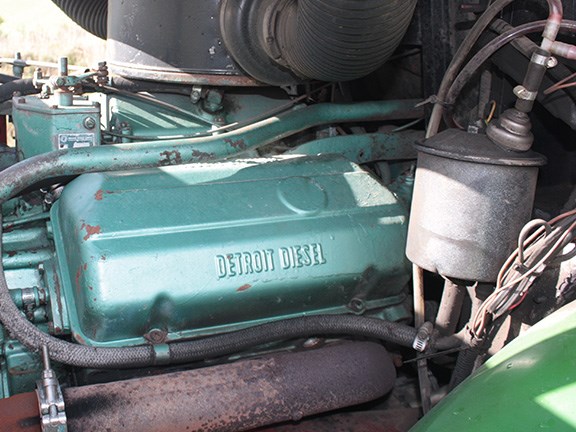 The old banger's cab is perched atop a Detroit 6V53N donk.

A tough golden oldie in the form of a 1973 KM Bedford is the delivery truck of choice for Strathalbyn John Deere dealership Gilbert Motors, writes Matt Wood

"SO DON'T let her drop below 2000, it glazes up the bores." I nod, concentrating on the sage advice offered. "Each gear is 500rpm and listen to the supercharger note, it'll tell you what the engine wants gear-wise." I nod again, "No worries."
Dick Parker, mechanic and part time truck driver for Gilbert Motors, based in Strathalbyn, South Australia, is giving me a run down on how to drive the John Deere dealership's delivery truck.
If it was a generic white Japanese truck made within the last couple of decades I may have been tempted to yawn quietly.
But this trusty steed is a 1973 model KM Bedford. And it's not equipped with an asthmatic Pommie six, or even one of GM Holden's finest bent eights. This old banger's cab is perched atop a Detroit 6V53N and mated to a 10-speed roadie.
It's in such good nick, I want to make sure I drive it how it's meant to be driven, which, when it comes to 653s, means full-noise.
This truck doesn't sit in a museum, or run to shows on a weekend. The old Beddie is a working truck that delivers tractors throughout the Adelaide hills and as far south as Cape Jervis.
It's also been known to cart the odd 12-tonne excavator or dozer on its beavertailed back. And, according to Dick, "It seems to go the same loaded or empty".
I watch the tacho needle dance at idle as I grab a gear and roughly idle away from a standstill.
The 2-stroke V6 immediately lets me know that it needs a firm hand so I sink the hoof to give it a drink. The answering 6-cylinder scream is joined by a supercharged whine that lets me know that both atmosphere and dinosaur juice are being sucked down the gullet of the screamin' demon in just the right quantities.
I grab another gear, the clutch pedal a waste of time, just snatch and grab. The old Pommie lorry leaps forward, hungrily demanding another cog. As per usual I'm grinning like a four-year-old at Christmas time — this thing is a riot.
Of course it's an ergonomic nightmare. Today, the outside temperature can be measured in single digits and it's alternating between hail, sideways rain and the occasional patch of wilting sunlight.
Inside the cab I've had to drag my sleeve across the inside of the windscreen to see, and the single speed wipers are … well … turned on.
The Bedford could never really be called a comfy truck. The seat upholstery could have been made by Laminex, for one thing.
But if you opted for the Detroit diesel option your seating position options dwindled away very quickly. The extra room needed to accommodate the V6 raised the driver's seat to a point that leaves the driver kind of hunching forward over the wheel to see where they're going. It's kind of similar to the position that someone reading a magazine on the loo might adopt.
Adding to this are the mirror brackets which are set well back on the doors — which means that you almost have to look over your shoulders to check the mirrors while in motion.
However, all of this is just surface stuff. This old girl just oozes character.
The driveline reaches its crescendo at 2600rpm before I grab another cog, and this TK really knows how to get its skates on when asked to. It's not long before I've reached the highway limit with the 2-stroke yammering gleefully through a single side exhaust pipe.
The green V6 was treated to a specialist rebuild a while back which saw an injector upgrade. This means the Detroit should be good for about 220hp at 2600rpm and 470 lb/ft at 1600rpm. I wouldn't be relying on the torque much at all, really. 
This truck has been working for Gilbert's for 25 years. It was traded on a tractor by a local produce grower. Before that, almost unbelievably in this day and age, it was running produce interstate to the Melbourne markets from Murray Bridge.
I wonder what it must have been like to be thundering down the Pentland Hills in the wee hours of the night in this old Beddie, swinging the wheel, no jake brake, dash lights flickering and a rag on the dash to keep the inside of the screen clean.
A radio of any description would have been useless for entertainment. Though I reckon you'd be kept busy enough just piloting the beast.
I blip the throttle and down change as we come into town. It takes a couple of goes as I'm really not used to asking those sort of revs from any truck engine these days.
This KM is a single drive/lazy axle sitting on steel springs, something Dick reminds me of as we approach the railway crossing on the way into town. I roll steadily over the track, saving the backs and heads of both driver and passenger.
Back at the dealership I ask Gilbert Motors dealer principle Chris Gilbert why he keeps the Bedford working. Why not put a new truck on the job?
He just smiles and says, "If it ain't broke, don't fix it." In this case I must say I'm inclined to agree.   
Subscribe to our newsletter
Sign up to receive the Trade Earthmovers e-newsletter, digital magazine and other offers we choose to share with you straight to your inbox
You can also follow our updates by liking us on Facebook. 

Loaders For Hire | Dozers For Hire | Excavators For Hire | Forklifts For Hire | Machinery Attachments For Hire