Equipment focus: Hyundai excavator fleet
---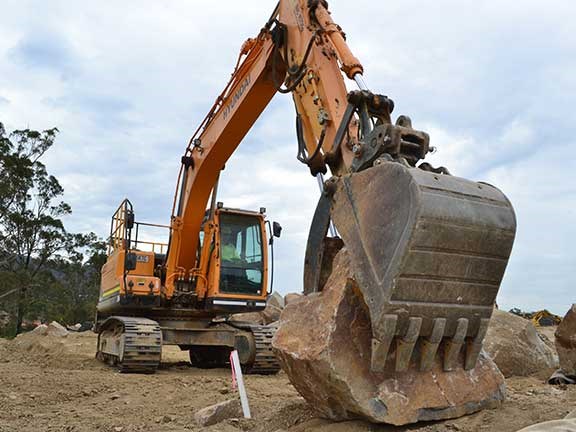 The operator has to determine immediately which size and shape is suitable for each layer of rock placed.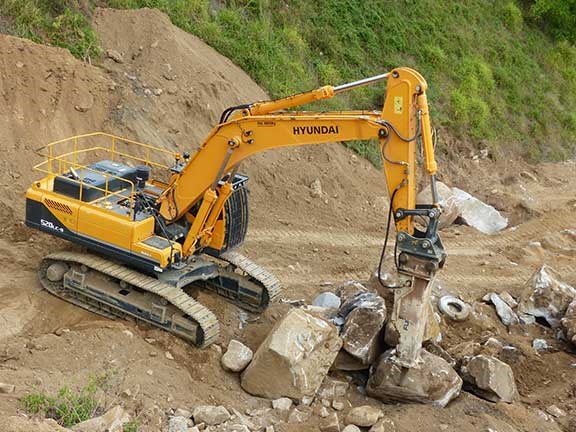 The 52-tonne Hyundai R520LC-9 in a BWC granite quarry near Brisbane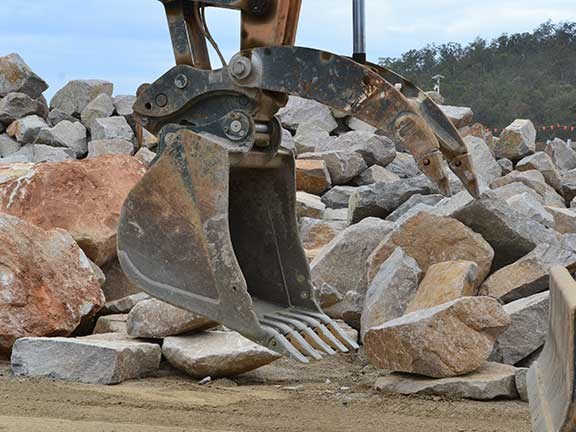 The neat little R160LC-9 is equipped with a rock grab and blade

When Boulder Wall Construction (BWC) needed an excavator fleet to quarry rock and build walls it turned to Porter Equipment and Hyundai. Ron Horner went on site to check the equipment out

A large fleet of Hyundai excavators from distributor Porter Equipment has been put to work quarrying granite and building rock walls by Brisbane-based Boulder Wall Construction (BWC).
As the name implies, BWC is a rock-wall builder which has developed a reputation for quality and workmanship over 30 years.
Realising that a vertically integrated business is the way to go if you're looking to be self-sufficient, successful and less stressed, BWC has created a seamless operation in supplying the materials needed for the rock walls, transporting them and constructing the walls themselves.
After several years of taking what was affordable and available for its quarries and rock wall operations, BWC realised it needed to find the supplier of equipment and service best suited to its harsh, rugged and (at times) unsavoury environments.
To that end, the company joined forces with Porter Equipment, seeing common synergies in the company which distributes Hyundai earthmoving equipment, Furukawa Rock Drill (FRD) rock breakers, Madill logging equipment and NC Engineering site dumpers.
It must be a good partnership, because over the past two years BWC has bought two 8.2-tonne Hyundai R80CR-9 excavators, one 14.6-tonne R145CR-9 two-piece-boom excavator, three 18.8-tonne R160LC-9 excavators, one 29.7-tonne R290LC-9 excavator with a full Topcon GPS system, and one 4.3-tonne Furukawa F70 hammer.
More recently, the company has just bought a 38-tonne Hyundai R380LC-9 excavator.
In a bold move to become self-sufficient and to ensure supply of materials BWC has been successful in securing several extraction leases both close to Brisbane and in regional areas where it is possible to source varying types of and sizes of rock.
Its quarries are now located at Warwick, Yangan, Maroon, Rockhampton, Helidon, Gladstone, Trade Coast and Swanbank.
It supplies porphyry, various sandstones including A-grade sawn sandstone, and granite (pink, blue and black). Most importantly, these quarries provide rock of the colour, strength, size and shape suitable for any rock wall construction.
I recently reviewed a couple of BWC's Hyundai excavators, namely a neat little R160LC-9 equipped with a rock grab and blade and a Hyundai R520LC-9 (52-tonne long undercarriage) equipped with the Furukawa F70 hydraulic rock-breaker mentioned above. You'll be able to read the reviews in coming issues of the mag.
The R160LC-9 is used on the rock wall construction and is perfectly suited for both the day-to-day movement and placement of rock and the painstaking job of creating a 'masterpiece from a pig's ear'.
To become a successful rock wall builder the operator must have extreme patience, unmatched skill and top-quality equipment. He must also be extremely creative by knowing which shaped rock can be utilised in which point of the wall — the jigsaw puzzle needs to fit perfectly and there must be a minimal amount of material left at the end of the job.
The rock, after being won from the quarry site and hauled to the construction site, is unceremoniously dumped into stockpiles for the skilled operator to sort through.
Sorting through the piles at a quick pace the operator has to determine immediately which size and shape is suitable for each layer of rock placed.
The walls — which can be constructed up to 6m high — are all based around the first layer. The rocks here must conform in size and position, both in line direction and batter angle.
If this layer is incorrect and construction continues then the whole wall may have to be rebuilt, at an enormous cost both in time and money.
The Hyundai R520LC-9 excavator is the big workhorse located at the front end of BWC's granite quarry operation located at The Gap just outside of Brisbane's CBD.
Perfectly suited to the Furukawa F70 hydraulic rock-breaker attached, this machine knocks over the oversized and in-situ rock to provide a designated size and shape for the walls of the future.
With no drilling and blasting taking place on the quarry I visited, the R520LC-9 takes up all the responsibility of winning the rock from the face, separating overburden from the boulders, breaking the rock up to the sizes — and, in some cases, shapes — which are deemed suitable for the walls being constructed.
The excavator is also responsible for loading the larger-diameter rock out of the quarried stockpiles onto the truck and dogs. The smaller rocks are loaded by rubber-tyred loaders which can access the site much quicker and easier.
Rock and boulder sizes are basically determined to be within the parameters of 0.5m to 1.8m in size, with those falling between the cracks suited more for stone pitching and hand-sized landscaping projects.
BWC, through its Rockworx business arm, also supplies boulders and rock to the general industry market.
Having its own excavators and quarries is part of the perfect business equation for BWC, but the firm has also had to set itself up with a fleet of trucks and dogs to haul its material to the job sites and also (as we know anything that drinks diesel will cause you grief) had to secure a back-up fleet of trucks for support.
Owning several rock quarries, a mountain of earthmoving equipment and a fleet of trucks does not cover all of the bases unless you have skilled plant and haulage operators, safety-conscious quarry superintendents, skilled service and maintenance staff and a proactive industry leader at the helm.
BWC owner Gavin Turner certainly has the attributes to lead this company to even greater heights and, with his conscientious staff and the support provided by Porter Equipment, one can only imagine what the company could achieve in the ensuing years.
The Porter Group was established in 1945 when the late Arthur Porter began building roads and winning civil engineering contracts in New Zealand.
Arthur began importing heavy equipment and parts, establishing the Porter name and laying the foundation for the group's core business — supplying heavy equipment through sales and rentals.
The company has grown substantially and now owns 50 retail locations across New Zealand, Australia and the US, supplying the construction, quarrying, mining, recycling, landfill, industrial, agricultural and forestry industries.


For more information call 13 42 32 or visit www.portergroup.com.au
Subscribe to our newsletter
Sign up to receive the Trade Earthmovers e-newsletter, digital magazine and other offers we choose to share with you straight to your inbox
You can also follow our updates by liking us on Facebook. 

Loaders For Hire | Dozers For Hire | Excavators For Hire | Forklifts For Hire | Machinery Attachments For Hire