Ronnie's Road Trip: The ultimate prize
---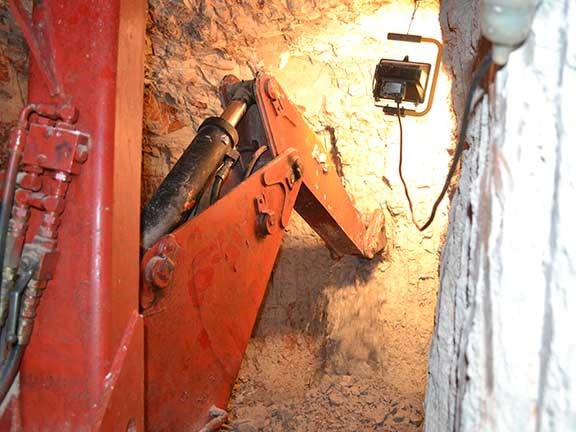 Underground in the Lightning Ridge opal mines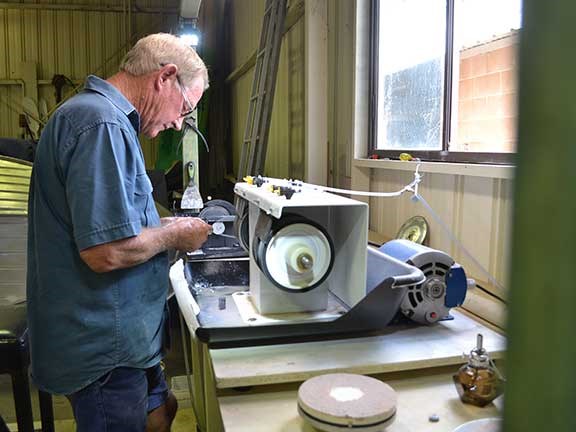 Cutting the black opal stone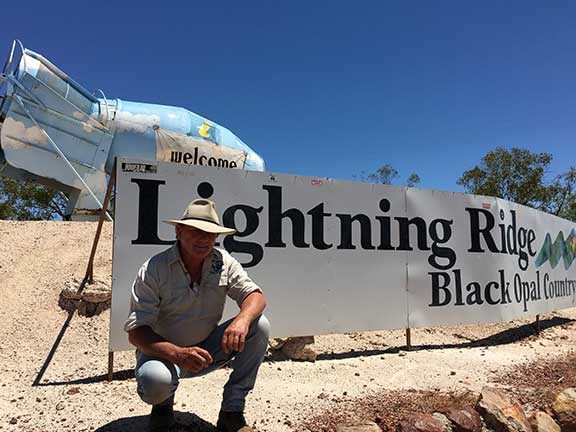 Ronnie hits The Ridge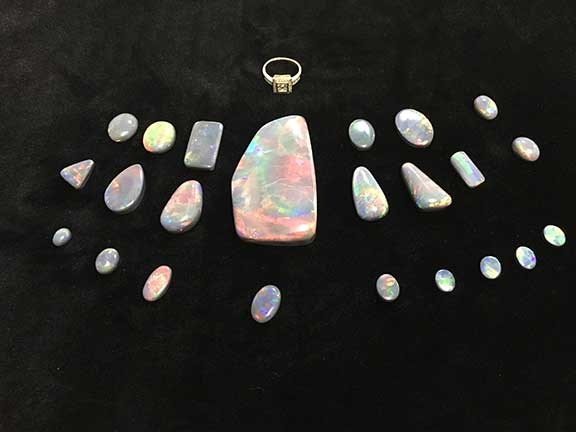 "It's not about the money … it's about leaving a legacy."

Ron Horner drops in to the opal fields at Lightning Ridge and finds that an old digger-driving mate has uncovered the The Dawn of Time – 174 carats of pure black opal
Sometimes in life you can get a lucky break … but those in business know that usually the harder they work the luckier they get. This is the story of a good mate of mine of more than 35 years who found this out for himself.
Ivan came to Lithgow way back in 1980 looking for a 'crank up' on one of my Kato excavators. From the first time we met we took a liking to each other and I knew that he would blend in well with my team.
One of the world's gentlemen, Ivan works and laughs like there is no tomorrow, shows loyalty, dedication and compassion, and has never been known to make a disrespectful comment about anyone.
His life has been filled with highs and lows and we have shared many a time consoling, guiding and caring for each other as life dealt us some pretty difficult periods where we just needed a helping hand from a good mate.
Ivan eventually started his own successful earthmoving business and we caught up some 20 years later on a major pipeline project in Queensland, where we spent many hours reminiscing about old times and sharing dreams of the future.
Never one to let the grass grow under his feet, and with a lifetime of dreams still on his agenda at the ripe old age of 61, Ivan convinced his lovely wife Julie to buy several  opal mining tenements in the outback New South Wales town of Lightning Ridge.
The Ridge
Now 'The Ridge' is a man's town where only the tough survive and get tougher the longer they stay. There is definitely no room for pussies out here.
Located in north-western NSW not far from the Queensland border and just north of Walgett, conditions out here in summer can only be described as horrendous.
Soaring temperatures, blow flies and dust have been known to send the toughest of men into the closest bar and keep them there for a month or more until the temperature drops below 40 degrees, or it rains.
But if you think the conditions on the surface are hard, just wait until you get underground and work the confined spaces of the 1200mm (4-foot) diameter holes drilled deep into the ground where the lucrative but ever-so-elusive black opal is to be found.
Many a man has spent a lifetime and all of his hard-earned wealth in search of the world's richest and most prized opals in this desolate, isolated, dusty, desert-like wilderness littered with abandoned mine shafts and broken-down, antiquated and uniquely designed mining equipment.
Your first impression of The Ridge is one of little money and a third-world-like existence, but you could never be further from the truth – rumour has it that there are more millionaires per person in Lightning Ridge than anywhere else in Australia.
The rich Asian and European gemstone buyers who fly in on a regular basis tend to pay (in cash) a minimal amount for the blood sweat and tears spilled during opal mining, so many of the miners tend to hoard their prized gemstones, awaiting the time of their big payday.
Of course, not everyone is a winner. Tales of woe certainly abound in this very loyal and tight-knit community.

The journey
Ivan came to The Ridge with a definite plan and enough cash to last two years, provided some small income could be derived from his mining efforts.
After very lean pickings, several 'dry shafts', 22 months of blood, sweat, tears and a million miles of travel, both Ivan and Julie decided that Christmas 2016 was the date that they would pull out and try something else.
His Grawin Opal Field tenements were the last on his list and, as he started sinking his last mine shaft, his hopes were, as usual, very high.
He soon found good colour and quality opals. So did other miners in the area, and the opportunity arose for Ivan to procure a 'parcel of roughs' (raw opal rock cluster) from a tenement holder close by.
This is where the miner decides to sell his raw material for a predetermined sum and avoids the risk of cutting the stone only to find it is not as promising as first thought. The buyer, on the other hand, has to run the risk of determining if cutting the stone can be profitable or if he'll suffer massive losses.
"Fate follows the brave," I say, and the good Lord smiled upon Ivan on this day.
Payday!
Ivan's gamble has paid off with the successful cutting of the stone, which revealed one of the richest finds in the history of Lightning Ridge – 174 carats of pure black opal, the likes of which any gemstone buyer in the world would give his right testicle for.   
My mate has shown determination and self-belief far and beyond anything most people could ever imagine, and I am so pleased for him and his family.
'The Dawn of Time' is the name given to the new stone, which may end up travelling the world to push the quality of the black opals from Lightning Ridge.
Just like many other successful people, Ivan says "it's not about the money … it's about leaving a legacy".
Ivan, my old mate … you certainly have done that!
Subscribe to our newsletter
Sign up to receive the Trade Earthmovers e-newsletter, digital magazine and other offers we choose to share with you straight to your inbox
You can also follow our updates by liking us on Facebook. 

Loaders For Hire | Dozers For Hire | Excavators For Hire | Forklifts For Hire | Machinery Attachments For Hire