Heking Duck part 2 - The salvage
---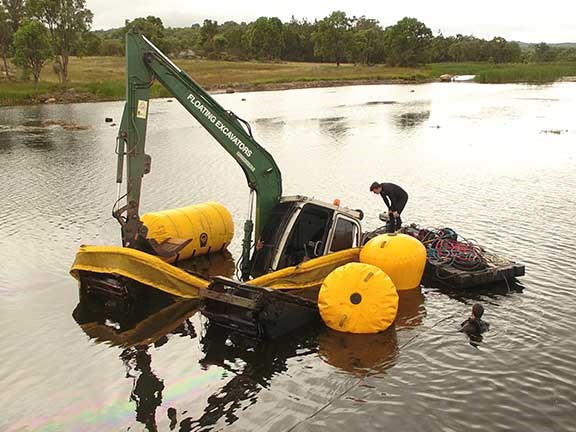 The Heking floating excavator after being floated with air bags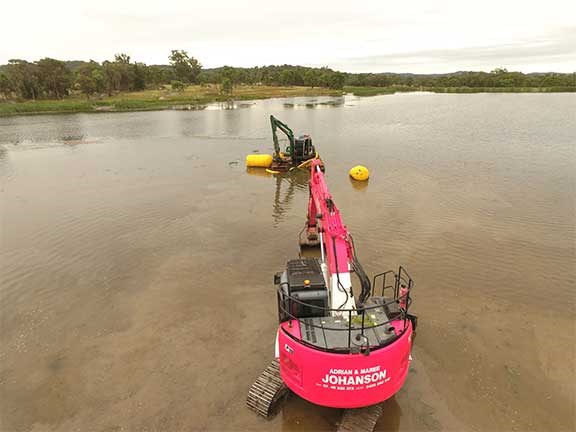 Adrian Johanson's Sumitomo SH235 played a huge part in the salvage of the Heking

Following on from his story on how he sank a Heking HK150SD amphibious excavator in a lake, Ron Horner gives us the lowdown on the salvage operation


It took me a good couple of hours to calm down and regain some composure after the sinking of the Heking HK150SD amphibious excavator while, ironically, making a video on the safe operation of these craft in Australia.
After all, I'd been travelling at high speed when I hit a submerged rock in bad weather with rising waters, and had only had about five seconds to escape from extreme danger.
The long, difficult trail ahead was littered with 'what ifs' as I contemplated retrieving or salvaging the floating excavator from the Stanthorpe lake. First steps were insurance brokers, photos and notifications of incident, and arranging the paperwork and claim number.
"This does not look good, Ron," the broker said as he looked at the photographs I had emailed him. Not only was the location bad for salvaging by a professional team (being in a rural region 200km from the coast), the digger was 100m off the shoreline, in 5m of water, and perched at a precarious angle.
The insurers could not come up with a suitable plan that I felt could tick all the boxes required for a timely and successful salvage – after all, this machine is the only Heking in Australia and has a fully booked workload for much of this year. This machine, in my opinion, could be saved and not written off if action was taken immediately.
It's at times like this that the official channels become frustrating and, if you are so passionate about some things, you must make a stand and make a move yourself.
The A-Team
I hatched a basic plan and took it to the insurers who, to their credit, gave me the green light. I was given the role of overseeing the salvage operation but to do this I needed to call on mates – not just any mates, but mates who I knew would help me out of a pretty awkward situation by dropping everything they had on their plate and getting on-site ASAP.
First point of call was a professional dive team and a couple of good mates of mine, Steve Larsen and Adam Dodson.
Adam runs the Adam Dodson Dive Team out of Cleveland in south-east Queensland and Steve is an exotic fish and coral diver working on the Great Barrier Reef. Steve was on leave in Bali, so it was left to Adam to grab young Beau, a team member, and immediately dive the wreck to give us an underwater perspective of the damage and to also come up with a plan to float the 'non-floating excavator' and to get it back close to the shoreline.
The boys arrived a mere day after the sinking, which was an awesome effort, and promptly provided us with some pretty good news. They felt our plan to float the digger could be achievable and a methodology was developed and actioned.
This, however, could not be done immediately as materials, equipment, men, boats, and floating working barges needed to be arranged.
This good news had me contemplating the next step of the salvaging process … out of all the contacts and mates I have in this game, I needed the best of the best and those available right at that moment.
A big ask, I know, but in this industry there are some blokes you meet and bond with irrespective of social standing, skin colour, religion, material worth, or State of Origin affiliation.
You are drawn to each other for many reasons: skill in the profession, a passion for doing everything right, a disinclination to take short cuts or half-arsed attempts to achieve a goal, the ability to make decisions based on experience, a pleasant demeanour and sense of humour to get your team through difficult times and, most of all, just being a bloody good bloke.
Knowing that the divers could float the Heking while it was supported by air bags, we needed to work out a way to get the machine back to the shoreline some 100m away. For this I needed to secure the services of a good local contractor, so I called on Adrian Johanson.
Adrian is a local long-term earthmoving contractor who has a first-class operation running in the granite belt. We had met just a few months back when I was looking for some equipment to review for Earthmovers and Excavators.
I asked for his help – not only in providing two of his Sumitomo excavators to assist me in the retrieval of the Heking but also a couple of operators with exceptional swimming abilities … after all, I was sending them into the lake!
Adrian had no hesitation in offering his assistance and, with a fair bit of mud-slinging and jovial banter (all directed at me by his young operator Brendan), the gear was loaded and mobilised.
The next step after getting the Heking shore-bound and secured was to get someone to take on the unenviable task of stripping, cleaning, draining oils and fuels, assessing the damage and starting on the repairs – not least the electrical circuits! (No wonder insurers are inclined to write off water-inundated gear.)
There was only one person I could ask to come and help me out – a young bloke from Lithgow who I have known all his life. I trust this guy so much he builds my race cars for me.
Corey Gurney of Lithgow Mechanical is one of those 'can do anything' blokes most of us envy.  He is skilful in every facet of engine building, auto electrical and mechanical (both diesel and petrol); he's a forward thinker, pedantic and so, so bloody fussy he drives you mad.
But he has bucket-loads of patience and a motto of "short cuts mean short circuits", and that was the type of guy I needed on this job.
With no hesitation he dropped everything, made the 1000km trip and was on site within a day.
The last thing on the list was how to monitor the salvage operation from 100m away and communicate with the divers. I realised many years ago that when things are difficult you cannot afford to be rigid in your approach, so I brought in the drone.
I have a good-quality drone, but here I needed a professional drone operator skilled enough to cover the operation while flying in close proximity to the divers. Stanthorpe just happens to be one of those little towns that have everything going for it, and that includes Michael Grassic of UAV Photography.
Michael has a heavy machinery background, has worked in South Australia, Western Australia and on drilling rigs, and can operate most types of equipment, but his passion is drone photography … perfect.
Resurrection day
A week after the sinking, the salvage day had arrived with all the guys on site and ready to assist.
The divers set up the compressors, 150m of airline, the air bags and the boats and barges, and started the re-floating phase.
With the air bags firmly inflated on each side, the excavator slowly rose to the surface … but, being a touch out of balance, it flipped backwards and caused the engine (once free of  major water inundation) to be immersed into the water.
The beauty of having drone footage beamed live to us 100m away meant that we could monitor the live action and communicate to the divers via two-way radio what was happening and what they might do to rectify the situation.
The boys took a quick trip to the shore to pick up another pre-inflated air bag. This was affixed to the rear of the Heking to balance any backward tip-over and, within an hour or so, the excavator was ready to be hauled in.
Once floating and free from the binding of the tracks and mud, the Heking was quite easily moved and, in fact, was squared up by hand with the use of plenty of diver muscle and a long tether.
Meanwhile, on shore we placed the Sumitomo excavators in position to start pulling the Heking closer to the shoreline. We affixed 100m of cable and chain from the Sumis to the retrieval points on the Heking's track frame and the ever-so-gentle and careful salvage operation was underway.
Touchy operation
Now this lake has a good bottom and is firm underfoot but is littered with large rock boulders (there is at least one I know of!) so I stood by my decision to put the diggers in the lake at this point in time.
Adrian on the SH235 and Brendan on the SH210 pulled and manoeuvred the Heking around the boulders we encountered on the way in, under direction from the divers.
With the Heking safely on land and the water inundation assessed, the greasy mess that lay before our eyes was pretty hard to take. The cabin, once pristine and immaculate, was now a littered mess, covered in grease, mud, reeds, fungus and fish which had decided to inhabit a new shelter.
Corey jumped to the task immediately. By sunset he had the electricals and circuit boards all pulled out and had begun the first stage of a long cleaning and drying process.
A week after the sinking we had successfully salvaged the machine and started the stripping-out and repair process. All in a day's work.
The next week would be the determining factor on how successful the whole operation had been, but I knew I had the best man on the job … and that's another story.


Drone photos: Michael Grassick of UAV Photography in Stanthorpe
Subscribe to our newsletter
Sign up to receive the Trade Earthmovers e-newsletter, digital magazine and other offers we choose to share with you straight to your inbox
You can also follow our updates by liking us on Facebook. 

Loaders For Hire | Dozers For Hire | Excavators For Hire | Forklifts For Hire | Machinery Attachments For Hire