Heking Duck part 3 – The rebuild
---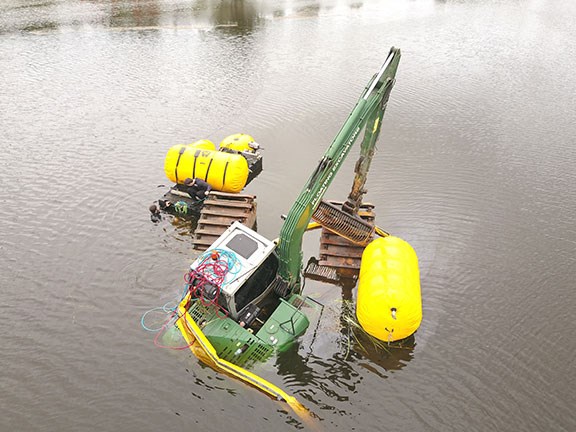 The Heking HK150SD floating excavator was stuck in 5m of water for a week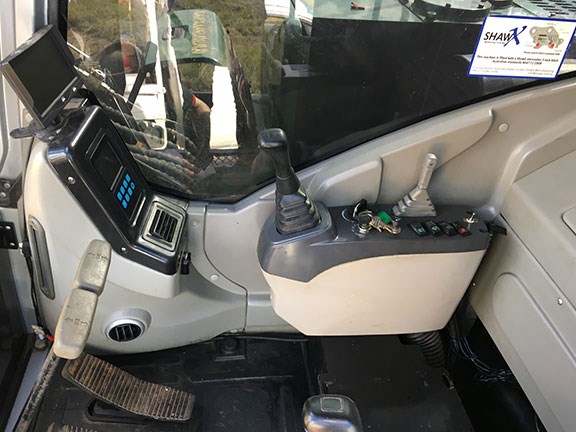 The cabin and electrical systems were eventually restored to as-new condition

In Part 3 of the saga in which our intrepid reviewer RON HORNER sank a Heking HK150SD floating excavator in a South East Queensland lake and then called in an army of mates to salvage it, we get the low-down on what it took to rebuild and clean out the digger

It took about a minute, after we got the Heking out of the murky depths of the Stanthorpe lake and onto the shore, to prove to me that a week is a long time when you are sitting in 5m of water.
 Although appearing not to be suffering from any major physical damage, the sheer mess created was extreme and the clean-up campaign looked like it would be long and arduous.
In times like these I wonder just how those poor buggers suffering from the effects of Cyclone Debbie handled having to account for all of the personal losses and suffering let alone the clean-up of not only the house, but yards, streets, suburbs or towns. It must have been gut-wrenching to have to go through it.
At the end of Part 2 of this story I left you with Corey Gurney of Lithgow Mechanical about to work his magic.
As I said, Corey is one of those 'can do anything' blokes most of us envy. 
"He is skilful in every facet of engine building, auto electrical and mechanical (both diesel and petrol); he's a forward thinker, pedantic and so, so bloody fussy he drives you mad," I wrote.
"But he has bucket-loads of patience and a motto of 'short cuts mean short circuits', and that was the type of guy I needed on this job."
Having dropped everything and made the 1000km trip within a day, it seemed that Corey had a point to prove and attacked the resurrection of the Heking with all the gusto he could muster.
His predetermined list was long and he did not sway from it at any point. Systematically he started working through every single point of water inundation on the machine. The electrics were a nightmare.
Big repair list
All side and bonnet covers were removed to gain easier access to the engine bay and to the electrical fuse boxes. The engine oil was drained, oil filter, turbo pipes and muffler, exhaust manifold and all dried out and relubricated.
The fuse boxes and control panels were removed along with the glow plug relay switches, fuses, relays and solenoids and then all cleaned dried ready for replacement.
The once pristine cabin was now a smelly, greasy cess pit of mud, debris, reeds and fish ... eight of them who had taken up residency in every nook and cranny available.
This meant that everything had to be removed. The suspension seat – which weighed in at about 150kg as it was still sopping wet and smelly – all the switches, relays, control panels, panel wiring, UHF Radio, AM/FM Radio, AC control unit, circuit boards and wiring.
And all had to be stripped, removed and dried ready for replacement.
The cabin took a lot of cleaning up, almost as much as Corey's Friday breakfast he shared with us after finding the last of the eight fish squeezed into a corner in the cabin … after all, it was only five days old!
Everything that was removed was systematically cleaned and dried, tested, cleaned and dried again and re-tested before heading back to the Heking for re-fitting.
The electrical circuitry is the most important item in resurrecting any water inundated item of machinery, whether it be a pump or a dozer. It's best to do it right the first time to save headaches later.
The engine was another important item on the list of leaving no stone unturned in the rebuild.
Starter motor and alternator wiring were all stripped and cleaned. Injector lines and tappet cover were removed along with the diesel injectors for internal inspection of engine.
Due to the Heking being on its side for so long the engine cylinders had been filled with oil through the breathing system and required removal prior to attempting to start the engine.
 All of the required actions were executed to perfection but  sourcing new injector seals locally became a problem and they were ordered from interstate and Brisbane. This caused a delay in having the Heking operational faster as we lost five days over it.
With the electricals, circuit boards, wiring, cabin and engine now hopefully sorted (subject to the parts arriving intact) we then switched our attention to the fuel system.
All the diesel was removed and tank flushed, and filters were fitted not only once but twice to ensure all of the impurities were removed. The electric fuel pump was cleaned and tested prior to refilling the tank and priming the system ready for ignition.
I felt a sense of trepidation due to the delay in the injector seals. The weather forecast was not good and Cyclone Debbie had formed up north and it was evident that she would eventually cause havoc to the south and, in doing so, cause us considerable grief.
Against the clock
As I wrote previously, earthmoving contractor Adrian Johanson was a legend in providing two of his Sumitomo excavators to assist me in the retrieval of the Heking and also a couple of operators with exceptional swimming abilities.
Well, Adrian had been more than generous with his machines and had left them onsite just in case we could not get the Heking operational under its own power.
If that ended up being the case we would have to drop off the track motor hoses, skull drag the Heking some 800m to the nearest road and engage a crane to lift the floating excavator onto an escorted wide-load float.
Cost in time and money was staring me down so we hoped we had covered all our bases. We just needed the parts to arrive early and with no delays … it was going to be close.
Murphy's Law is not confined to your neck of the woods as it became quite apparent it was sitting there beside me as I was informed that the parts were not on the courier's truck … bugger!
Adrian was committed to pull out his gear as the aftermath of Cyclone Debbie bore down on the coast, causing untold grief on the whole east coast of Queensland, so an executive decision was made to haul the Heking out to the road across 800m of paddock strewn with granite rock protruding out of every pocket of tall grass.
 It didn't do the machine too much good but by disconnecting the track drive hoses we could free-wheel the tracks but not avoid the rocky outcrops.
At least we had it on the road ready for a pick up and were ever-hopeful the parts would turn up the next day so we could crank the 'Heking Duck' over … fingers crossed.
The phone rang early and the parts were in. Corey had convinced me that, in his opinion, the Heking would start and be operational within a few hours and, true to his word, it fired up (after a bit of convincing) and hasn't missed a beat.
With the floater sorted Corey packed up and headed back to Lithgow ... his job was done.
It certainly says something about buying a purpose-built Chinese floating excavator. The Heking is by no means a fancy, computerised excavator and the 'KISS' motto (Keep It Simple, Stupid) certainly applies here to a T.
The simplistic nature of the Heking enabled us to take the machine from a 5m depth of water to the shoreline and have it rebuilt, up and running in just a week.
A lot had to do with the men engaged on the salvage and rebuild but I can assure you that if this was a state-of-the-art excavator we would be looking at an insurance write-off.
Instead this floating excavator has lived to float another day.
The final leg
With the machine all cleaned down with a pressure washer fed by a water pod filled with dam water, the cabin spotlessly cleaned and armour oiled, all glass crystal clear (compliments of Nurse Susie, our videographer and photographer) I could now sit back and take in the amount of damage and grief just one small lack of concentration or poor judgement can cause.
Luck played a big part in me not getting injured or worse, but there were also many successful safety measures already in place. This incident has certainly shown me more has to be done to make the operation of these machines much safer for the next generation.
I intend to do as much as I can to ensure this happens.
As the Nurse and I headed out well before daylight on a miserably wet and windy morning we met heavy haulage operator Jamie Rieck. It was Jamie's job to get the Heking to Brisbane so the insurance assessors could give it a quick look over and check out any other damage to the pontoons or track frame in a more suitable work environment.
Cyclone Debbie had caught up with us and, as Nurse Susie directed the early morning backpacker traffic to a halt, I loaded the Heking, dogged her down with Jamie and breathed a sigh of relief … my job was done. 


Drone photos: Michael Grassick of UAV Photography in Stanthorpe
Subscribe to our newsletter
Sign up to receive the Trade Earthmovers e-newsletter, digital magazine and other offers we choose to share with you straight to your inbox
You can also follow our updates by liking us on Facebook. 

Loaders For Hire | Dozers For Hire | Excavators For Hire | Forklifts For Hire | Machinery Attachments For Hire