Feature: How haul road design affects mining tyres
---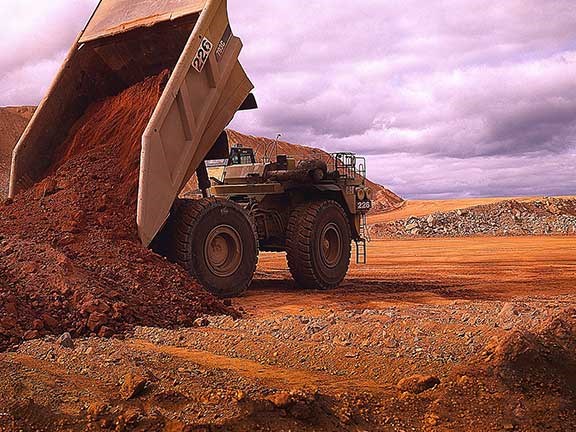 A haul truck at work in the Pilbara

The influence of haul road design and maintenance on the effectiveness of haul truck tyres is often overlooked. Brad Lockyer gets the lowdown from Ian Campbell of heavy-duty mining tyre specialist Kal Tire Australia.


Repairing and replacing haul truck tyres can be among the more significant operational costs in mining, so it's important that best-practice tyre management principles are followed to maximise not only the life of tyres, but also their effectiveness in production.
Operator safety and fuel efficiency are other important factors to take into consideration.
"If a haul road is designed to be optimised for tyres, then it's also optimised for fuel efficiency," says Ian Campbell, operations support specialist at Western Australia's Kal Tire.
Apart from selling speciality mining tyres, Kal Tire maintains and services tyres and also conducts audits of mine sites to provide advice and recommendations to miners to help them get the most out of their tyres.
Campbell says a wide range of tyre-related factors need to be taken into consideration when planning and designing a road; from its geometric structure and gradient to the density and type of materials used in its construction. Ongoing maintenance also plays a vital role.
Haul road management can typically be classified into the following elements: geometric, structural, functional and maintenance. Each one has a distinct influence on tyre performance and fuel costs.



Geometric
The geometry of haul roads has perhaps the greatest influence on the lateral forces experienced inside the tyre. The gradient of hills and the elevation and angle of corners can force excessive pressure into certain points of the tyre.
"We're looking at how many sharp turns and banks there are in the operation and their dimensions," Campbell says.
"We're also looking at how intersections interact as there are recommended practices on how intersections should be organised on mine sites."
Campbell says that, in situations where it is impractical to redesign or rebuild the road or corner section, Kal Tire will make a recommendation on the speed and technique the driver should use on the corner.

Structural
When looking at the structural design of haul roads Kal Tire focuses on how the haul road is built up, how thick it is, how many layers there are and what the layers are composed of.
Campbell says this area has historically received little attention, with roads generally built as quickly as possible, leading to big rocks being broken into tiny, sharp fragments capable of damaging tyres. He says a number of structural factors need to be considered.
"You've got to work out how much load the road has to carry and, then which type of sub-base you'll need with which size of rock, then work out any additional layers," Campbell says.
If the layers that make up a haul road aren't packed down sufficiently or are constructed of the wrong type or size of material, then over time the weight of the trucks will cause undulations in the road. The bigger the undulations get the bigger the problem for trucks and the harder it is to repair.

Functional
The functional element examines just the top layer of the road which comes into direct contact with tyre tread. In civil engineering terms this layer is also known as the sheeting.
Another key term in this area is 'rolling resistance', or how much a tyre sinks into the sheeting as the tyre rotates. Different materials used for the sheeting produce different levels of this resistance.
"Think of it like this," Ian continues. "If a vehicle's wheel was in very soft sand, it's not hard to imagine it would be harder work for the vehicle to move.
"What's actually happening is that as the tyre sinks into the ground, it's trying to go uphill. So if you reduce that softness, make it as hard as possible, then the better the rolling resistance."



Maintenance
Campbell says that this is the area with the most significant opportunity for improvement on mine sites, as often not much can actually be done about the physical geometric structure of existing roads.
Mine managers need to be on the lookout for road degradation and waste, he says.
"One thing we're looking for here is rock spillage," Campbell says. "As the trucks engage a steep incline they have to change gears down, and that jerking movement can cause rocks to fall from the back of the truck.
"Often at the bottom of inclines you'll find a pile of rocks developing, and if one of the rocks was big enough it could cause the tyre to burst," he continues.
"Or if the rocks are small enough then stone drilling is a factor. If a smaller rock gets into the tread it then gets pushed further and further in as the tyre rotates, eventually causing a failure."

Every mine is different
Campbell says that, all things considered, how miners choose to design and build a road comes down to priorities and the environment the mine is located in. For instance, haul roads in high rainfall areas must take drainage needs into account, as water only complicates rock damage.
"Water acts as a lubricant for rubber," Campbell says. "If you hit a rock and it happens to be under water, you'll do a lot more damage to the tyre than if you hit the same rock in dry conditions.
"What we don't like to see as tyre managers is trucks driving through standing water on the road," he adds.
Campbell says it's an economic question as well.
"It depends on how long that haul road is going to be there," he says. "Haul roads by nature can be quite temporary.
"Do I spend lots of money building a really flash haul road so I can make savings on tyre performance and fuel burn, or do I intentionally build a cheaper road and accept the losses?
"It's a balancing act."


Kal Tire operations support specialist Ian Campbell will be addressing this issue in his keynote address at the Aimex 2017 mining expo at the Sydney Showground in September.
Subscribe to our newsletter
Sign up to receive the Trade Earthmovers e-newsletter, digital magazine and other offers we choose to share with you straight to your inbox
You can also follow our updates by liking us on Facebook. 

Loaders For Hire | Dozers For Hire | Excavators For Hire | Forklifts For Hire | Machinery Attachments For Hire