Mining, Mindanao and Manny Pacquiao
---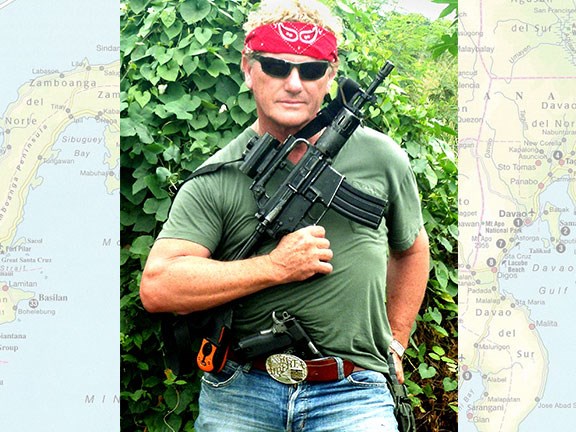 Ron Horner on a quiet pipeline job in the Philippines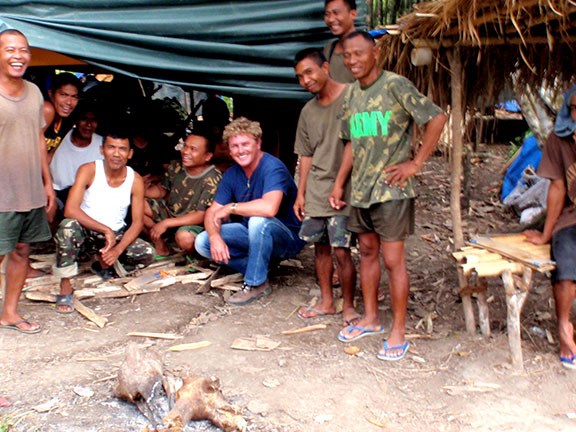 Part of the happy pipeline crew in rebel-held territory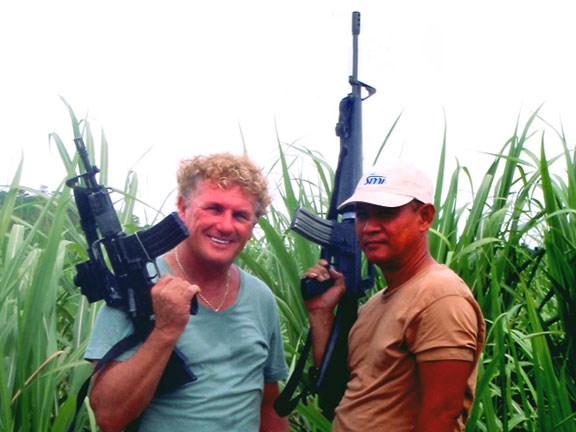 Ron and his bodyguard Ernie, on loan from Manny Pacquiao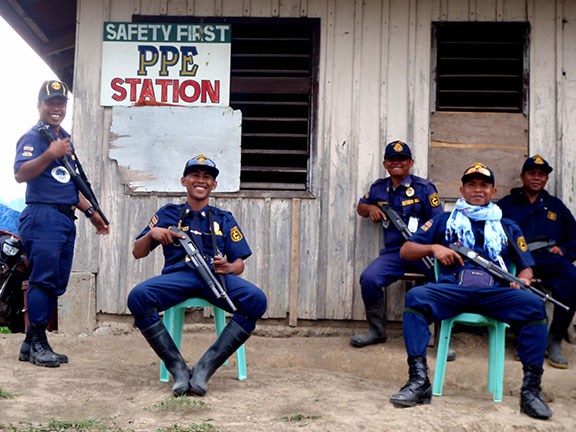 A few of the Filipino guards with shotguns in hand

Think your earthmoving job is hard? Grab a beer as Ron 'Rambo' Horner tells the story of a Philippines pipeline job in rebel territory, and how he tried to meet boxer Manny Pacquiao
LAST weekend's Brisbane boxing match between our own Jeff Horn and the Filipino god Manny Pacquiao reminded me of a period of my "life without a wife" and some of the predicaments we can get ourselves into while working in this wonderful industry of construction, mining and earthmoving.
Back in 2009 I headed to the Philippines for a short stint or two to secure a pipeline easement in the lovely South East Asian island of Mindanao, one of the 7000 which make up the Philippines.
Arriving in General Santos City – or Gen San to the locals – I was assigned a bodyguard in the form of 'Ernie', a no-nonsense bloke who was best mates with Manny Pacquiao and served as his travelling bodyguard.
Now, in case you've been living under a rock, Pacquiao is the Tom Raudonikis of boxing and is claimed to be the best pound-for-pound boxer in history.
His career, in which he has claimed 11 major world titles, has netted him earnings of over $1.2 billion and placed him as the second highest paid athlete in the world in 2015.
Pacquiao is a long-serving local and federal Filipino politician who served the local Mindanao and Gen San people for many years. He is also currently a Philippines Senator, which actually makes him The Honorable Manny Pacquiao.
He also served as a military reservist and reached the rank of Lieutenant Colonel.
Ernie and I called into Pacquiao's home just outside of Gen San on several occasions as Ernie was keen for us to meet.
The background
The whole saga started when I received an enquiry from an overseas consulting firm on the lookout for a person willing to take the trip to Mindanao. Having never visited the Philippines before and not having that much on I decided to put my hand up and have a crack.
There must not have been much interest from anyone else in the world as I got the bloody job!
The normal overseas posting rituals of passport, medicals and injections were quickly executed, but as there was a covert nature to the trip my itinerary was left up in the air. I was told to be ready for a phone call at any time and to be free to access Brisbane Airport with two hours' notice.
The phone call arrived and I found myself at the Singapore Airlines booking counter being handed an envelope containing first-class return tickets to Singapore.
I also received strict instructions outlining the covert nature of the appointment, with a no-communication clause and instructions to meet a certain person at Singapore's Changi Airport who would advise me of the next stage of my trip – to the Philippines capital of Manila.
I felt a bit strange but this all added to the excitement.
Bodyguards and security were with me after the plane hit Manila's tarmac and before my flight to Gen San.
I wondered if I was really ready for what could lay ahead … after all, I was a single parent with kids still at home. So it was with some trepidation that I sucked it up and started to reflect on just what I had gotten myself in for.
Gen San was about as far as you could get from the bright lights city of Manila. It was still a bustling, busy place but without the flashy hotels and malls it was a far cry from the northern capital.
I was greeted by a stocky, muscular, no-nonsense sort of guy who introduced himself as Ernie, saying: "I am your personal bodyguard and I will be with you 24/7 while you are here."
Now that was not what I was expecting and if I had any doubt in my  mind beforehand I certainly had some doubts creep into my  mind after this introduction.
After a trip downtown to the mine office, a quick induction, a meet-and-greet and a hand-over of documentation on our objectives, Ernie had me whisked away to the East Asia Royale Hotel.
True to his word Ernie accompanied me everywhere, though our free access was extremely limited.
As Ernie and I got to talking I realised that the security for Westerners was a top priority due to the fact that the rebel factions who have caused so much grief in Mindanao for so many years, were known to kidnap foreigners (especially mine workers) and demand huge ransoms for their release.
Killings were, and are, also frequent and as we had to head into rebel territory in the jungle it was imperative that the mine provided the utmost level of security to its personnel.
The penny drops
I suppose breakfast the next morning was when it hit me. The friendly staff at the hotel restaurant enquired what I was doing in Gen San and when I told them I was heading up to Kimlawis and Tampakan I was met with a look of horror and disbelief.
"Don't go there," they said. "It is very, very dangerous … please don't go!"
Ernie quickly interjected by noting that he was my personal bodyguard and that our driver was also armed. It was at this point of no return that I realised that I was entering into something totally foreign to me. No wonder I got the job!
Once in the 4WD I could not help but notice the smell of fresh gun oil with a hint of gunpowder. I wasn't sure if the smell came from the M16 or one of the several handguns that shared the back seat with me. I was used to the smell from my professional roo shooting days, but the circumstances were very different.
Our objective was to inspect several proposed concentrate pipeline routes which traversed the jungle from the mine site, either to Malalag Bay on one side of the island or to Sarangani Bay at Gen San on the other.
It was about 150km in all, but to achieve this we had to traverse rebel territory in some unforgiving jungles in a foreign country in which I could not speak the native language. Ernie was going to have a best friend beside him whether he liked it or not.
Where's my M16?
The first day was a classic introduction to the job. Driving deeper into the jungle we came across a contracted drilling crew working on some exploratory drilling for the mine. Security guards surrounded the site as we made a quick stopover before heading off deeper into the jungle.
After travelling a few kilometres we heard several shots being fired and Ernie threw me to the floor as our driver took evasive action to clear the area. Not knowing where the shots came from we made it into another very basic mine bush camp which was used by local military reservist volunteers who were engaged as backup and security by the mine.
The rebels were non-forgiving with the locals: They would take wealthy Filipinos as hostages and had no problem in shooting the rest should it come to that. The convoys were always an easy target.
On our return trip the next day we found out that the rebels had attacked one of the drilling rigs and killed a Dutch geologist while losing a couple of their own lives.
It was at this point that I asked for my own weapon.
"That is not possible, Ron … we can't give weapons to untrained personnel," Ernie said, much to my disapproval.
That afternoon in another part of the jungle there were more shots fired nearby but not directed at us. Ernie and our driver forced us into the jungle undergrowth with weapons cocked, waiting in anticipation.
Nothing eventuated so we decided to have a cuppa (well, I did anyway). Ernie had parked his M16 up against the 4WD so I decided to show him how 'untrained' I was with weapons by dismantling it while he was otherwise occupied.
He wasn't happy when he returned, but it did convince him I was familiar enough with weapons to have my own weapon.
That night I was able to secure my own M16 and a Colt .45 and, if I may say so, it felt bloody good and I carried them with me every bloody day. During that period of my Philippines posting 22 people were killed in that region.
I felt fortunate to meet so many lovely people, to experience the difficulties suffered by others in an industry we take for granted and to realise how we seldom appreciate the stable and safe society and safety in which we live.
Ernie and I continued for two stints as partners on that job. We became very good friends and he introduced me to some of his dearest friends.
And Manny Pacquiao? As much as we tried, I never got to meet him!
Subscribe to our newsletter
Sign up to receive the Trade Earthmovers e-newsletter, digital magazine and other offers we choose to share with you straight to your inbox
You can also follow our updates by liking us on Facebook. 

Loaders For Hire | Dozers For Hire | Excavators For Hire | Forklifts For Hire | Machinery Attachments For Hire