GALLERY: 2018 Diesel, Dirt & Turf Expo
---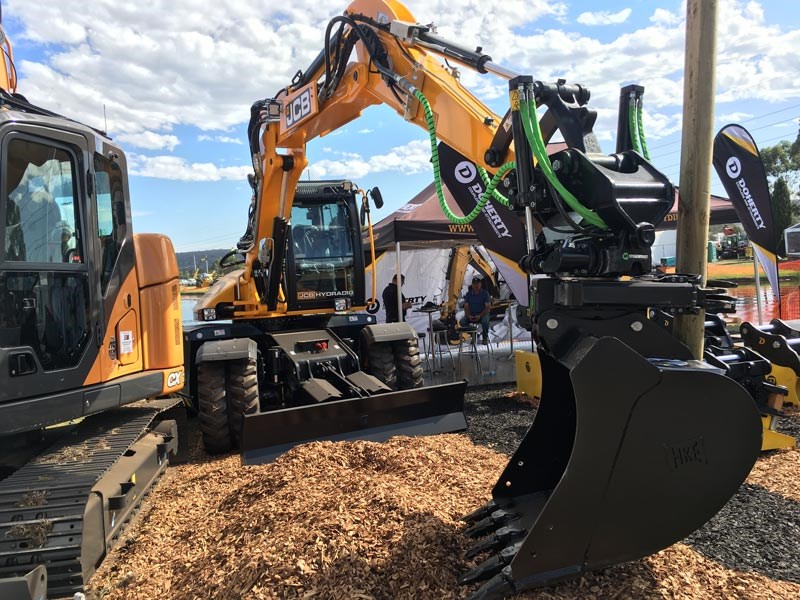 JCB Hydradig 110W is a A 11.2-tonne digging, lifting, tool-carrying machine that looks like a rubber-tyred excavator but is so much more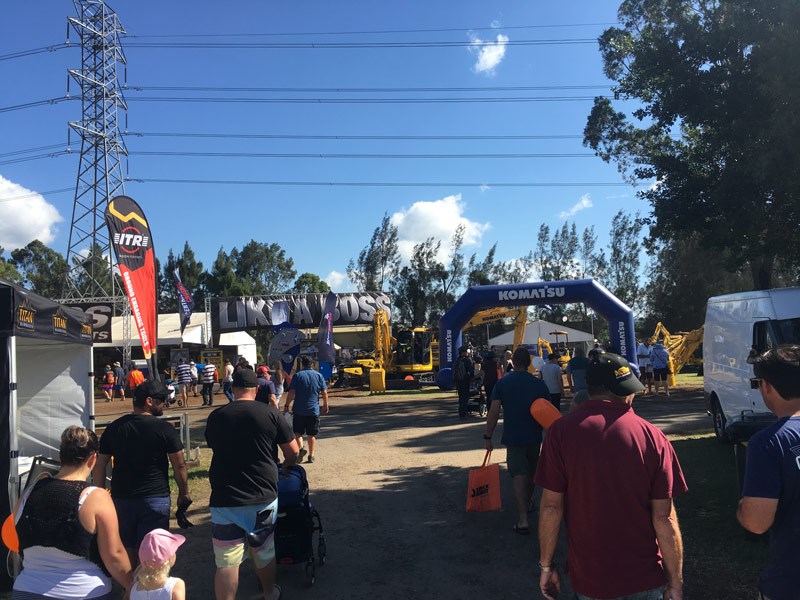 With so much gear to check out the crowds took their time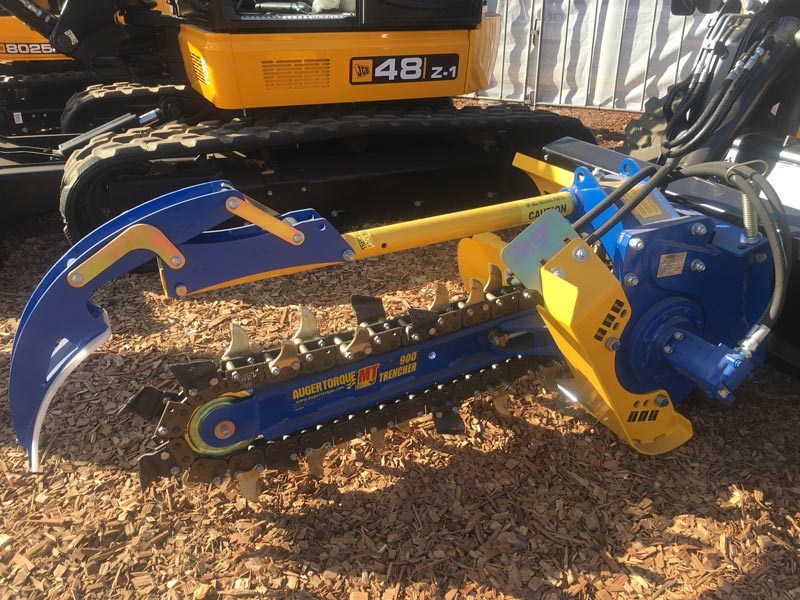 The Auger Torque MT Range of trenchers is designed for Excavators between 2.5T-5T, Skidsteer Loaders up to 80hp and also Mini Loaders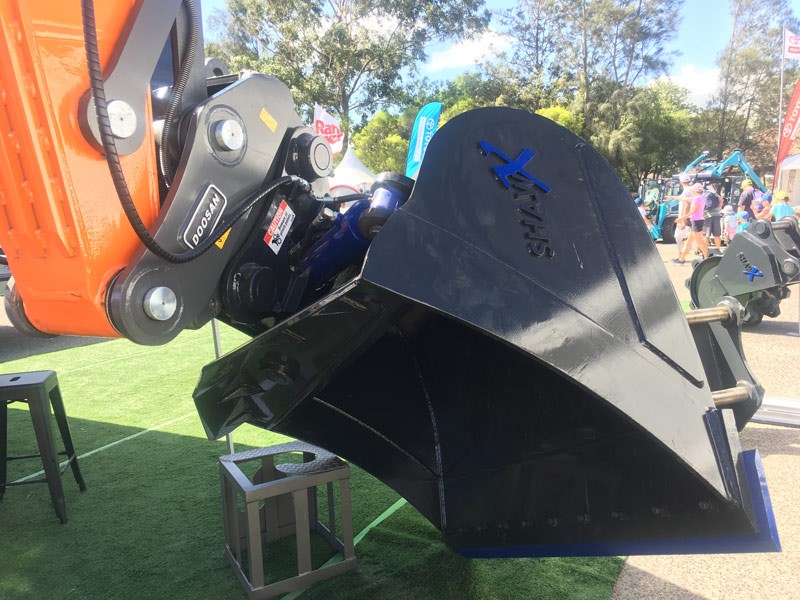 This Queensland made and designed ShawX Tilt Bucket can be used for precision work such as batters and drains and final trim work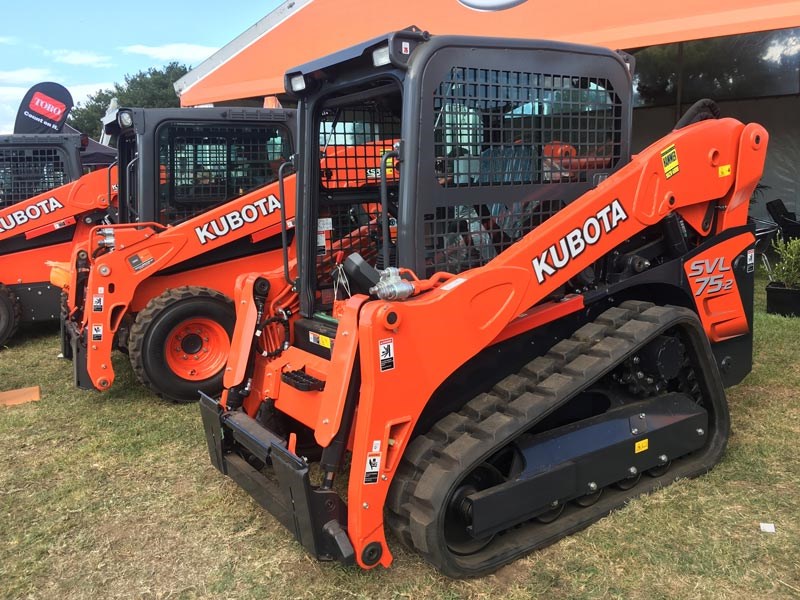 The Kubota SVL75-2 is powered by a 74hp Kubota engine, and has a 2814kg bucket breakout force and 2214kg lifting capacity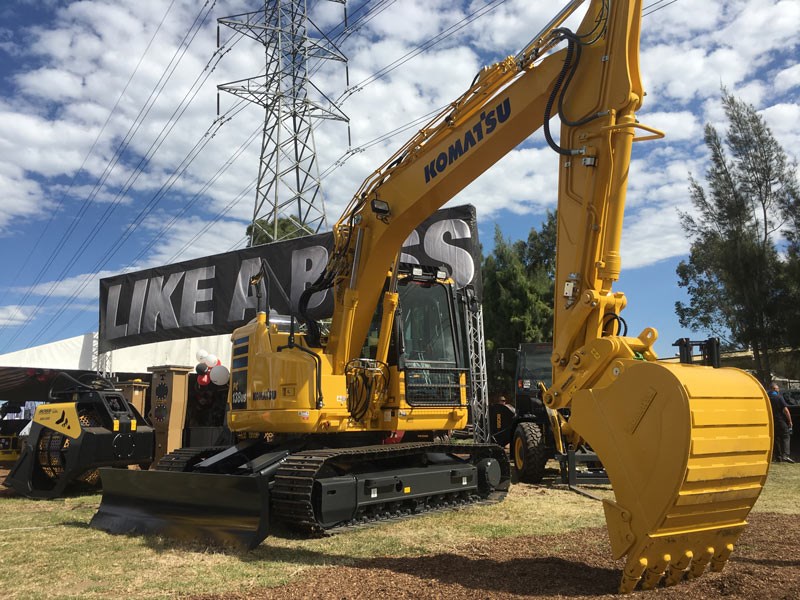 The Komatsu PC138US-8 hydraulic excavator has an ultra-short tail swing for work in confined areas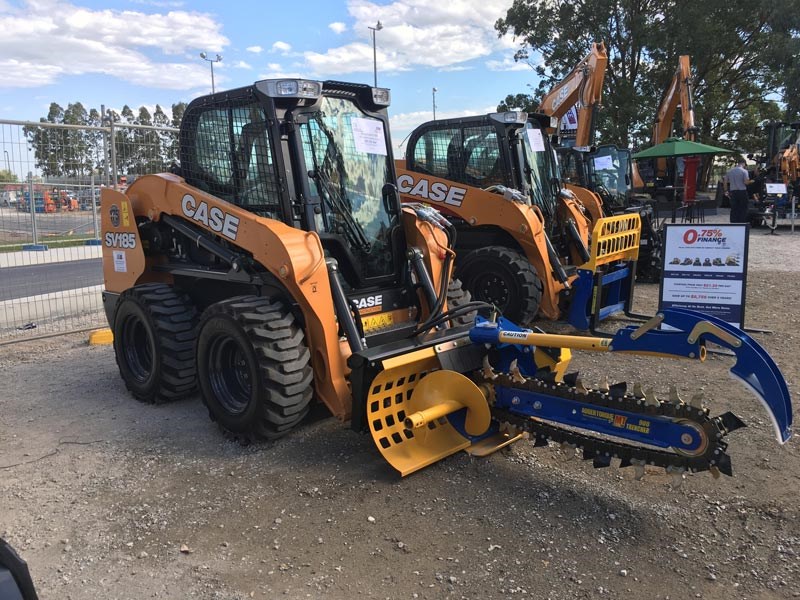 The Case SV185 Skid Steer Loader is a vertical lift machine, engineered for lift and carry jobs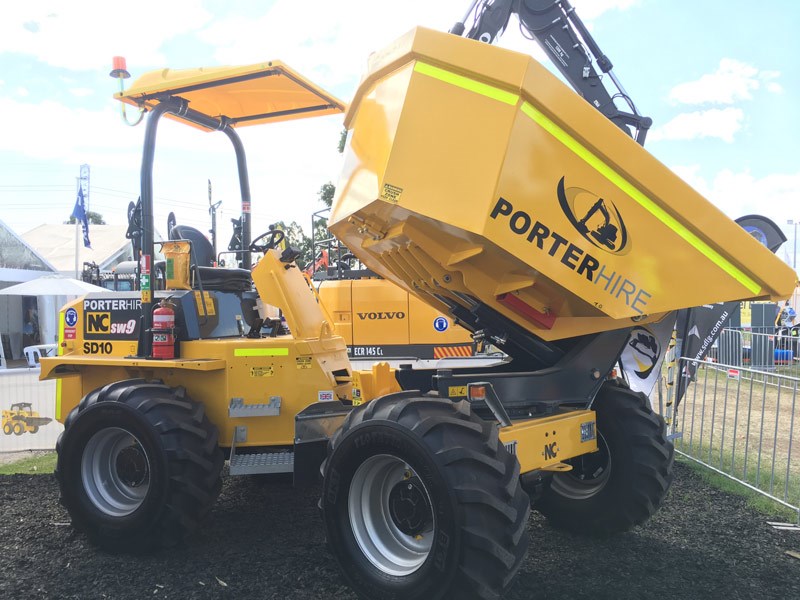 The Case SV185 Skid Steer Loader is a vertical lift machine, engineered for lift and carry jobs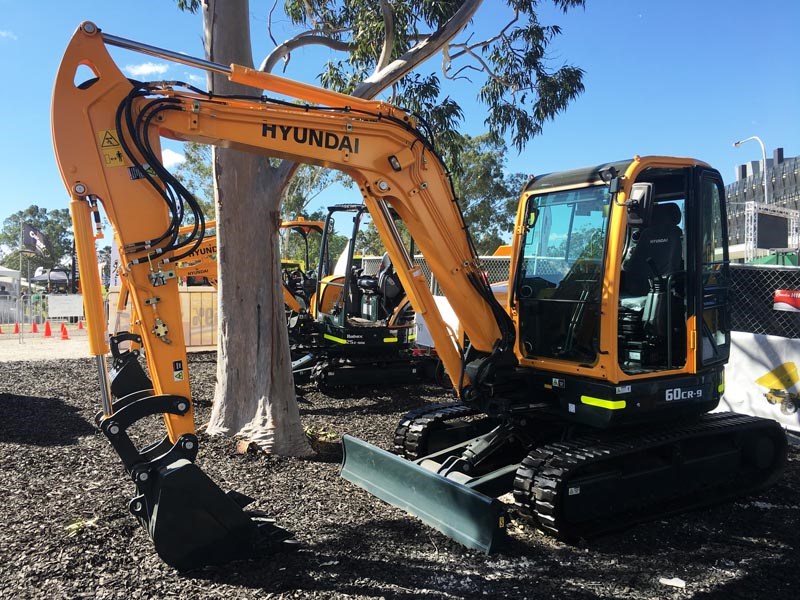 Hyundai Robex 60CR-9 Mini Excavator is built for getting in the tight places on jobs where there's not much room to move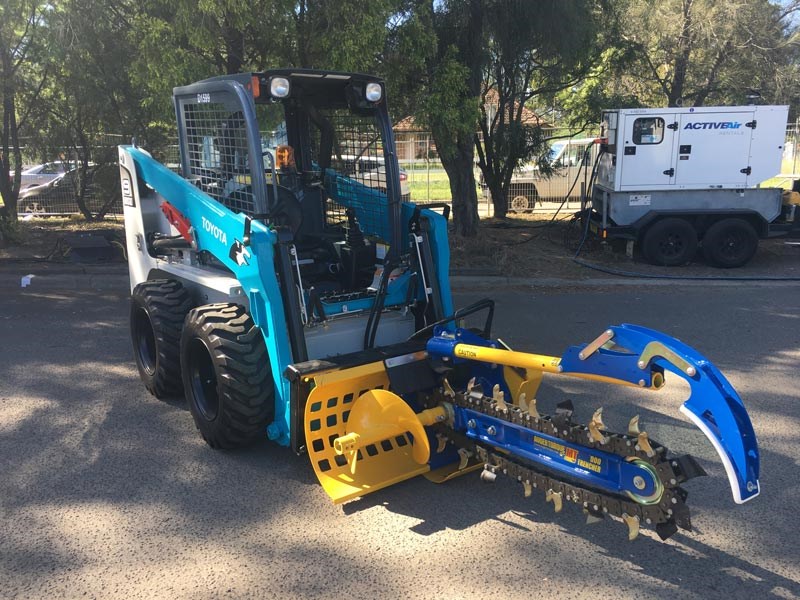 The Toyota Huski 5SDK9 skid steer loader is all about good steering and operator control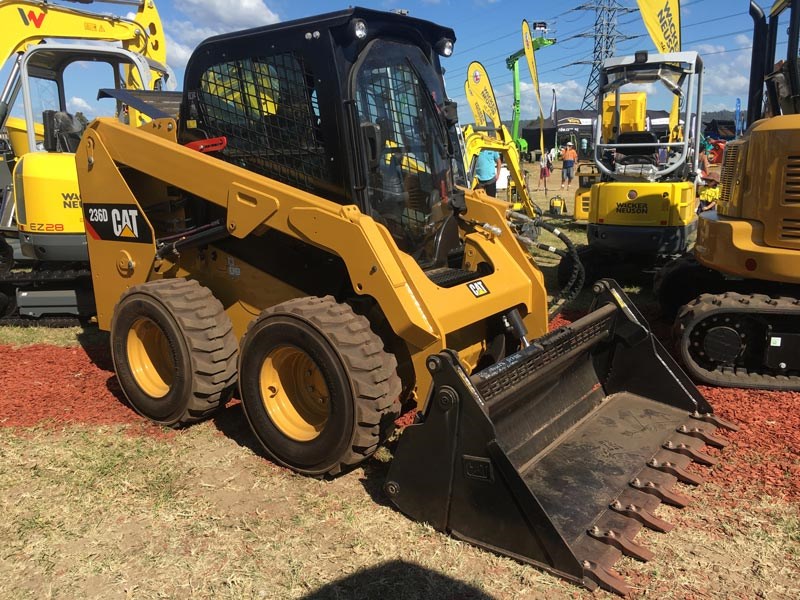 This Cat 236D skid steer loader has a radial lift design and is built for exceptional mid-lift reach and digging performance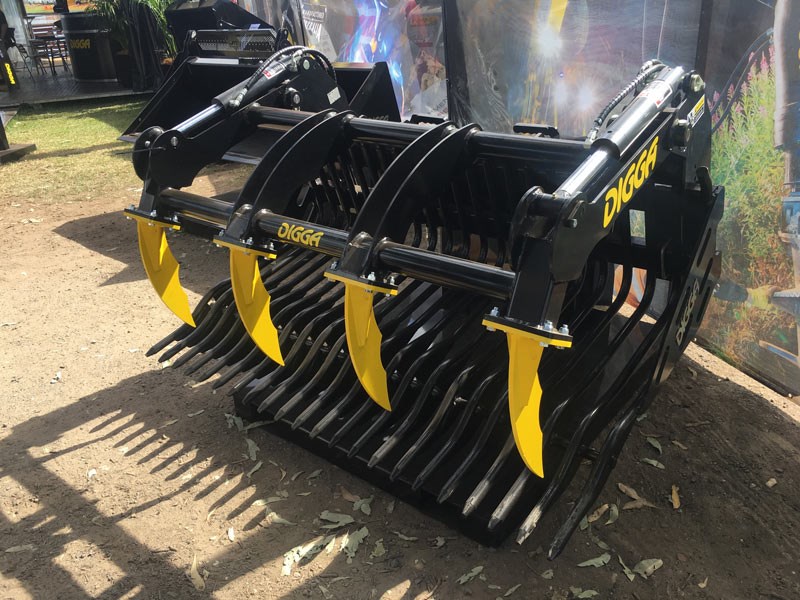 The Digga Rock Bucket can be used for sifting debris and rocks, but they are also often used for waste processing purposes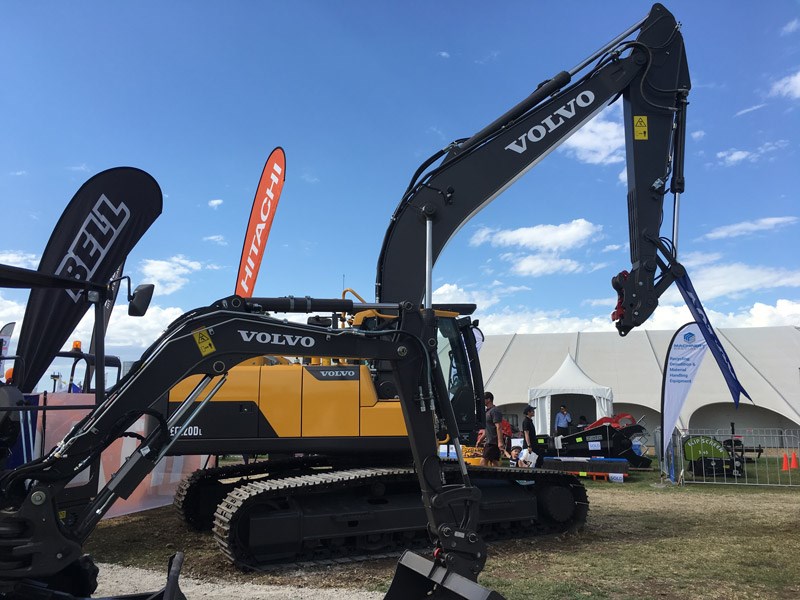 This Volvo EC220D Hydraulic Excavator packs 174hp, has a 5.7m boom and a 2.9m arm.

The 2018 National Diesel Dirt & Turf Expo saw huge crowds of machinery lovers pour through the gates over three scorching days in Western Sydney
JCB Hydradig 110W
A 11.2-tonne digging, lifting, tool-carrying machine that looks like a rubber-tyred excavator but is so much more. It's suited to a wide range of applications, from general construction to utilities, highways and landscaping. It runs an 81kW (109hp) JCB T4F EcoMax 444 diesel engine and comes with a 0.31-cubic-metre bucket.
With so much gear to check out the crowds took their time as they wandered around the 2018 National Diesel Dirt & Turf Expo.
Auger Torque MT trencher
The Auger Torque MT Range of trenchers is designed for Excavators between 2.5T-5T, Skidsteer Loaders up to 80hp and also Mini Loaders. Chains are available in a number of different tooth configurations for trenching in soft ground, mixed grounds and even permafrost. Precision depth control skid enables the operator to set the desired trench depth.
ShawX tilt bucket
This Queensland made and designed ShawX Tilt Bucket can be used for precision work such as batters and drains and final trim work. This style of bucket gives the operator full radial control of the cutting angle. This design means it is possible to continuously vary the cutting edge relative to the inclination of the machine.
Kubota SVL75-2 compact track loader
The Kubota SVL75-2 is powered by a 74hp Kubota engine, and has a 2814kg bucket breakout force and 2214kg lifting capacity. The new high-flow model has increased hydraulic flow for the ability to operate a variety of attachments that require more hydraulic horsepower.
Komatsu PC138US-8 excavator
The Komatsu PC138US-8 hydraulic excavator has an ultra-short tail swing for work in confined areas. With a near-zero tail swing radius, it's built for roadways, bridges, in urban areas, or anywhere with limited work space.
Case SV185 skid steer loader
The Case SV185 Skid Steer Loader is a vertical lift machine, engineered for lift and carry jobs and can be used for everything from powering hydraulic attachments such as trenchers, buckets —or can be used to unload heavy pallets.
NC site dumper
Porter Group offers the complete range of NC Site Dumpers which are suitable for pretty much any earthmoving task. This particular SW9 model features power swivel, a JCB444T engine and has nine tonne load capacity.
Hyundai Robex 60CR-9 mini excavator
Hyundai Robex 60CR-9 Mini Excavator is built for getting in the tight places on jobs where there's not much room to move. This model features a Yanmar 4TNV98 engine and has and operating weight of 5,900kg.
Toyota Huski 5SDK9 skid steer loader
The 5SDK9 skid steer loader is all about good steering and operator control. An optional high-flow system operates most high-flow attachments requiring flows of up to 100 litres per minute and it comes with the option of a four-in-one or a G.P. bucket.
Cat 236D skid steer loader
This Cat 236D skid steer loader has a radial lift design and is built for exceptional mid-lift reach and digging performance. It's also notable for its strong drawbar power; it has a Cat C3.3B DIT turbo engine.
Digga rock bucket
The Digga Rock Bucket can be used for sifting debris and rocks, but they are also often used for waste processing purposes. By using this; material can be sifted to clean out unwanted material and leave the good soil behind. This is the 1650mm model, made of 28mm, 1045-grade steel.
Volvo EC220D hydraulic excavator
This Volvo EC220D Hydraulic Excavator packs 174hp. It has a 5.7m boom and a 2.9m arm. The company says it's 10 per cent more fuel efficient than the previous model.  It features a redesigned hydraulic system and a Volvo D6 diesel engine.
Bit windy: Queensland Rock Breakers powered by RDW introduces the Allu D- series Transformer....
Komatsu
 PC 18 MR 
Takeuchi TB2150R
Subscribe to our newsletter
Sign up to receive the Trade Earthmovers e-newsletter, digital magazine and other offers we choose to share with you straight to your inbox
You can also follow our updates by liking us on Facebook. 

Loaders For Hire | Dozers For Hire | Excavators For Hire | Forklifts For Hire | Machinery Attachments For Hire