Massive Komatsu ANZ launch
---
Komatsu launched a huge range of 25 new Tier 4 machines including excavators, loaders, trucks and graders at Cessnock in regional New South Wales recently

New machinery launches this big are rare in the Australian earthmoving and construction industry, so Earthmovers & Excavators magazine couldn't resist having a sticky beak. These new Tier 4 engines incorporate unique Komatsu technology to reduce emissions levels by 90 per cent, compared with their previous-generation Tier 3 equivalent machines.
As the former Komatsu general manager for Queensland, Dean Gaedtke took on his current role as executive general manager construction on April 1 and says he could not be more excited about the direction in which the company is now headed, especially with the launch of all these brand new Tier 4 machines.
"Komatsu has introduced new electronic control systems throughout the new machines that ensure engine power, hydraulic requirements and transmission output is optimised – resulting in fuel-consumption savings of between 5 per cent and 15 per cent – depending on models and applications," he says.
"All Komatsu's new Tier 4 machines take advantage of the company's latest developments in its Komtrax Step 5 telematics-based remote monitoring system to deliver owners and fleet managers even more data about key operating criteria."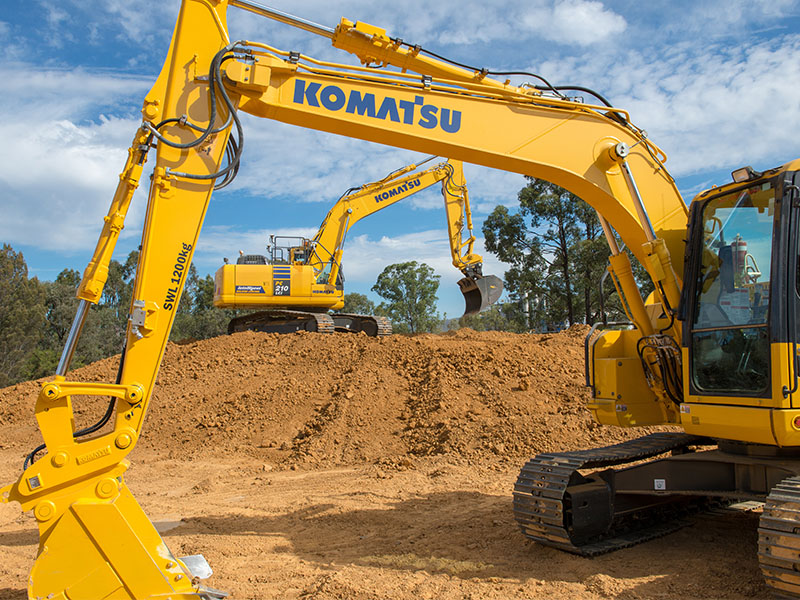 Gaedtke says with so many new products being launched, it's hard to pick a favourite, but there are a number that have exceptionally impressive features.
"I'm really excited about the release of these 25 new models into Australia and New Zealand and New Caledonia. This is the latest technology that Komatsu has released and the largest release anywhere else in the world of this amount of new product.
"Tier 4 technology isn't just about the latest emissions standards; Australia hasn't yet released its emissions standards, but it will come and the New South Wales Government has required in new tenders that they [tender applicants] have Tier 4 machines."
"In regards to integrated machine control (IMC), it's not about replacing people but enhancing the skills of the people and opening up the spectrum of available labour for our customers – they can actually bring in lesser-skilled people to operate this equipment."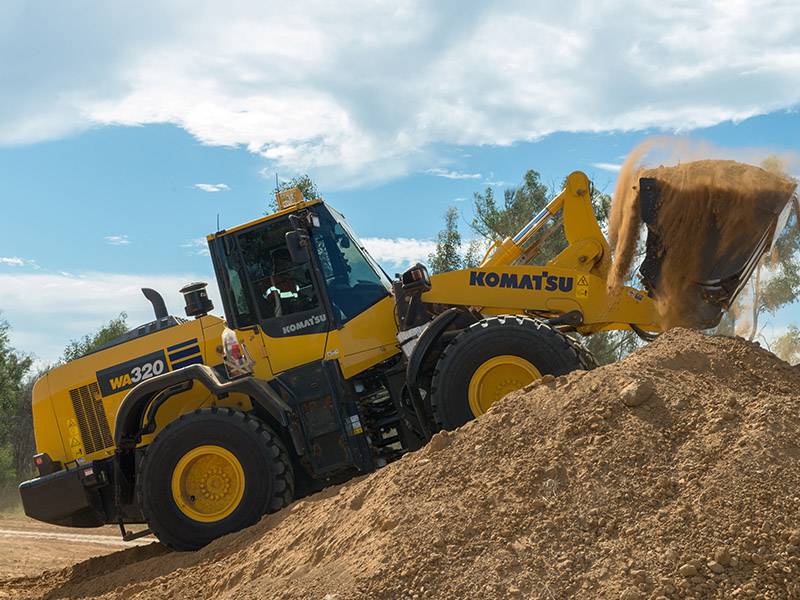 With 25 new products across different categories it's hard for Gaedtke to pick out individual models, but the new excavator range he says is beyond impressive.
"Seeing the IMC semi-autonomous system in action on the new excavators is amazing, but also the dump trucks we've released have a lot of improvements on the previous model," he says. "On the new bulldozer range, we also have the integrated machine control, which allows machines such as excavators and bulldozers to excavate, bulk out and trim – all very complex tasks – according to preset design criteria.
"IMC is factory integrated into select Komatsu machines and results in significant improvements in efficiency and productivity compared with conventional construction processes. Customers who've used this technology are seeing massive benefits from it."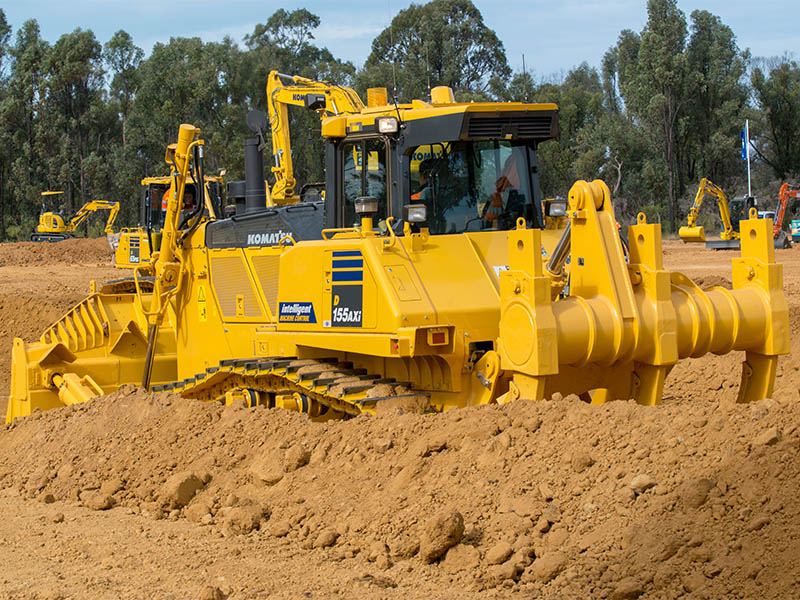 It was a huge week for the Komatsu team. Australian national customer applications manager Craig Summerfield (AKA Shine) won the overall global Komatsu 'presidential' award for construction on the week of the Boots On launch event, which brought together employees from Australia, New Zealand, New Caledonia and beyond.
He's a grader man, so his personal favourite machine from the launch event is the new Dash 6 GD655-6 grader.
"With the Tier 4 engine; the fuel consumption is out of this world [low]," he says. "It's just so stable. Anyone would think it's a bulldozer."
 "Just touching on the bulldozers, who would've thought you can put smart construction on a 40-tonne bulldozer? A 9.4-cubic-metre blade, variable pitch rippers, and this thing is cutting the grade within a few millimetres — it's amazing!"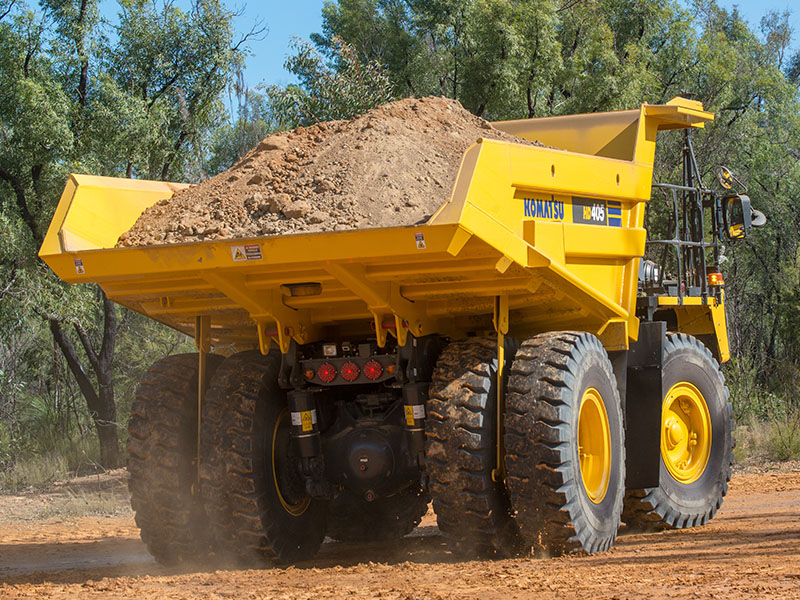 HD405-8 & HD605-8 dump trucks
Komatsu says the 40-tonne HD405-8 and the 63-tonne HD605-8 rigid frame trucks can deliver fuel savings of up to 7 per cent over previous models.
Designed for quarry, construction and smaller-scale mining operations, both trucks feature the Komatsu Traction Control System (KTCS) to provide optimum traction in all ground conditions – as well as including Komatsu's exclusive automatic retard speed control (ARSC) system giving unrivalled control over downhill travel speeds, even when fully loaded on steep haul roads.
The HD405-8 is powered by the Komatsu SAA6D140E-7 engine rated at 383kW, while the HD605-8 is powered by the SAA6D170E-7 rated at 540kW. Additionally, the HD605-8's engine doesn't require the use of selective catalytic reduction (SCR) or diesel exhaust fluid (DEF/AdBlue) to achieve Tier 4 emissions standards, which reduce both NOx and PM emissions by 90 per cent compared with their Tier 3 engine equivalents.
Both engines incorporate an advanced Komatsu electronic control system that performs high-speed processing of all signals from sensors installed in the vehicle, providing total control of equipment in all conditions of use.
"Operators have unmatched control and safety in even the most difficult operating conditions, through our integrated transmission and braking system – which is recognised as being the best in the industry," Komatsu national business manager quarries Richard Feehely says.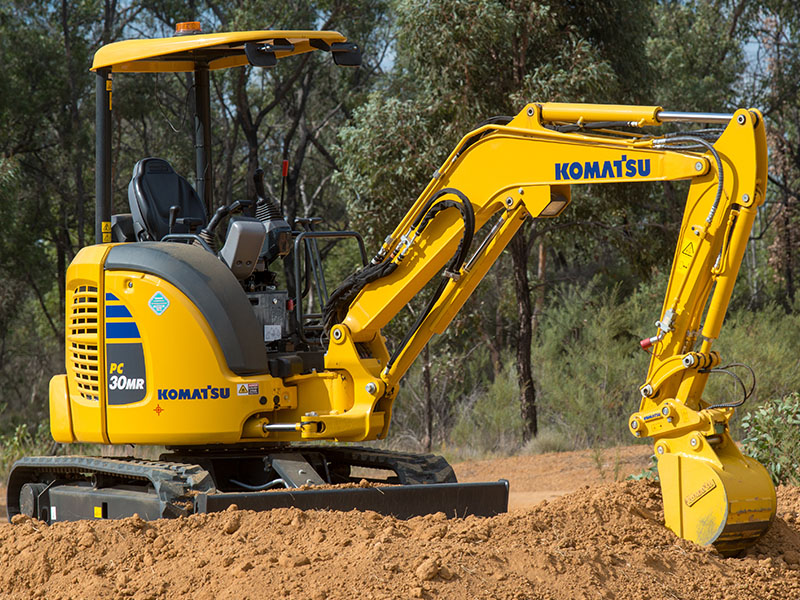 MR-5 mini excavators
The massive Komatsu launch also included three new mini-excavator models, which, alongside lower emissions and fuel consumption, promise to deliver improved production and work efficiency.
The new range covers the PC30MR-5 (3.15-3.3-tonne operating weight), PC35MR-5 (3.62-3.77 tonnes), PC45MR-5 (4.86-4.98 tonnes) and PC55MR-5 (5.14-5.26 tonnes).
"This new generation of mini-excavators harnesses Komatsu's unrivalled technological knowhow and worldwide resources to bring industry-leading customer value to this market sector," Komatsu Australia national sales manager utility Carl Grundy says. "Our new MR-5 range boasts many industry firsts and is packed full of outstanding new and improved features.
"These include advances in operator comfort, increased safety, improved ergonomic design, even lower fuel consumption, advances in controllability, the latest version of our Komtrax remote monitoring system – and the highest levels of standard specifications offered in the industry.
"Across the range, they raise the bar in terms of what customers can expect from a mini excavator," Grundy says.
 Komatsu's release of 25 new low-emission earthmoving machines not only highlights its engine technology but also its accelerating use of telematics to drive the future of the industry.
Komatsu's latest product releases incorporate its Komtrax Step 5 remote monitoring capabilities, giving machine owners and fleet managers unprecedented access to very detailed data about every aspect of a machine's operation – available online via computer, smartphone or tablet 24/7.
Komtrax allows operators to identify potential issues with a machine well in advance of them causing a breakdown, so they can be rectified and repaired in a timely manner, according to Komatsu general manager construction solutions Todd Connolly.
"Since it was introduced nearly 10 years ago, in late 2008, Komtrax – which is available free on every Komatsu machine sold in Australia, New Zealand and New Caledonia – has grown to cover more than 11,000 machines."
New Komatsu machines
• PC30MR-5, PC35MR-5, PC45MR-5 and PC55MR-5 mini-excavators
• PC78UU-10 and PC88MR-10 short-tail midi-excavators
• PC138-11 and PC228-11 short-tail construction excavators
• PC240LC-11, PC290LC-11, PC360LC-11, construction excavators
• PC490LC-11 heavy construction/quarrying excavator
• HB215LC-3 and HB335LC-3 fourth-generation hybrid excavators
• A PC360LCi-11 featuring Komatsu intelligent machine control system
• WA270-8 and WA320-8 hydrostatic drive tool carrier loaders
• WA380-8 and WA470-8 general purpose loaders
• WA500-8 and WA600-8 production loaders
• GD655-6 grader
• HM300-5 and HM400-5 articulated dump trucks
• HD405-8 and HD605-8 rigid frame dump trucks
 KEEP READING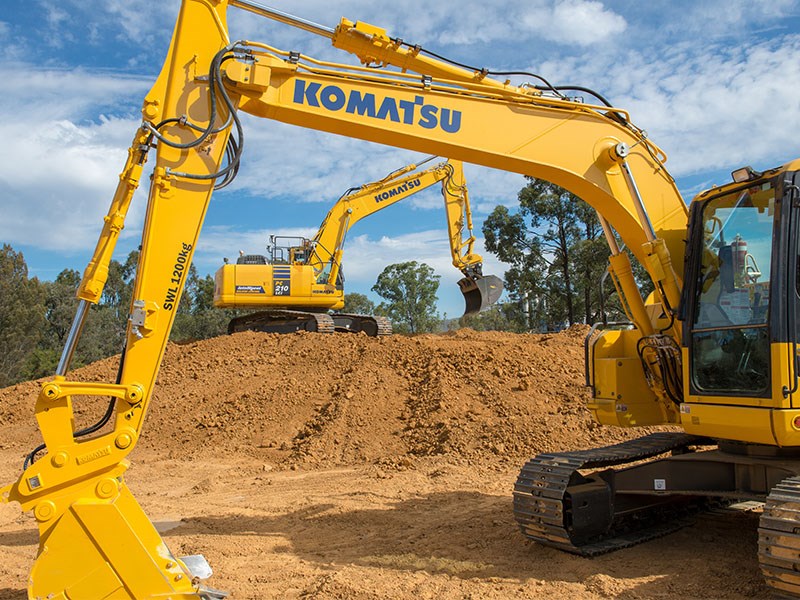 There were new Komatsu machines as far as the eye can see at the Boots On product launch in Cessnock, NSW earlier this month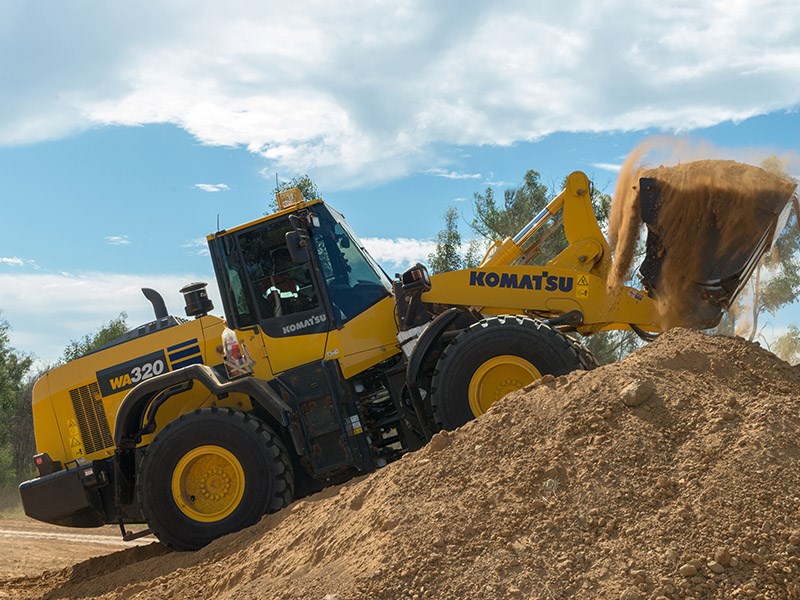 The Komatsu WA320 wheel loader in action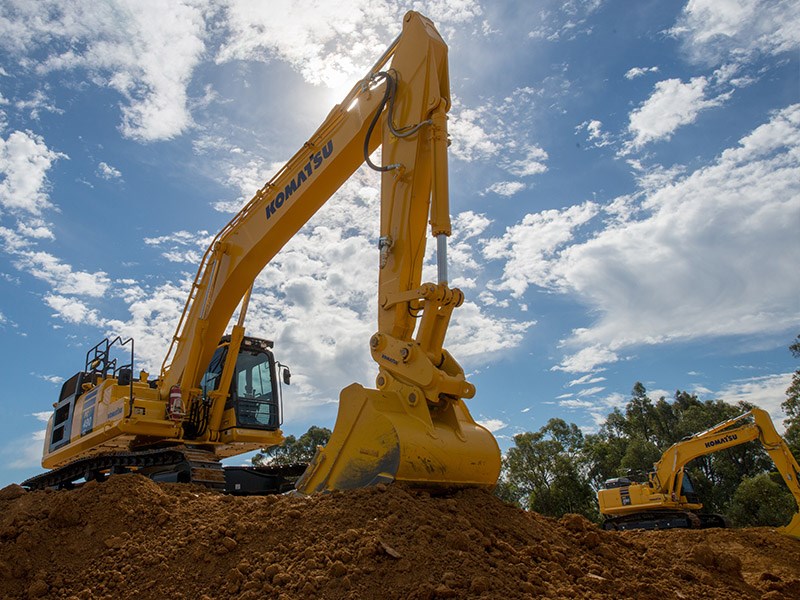 Komatsu PC490LC excavator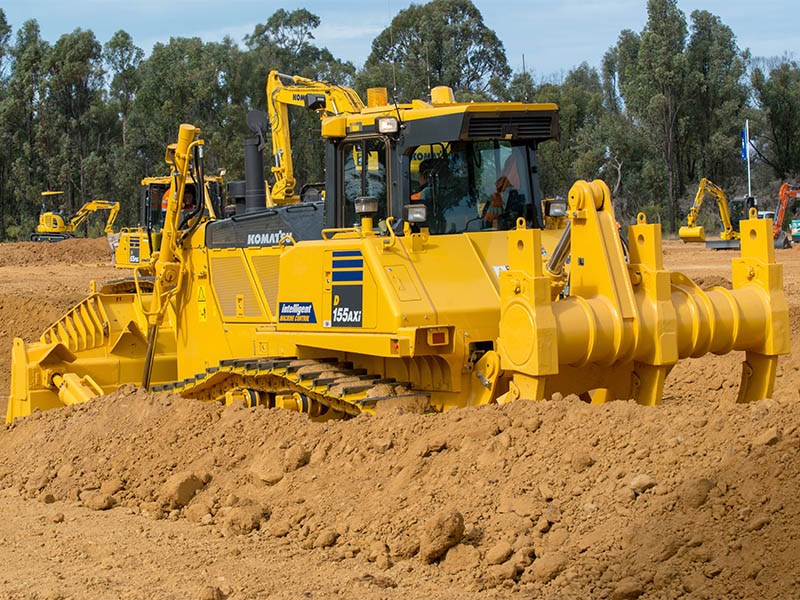 The D155AXi dozer impressed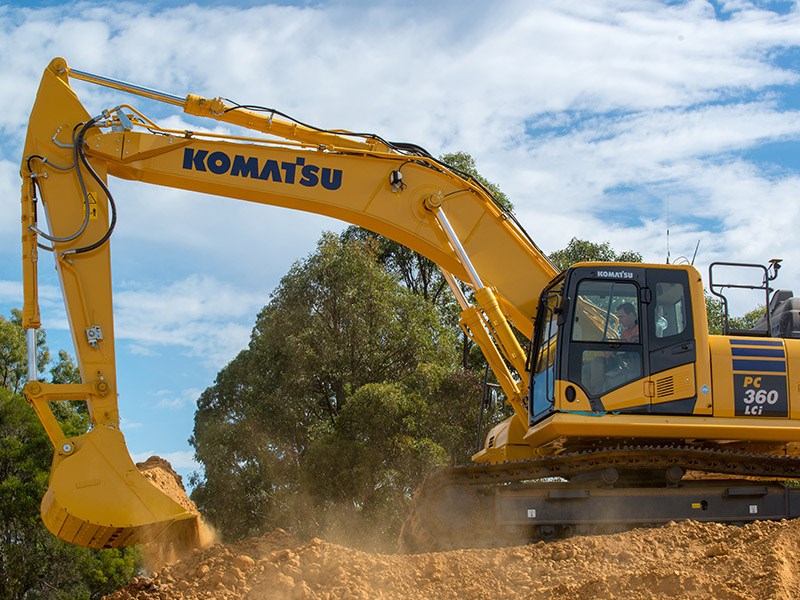 The PC360LCi excavator makes light work of the tough jobs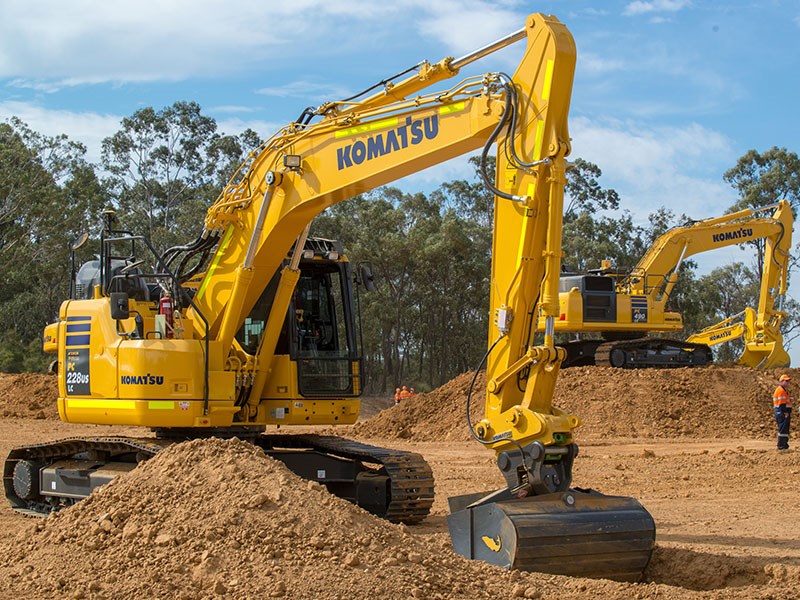 The PC 228USLC excavator on display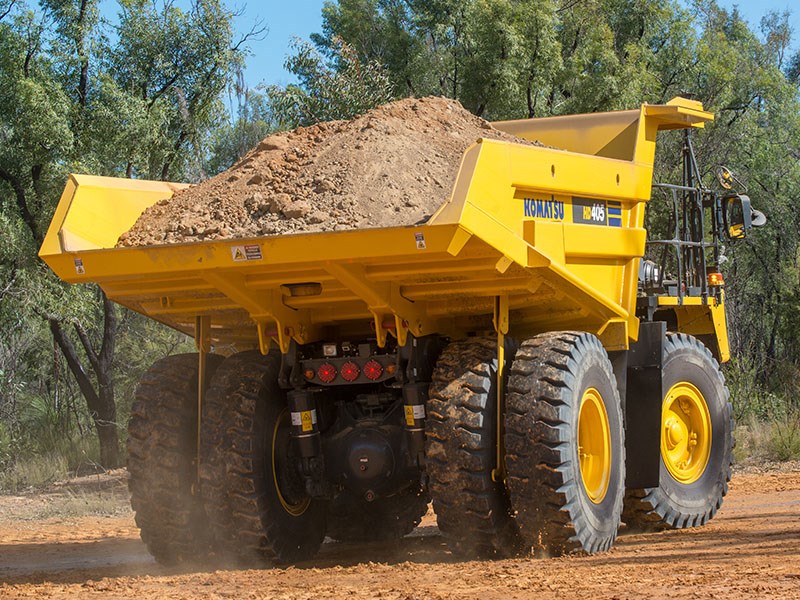 Komatsu HD405 dump truck carries a full load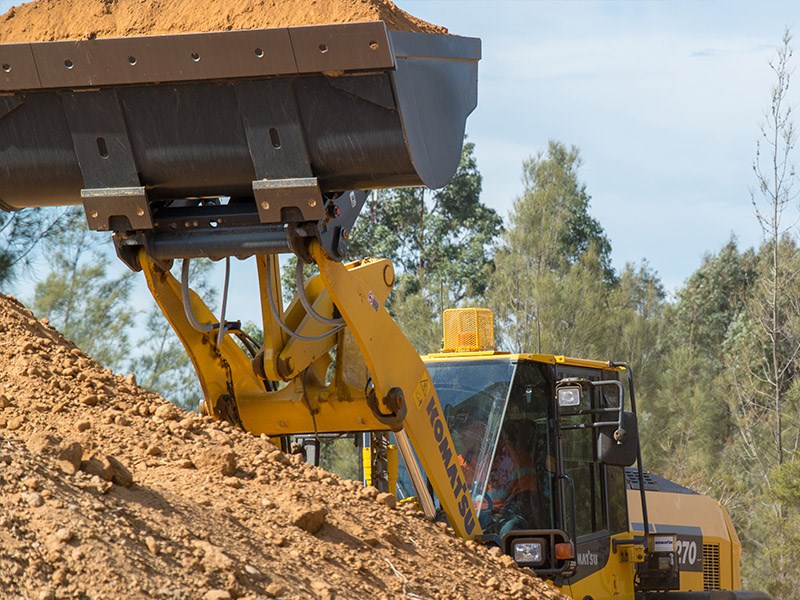 High lift on the WA270 wheel loader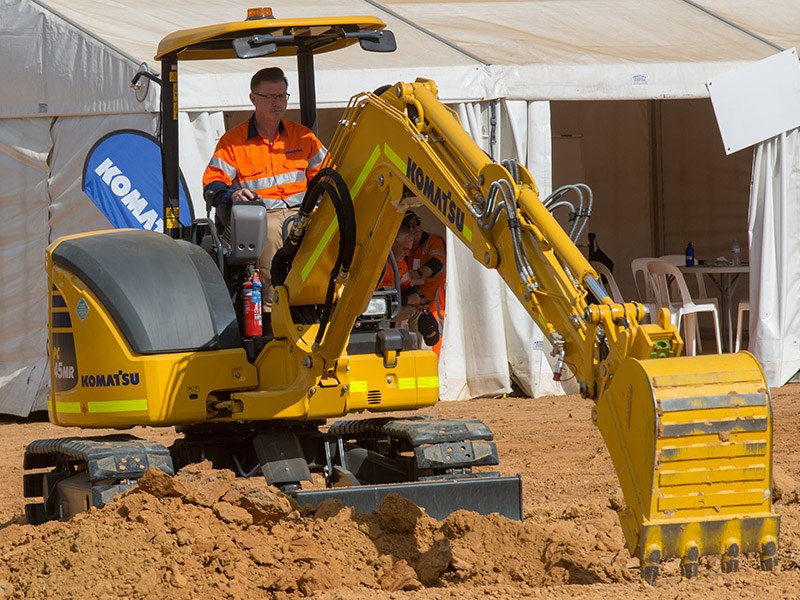 PC45MR mini excavator is ideal for the smaller jobs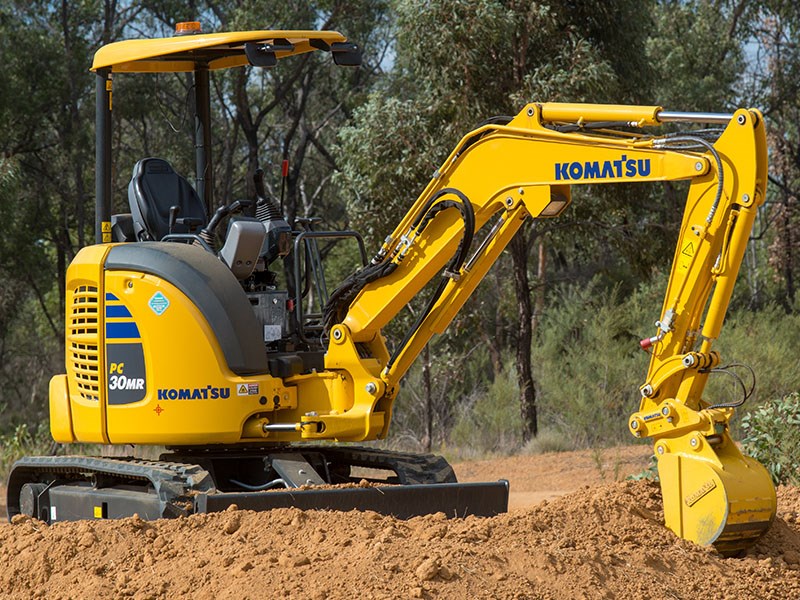 Good things come in small packages with the PC30MR mini excavator

Subscribe to our newsletter
Sign up to receive the Trade Earthmovers e-newsletter, digital magazine and other offers we choose to share with you straight to your inbox
You can also follow our updates by liking us on Facebook. 

Loaders For Hire | Dozers For Hire | Excavators For Hire | Forklifts For Hire | Machinery Attachments For Hire