Review: Kobelco SK260LC-8 excavator
---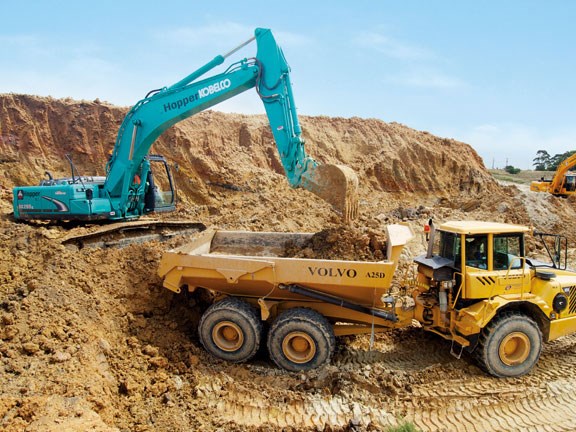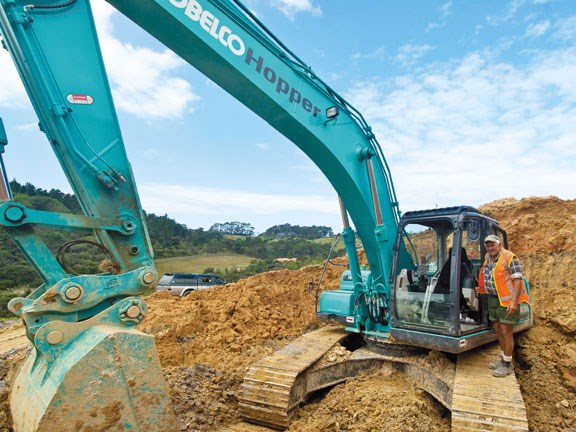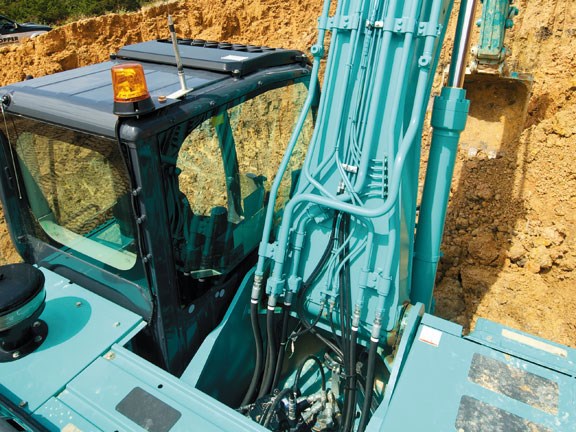 Mr Lorimar tries his hand at one of Kobelco's SK260LC-8 (mark eight) 27-tonne excavators.
BROWSE ALL KOBELCO EXCAVATORS FOR SALE
We are right on deadline, articles are flying around cyberspace, and the sales team are raking in the last of the dollars before close-off. What should I be doing? Not swanning around a job site, that's for sure.
However, with the opportunity to give a near-new Kobelco SK260LC-8 (mark eight model) a run or having to answer the near endless stream of correspondence in the office, the choice was obvious. It did mean that I had a few extra hours work at the end of the day, but I didn't mind.
At a 20-hectare subdivision development site an array of heavy machinery is being used to carry out a large cut and fill. The 27-tonne Kobelco and another large excavator are busy chewing their way through 26,000 cubic metres of stockpiled clay. But it hasn't been plain sailing, with about 23 days of lost production due to bad weather since the beginning of the season.
With the excavators loading a bunch of hungry six-wheeler dumpers, the clay is being carted around the site before being spread and turned with discs to allow drying.
Displacing the usual operator, Peter Lacy, and under the supervision of site foreman Ranga Maihi, I was given the controls of the Kobelco for what I thought would be a short test run. About an hour later, I was still enjoying the ride.
The SK260LC-8 is a bit of a strange size, but I can see the reason in buying it. At just under 26 tonnes, it is probably a bit undersized to bulk out a job as large as this but it is sure to come into its own when drainage time comes around, with more than enough grunt to lay large concrete pipes that are just a wee bit difficult for a regular 20-tonner. The long wide undercarriage and good sized counterweight are designed to provide a stable platform when operating at full reach, which is often the case on this job.
INSIDE THE KOBELCO SK260LC-8 CAB
Not that I can remember operating a Kobelco before, but immediately upon climbing into the cab, I felt a feeling of familiarity. Every control or button that I instinctively reached for was where it "should" be. Pondering this later, I couldn't decide if it was a good thing or not. Gauge layout was good and the monitor provides a nice large readable display with a bunch of functions available. I didn't run the air-con, as Lacy likes to operate "old school" with all the windows open. Vision is helped by the large protected roof window.
ENGINE, PERFORMANCE AND HANDLING
Big digging power is provided by a Tier III 137kW (186hp) turbocharged four-cylinder engine. Running a water-cooled EGR (exhaust gas recirculation), this system reduces emissions by re-burning some unused exhaust gases, after mixing them with air to cool the combustion temperature.
Part of the feeling of familiarity was that the machine threw no surprises at me. Running it at three-quarter throttle when starting out, I quickly cranked it up to full noise sooner than I expected. With two work modes and two attachment modes, I found that the lower-range "S" mode was fine for the conditions I was working in, and the claimed 20 percent would be appreciated by the company accountant.
There was almost no sign of the engine loading up when pulling up buckets of damp clay and it would have been interesting to have a weed bucket on hand to see if that put more pressure on the engine.
Apparently the intelligent control system recognises the operator's moves and assists by providing the power where it is needed. One thing that was very noticeable was the stability of the machine. It provided me with one of the smoothest excavator rides for a while. Engine noise dampening also appeared to be very good, as the radio sounded through nice and clear, even with the door and windscreen open.
THE VERDICT
Like most brands, Kobelco has made good effort to keep maintenance to a minimum. The on-board computer is quick to signal a problem and regularly replaced items, such as filters, are easily accessible. I noticed that the anti-drop valves are installed on the dipper arm rams to allow for safe lowering should a hydraulic hose decide to give out. The radiator, oil cooler and intercooler are well set up and can be independently removed.
The Kobelco SK260LC-8 appears to be a good no-nonsense machine that doesn't throw any surprises. It has a familiar feeling to it, which would make for an easy transition from another machine.
Subscribe to our newsletter
Sign up to receive the Trade Earthmovers e-newsletter, digital magazine and other offers we choose to share with you straight to your inbox
You can also follow our updates by liking us on Facebook. 

Loaders For Hire | Dozers For Hire | Excavators For Hire | Forklifts For Hire | Machinery Attachments For Hire