Review: XCMG XS122PD compactor
---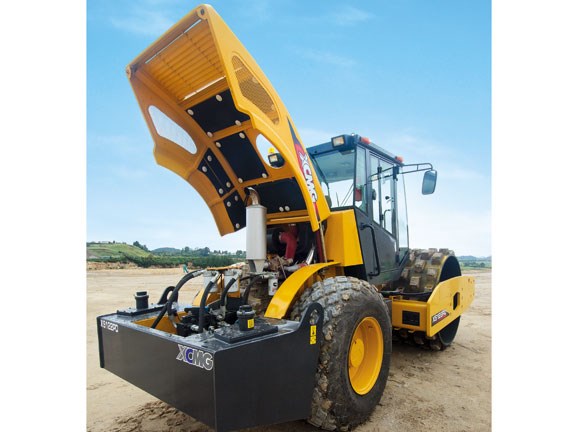 The XCMG XS122PD's powered bonnet helps prevent back strain.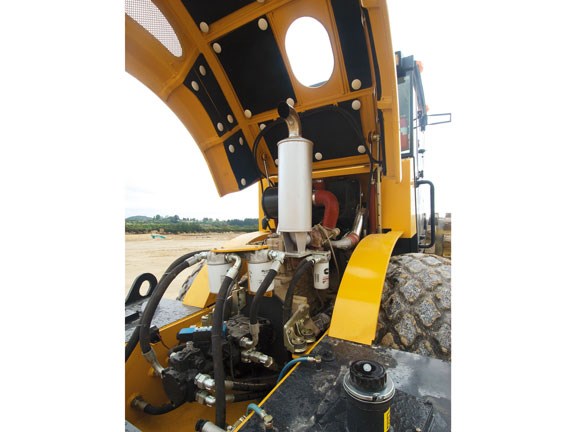 Access to the XMCG XS122PD's Cummins QSB4.5 engine is good once the bonnet is out of the way.

Randolph Covich gets "stuck" into an XCMG XS122PD compactor.
One thing you don't want to do when testing a machine is anything to embarrass yourself. This can be difficult when there are usually a bunch of people of standing around watching you critique a sometimes unfamiliar machine.
Generally, things go quite well and up until now, things have gone smoothly. I mean, how hard can it be when testing a compactor? Forward, then reverse, then forward, then reverse…I should have known better.
A few years back, within an hour of jumping on, an experienced contractor friend of mine put his brand new compactor on its side. He was an experienced contractor but not an experienced compactor operator. Making a very broad statement, I would say that many people underestimate these dangerous looking beasts, except perhaps Hollywood movie directors who seem to prefer compactors for the grisly parts of horror movies.
Recently, I tested the XCMG XS122. This 12-tonne 130hp machine distributes a static weight of 6.7 tonnes onto its front drum. It is quite a nice looking machine and features a fully-enclosed ROPS cab with plenty of window space. This machine features, as standard, a smooth drum with bolt-on pads.
THE OPERATOR'S AREA
The interior is quite comfortable and feels like it would be a nice place to spend a shift. It contains all the standard fare one would expect with fully-enclosed cabs. The factory-fitted air-con is definitely required as the large windows let a lot of light (and sun) in. The dash layout is quite tidy and simple, and there is a small monitor that gives status updates of the operating system. However, there are also gauges there for the old-school among us.
Similar to the latest generation of compactors, this machine features a sloping rear hood that greatly aids visibility when reversing. Actually, looking at the machine I wonder why manufacturers go to the bother of engineering a sloping bonnet and then obstruct the view by sticking a muffler and air filter right in the way. Unfortunately, the XCMG compactor is not immune to this short-sighted thinking. The muffler and air filter could have easily been re-routed, thus providing unobstructed viewing to the rear of the machine. The view to the rear is still very good, but could have been excellent with not a lot of extra work. I wonder how difficult it would be to make a rotating operator's console that could spin 180 degrees? This would make reversing even safer and a lot less strenuous on the neck. If some tractor manufacturers can do it, I don't see why it can't be done with compactors.
ENGINE AND POWER
130 horsepower of diesel-fuelled grunt is provided by the turbocharged Cummins QSB4.5 engine, which is EU Stage III certified. Coupled to a closed-circuit hydrostatic drive system, this puppy moves at a healthy top speed of 12kmh. Excellent access to the engine is gained by operating the powered hood, and the side mudguards can be easily removed for even better access.
PERFORMANCE AND HANDLING
The XS122 was a nice machine to operate and, as suspected, I quickly felt at home in the operator's seat. The movement controls on the right-hand side of the seat fall easy to hand, being well located. The switch to operate the drum, along with other required controls all sit along the base of the operator's console.
The XS122 has two types of drum vibration available and the two technical terms used are Frequency and Amplitude. Frequency (vibrations per minute: VPM) is the speed at which the eccentric shaft rotates to produce the "jump", while Amplitude is the maximum movement of the vibrating body from its axis in one direction.
With low frequency vibration selected, the machine produced a frequency of 30Hz, which increased to 35Hz when high vibration mode was used. As is common with other brands, vibration mode does not engage until the machine begins moving. This prevents over-compaction in one place and provides an even finish. As with any articulated machine it is quite normal to feel a little uneasy when turning on sloped ground and this machine is no different, as small mounds accentuate the tipping-over feeling at times, even though the machine is operating well inside its limits. As I alluded to earlier, I managed to look like a true novice by getting the machine stuck in a hidden (excuse me) "wet spot". Fortunately, the machine didn't bog right down but required a tow out by the D41P. The boys politely kept the jokes to themselves, but no doubt my operating ability would have been questioned later on over a beer from the box of ales I provided to hopefully buy their silence. That little misdemeanour aside, I was more than satisfied with the machine's ability.
THE VERDICT
This compactor appears to be fairly low maintenance. Good access to the engine means less complaints about body aches from the company mechanic when service time comes around, and all the greasing points seem to be reasonably accessible, which is quite an important point as far as an operator is concerned.
The XCMG XS122 compactor is a comfortable workhorse that, for the most part, contains well-known componentry. This one included padfoot shells and should be more than suitable for any contractor as a good front line machine.
Plus
Well priced
Good vision
Low sound inside cab
Minus
Muffler and air filter intake obstructs rear view
Does not like getting stuck
Subscribe to our newsletter
Sign up to receive the Trade Earthmovers e-newsletter, digital magazine and other offers we choose to share with you straight to your inbox
You can also follow our updates by liking us on Facebook. 

Loaders For Hire | Dozers For Hire | Excavators For Hire | Forklifts For Hire | Machinery Attachments For Hire