Review: Heking HK150SD floating excavator
---
RON HORNER grabs his boat licence and hits a sediment basin on the Gold Coast to try out the Heking HK150SD floating excavator. There's a lot to like about it, he writes.
FOR MANY years attempting to work and access boggy, swampy, wet areas and waterways was deemed extremely difficult and not cost effective, but this all changed with the advent of the floating or amphibious excavator.
These machines are designed to allow the use of otherwise standard excavators in marshy and swampy areas, on soft terrain and in shallow water. They even have the ability to travel over open water.
TradeEarthmovers was most fortunate recently to be granted access to a Gold Coast City Council 'Clean Waterways Project' (see below), and get our hands on a Heking HK150SD floating excavator.
Accreditations matter
I was very impressed by the look of the HK150SD and equally keen to discover the 15-tonne amphibious excavator's capabilities. However, before I was able to hop into the operator's cabin I had to show that I was in possession of the current accreditations.
As this machine is a floating vessel it is governed by state maritime agencies as well as the Work Health and Safety (WHS) laws. Therefore the operator of this type of craft must have a nationally accredited OHS certification (Loadshifting Equipment) and a current boat license and have undergone a Verification of Competency (VOC) assessment before taking control of the machine.
The Heking HK150SD floating excavator looks much larger than its 15-tonne weight, which is partly  due to the height of the machine from ground level to the underside of the upper platform — a massive 1.5m. With the circular arc structure pontoon track frame standing at 1.4m high and each pontoon 1.3m wide there is no wonder that one can be misled into thinking this is a much larger machine.
The upper structure of the machine varies little from a conventional excavator, but the undercarriage has been removed from the turntable turret and replaced with the floating pontoons. These pontoons house the hydraulic drive motors and are designed to provide the necessary buoyancy and stability, ultra-low ground pressure (0.13kg/cm2) and unparalleled mobility to work on soft terrain and swampy areas.
The track chains form the base of attachment for the track/grouser plates, which differ markedly from the conventional. They are made from steel box section and form an integral part of the floatation and propulsion system when travelling in deeper water, similar to that of the old paddle wheelers. Their 1.3m width and 1.4m height allow the excavator to work very efficiently in water to a depth of 1.5m.
The pontoons are fully adjustable and able to move from a closed position 3.49m wide to almost 4.6m fully extended. The extending of the tracks to their widest position is to provide maximum stability and buoyancy when the machine is working in deep waters, and should be done while in the shallows.
Failure to complete this task at this critical point could prove disastrous as the hydraulic ram used to retract/extend the pontoons operates one side at a time and, if engaged in deep water, will throw the machine off balance and possibly cause a roll-over. 
Although the grousers/paddle plates work quite efficiently in water, because they are hollow they are very susceptible to dents and damage when traversing rough, uneven or rocky ground once out of the water — and can even suffer damage when in shallow water with rocky, stony creek bed bases.
I also noticed that, on this particular machine, after 300 hours some bolts had been broken off the drive chain/grouser paddle plates. Failure to identify, regularly monitor and engage immediate repairs on a daily basis would lead to a costly repair later in the machine's life.
At home in the water
The Heking HK150SD is a bit like a 'duck out of water' when on land, with little track power to move freely and considerable effort needed to manipulate it when turning and walking in steep terrain.
However, once in the water the machine developed a totally different character. It was in its own element with excellent vision from the cabin and all the 'mod cons' needed to fulfil a full day on the water.
The hydraulic system was very responsive and it had good stability up to 1.5m of water depth. The machine had no trouble in floating into deeper water and travelling longer distances in deeper water was not an issue.
Stability and perfect balance is the key to a safe work day in these circumstances. I found it best to enter the water at the most shallow grade as possible. This may not be possible in many cases but I found that travelling in a forward motion was much safer as I could feel the depth changes as I progressed.
It was better to hold the front of the excavator up off the bottom of the lake when entering deeper water, and at the critical point where the machine was ready to float I had to position the boom, dipper and bucket arms to the perfectly balanced position.
The cabin is quite roomy, and I found extra space for an Esky. A drink holder would have been appreciated and window tinting should be compulsory from the factory … the radiation effect off the water is something else, so plenty of UV30+ is required.
Watch those hydraulics
The Heking has good reach of 8.8m and vertical digging depth of 4.8m. I would suggest that all digging should be done over the front of the excavator, however, as the tracks on many occasions are underwater and the flexible hydraulic track drive hoses could easily be pulled out if the operator lost concentration while digging over the back end of the machine.
If a hose was to be broken it would cause an environmental issue as well as make the machine inoperable in the middle of the lake. (Mobile hose repairers with scuba training and equipped with suitable breathing apparatus were not listed in the Yellow Pages when I last looked.) 
This particular machine was equipped with a silt bucket (.25m3) and weed cleaning bucket. Both were extremely practical and, with the factory-standard quick hitch, worked very efficiently.
The HK150SD runs a tried and true Yanmar 4TNV98T inter-cooled turbo, 3.3-litre, four-cylinder diesel delivering power of 56.5kW @ 2200 rpm and torque of 301Nm @ 1650 rpm. I found it extremely fuel efficient.
Access to all maintenance areas is excellent. The machine comes equipped with optional hydraulic piping down the dipper arm and easy-to-access greasing points. I would suggest a waterproof grease/lubricant be used at all times and monitored/administered on a regular basis.
Water safety
When working in deep water the machine is not an easy one to become comfortable with in the short term. There is no place for unskilled or semi-skilled operators here as there are many traps out there just waiting to catch you out.
The operator will always be digging blind and must have: a pre-determined extraction plan; a great deal of patience; knowledge of how the infrastructure was constructed and the reason for keeping its integrity in place; a load-out plan if the material is being taken off site; a good communication plan; and an emergency evacuation plan should something go awry while working in deep water.
In this particular machine there is a factory-fitted steel-bar security mesh screen on the front window which would not allow emergency egress if this machine was to sink. There is a hammer in the cab to 'Break the glass in case of emergency' but in my opinion exiting the front window would be the quickest option if anything was to go severely wrong.
Those are issues that apply to any floating or amphibious excavator and are not particularly directed to this machine.
The bottom line
I was very impressed with the balance, speed and responsiveness of the Heking HD150SD once it was in the water. This floating excavator is a well-balanced, fuel efficient, responsive and competitively priced Chinese-manufactured machine which has secured part of a lucrative niche market in southeast Queensland.
I would like to thank Floating Excavators for the exclusive use of the machine. Phone: 0407 980 983 or email info@floatingexcavators.com.au
VIDEO: SEE RON'S HEKING HD150SD VIDEO REVIEW HERE 
Cleaning up the Gold Coast's sediment basins
The Gold Coast City Council has a Clean Waterways maintenance policy of ensuring all waterways, canals, channels, drains, sediment basins and lakes within the GCCC Region discharge the cleanest water possible before flowing into the ocean.
GCCC Water Sensitive Urban Design (WSUD) & Aquatic Vegetation Supervisor Heath Coleman says the council controls the stormwater drainage and subsequent rubbish run-off via a series of sediment basins and lakes located throughout the suburbs.
These landscaped waterways form an integral part of the neighbourhood communities, housing lush native and aquatic vegetation, eels, fish, frogs, ducks, herons and similar bird life. However, Coleman says that, with the huge growth of subdivisions and development within the council region, managing them has become a difficult task.
With over 400 sediment basins and lakes under its control, the GCCC has implemented a plan to systematically clean-up and de-silt the worst effected basins by excavating them, removing the material to a land waste or green waste facility, and revegetating and landscaping them.
Coleman says these areas were once deemed totally inaccessible, but with the introduction of amphibious construction machinery like the Heking HK150SD floating excavator, the necessary remediation of these areas is now not only feasible but also safe, efficient and extremely cost effective.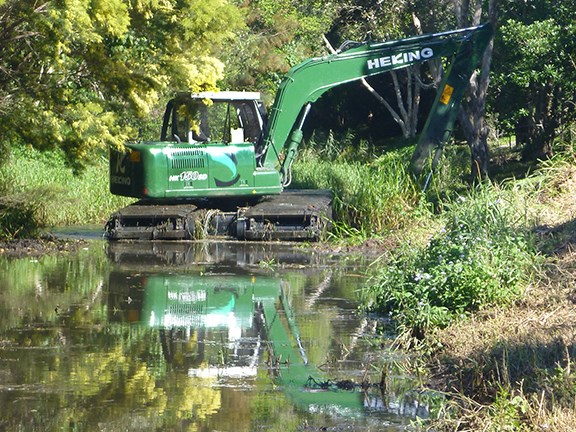 The Heking HK150SD floating excavator at work on the Gold Coast.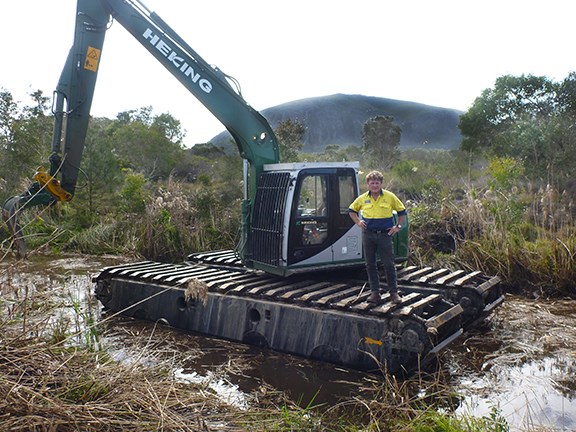 Reviewer Ron Horner with the Heking HK150SD.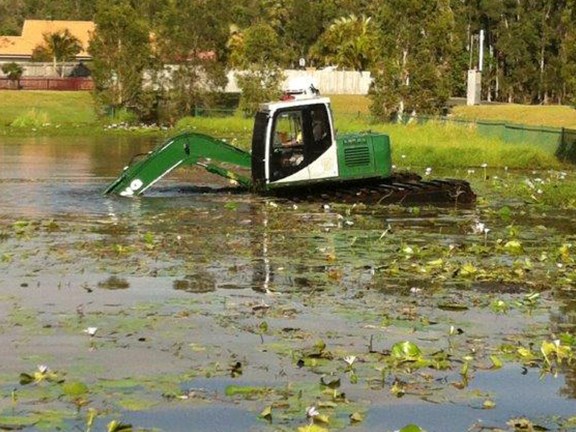 The Heking HK150SD has no trouble floating and travelling in deeper water.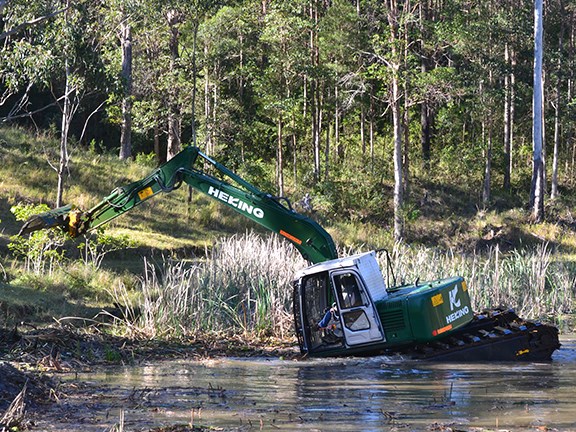 Wetlands are no place for unskilled or semi-skilled operators.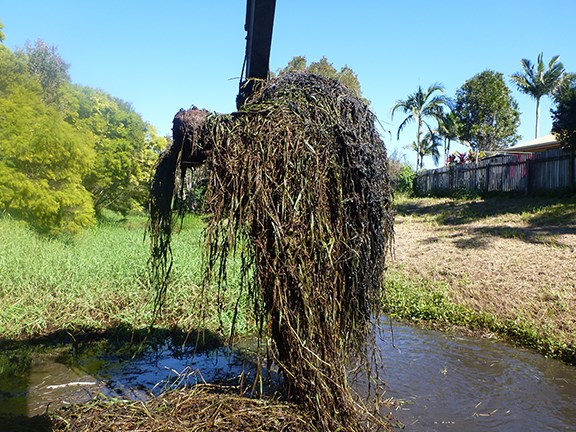 The Heking machine was equipped with a silt bucket and weed cleaning bucket.

Subscribe to our newsletter
Sign up to receive the Trade Earthmovers e-newsletter, digital magazine and other offers we choose to share with you straight to your inbox
You can also follow our updates by liking us on Facebook. 

Loaders For Hire | Dozers For Hire | Excavators For Hire | Forklifts For Hire | Machinery Attachments For Hire