Review: Long-reach Kobelco SK100
---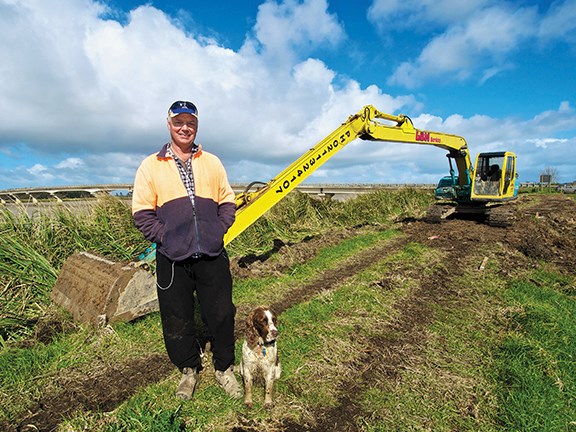 Richard Lambly and his 10-tonne Kobelco SK100 excavator fitted with a long-reach arm.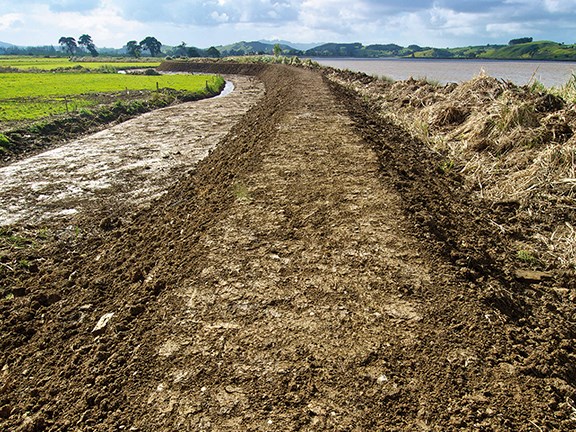 It's a tidy job indeed.

'Swamp Hen' is an apt name.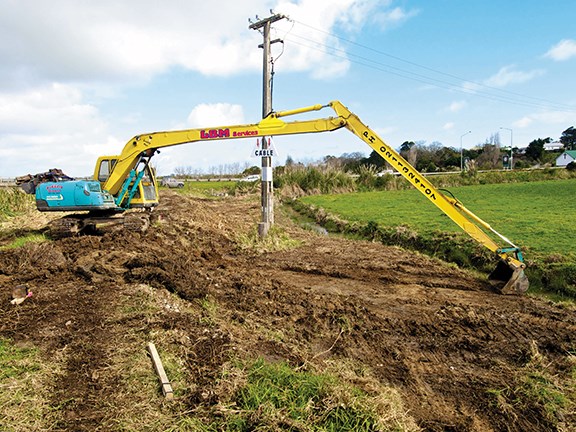 The Kobelco SK100 is happy as Larry with the 15m arm.

RANDOLPH COVICH checks out the craziness that is a 10-tonne Kobelco SK100 excavator fitted with a long-reach arm, and finds it works really well. Photography by Dave Lorimar
"You've got a what?" I asked over the phone.
Apparently, Richard Lambly of LBM Services in Dargaville, New Zealand, had fitted a 15-metre long-reach arm to a SK100, 10-tonne Kobelco excavator and he wanted to know, had I heard of anyone else fitting a long-reach device to such a small machine? No, I hadn't, and I was keen to see what he had done.
The window of opportunity was small, though, as in a couple of days the machine would be heading south to have the arm swapped onto a brand new 14-tonne Hyundai excavator at Porter Equipment's Auckland workshop. With a bit of hasty rescheduling of our diaries, Dave Lorimar and I headed out the next day to see the machine in action.
At the time of our visit, Dargaville and its surrounding areas in the North Island's Northland region were recovering from a recent bad weather event, so it was timely that we were able to see first-hand what was being done to prevent future flood damage.
IT COULDN'T BE DONE
"People said that it couldn't be done," Lambly says, referring to the cleaning of the Kaihu River with only a 10-tonne digger.
"When we won the tender for the 2013/14 Kaihu River cleaning, one contractor even went so far as to email the council to express his concern at the work being done. Apparently nothing smaller than a 20-tonne machine had ever been used for this sort of work."
To allay fears, the council had Lambly demonstrate his machine before they signed on the dotted line to award him the contract.
"The Kaihu River contract had a window of 12 months to complete. It was done and dusted in six weeks," Lambly says. Standing there beside his excavator, I have a little inward chuckle as the high quality of work has certainly proven naysayers wrong. Indeed, the work can be, and has been, done by a 10-tonne machine.
WORTH THE EFFORT
Perhaps the contractor who complained to the council didn't know Richard Lambly that well. When I first met Lambly in 2011, he'd designed an advanced quick-hitch, which was unlike anything I had seen before.
His engineering knowledge and ability to put a theory into practice make him quite a unique individual in this day and age, so when he says he has something to look at, then it's definitely worth making the effort to view it.
A PROBLEM TO SOLVE
"A fellow contracting friend used to have the contract for this work and when he passed on, it came up for tender," Lambly tells me. "The difficulty was that I didn't have a 20-tonne machine for the job."
And that is where the situation may have ended for a lot of prospective tenderers, but not for this bloke. Pondering the situation, Lambly quickly surmised that benefits such as less fuel burn and less weight would equate to minimised environmental impact to the sensitive ecological area where the work was to be carried out.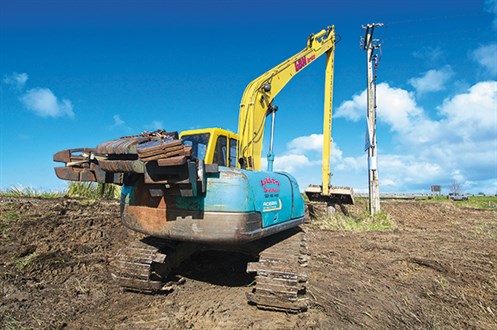 MODIFICATIONS
So, the decision was made to attach a long-reach arm to the 'little Kobelco that could' and Lambly quickly sourced and modified an arm to fit the machine.
He says it was not all plain sailing, as modifications to the boom and dipper arm were required to enable the whole unit to move unhindered. When completed, four metres had been added to the boom and 3.7 metres to the dipper arm. This gave a total reach of 14 metres, which pushed out to 15 metres when the bucket was added.
Next problem was the addition of counterweights on the rear of the machine (above) to counterbalance the now massive arm at the front. This was fairly easily solved by progressively adding weights to the rear until the right balance was achieved.
Lambly says the machine balance is near perfect, but the track frame is a bit short for his liking, hence the upgrade to a 14-tonne machine. He's quick to add though, that the SK100 Kobelco is more than capable of the work, and extended tracks would address this minor shortcoming. However, now he has the contract, an upgrade to a new machine would make the work day that much nicer.
Along with the long-reach arm, Lambly has added bolt-on extensions to the tracks. Also of his own design, the extensions don't dig into the ground but extend horizontally out each side of the track by 150mm each side. This takes the shoe width to 800mm from the standard 500mm show width.
With them being placed at spaced intervals they do not get clogged with mud, so are always kept clean. I haven't seen a design like this before and am suitably impressed.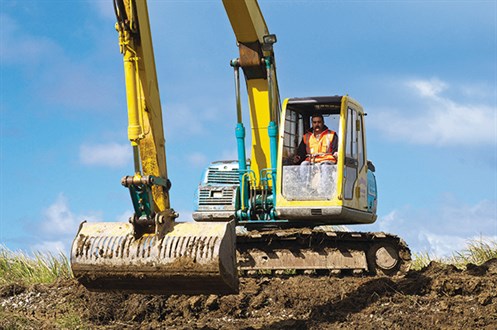 CLIMBING ABOARD
It's not long before we are given a demonstration of the machine's capabilities and soon, I am offered the operator's seat (above). Climbing aboard and putting the machine into action, I try to emulate Lambly's style by pulling the machine arm in with the back of the bucket flat on the ground.
This is to avoid digging too deep into the ground and is a style I've rarely used. It makes sense though, as the length (and weight) of the arm, along with soft ground below, would make it difficult to achieve a tidy cut.
After working the machine for a while, I can see what he means about the track length. Strangely, the balance feels really nice, but a slight rocking motion can be felt at each end of the track frame and indicates to me that Lambly is correct in his assessment.
There's no dissing the ability of the 10-tonne SK100 Kobelco, though. It more-than-comfortably handles the work and I'm impressed that it does this on less than three-quarter revs. With a longer track frame, this machine would comfortably handle the work.
THE BOTTOM LINE
So despite what some people may think, indeed a 10-tonne machine is more than capable of handling long-reach work. A longer track frame may need to be considered, but it could be achieved without it.
I also should point out that following set traditions does not lead to innovation. This is the first time I've seen such a small machine used for this type of work. If Richard Lambly hadn't decided to try out his theory, then none of us would have thought it possible. He's just proven that it is.


Click here to find Kobelco excavators for sale.
Click here to look up Kobelco excavator specifications.
Subscribe to our newsletter
Sign up to receive the Trade Earthmovers e-newsletter, digital magazine and other offers we choose to share with you straight to your inbox
You can also follow our updates by liking us on Facebook. 

Loaders For Hire | Dozers For Hire | Excavators For Hire | Forklifts For Hire | Machinery Attachments For Hire