Review: Kobelco SK45SRX-6 mini excavator
---
TradeEarthmovers' new reviewer EVARN COVICH test-drives a new 4.5-tonne Kobelco SK45SRX-6 mini excavator and likes its low noise, good digging power and effective mix of old-school design with newer technology.

It's been around 10 years since I last operated a Kobelco machine, so when TradeEarthmovers.com.au was given the opportunity test-drive one of the company's 4.5-tonne Kobelco SK45SRX-6 mini excavators I was rather intrigued to see how much its products had changed in that time.
The Japanese manufacturer, which has around 85 years of heavy machinery and excavator building experience behind it, introduced the SK45SRX-6 along with the SK28SR-6, SK30SR-6 and SK35SR-6 in August, replacing the Series-5 models.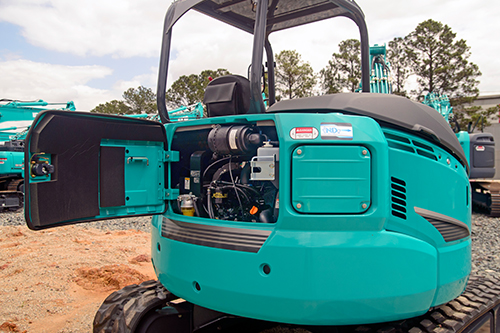 Walk-around inspection
Upon my initial walk-around inspection, it was good to see how everything in the engine compartment at the rear of the digger had a small amount of room to spare around the Yanmar 3TNV88-B water cooled, 4-cycle, 4-cylinder, direct injection diesel engine, with easy access to the engine oil filler and dip stick, radiator water bottle and serviceable items such as fuel filters and air cleaners.
Actually, all prestart inspection items on the machine are able to be carried out at ground level, which is always a big plus in my book.
After lifting the bonnet on the right-hand side of the machine to reveal the fuel and hydraulic oil tanks, I was also able to see some of the inner workings of the 'iNDr' cooling system that has been used in the past on some of the larger SR series machines and has been adapted to the newer mini excavators.
iNDr stands for 'Integrated Noise and Dust Reduction' which, at the end of the day, is a highly airtight engine compartment with a ducting system that is offset to help reduce noise, and a filter that sits in front of the radiator.
The latter is like most radiator dust filters on pretty much any machine on the market these days, but is apparently more effective than most due to its stainless-steel, 30-mesh wave-type design which is said to be able to catch smaller dust particles. It is very easy to lift out and clean with just the flick of a small lever at the top of the radiator.
 This system is said to make the machine up to 9dB quieter than its predecessors, boasting a particularly quiet 75dB 1m back and 1.5m in height from the ground level at the rear of the machine. That is, in fact, quieter than your average telephone dial tone or not much louder than your average air conditioning unit.
The length of the boom is of a generous size, boasting a 5.75m reach at ground level. I also like that the Kobelco machines come already piped for a quick hitch and auxiliary attachments as standard. We all know how getting these types of things fitted after market can be costly as well as time consuming!
Under the front of the cab you can also find a pattern changer to help make it easier to suit some operators who are used to driving different control lever patterns associated with some various brands of excavators or backhoes.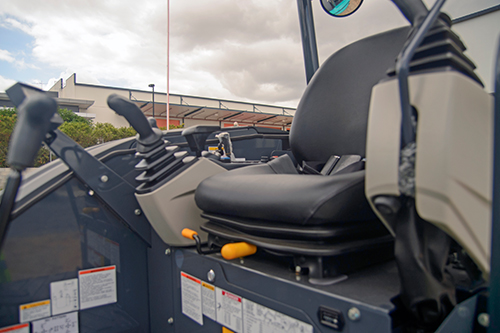 In the cab
With the safety lever pulled back, the left-hand control is well out of the way to allow easy access on and off the machine, even for a big person like myself. After mounting the machine I was quite surprised at the amount of room that was available for my lean 6-foot, 100+kg frame.
The machine I was in was an open-air canopy model, but I was assured that the fully enclosed cab model was also just as roomy with a seat that now slides further back to provide more leg room and a cab that's over 820mm wide.
I thought the position of the control levers were very good, I particularly liked the position of the soft pads that sit under your forearm in order to help make it easier to control the machine with only a small amount of movement required from your arms and wrists. 
I have driven a lot of small diggers in the past and some of them can leave you cramping up after only a couple of hours in the seat due to minimal leg room, and a sore neck and shoulders due to bad control positioning, but I felt that I could quite easily spend an eight-to-10-hour day behind the controls of this particular machine without too much effort at all.
I also like the simplicity that Kobelco has maintained on these machines, with the most tech-heavy item on the machine being the colour LCD dash that shows coolant temperature and fuel level.
There are only two other screens to cycle through: the first is a maintenance screen which tells you how long before the next service is due; and the second gives you a log of the working hours for each day over the past few months.

Throttle setup
The throttle is still the old cable type attached to a lever which has an S-bend so you can pull the throttle back to half revs, or 'S-mode' as they call it. This is probably enough to perform most tasks with the machine as it still digs and moves at a pretty good pace and apparently uses around 23 percent less fuel.
You can opt for the 'H-mode' or full revs if you really want to move things fast but, of course, with the cable throttle you can always pick whatever revs you want.
There is also a one-touch deceleration button situated next to the throttle lever, which is pretty self-explanatory, but unlike a lot of excavators you must push the button again to power up again instead of just moving the control levers.
Time to dig
The test drive of the Kobelco SK45SRX-6 was conducted at Brisbane Kobelco dealer Chesterfield Australia, so we were a little limited with the tests we were able to perform, but they do have an area where we were able dig a few holes and make a bit of a mess around the place.
When I cranked her into life, I quickly realised what they were talking about with the overall noise reduction through the iNDr system. At idle I was able to conduct a normal voice conversation with a person standing next to the machine, and at full revs we hardly had to raise our voices at all.
WATCH EVARN'S VIDEO REVIEW OF THE KOBELCO SK45SRX-6 HERE
After pulling back the throttle lever to halfway, or S-mode, I proceeded to dig a trench the length of the arm. The machine seemed to cut through the ground with relative ease even at the lower revs.
Once I had dug down to around 600-700mm I started to hit clay, and even though the machine was coping very well with this dirt I put her into H mode or full throttle and really sank the bucket in to try to get her working hard. Even then she still cut through the ground with relative ease.
This seems to be attributed to the Integrated Flow Pump System which, once the machine starts digging, diverts power from the third pump which normally powers the swing and dozer blade and directs it to the arm and boom for extra power to help with fast and smooth operation.
The generous track frame of around 2.5m long and 1.96m wide definitely made this a stable-feeling machine to operate. The two-speed tracks move at a pretty good 2.3km/h or 4km/h with the push of a button located on the right hand travel lever.  It also has an automatic shift function that will automatically shift from high to low speed if the load or gradient becomes too hard for the machine.
The dozer blade is always excellent for pushing dirt around to tidy up, back fill and so on. This one is no different from other machines but is shaped to arc the dirt forward to prevent it spilling over the back, helping to get the job done quicker without too many passes.
The visibility from the cab over the blade is very good as well, which also helps towards getting the job done quicker. In fact, the visibility from the cab around the whole machine is very good, which is a good thing in this day and age where some construction sites are getting smaller and work areas getting tighter.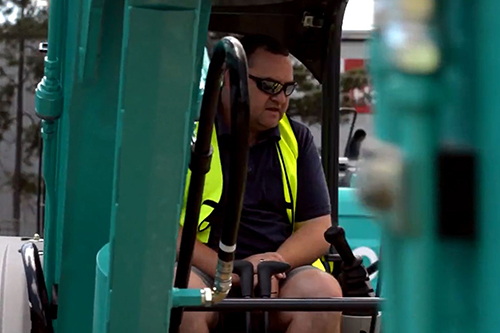 The bottom line
Overall I was quite pleased with my time spent on this particular excavator.
It was good to see that Kobelco — which recently upgraded its warranties for both mini and heavy excavators while maintaining current pricing — had not fallen victim to all the tech-heavy extras that some manufacturers put on their machines these days which can sometimes end up costing the purchaser copious amounts of money further down the track due to having to get an IT nerd to diagnose any problems as opposed to a good, old-fashioned diesel fitter.
I was very impressed with the digging power and smoothness of the machine. Coupled with a generous track frame, this made the SK45SRX a very nice, stable machine to operate.
The fuel savings that can be achieved are also a big plus, and the work that has been done to generate a much quieter machine will go a long way to keeping the operator sitting on the machine — and placate the grumpy next-door neighbour who doesn't like having that earthworks machine starting up at some ungodly hour of the morning.
I actually found it hard to fault anything on this machine as it pretty much ticked all the boxes in my book.
I love the simplicity of an old-school-type machine coupled with newer technology in order to create, in my view, a very well balanced mini excavator that shouldn't pose too many problems to a novice and should give a well-seasoned professional some fun creating digging works of art.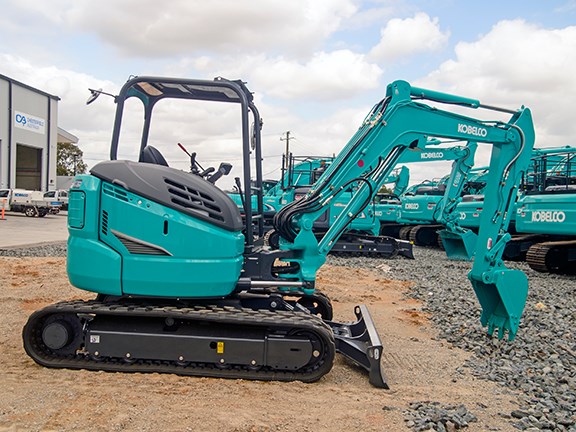 The 4.5-tonne Kobelco SK45SRX-6 mini excavator.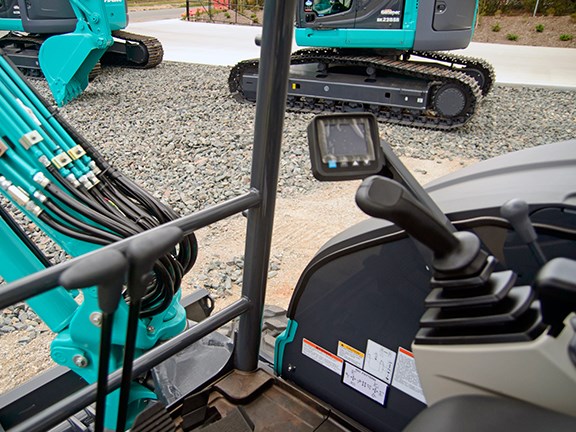 The SK45SRX-6's cab makes it easy to put in an eight-to-10-hour day without too much effort.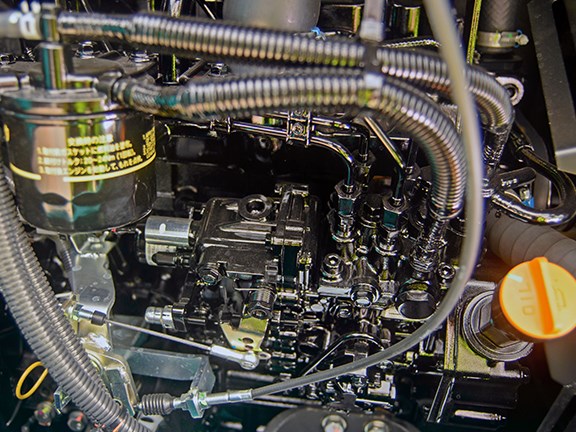 A Yanmar 3TNV88-B water cooled, 4-cycle, 4-cylinder diesel engine drives the SK45SRX-6 excavator.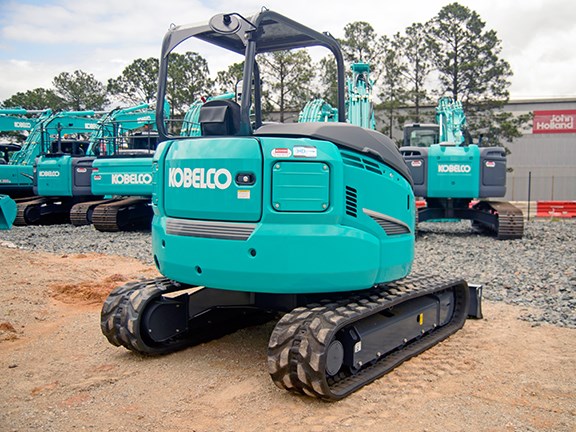 The new Kobelco boasts a particularly quiet 75dB 1m back and 1.5m in height from the rear of the machine.
Subscribe to our newsletter
Sign up to receive the Trade Earthmovers e-newsletter, digital magazine and other offers we choose to share with you straight to your inbox
You can also follow our updates by liking us on Facebook. 

Loaders For Hire | Dozers For Hire | Excavators For Hire | Forklifts For Hire | Machinery Attachments For Hire