Review: Komatsu HB215LC-1 hybrid excavator
---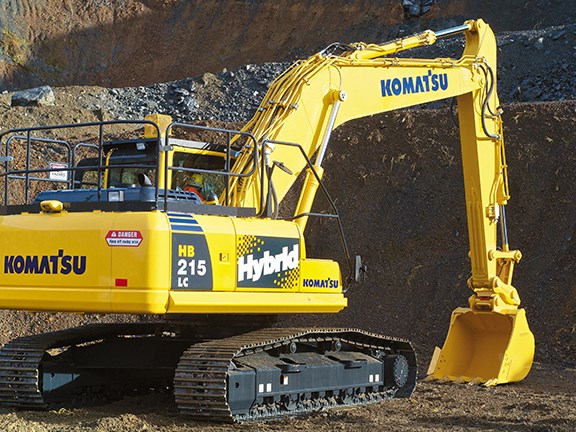 The Komatsu HB215LC-1 hybrid excavator.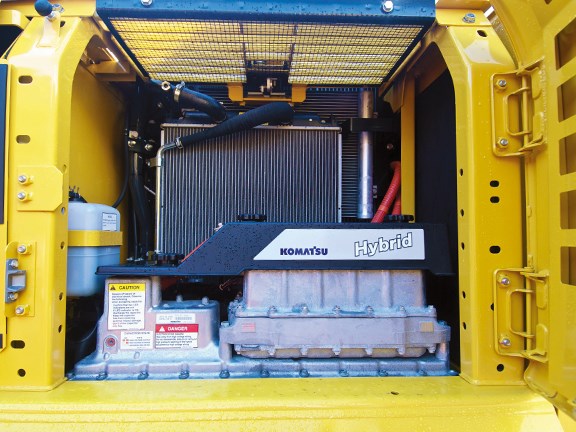 The HB215LC-1's capacitor can charge and discharge quickly as no chemical reactions need to take place.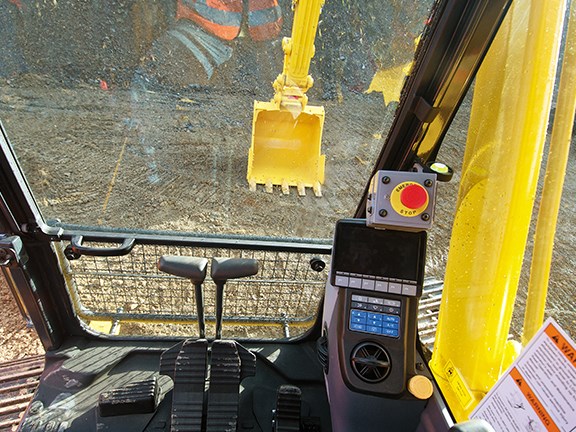 The hybrid Komatsu's familiar surroundings made the transition easy for reviewer Randolph Covich.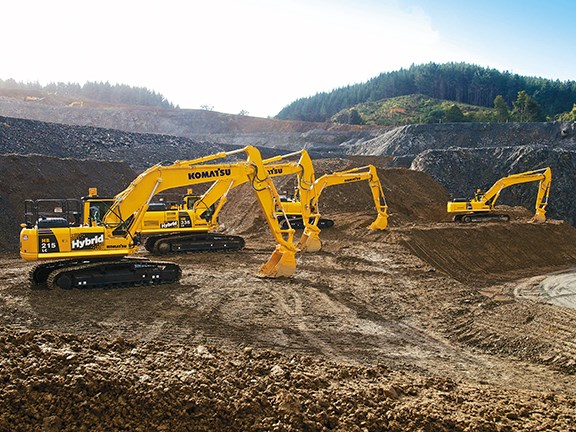 A lineup of talented Komatsu earthmovers, including the HB215LC-1 and HB335LC hybrids.

With close to 50 Komatsu hybrid excavators now working in Australia, and something like 2000 worldwide, RANDOLPH COVICH decides the time is right to climb into the cab to see beyond the specs.
First things first: Should I take a run in Komatsu's 35-tonne HB335LC hybrid excavator (which we featured in this video), or downsize to the HB215LC-1? Brain over testosterone, the decision is made to climb into the 21-tonne hybrid, as this size of earthmover is popular with buyers.
Like the other brands, such as Caterpillar (see our video here) and Hitachi, which have jumped into hybrid technology, the exterior of the HB215LC-1 (HB = hybrid) excavator looks very much like a conventional Komatsu excavator of the same size.
While this may disappoint those who were expecting some great leap forward in exterior design to go along with what is happening beneath the panels, one could say that this may have been done so as not to scare away prospective purchasers as some futuristic concept drawings tend to do.
I recall the Samsung and Kobelco excavators of the early '90s had some interesting cab designs, but these were soon re-jigged to something closer to the 'norm'. It appears the excavator-buying fraternity has somewhat conservative views when it comes to what moves its dirt.
The Komatsu design team must have picked up on this quirk, and, much like a family sedan with a V8 transplanted under the hood, decided to keep all the changes beneath the exterior.
How it works
With most conventional 20-tonne excavators burning in excess 20 litres of diesel an hour, Komatsu hybrid experts tell me the actual burn rate for these machines in Australia is around 13 litres per hour. It doesn't take long to work out the owner of a Komatsu hybrid can make substantial savings every month, which is money directly into the owner's bottom line.
Helping achieve this dollar-saving feat is the low-emissions, four-cylinder, turbocharged Komatsu SAA4D107E-1-A diesel engine. Outputting a net 110kW (139hp) at 2000 rpm, the engine grunt is supplemented by electricity generated via the hybrid system.
This is done by sending energy from the deceleration phase of a slew via an inverter to a capacitor, which momentarily holds that energy before sending it to the engine and helping it to accelerate.
My understanding is that the capacitor works like a big battery, but can charge and discharge quickly as no chemical reactions need to take place. Both the inverter and capacitor have a long life and require no maintenance.
"But what happens when the machine is not slewing?" I hear you ask.
Sitting between the engine and hydraulic pump is a generator/motor. This unit keeps the capacitor charged when the machine is idling (generator) and assists the engine to increase revs (motor) with the free returned energy. As they say, it's all very clean and green.
Into the operator's seat
'Comfy as' is probably my first impression, with 'familiar' being my second. With everything placed exactly where I expected it to be, a short familiarisation was given by Komatsu trainer Geoff O'Leary, before I was told, "Dig wherever you want, mate."
It was just a matter of increasing the revs and disengaging the control lock to get the machine underway.
Not wanting to ruin the carefully-prepped pad before a bunch of open-day guests arrive, a quick decision is made to move the HB215LC-1 to an area that is somewhat removed from where a lot of the action will be taking place later in the day.
The low hum of the engine as the excavator starts working gives the impression the excavator is not doing a heck of a lot. That is until the bucket hits the ground and encounters its first lot of resistance.
On command from the clever electronics, the engine revs automatically increase and decrease as the bucket smoothly cuts it way through the prepped pad. Over and over, again and again, the Komatsu HB215LC-1 nicely performs this task, before briefly complaining when it reaches the stacked rocks further below the surface.
This doesn't really faze me, as I would expect the same complaint from a conventional excavator. Once again, moving the rocks aside is not unlike using a same-sized excavator that we are all familiar with.
The bottom line
Power-wise, it would be difficult to differentiate the HB215LC-1 from a conventional diesel-powered machine of the same size and I would be seriously surprised if any experienced operator came away with negative comments after using this hybrid excavator.
Sure, initially the vibrations (or lack of them) and subtle change in the engine noise can confuse the mind for a short while, but this very quickly subsides and the operating experience becomes normalised. All in all, it was a very nice machine to operate, and it didn't throw up any surprises.
My crystal-ball prediction is that in the not-too-distant future, contracts (especially those involving public works) will soon be weighted in favour of tenderers that provide a reduced environmental impact. Anecdotal reports are that this type of condition is starting to make inroads in Australia. Hybrid machinery will be a key component in securing that work.


Click here to find Komatsu excavators for sale.
Subscribe to our newsletter
Sign up to receive the Trade Earthmovers e-newsletter, digital magazine and other offers we choose to share with you straight to your inbox
You can also follow our updates by liking us on Facebook. 

Loaders For Hire | Dozers For Hire | Excavators For Hire | Forklifts For Hire | Machinery Attachments For Hire