Review: Toyota Huski 5SDK10 skid-steer loader
---
After thinking that skid-steer loaders were better suited to younger, slimmer and fitter operators, senior reviewer RON HORNER came away impressed by the upgraded Toyota Huski 5SDK10 skid-steer loader.
I had cringed at, but reluctantly agreed to, the editor's request for a review of the Toyota Huski 5SDK10 skid-steer loader before Christmas last year, but it ended up clashing with our Bauma China commitments so it was put on hold.
I thought I may have got out of this one merely due to the fact that, at my age, I view any skid-steer loader with scepticism. In my opinion they are machines for young blokes who care little for their wellbeing, are yet to be spoiled by the excesses of life's comfort and are fit and have a physique to go with the rough and tumble motions of such a machine.
I usually give any of the smaller machines a wide berth when it comes to operating. I find that the confined cabin space, short wheelbase and non-uniform controls tend to be at odds with this old, worn out body and its ever-expanding waistline and rear end.
Only those with some age on them or carrying old injuries will understand what I mean.
I was therefore dreading the thought of operating in an open cab, close to the ground, eating dust for a number of hours, smack in the middle of a sweltering, stinking hot and humid Brisbane day. For some reason dust these days just doesn't have the same nutritional value as it did for me back in the '70s.
I met Toyota Material Handling Australia's (TMHA) earthmoving area sales manager Syd Williams in Brisbane and he gave me a guarantee that this Toyota Huski skid-steer range was as operator-friendly as any on the market and convinced me to put my bum in the seat and have a go.
I grabbed the keys, completed a pre-start check, had Syd explain some of the finer points of the Huski and cranked it up.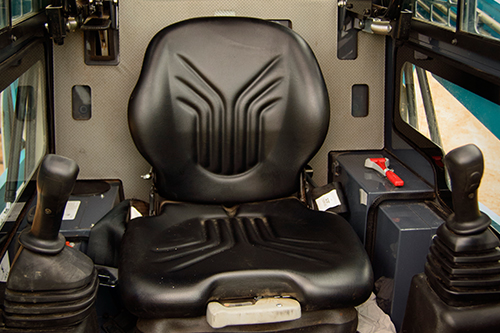 In the cabin
First impressions count with me … and oh, what a relief when I saw that the Huski 5SDK10 demonstration machine was fitted with a sealed glass cab with pressurised air-conditioning. The temperature was hitting 32C with 82 per cent humidity that day, and my body was feeling every bit of it. 
I was contemplating how I would fit this bulking frame into the cab as the glass door only opened up to about 60 degrees and I am not as flexible as I once was. Surprisingly, however, accessing this machine was not an issue as the opened door exposed a very wide cab internally.
The ergonomic design of the cabin and seating is clearly visible upon entering.
There are two instrumentation panels located to the left- and right-hand sides of the upper front cabin. This, along with the front and rear pillars being laid out almost parallel, creates a very spacious operator compartment with great all-round visibility. The rear-view mirror is at tilted head height.
The fully glassed cabin has sliding windows for some fresh air and communication when working in close proximity to workmates on the ground. A 12-volt dust-sealed socket is also fitted to ensure the mobile phone stays on charge (can't miss that next job opportunity).
The cabin features easy-to-monitor combination meters providing all the relevant information on operating status and warnings. Colour-coded switches are simple and effective and located on the upper left-hand side of the cabin — red for the park brake override and blue for operation.
WATCH THE TOYOTA HUSKI 5SDK10TEST VIDEO HERE
The throttle is in an easily accessible position on the right-hand side. Beside it is a depressurise valve to release the pressure in the auxiliary line and make changing attachments a breeze. No more cracking fittings or bashing the male quick release (QR) coupling to release the pressure; just turn of the valve and you're good to go.
There are also two cup holders, but for mine they are purely ornamental, much suited to someone blessed with a greater skill in smooth operation than yours truly as I think I would lose the contents from any cup within meters of start-up.
This machine gets a big tick of approval from me even though it is fitted with the standard short-stroke hydraulic pilot control levers. They are very well positioned for ease of operator comfort and control and one could well imagine the how the machine would be if the optional full hand controls (ISO or H pattern) were fitted.
These control the forward and reverse operation with counter rotation for turning. Moving the right-hand lever sideways activates the all-Australian (Queensland) manufactured 4-in-1 bucket.
The lift and dump pedals are floor-mounted, light in operation (they operate on bearings) and perfectly combine with the hand controls.
The Huski is equipped with a self-levelling system, which is engaged by operating the lift pedal and ensures the bucket stays level, importantly even when the arms are raised. This can be adjusted and switched off if the operator requires.
The seating in this particular machine is perfectly suited to someone spoiled to the excesses of comfort. A suspension seat is standard with dampener and back rest adjustment (no ride control, but that's available as an option). And there's a brilliant Australian-manufactured air conditioner designed specifically for northern Australia's humid summers.
The basics are still available if you wish to procure an open cab without air. From the information received, these are still extremely popular.
The Toyota Huski is also equipped with the Operator Presence Sensing System, or OPS. This makes the machine inoperable until the multiple safety interlocking system is released by lowering the seat bar, brake and operation switches are released and the operator is properly seated.
The cab also houses a factory-fitted and securely mounted AM/FM/UHF radio, which is located within easy reach and is visually accessible; no more peering into obstructed tight cabin spaces for volume or channel changes.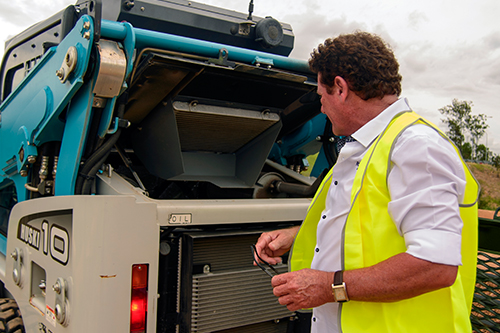 Service access
Accessing the machine for servicing is excellent, with the tilt-up cabin, 180-degree-opening rear grille and raised engine hood providing the ideal openings to gain access to those 'hard to get to' spots.
The engine oil and hydraulic oil filters sit perfectly and are so easy to get to. They are equipped with drainage hoses and drains that are tucked way for easy access when undertaking servicing. The engine dip stick is at arm height and accessible without getting covered in dust and associated workplace crap at the beginning of any day, and water and radiator checks are also within easy reach.
Toyota was a pioneer in the fitment of a pre-cleaner bowl as standard to skid-steers way back in the '80s, which proved to be a godsend to any owner-operator. This saves a considerable amount of downtime in blowing the air filter out on a daily basis if in dusty conditions (What, a skid-steer in dusty conditions? Never) and, of course, filter replacement.
The air-conditioner has a vertically inserted filter, which is also easy to access externally from the daily engine pre-start check position; a twist of the locking device and out it comes. How many times has a bloke called in an air-conditioning repairman only to find that he had a blocked air-conditioning filter that was placed in some out-of-the-way position even the FBI couldn't find it.
The battery is rear-mounted under the engine but within the engine bay, with the terminals perfectly suited for jump starting every other machine on the construction site. (As any LandCruiser or HiLux owner knows, Toyotas never break down.)
The machine comes from the factory with a lockable fuel cap, which is positioned in a recessed external area on the left-hand rear-side of the machine. Quick fuel-ups are compulsory these days so no more having to open a rear guard to fill this one.
The Huski is factory fitted with a rollover protection structure/front underrun protection system (ROPS/FOPS) cabin head-guard to provide an element of safety should one incur a rollover or be struck by a falling object.
The hydrostatic transmission (HST) includes robust axial piston pumps matched with heavy duty motors for a four-wheel drive and steering system, which we found developed good power and climbing ability, and provided fantastic manoeuvrability while delivering a tidy top speed of 11km/h in forward and reverse.
This particular machine is powered by the ultra-reliable 3,469cc Toyota 2Z engine that achieves low exhaust emission levels and noise levels between 89dB inside and 103dB outside.
This is not a new model machine; this model was first introduced in 2009 but Toyota has opted for continual upgrades and modifications without the fanfare of staging a new model introduction. Toyota's design engineers are always open to suggestions on how to improve on any aspect of its equipment and keenly incorporate them into their manufacture.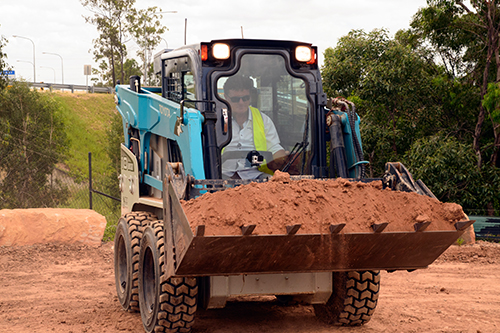 On the job
Once I came to grips with the operation of the Huski, in all of about 10 minutes or so, I took it out on to the TMHA lot. I found it quick and very responsive to manoeuvre and easy on the operator with its in-built creature comforts and very smooth hydraulic controls that became second nature to operate.
If this machine was out even 20 years ago I most probably would have owned several by now … so impressed was I.
I was fortunate to meet Holger Wernick, an owner operator of a Toyota Huski 5SDK8 skid-steer loader who happened to call into the Brisbane yard while the demonstration was taking place.
Holger kindly accepted my invitation to get into the Huski demonstration machine and show me how a real professional does it. Darn, he was good …. he didn't spill a drop of the coffee in the cup holder. Thanks very much, Holger.
The bottom line
It is quite apparent when you start to look around this little beauty that Toyota, in typical Japanese fashion, has adopted a lot from its very successful car and truck range — and why shouldn't it?
Toyota holds a second-place sales standing both in Queensland (23 per cent) and Australia (15.8 per cent), with Australia being Toyota's largest skid-steer market world-wide. Toyota has been manufacturing these loaders since the late '70s and has been in Australia for more than 30 years, doing all testing and development in Australia's harsh working conditions
Toyota has a world-wide reputation for its quality, durability, serviceability, reliability and affordability. All of these are prerequisites, which have to be taken into consideration when one is contemplating a purchase, whether it be a car, truck, forklift or skid-steer loader.
The Huski 5SDK10 machine is an integral part of the family, and I'd say it presents a great reason to become part of the Toyota owners' club.
Click here to find Toyota Huski skid-steer loaders for sale.
Click here to look up Toyota Huski skid-steer loader specifications.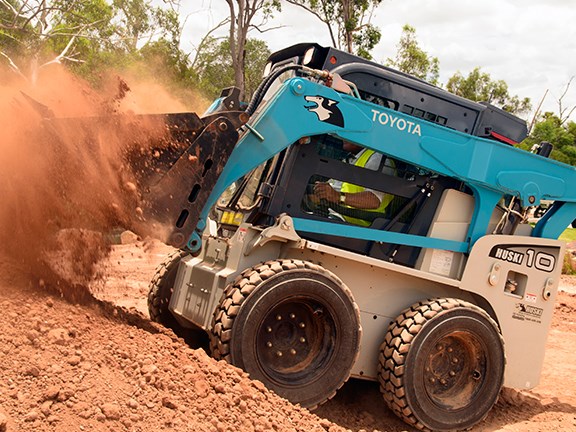 Ron Horner gets to grips with the Toyota Huski 5SDK10 skid-steer loader.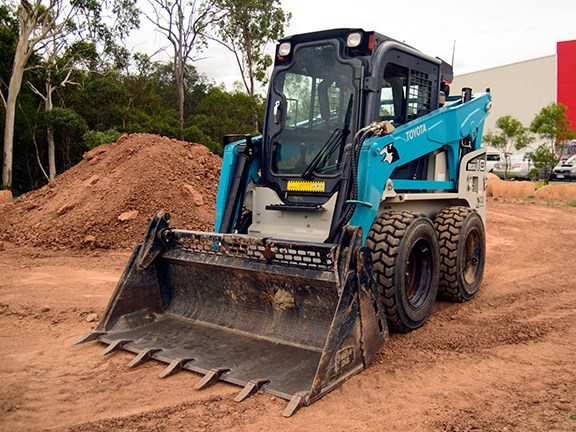 This particular machine is powered by the ultra-reliable 3,469cc Toyota 2Z engine.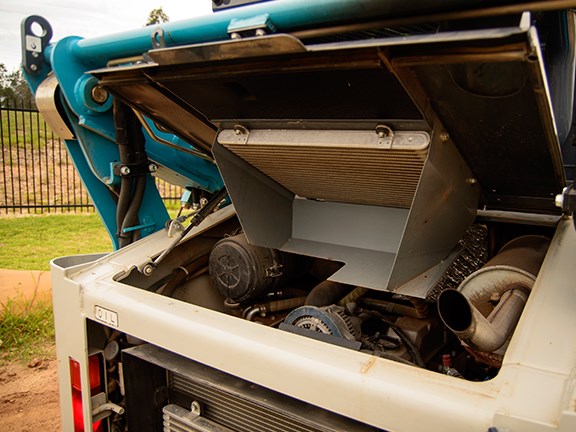 A tilt-up cabin, 180-degree-opening rear grille and raised engine hood provide excellent service access.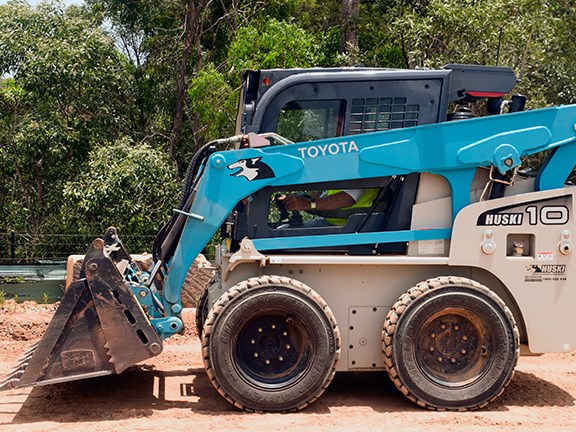 The Huski is equipped with a self-levelling system, which is engaged by operating the lift pedal and ensures the bucket stays level.

Subscribe to our newsletter
Sign up to receive the Trade Earthmovers e-newsletter, digital magazine and other offers we choose to share with you straight to your inbox
You can also follow our updates by liking us on Facebook. 

Loaders For Hire | Dozers For Hire | Excavators For Hire | Forklifts For Hire | Machinery Attachments For Hire