Review: Kanga DW625 mini loader
---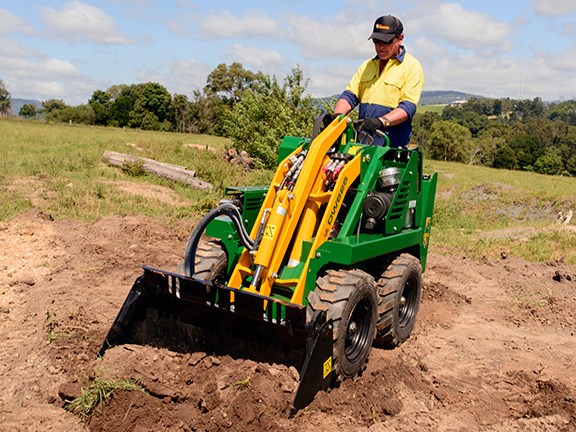 Ron Horner gets to grips with the Kanga DW625 stand-on mini skid-steer loader.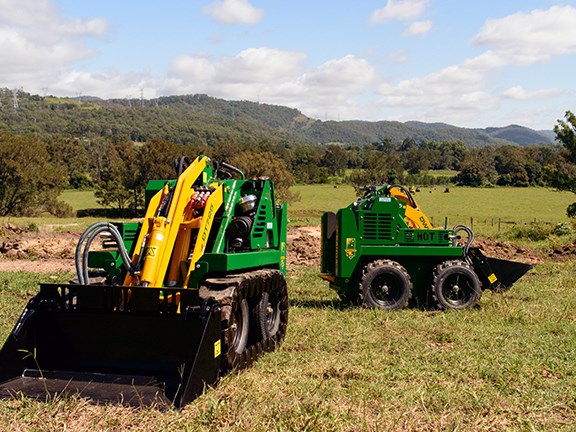 Kanga loaders are available in both wheeled and tracked configurations.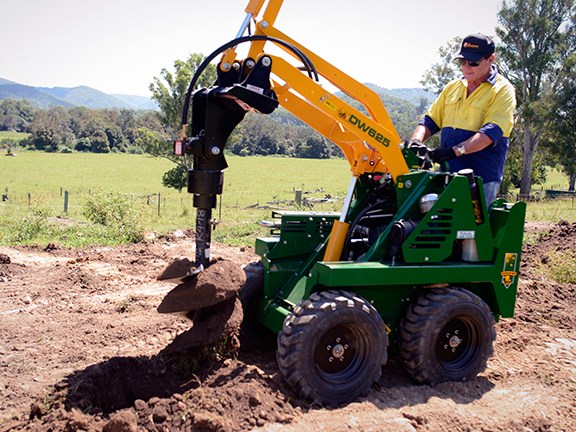 There are up to 70 optional attachments for the Kanga loaders.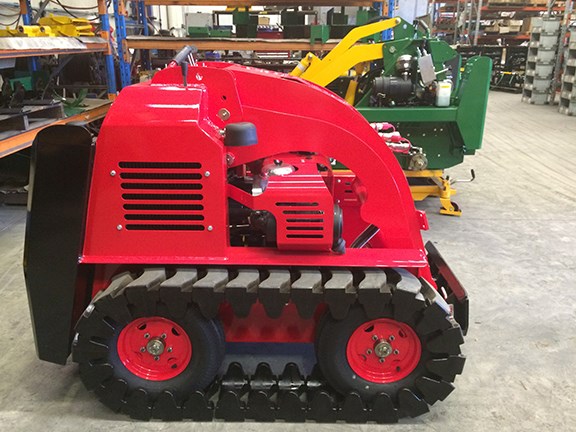 Kanga can paint your machine in any colour combinations.

RON HORNER puts a Kanga DW625 stand-on mini skid-steer loader through its paces on the Gold Coast, and comes away impressed by this hard-working Australian icon.
I don't think you could appreciate the thoughts that went through my head when I picked up the phone and the editor asked me to review a Kanga DW625 mini loader.
You see, the Kangas were once known as Dingoes and I grew up in a time and place when kangas and dingoes were deemed nothing but bloody pests.
In those days kangas were the cause of so much vehicle damage they were the only reason tourists stopped in town overnight, and I am sure they were also the only reason Cobar and Bourke had panel beaters.
I remember kangas as those pesky little mongrels that robbed your sheep of a good feed by sneaking in every night to eat the best of the lucerne you just planted in the paddock on the edge of the Darling, and I am living proof that kangas also provided many a country boy with a steady cash flow as we "tagged and bagged 'em" on our overnight culling and roo-shooting trips.
Dingoes, on the other hand, were fast, feral and fierce and oh so difficult to trap or shoot. Dingoes could wipe out a generation of sheep at lambing season, knock over your newborn calves, kill your best dogs and steal the others to train them in the art of undercover raiding.
Well, it was way back in the early 1970s that I fired my last professional shot in anger against those pesky marauders and now I get a request to review them.
Sometimes I wonder if I have been under a rock for far too long and missed out on a few things that should have been so obvious to me. This story just happens to be one of them.
For the past 34 years Kanga — which has gone through some company and name changes — has been a source of innovation in the multi task compact skid steer market.
Starting with the original concept in 1978 and introducing the first production model in 1981, Kanga has been constantly setting the standard higher.
The original concept, a 'motorised wheel barrow', was aimed at capturing the landscaping market. It was a machine suitable for use in those projects which had limited access and space; one which would minimise or eliminate those laborious tasks such as shovelling, loading and haulage which were once deemed suitable for a man and his wheelbarrow.
In 1984 it was known as the 'Dingo 1000' then in 1985 as the 'Jaden Loader'. In 1997 it was renamed the 'Kanga' with the start of exports to North America and New Zealand. In 2000 the 'Kanga Kid Skid Loader was introduced, in 2002 the 'Kanga Kid Track Mini Skid Loader' and in 2008 the 'Kanga Remote Loader' prototype was developed.
During this period Kanga Loaders has won a number of design and export awards.
First impressions
With all this in mind, I was excited to be offered the opportunity to give one of Kanga's 'little fellas' a run on the Gold Coast.
I have never had anything to do with, worked in close proximity with, nor operated anything so small in my life so this was definitely a first for me. It meant I was able to approach the Kanga DW625 mini loader with open eyes and arms.
First impressions are either good or bad but always guide you into the way you end up thinking, whether it's about a person or an item of plant … those impressions stick in your mind.
Many people say that size matters (Ha … I am sure we have all heard of or have been reminded of that before) but on seeing the Kanga for the first time I must say that I had my doubts that such a small machine would be capable of moving much material at all.
The overall design of the earthmover looked good, the control pattern and operating control positioning looked favourable and the beauty of optioning so many hydraulic attachments certainly got my tick of approval. There was no plastic panelling to found anywhere, and a standard 4-in-1 bucket with 'Made in Australia' stamped on it soon got this old bushie's heart pumping.
At the controls
The operator stands on a large platform at the rear of the machine with side-mounted twin 50-litre fuel cells as bump protection. The control panel sits at arm's height in a forward facing position and comes with an electric key start on/off switch, hand-operated throttle and a safety auxiliary cut-out which neutralises the hydraulic flow when the operator is not present.
The controls of the DW625 — a diesel-driven, wheeled model — are a mixture of excavator and loader but incorporated into a skid steer. For the uninitiated they cause a false sense of security for a few minutes until you get a grip of them.
I found the all hand/finger operated controls to be operator friendly; I could draw on my front-end loader skills to load the bucket and my excavator skills to manoeuvre the machine forward and back, and operate the counter rotation of the wheels.
For someone who has had his big butt stuck firmly in a seat and cabin for most of his life, being so close to the ground, standing up to operate the machine and being fully exposed to the elements gave me a weird but enjoyable sensation.
The powerful and reliable Kubota D902 diesel engine, developing 25 horsepower (18.6kW) and 56Nm of torque, provides the power to run this little 972kg powerhouse. The Kanga DW625 has a lift capacity of 250kg and can travel at a credible 7.5 km/h on smooth surfaces.
Don't try it on anything uneven, as was my experience at the demo … believe me, it's the closest thing you will ever get to riding a bull on wheels but the only prize to collect is your pride (and that's only if you reach the eight-second mark.)
The 23-inch water-filled Lug tyres certainly help hold the machine on the ground and give it that extra weight while the four fully enclosed direct-drive hydraulic motors provide the responsive and powerful grunt to push this 1030mm-wide machine through the toughest of jobs.
The bottom line
For the last 35 years Kanga has pushed the boundaries and led from the front in the development and manufacturing of mini loaders throughout the world from its southeast Queensland workshops.
The company's vision and core focus has always been based on innovation and customer safety.
Did you know that you can order your new Kanga in your own company colour scheme and with up to 70 optional attachments? These include trenchers, rotary tillers, augers, brooms, cement mixer bowls, rock grabs, log splitters and hydraulic rock breakers.
Using the attachments is made even easier by the simple and efficient manual quick hitch and hydraulic hose quick release systems in place.
This machine is not going to move the earth in any bulking operation, but once the heavy gear has gone and you find the space is limited and the laborious tasks of shovelling and moving materials by hand and wheel barrow are looking you in the face … well this is where this machine comes to the fore.
It's a great, robust, Australian-designed and -built product. It's innovative, efficient, cost effective, has a solid steel construction, is warranted by its Australian dealers and is internationally recognised as a leader in its market.
Put simply, it's a darn good Aussie icon. From one old Aussie to another … Kanga you done good!
Click here to find skid-steer loaders for sale.
Click here to look up Kanga loader specifications.
Subscribe to our newsletter
Sign up to receive the Trade Earthmovers e-newsletter, digital magazine and other offers we choose to share with you straight to your inbox
You can also follow our updates by liking us on Facebook. 

Loaders For Hire | Dozers For Hire | Excavators For Hire | Forklifts For Hire | Machinery Attachments For Hire