Review: Iveco Daily 4x4 truck
---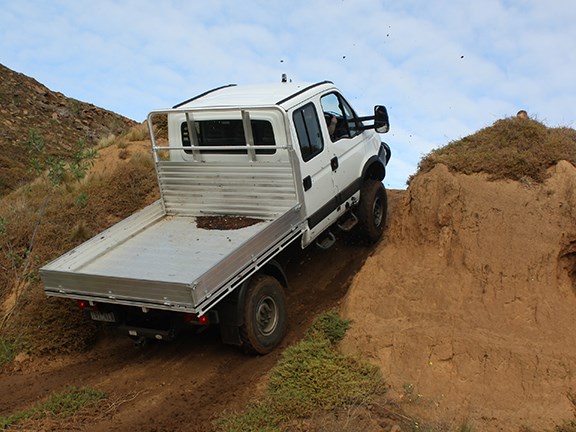 Diff locks front centre and rear give the Iveco Daily 4X4 truck some serous climbing cred.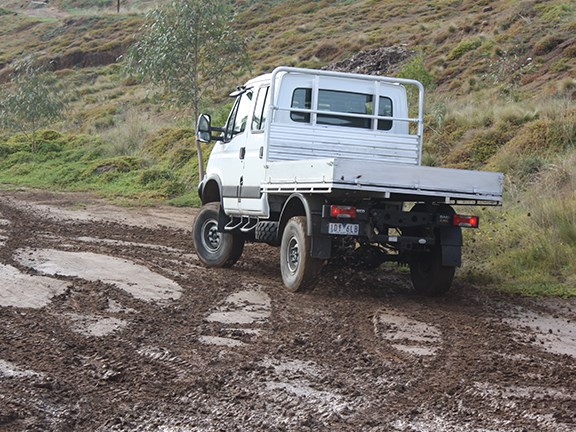 Of course we had absolutely no fun whatsoever in the mud.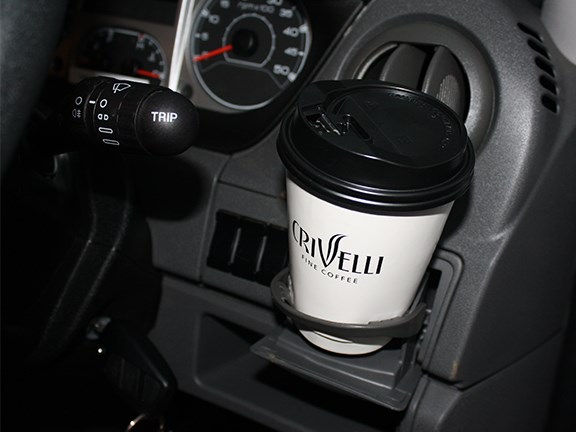 The cup holders are absolutely useless unless you like wearing your coffee rather than drinking it.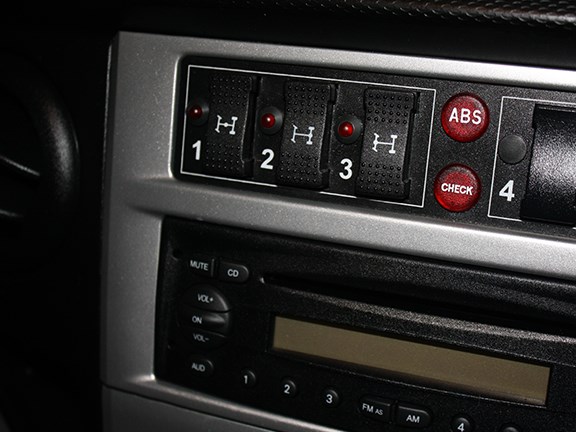 Diff lock selectors are easily reached but the front lock alarm screams like a banshee when engaged.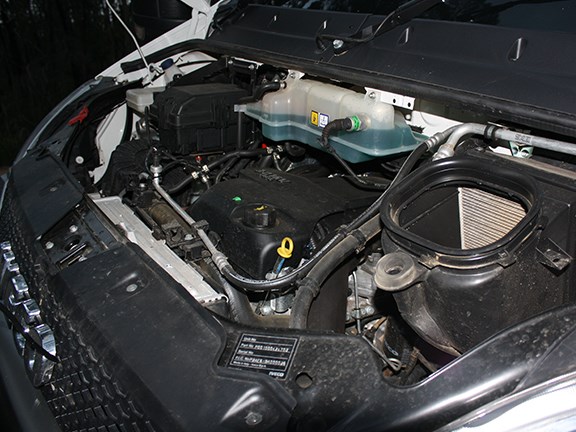 The 3-litre donk punts the little Iveco along nicely loaded and unloaded.

The Iveco Daily 4x4 truck is a purpose-built off-roader suitable for a variety of environments, from construction sites to farms. MATT WOOD puts it through its paces at the Melbourne 4x4 Training & Proving Ground.
My first look at the Iveco Daily 4x4 was in Italy back in 2014 when I got to sit in the passenger seat while an Iveco test driver drove a Daily 4x4 up what seemed, at the time, like a nearly vertical concrete wall. It was still a formidable near 70 degree climb. Even though the radio fell out of the dash, I was still impressed with the climbing capabilities of this truck.
The rest of the Daily range has been updated both in Europe and here in Oz, but cosmetics aside, there's little resemblance to the 4x4's delivery vehicle stablemates. This is a purpose-built off-roader that's available in single cab and crew cab configurations. The latter has the added benefit of seating seven people, including the driver.
With a GVM of just 4,495kg it just sneaks into car licence territory, however it's worth pointing out this thing is more truck than ute in terms of driving dynamics.
The Daily 4x4 is a very different beast. Although there are plenty of expedition trucks around the world using the Iveco as their basis, for the most part it seems to have been flying under the radar here.
A payload of 1,750kg that can be bumped up to 2,455kg gives it plenty of flexibility in that department and so does its braked towing of 3,500kg. The Iveco sits up on off-road rubber some 2,630mm high, which also means the tray is a fair way off the deck. Wading depth is 600mm, which can be taken out to 800mm by opting for the vertical exhaust and a snorkel.
Under the hood
The engine is a Euro 5, 3-litre turbo diesel with twin dual-stage turbochargers. This exhaust gas recirculation (EGR) engine manages 125kW and a reasonably beefy 400Nm.
But the secret to this little beastie and its off-road prowess is in the gearing. There is a six-speed manual transmission, but there's also a quad-range transfer case with a low-low-low-low range. That gives a crawler gear ratio of 101:1. It would literally idle up Mount Everest with that gearing.
It also means you could start it, put it into gear, hop out, walk inside and have a cup of tea before the truck had idled out of your driveway. Effectively it has 24 different gear ratios up its sleeve.
Even in high-range highway mode the Daily is all-wheel drive with 68 per cent of drive going through the back wheels and the rest through the front. Adding to the off-road arsenal are diff locks on the centre diff as well as the front and rear diffs. This all should mean that the Daily is capable of hauling itself virtually anywhere.
Rough rider
I recently spent a bit of time familiarising myself with the imposing Iveco. I used it for my daily drive as well as a few off-road adventures in between.
Now is probably a good time to point out another not-so-obvious benefit that comes from driving a towering, purpose-built off-roader. I actually lost 3kg in the fortnight that I had the beast parked in my garage. Why? Well, for a start, at 2.6m tall the Daily is way too high for the average fast food drive-through.
Plus, when unladen the 4x4 is too rough to eat in, or drink coffee in, or sometimes even to breathe in. And for God's sake resist the urge to indulge in some peak-hour nasal exploration while mobile or you may end up needing a digit surgically removed from your frontal lobe.
As an empty truck, commuting in the Daily is like commuting in a piece of earthmoving equipment. I've actually driven telehandlers with better road manners.
The cup holders are also useless and will send your latte spuming from the cup lid as you drive. But with all that said, the evidence points to a clear fact: driving a Daily 4x4 is good for your health.
Ute on steroids
My dual-cab example is tarted up with a beefy looking front bar and LED light bars which add to the off-road cred. That Narva light bar out front does a sterling job of startling my local roo population. In fact, I think I see smoke coming off the hide of one roo as it flits across my high beams one evening.
I'm even a local celebrity for a while there as school kids point in awe at the 'jacked-up ute on steroids' look of the truck. I'm consistently baled up by four-wheel-drive ute owners wanting to know what it is. Which is quite funny really as it does have a badge on it.
A day in the bush with my trusty chainsaw sees the Daily get its first decent load. While the truck should not have any trouble getting to where the wood actually is, getting said wood into the tray isn't an easy task.
The rear-chassis height of the Iveco is 1,065mm above ground level, which is quite a height to sling a log. Fortunately, we have my mate Andy's awesome home-engineered saw bench and elevator to dump wood into the truck body.
With more than a tonne of Grey Box on its back the Italian off-roader becomes a much more sedate riding beast. In fact, if it wasn't threatening rain I'd be tempted to leave the load in the back for the rest of the week.
You might think this jigger doesn't like highway speeds too much, however it cruises surprisingly well on the open road and will maintain 100km/h quite easily even when loaded. There's even cruise control.
But with the big 255/100 R16 Michelin muddies on all four corners, the maximum cruising speed is 110km/h and there is plenty of tyre roar to accompany the engine note.
I'm quite taken with the inclusion of climate control as standard equipment except that it seems to struggle to work out whether or not it needs to heat or baste. Consequently, I spend many of the mid-winter days with it turned off or with the driver's window open a crack.
Off-road workout
We really need to get this thing dirty so we head to the Melbourne 4x4 Training & Proving Ground at Mount Cottrell to really give it an off-road workout. The off-road gods have smiled upon us and provided rain on the previous day which made for perfect off-road slush and slide.
Initial attempts to tackle some obstacles are met with failure as the traction is an issue. But my philosophy on life has always been there are few problems that can't be solved with more throttle and a bigger run up.
Lo and behold it works. The mini monster truck grapples its way over virtually any climb or descent we throw at it.
Ground clearance is a pretty damn reasonable out of the box at 255mm and it has a 50 degree approach angle and a 35 degree departure angle. It's also worth noting that, given the size of the truck compared to your average dual cab ute, much of the load in the tray can be spread across both axles rather than hanging behind the rear axle as is the case with most dual-cab utes.
Overall length is just 5,432mm, which is only a couple of hundred millimetres longer than a Ford Ranger, yet it tares off only slightly heavier than a 200 Series LandCruiser at 2,745kg including fluids and driver.
Third gear in low range is plenty low enough for clambering and slithering around most obstacles; sometimes fourth is needed to keep momentum up before a quick down change. A load on the back would probably change that equation a little.
A modest stroll down a river also does little to upset the Daily, and it remains sure-footed when hauling itself out of the water and up the river bank. Axle articulation is also excellent.
Most of our time off-road is spent with the centre and rear diff locks engaged and I only call on the front diff lock a couple of times. This is harder to get engaged but the main issue is the ear-splitting beep the truck emits while the diff is locked. This makes concentrating on what I'm doing a little tricky as it is like someone driving a steel spike into my skull.
Clearly you shouldn't drive any distance with the steer axle diff locked but there could be a better way of alerting the driver to disengage it rather than an audio assault. The front diff lock will disengage automatically at speeds of more than 25km/h.
Fit and finish
Interior fit and finish is a little on the cheap side with some interior panels a little out of whack. It's hard to ignore the left-hand drive origins of the Daily as the right-hand-side footwell doesn't leave much in the way of room for the left foot when cruising.
Brakes also feel spongy underfoot and I'm a tad concerned it isn't going to pull up at the first couple of intersections. However, it just seems to be the nature of the beast as it pulls up exactly the same whether it is loaded or not — it just needs some meaty pedal application.
That said, the Daily 4x4 could do with some retardation. An exhaust brake such as those used by some of the Japanese manufacturers would make a big difference to loaded drivability.
The bottom line
With the Iveco Daily 4x4 crew-cab priced at $90,000 RRP and single-cab ringing off at $80,000 it is a lot of off-road kit for the money.
However, you'd want to be really serious about spending a lot of time in the mud and dirt to deal with its on-road manners on a day-to-day basis. Something like an Allison automatic would also be a nice addition for some plant-based roles and may even appeal to the grey nomad element who may want to drop a camper on the back.
A torque converter could only add to the already prodigious low speed tractability of the Daily.
It's easy to see the 4x4 being a good fit for emergency services and plant carrying roles, as it is power take-off (PTO) ready. I also reckon it would make a good little fertiliser spreader or spray rig with its relatively light footprint. 
Subscribe to our newsletter
Sign up to receive the Trade Earthmovers e-newsletter, digital magazine and other offers we choose to share with you straight to your inbox
You can also follow our updates by liking us on Facebook. 

Loaders For Hire | Dozers For Hire | Excavators For Hire | Forklifts For Hire | Machinery Attachments For Hire