Review: Cat 305.5E2 CR excavator
---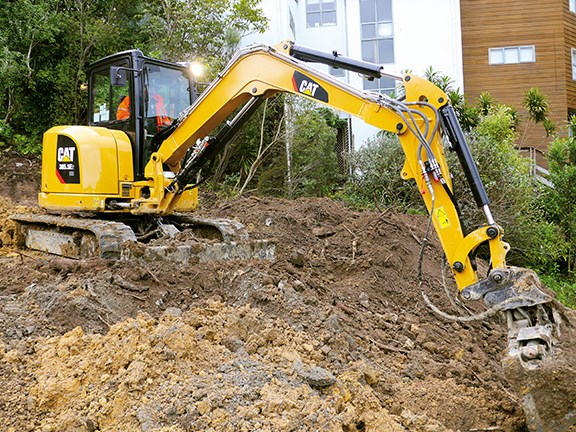 The Cat 305.5E2 CR excavator is practical, simple and clever.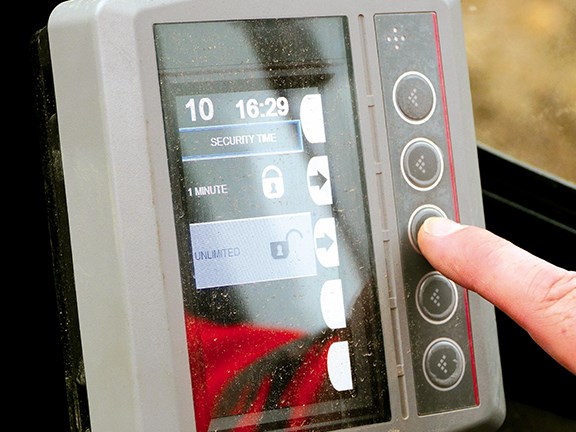 The Compass display panel can be set up for a number of different operators.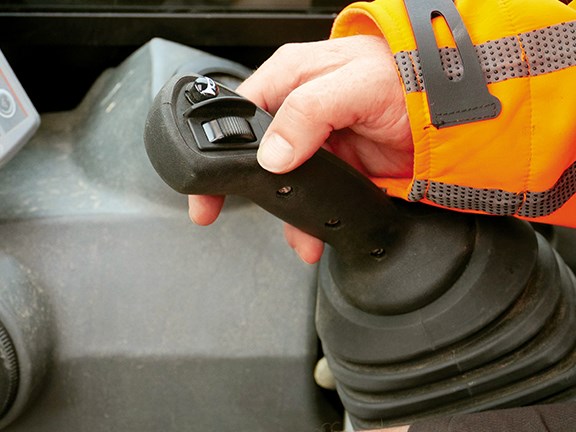 The tilt and sideshift buttons on each joystick are impressive.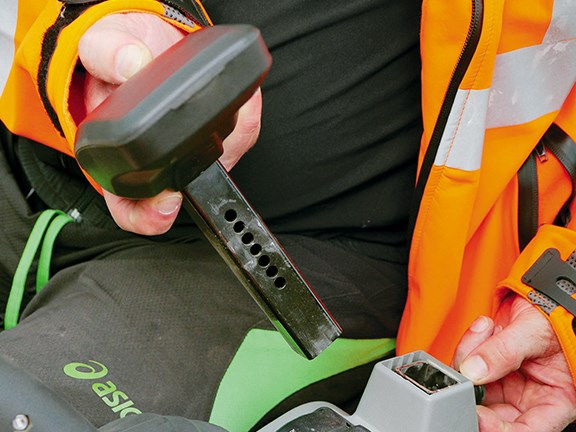 The adjustable arm rests feature seven different positions.

The updated 5.4-tonne Cat 305.5E2 CR excavator has a new hydraulic system, an updated cabin and an enhanced digital control panel. RANDOLPH COVICH jumped aboard to test it on an Auckland site with attitude.
A few weeks back, a mate of mine called to boast that he had just been given the keys to a brand new Cat 305.5E2 CR excavator. He was adamant that I get over and take some pics before it got dirty.
He said he was working on a steep site that had already proved to be too difficult for two previous drainage contractors. When the going gets tough, people turn to Caterpillar – or so it seemed in this case.
A1 Civil Drainage has taken on the challenge at this central Auckland site, which is smallish at about 6000 square metres but has a steep drop-off as the land it peels away from a knoll at the top. Awkward it may be but, given the price of property in this area, every square inch of ground needs to be utilised to its full potential.
So, what's good on an architect's computer screen needs to be translated to the 'real world', and that's where the decision to purchase a new Caterpillar excavator came into being.
"We did have a fairly good digger already on this site, but to get the work done efficiently and on time, it really required the company owners to invest in a quality machine," drainlayer/operator John Howard says. "The last thing we wanted was a machine breaking down – especially on some of the steep grades."
With its 32.9kW engine, full cab and standard arm, the Caterpillar 305.5E2 CR tips the scales at 5.4 tonnes. Primarily designed for tight urban work, it features a compact rear-end design that stays within 140mm of the undercarriage. Not quite a zero tail swing, but damn near close.
With the standard arm fitted, the operator is able to reach 5630mm at ground level or all the way out to 6020mm with a long arm. Maximum dump height is an impressive 3820mm.
Howard is enthusiastic about the new machine, and says that it is putting in long hours to get stage one completed before the weather turns. I took the opportunity to jump aboard and see how it performed.
In the cab
Reducing the chances of damage, the door swings fully open and sits back within the outside edge of the counterweight. Cleverly the two-piece glass on the door is flat, being economical to replace if ever damaged.
Stepping inside (or out, for that matter), becomes less awkward for those wearing shorts, as the control lock-out lever has been re-designed to sit tighter in, and is less likely to catch an operator's trouser leg.
The E2 models also feature a new seat design, with Caterpillar obviously putting a lot of thought into making the long hours most operators spend in their cabs more comfortable.
Also new are the adjustable arm rests. With seven different positions, there should be a comfortable height for just about anyone.
Those who want to keep up with the outside world are also well catered for, with a radio situated above head height on the B-pillar, a mobile-phone holder below it and auxiliary and USB inputs nearby. This leaves the right-hand side free for the key, throttle and air-con controls.
Another big change on this latest model is the front window. The split window system allows a number of different opening options, and is quite ingenious in its design.
Engine and hydraulics
The Cat 305.5E2 CR's power is supplied by a Cat C2.4 engine, with a rated net power of 44.1 horsepower (32.9kW) at 2200rpm.
There's a new hydraulics system — what Caterpillar calls HDH, or high-definition-hydraulics. I'd sum up the system as providing 'precision and efficiency'.
Crazy as it may seem, from what I can make out, the valve has been re-designed into a simpler set-up, and therefore operates at a cooler temperature and more efficiently, providing less fuel burn. This system has been used in Caterpillar's eight-tonne machines and is now being rolled out to smaller models.
On the job
I can see what they say about the access into the cab being a whole lot easier, with the folded-back door affording a nice wide area to step in. I'm not entirely sure if the dimensions are any different from the previous model, but with the addition of the redesigned control lock-out lever, it certainly appears that way.
The Compass display panel (monitor) can be set up for a number of different operators, and entering a personal security code switches things to each individual's preferences. In my case, it was left on my mate's settings.
After a brief tutorial, I was given the task of moving spoil to make room for a new manhole to be sited. This wasn't overly exertive work for the machine, but did provide a repetitive operation that gave the arm a good reach workout.
I was very impressed with the tilt and sideshift buttons on each joystick and these, coupled with the HDH hydraulic system, provided very nice operating conditions.
Something else that impressed me was the balance, with the machine not wanting to throw me around as much as one would expect.
The bottom line
Caterpillar has put some good practical thought into the 305.5E2 CR. I like how they have simplified things such as the hydraulic system, and gotten really clever with the split front window setup.
I like it, and consider that the directors of A1 Civil Drainage have made a wise purchase.
Subscribe to our newsletter
Sign up to receive the Trade Earthmovers e-newsletter, digital magazine and other offers we choose to share with you straight to your inbox
You can also follow our updates by liking us on Facebook. 

Loaders For Hire | Dozers For Hire | Excavators For Hire | Forklifts For Hire | Machinery Attachments For Hire