Used equipment review: 2014 Komatsu PC300LC-8 excavator
---
The Komatsu PC300LC-8 excavator is an exceptional, well-balanced and reliable machine, especially when it's kept in pristine condition by someone like young Dan O'Flaherty, writes RON HORNER.
In this day and age where we appear to have a clash of cultures — old school versus new school technology, hard-nosed and experienced construction men versus a new generation of up-and-coming young guns (or those who aspire to become one) — it is always a pleasant experience when you get to meet a polite and well-mannered young guy with a good attitude and some great skills.
I had this experience recently when I met up with young Dan O'Flaherty, a 20-year-old operator from Dayboro, Queensland, who runs a 34-tonne Komatsu PC300LC-8 excavator for East Coast Mining Group.
The Komatsu has just over 1500 hours on the clock but the reason I was interested in reviewing it was that the presentation and the setup of this final trim machine is almost perfect and the quality of the work pushed out by the young operator is exceptional.
Young Dan says he's been operating the machine for all but about 100 hours of its life and he just loves what he does for a living. The way he presents himself and the machine is a credit to him and its owners.
The Komatsu PC300LC-8 is equipped with an aftermarket tilting bucket, Trimble GPS ripper and various other buckets, and a host of factory-fitted options I found worthy of note.
General appearance
I would classify this excavator as being in 'new condition'; you have to take a close look to see the machine's one dent and one scratch.
In so many cases these days machines either show a total lack of grease or are totally over-greased. Not here. This excavator has the perfect balance with no excess grease oozing from pins and the glint of a fresh application around the pins and bushes.
The machine is as clean as one could ever hope for in such a working environment, but one has to take into account that it is a final trim excavator and would not be expected to be belly-up in mud during its working day.
There are no loose pins or noticeable wear in any bushes, the trimming bucket has only minor wear on the cutting edges (normal in these situations where the day's production is calculated in millimetres), the tracks are cleaned with literally no noticeable wear, the upper-carriage is spotless and the cabin ... well, that's another story.
In the cabin
I find it rather interesting when you first open up the cabin door of any machine. First impressions count for me, and allow some interesting insights into the attitude of the operator.
I am a firm believer in keeping your site neat and tidy during all conditions — and this also applies to the condition of your machine's cabin.
If it's a pigsty, with rubbish strewn or hidden around the cabin, dirty windows, the stench of cigarette ash or bumpers, air-conditioning filters choked with dust and gauges in non-working condition, this usually relates to the work ethic of the operator as well.
This could not be further from the truth inside Dan's cabin: absolutely spotless; carpet mat overlaying the recently Armor All-ed rubber floor mats; dark window tinting; heat-reflective covers on the rear and side windows; and all the optional extras one could think of.
There's a perfectly positioned two-way radio; an iPhone holder suctioned to the offside window in easy reach of the operator; a Trimble GPS positioned perfectly in front of and to right of the operator for a non-impeded view; a spirit level affixed to the front window ledge to ensure the machine is in a level position when working within tight tolerances on deep excavations; and one of three emergency stops located in a forward position and easy to activate should disaster strike.
Dan has also fixed a bracket to house his bottle of glass-cleaner and there's a small fire extinguisher mounted within easy reach.
Sometimes Dan even operates with his boots off so as not to muddy the cabin floor.
Some people may call it pedantic but I congratulate Dan as he takes exceptional pride not only in his machine's appearance and his own working environment but the quality of his work as well.
Komatsu is no slouch either, by providing ex-factory a number of features which previously would have been classified as optional extras.
There's a high-capacity automatic air-conditioner which creates a fully pressurised cabin, a 7-inch LCD colour monitor for viewing all the gauges and the rear mounted camera (when activated), burst protection, overload alarm and level indicator. A safety switch and alarm for the quick hitch are integrated into the same circuit and six factory-fitted lights ensure that if you haven't finished the day's work in the 10 daylight hours you can keep going until you do.
The high-visibility ROPS cabin (OPG Level 1 compliant) and the layout of the cabin and gauges are exceptional. Three factory-fitted mirrors are located left, right and rear, and are really well positioned to maximise visibility. This machine came supplied ex dealer with safety handrails and rotating beacons already fitted.
Rounding out the feature list is Komatsu's KOMTRAX Machine Satellite Tracking System.
On the job
I felt instantly at ease in the operator's seat. The cabin felt wide and came complete with a fully reclining seat and backrest (perfect for the rest times when the trucks are late or design issues cause a long delay in your day's production).
I thought the seating arrangement, the unimpeded view of the gauges, the GPS monitor, the external mirrors, the 7-inch monitor and the vision through all the windows were perfect
As I said before, the cabin was exceptionally clean and I had to double-check my boots to make sure I wasn't going to mark the carpet on the floor.
With its four modes of operation the machine handled everything I could throw at it, even though there was no 'hard slog' anywhere on site on the day of the review.
The engine on the Komatsu PC300LC-8 excavator is a proven 4-cylinder turbocharged and after-cooled Komatsu engine pushing out 184kW attached to a 'HydrauMind' hydraulic valve system developing a flow rate of 535 litres per minute.
What this meant is that the excavator had all the power I needed as I shaped the batters on the sediment basin under construction. It was also well balanced.
Final-trim machines tend to stay in the same location for quite some time, but the degree of difficulty in balancing steep grades and batters should not be taken lightly.
I felt that this excavator warranted an aftermarket full tilting adaptor head attachment to create a perfect final-trim machine.
This would enable the operator to get the bulk of the material out by using a ripper or tooth bucket to within, say, a 200mm tolerance to line, level and grade by referencing the Trimble system before attacking the final trim cuts with the trimming bucket.
The bottom line
Our love for 30-tonne excavators is second to none throughout the world, and with the PC300LC-8 Komatsu has once again came to the fore and delivered an exceptional, well-balanced and reliable excavator.
As this machine is as close to new as we could possibly hope for, has been used for final trimming and has been exceptionally well looked after, I could find nothing out of the ordinary to identify as 'exceptional wear or tear'.
One thing I do dislike is the sloppy, floppy engine covers fitted to the Komatsu excavator range. They flop all over the place and I find them difficult to lock in place most of the time.  They remind me of a really weak handshake ... not cool in the bush!
But over the past 40 years in Australia Komatsu has built its reputation on reliability, innovation and quality, and this PC300LC-8 is no exception. This model excavator is just one more example of why Komatsu holds its place as a world leader in the design and manufacture of heavy machinery.
 
Click here to find Komatsu excavators for sale.
Click here to look up Komatsu excavator specifications.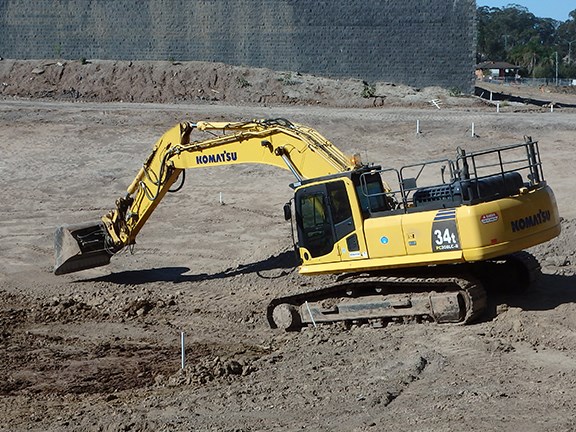 The Komatsu PC300-8 excavator at work trimming batters.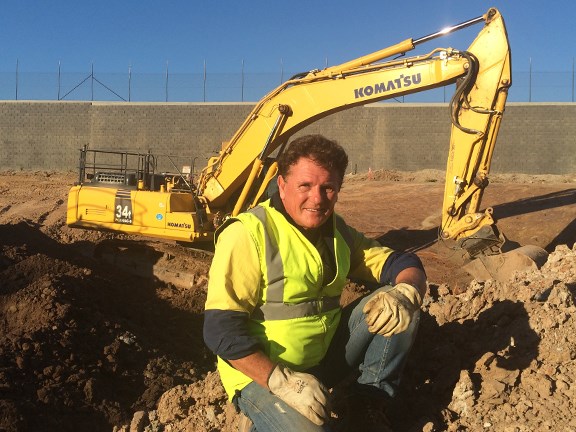 Reviewer Ron Horner with the Komatsu PC300LC-8 excavator.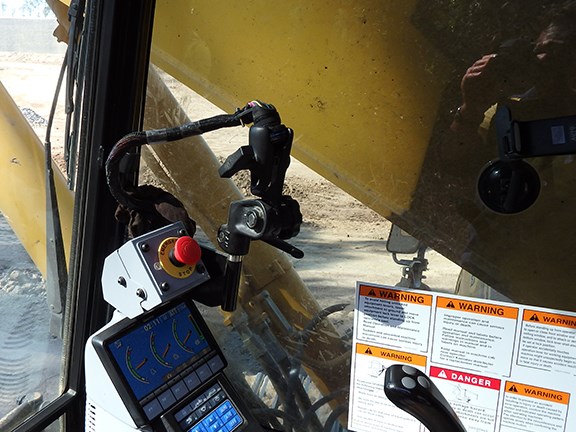 The well-appointed cabin of this Komatsu PC300LC-8 excavator.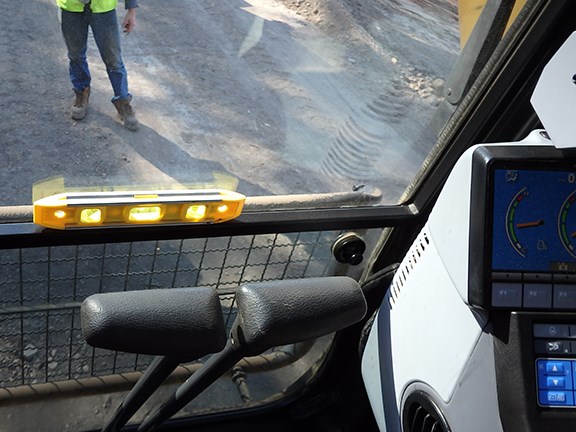 A spirit level set up for monitoring the level of the Komatsu PC300LC-8 excavator.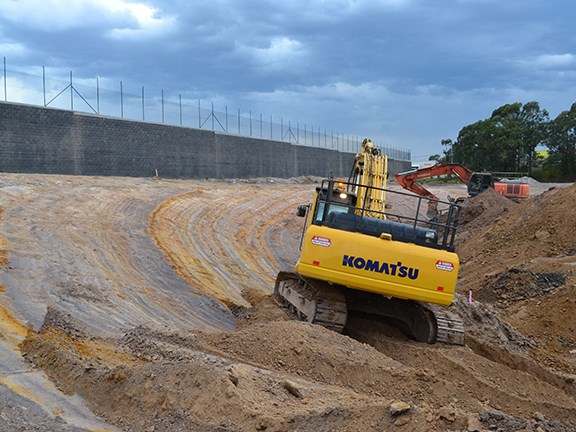 The Komatsu PC300LC-8 excavator is ideal for final trim work.

Subscribe to our newsletter
Sign up to receive the Trade Earthmovers e-newsletter, digital magazine and other offers we choose to share with you straight to your inbox
You can also follow our updates by liking us on Facebook. 

Loaders For Hire | Dozers For Hire | Excavators For Hire | Forklifts For Hire | Machinery Attachments For Hire