Review: JCB 457HT wheel loader
---
After taking the new JCB 457HT wheel loader for a test run, reviewer RON HORNER is left with a big grin on his face and a warm feeling in his belly.
After a few weeks of 'snooping' in search of a new JCB 457HT wheel loader to test we were fortunate to receive a phone call from JCB Brisbane who invited us to come out and have a look at the new range.
My first impressions of the 457 loader were of a nice shape, a good balance in wheelbase, counterweight and bucket configuration, plenty of glass … in the very crowded JCB yard it stood out like a lighthouse beacon on a dark and stormy night. And I hadn't even climbed into the cabin yet!
Standing at 20.3 tonnes bare weight, swinging a 3.5 cubic metre bucket and pushed along by a 250 horsepower (186kW) MTU 6R1000 engine this loader is up there with the best of them in size — and, in my opinion, sits above the Cat 950 and the Volvo 110 range.
Let me just say that after eight hours on the ground with it, the JCB 457HT left me with a big grin and warm feeling in the belly ... this is one of JCB's best.
IN THE CAB
The JCB 457HT boasts the best appointed cabin I have had the pleasure of sitting in. I was very impressed with the all-round (and I mean all-round) vision, the control layout, the perfect single-joystick control — with the option of  a manual twist-grip three-speed control — and easy foot pedal operation for brake and throttle. The latter were well positioned and well suited to my Red Wing lace-ups.
In the cabin the view is perfect, with top to bottom glass on all sides providing mostly unimpeded viewing. There are easy-to-read gauges located within the cab's metal frame in a vertical position on the right hand side, and a 7-inch monitor to the top right side of the cab.
The single control lever houses a fingertip-controlled forward, neutral and reverse switch, bucket pin release(this machine is also an integrated tool carrier), horn and, of course, 4-in-1 for the bucket.
Mirrors — and believe me there are enough of them — include three internal and two external mirrors which are all housed within the width of the cabin and easy to adjust.
When it comes to inspection of the engine bay and filters it is as easy as a flick of the switch. The electric twin-ram hoist is easy to engage with just a flick of a switch housed within the battery bay. The engine cover is then hoisted into the air for ease of pre start inspections and servicing.
ON THE JOB
The specifications on this machine read very well but I wasn't in the position to take the machine from the dealer's yard this time. That was a shame as I was just busting to get it out in the field for a couple of hours.
Running the new MTU 6R1000 256-horsepower (191kW) engine makes this the first JCB loader to meet the stringent Tier 4 final / EU stage IV emissions standards while achieving 16 percent fuel savings over the previous models.
This is achieved without using a DPF (diesel particulate filter) and without compromising power, which is a formidable feat in itself.
JCB claims that this machine will deliver not only better fuel economy but more power, productivity and durability, and lower running costs significantly.
I have not given up hope of getting one of these 457 loaders out in the paddock for a workout ... I can guarantee that when the day comes we'll publish an update to this review.
With that in mind and understanding that the machine was never going to be put to a full blooded  test … you get a fantastic feeling in that cabin. On an operator's level it is way up the scale in terms of efficiency, comfort and ease of operation.
 In fact, I reckon any loader driver who gives this machine a demonstration will want to take it home with him — it is that impressive!
A BIT ABOUT JCB
JCB, or J.C. Bamford Excavators Limited, to give it its full name, was named after its founder Joseph Cyril Bamford, who started operations in a small backyard shed in the UK village of Rocester, Staffordshire, in 1945.
Things were pretty tough in England just after World War II and with a measly ten quid in his pocket Joseph cranked up a small engineering shop where he built tipping trailers and sold them for 45 quid. After two years he moved into a bigger operation and increases his staff to three.
Here we are now in 2015, and JCB employs over 11,000 staff worldwide, has a presence in over 150 countries, manufactures over 270 different types of plant and equipment and is the No.1 backhoe manufacturer in the world … not bad, I say.
The company's chairman is Joseph's son Anthony Paul Bamford, otherwise known as Lord Bamford.
Under his leadership, JCB is not all about making money and selling machines to all and sundry, although it does that extremely well.
JCB has a very innovative programme which develops particular products for show and play — for example the 'World's Fastest Backhoe' which toured Australia last year and which you can read about here.
It delivers a whopping 1,000 horsepower (746kW) from a 572 big block V8 Chevy engine and clocks in at around 116.82km/h!
Development of the first JCB GT racer started way back in the late 1980s and culminated with the setting of the world record at the Supercheap Auto Bathurst 1000 racing weekend last year.
In addition, in England JCB has opened a brilliant 'Story of JCB' exhibition, which you can see as part of a tour of the company's factory, which is still in Rocester. It depicts the company's incredible history from the 1820s when the Bamfords were blacksmiths in Uttoxeter right up to the current day. If you are ever in England this is a must-see exhibition … truly brilliant.
But JCB is not just hell bent on self-promotion as was recently shown when the company developed a very special version of the 3CX ECO backhoe loader, painted it in Union Jack colours and auctioned it off for a record $150,000 with all the proceeds going towards 'Help for Heroes', a fund set up to help servicemen and women wounded in conflicts around the world.
I would bet 'London to a brick' that Joseph would never have envisaged his legacy to the heavy machinery manufacturing industry would be so lasting and admired so much throughout the world. He set his sights high, and his standards of quality, innovation and reliability were set by true leadership which was only outdone by his passion to deliver.
THE BOTTOM LINE
This nice JCB 457HT loader would be one of those items of plant that JCB has developed where Joseph could be sitting back with a big grin on his face with one eye watching England take back the Ashes and the other looking down to the R&D crew saying, "Well done, lads. Well done."
Although I hadn't been in a loader for some time I immediately felt at ease with the controls and seating arrangement of this machine. The single joystick for multi-purpose operation was a joy to operate.
It's fast across the ground, with a smooth ride, tight turning circle and speedy load, hoist and dump actions, which all make for a very tidy loader for contracting or crushing/screening/quarrying operations.
I must say that I would have to agree with Joseph on this one.


Click here to find JCB wheel loaders for sale.
Click here to look up JCB wheel loader specifications.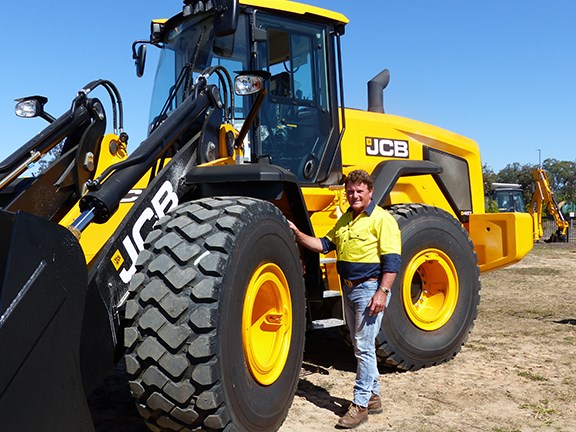 Ron Horner with the new JCB 457HT wheel loader.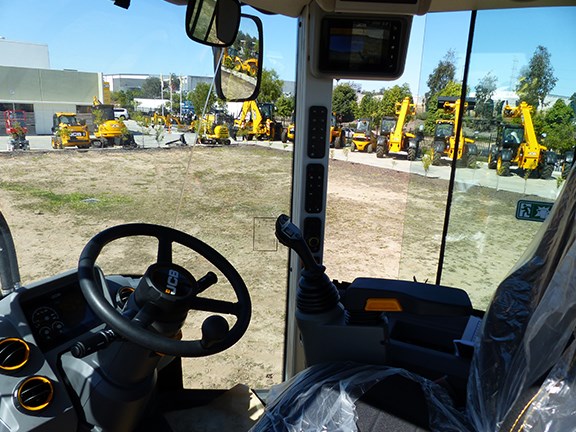 The JCB 457HT boasts the best appointed cabin Ron Horner's had the pleasure of sitting in.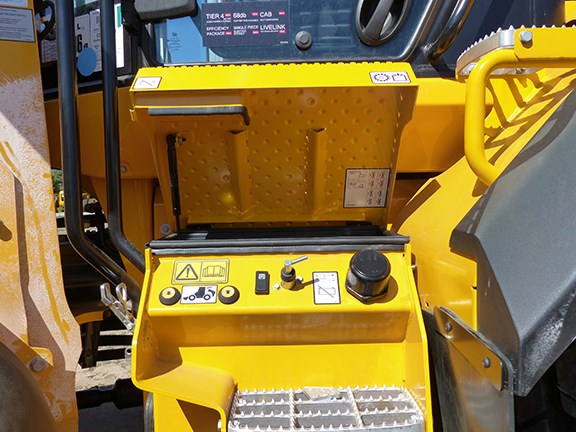 The battery box houses the JCB 457HT loader's bonnet controls.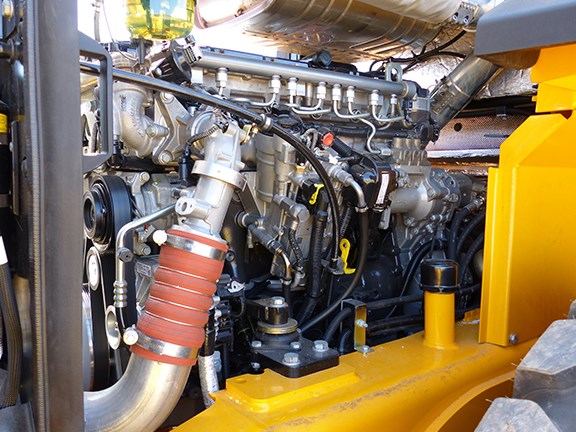 The JCB 457HT wheel loader is pushed along by a 250 horsepower (186kW) MTU 6R1000 engine.

Subscribe to our newsletter
Sign up to receive the Trade Earthmovers e-newsletter, digital magazine and other offers we choose to share with you straight to your inbox
You can also follow our updates by liking us on Facebook. 

Loaders For Hire | Dozers For Hire | Excavators For Hire | Forklifts For Hire | Machinery Attachments For Hire