Review: Kubota SVL75 compact track loader
---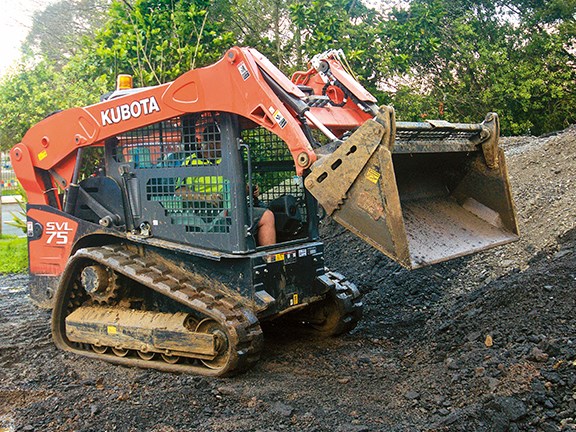 The Kubota SVL75 compact track loader is a versatile beast.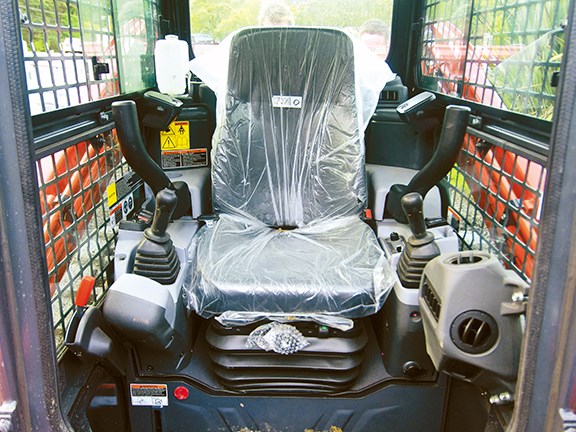 Reviewer Josh Simpson was surprised by how roomy the Kubota SVL75 cab was compared with other skid steers he'd been in.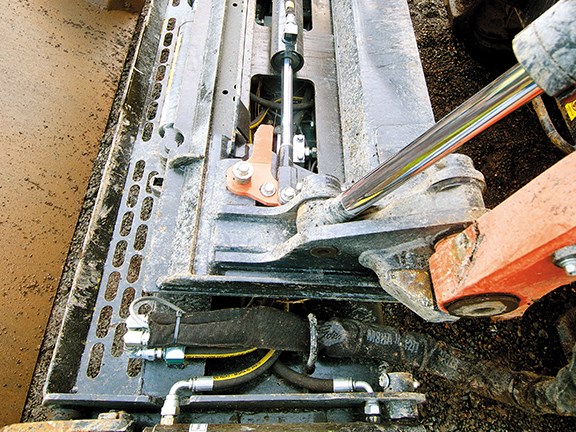 The Kubota SVL75 track loaders come standard with a hydraulic quick hitch.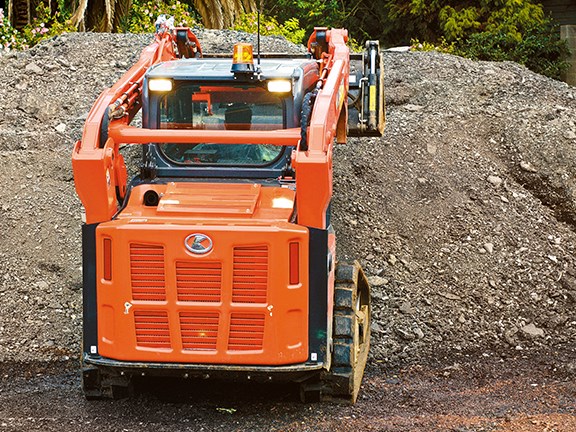 It would be nice to see a reversing camera come as standard on the Kubota SVL75 track loader.

When it comes to the modern earthmoving scene, versatility is key. JOSH SIMPSON jumps into the cab of a new Kubota SVL75 compact track loader and finds it fits the bill perfectly.
With a long list of services on offer, including drain-laying, contractor Adam Turner recently realised that his fleet of excavators needed to be rounded out with a skid-steer loader,
Having recently purchased new Kubota 1.7-tonne and 5.5-tonne excavators, the boss of Turners Drainage & Contracting of West Auckland, New Zealand, decided to stick with the brand after testing out the competition.
He ended up buying a Kubota SVL75 compact track loader, and invited us to give it a whirl in his yard.

First impressions
The machine in question was fitted with a six-way, four-in-one bucket straight from the dealer. When I queried on price compared to a standard four-in-one bucket, Turner did admit that it was a bit more of an investment, but believes it will be worth it in the long run.
I concur and believe this will end up being a wise decision on his part. Just like a tilt bucket on an excavator, the six-way bucket on this machine is not a necessity, but makes things a lot easier and efficient.
One thing that did catch my attention was the spider web of hydraulic lines and connections behind the bucket, which to me did not look very well guarded. A few more hours on this machine will see if it amounts to anything, though.
It's also worth adding that these machines come standard with a hydraulic quick hitch, which makes changing attachments much easier.
Under the hood
Opening up the rear door and lifting the rear bonnet reveals the machine's 74.3-horsepower (55.4kW) Kubota V3307-DI-TE3 engine. All daily routine check components seem to be easily accessible, as expected, and I noted that the radiator can be tilted forward with the removal of two easily accessible bolts. This allows for hassle-free cleaning and also gives you more room to work around the engine if required.
While standing at the back of the machine, Turner points out that he would have liked to have seen a reversing camera come as standard, though he does admit this isn't a hard thing to install himself.
I am told that the cab on this machine can be tilted up 72 degrees for ease of access the hydraulic pump, valves, lines and tank, which is going to make life easier to replace that dreaded hydraulic hose when (not if) it spits the dummy in its later years.
Moving down to the tracks and it's clear to see a bit of thought has gone into this machine: the undercarriage is integrated and welded into the mainframe, which gives it added strength and durability.
I'm also impressed with the way the undercarriage has been designed to eliminate the build-up of material as best as possible. The bottom rollers are also triple-flanged to minimise the risk of de-tracking.
In the cab
Access to the cab is via the front sliding door, which slides up above the operator's head. In my opinion, it is a better design than the conventional swinging door, as it eliminates the risk of damage and allows for safer exiting in emergency situations.
Sitting in the operator's seat, I'm instantly surprised by how roomy the cab is compared with other skid steers I've been in. It comes with a full-back and head-rest suspension seat as standard.
The seat is separated from the joysticks, which I'm not a huge fan of. I would have liked to have seen the seat and joysticks all as one unit on an air-ride suspension set-up, as it makes operating a lot less jerky when on uneven terrain.
There is ample floor space available as the machine is joystick controlled, including the four-in-one bucket, (auxiliary) and the six-way, which are both operated by separate triggers. Operating the six-way does require an additional button pushed to divert flow.
Machine travel speed is easily switched between by pushing the trigger on the front left-hand joystick. Constant revs are adjusted via a hand throttle control in front of the right-hand joystick, with an additional foot pedal tucked in just below if you need to increase revs for a short period of time.
Cleaning the mat is made easy with a drainage outlet installed in the floor pan.
On the job
Starting the machine up, I headed towards a stockpile of millings to put it through its paces. Putting the bucket into the stockpile, the machines engine feels the load but the 74hp engine coupled with the anti-stall guard quickly has it humming away again with a full heaped bucket.
Being mainly an excavator operator, unfurling the bucket gets me a bit mixed up as the joystick movement feels opposite to what you would do on an excavator. This is backed up by operator Simon Cunningham who said he still gets caught out on it every now and then but is slowly learning to adapt.
After a good amount of time trying the machine's various capabilities and with the daylight fading fast, I'm more than satisfied that I've put the SVL75 through its paces.
The bottom line
After operating the Kubota SVL75 compact track loader, it goes to show that a bit of practical thought and design can turn out an impressive piece of equipment.
I believe Turners Contracting has made a wise investment with this purchase and will be even more versatile than they were before.
Click here to find Kubota skid steer loaders for sale.
Subscribe to our newsletter
Sign up to receive the Trade Earthmovers e-newsletter, digital magazine and other offers we choose to share with you straight to your inbox
You can also follow our updates by liking us on Facebook. 

Loaders For Hire | Dozers For Hire | Excavators For Hire | Forklifts For Hire | Machinery Attachments For Hire