Used equipment review: Hitachi AH400 articulated dump truck
---
Living up to Hitachi's reputation for building tough heavy machinery is the AH400 articulated dump truck — a model now designated the Bell B40. RON HORNER jumps aboard a 2007 model at a Queensland clay pit to check it out for us
Located in Darra, only 17km from the Brisbane CBD, is a 24-hectare fully designated mine site which has been in production for almost 125 years.
It's a productive clay pit which is governed by the Queensland Government's Department of Natural Resources and Mines and, until recently, was owned by Boral. It's now a PGH site.
The clay mined from the site and, more recently, imported materials, were stockpiled in layers, re-excavated and blended to create materials for the manufacturing of bricks to supply to the Queensland housing market at Boral's site in Darra, near Brisbane.
Located within the site is a series of sediment basins which have been in desperate need of rebuilding and reconstructing. This meant that a serious and dedicated approach was needed to remove over 12,000 cubic metres of mud at depths of up to 4m from the sediment basin and be relocated either off site or 'bunded and capped' in an area allocated on-site.
The excavation and removal of this material and other construction contractual works was successfully undertaken by Landfill Logistics and A Dart & Co. using dozers, a grader, excavators (including a floating excavator) and Hitachi AH250 and AH400 articulated dump trucks.
I was fortunate to be able to gain access to this construction site to monitor the progress of the works and to evaluate some of the equipment, including the 40-tonne Hitachi AH400 articulated dump truck (ADT).
GENERAL APPEARANCE
The 2007 model Hitachi AH400 is in very good general condition considering it has clocked up 7000 hours of mine-related work.
The 'full mine spec' vehicle is nice and straight in body and cabin, clean (well, at the start of the job it was!), with tyres in good nick and no apparent oil leaks. This is the type of plant required to attack the rigorous work tasks on this job.
This AH400 6x6 ADT has fully integrated fire suppression system fitted, a ROPS/FOPS cabin as standard, aircon, two-way radio, AM/FM radio, multiple E-stops located in easy-to-reach areas such as the cabin and around the machine, fully automated tail-gate and safety handrails.
It runs a DaimlerChrysler OM 501 LA 12-litre turbo diesel engine delivering a gross 422 horsepower (315kW) and an Allison HD 4560R auto transmission with an integral retarder.
Among the innovations introduced into the Hitachi ADT range are a pitch-and-roll sensor which stops the body being operated if the truck is in an unsafe position, and an operator- or site-selectable maximum speed control which automatically deaccelerates the vehicle and applies the retarder to prevent onsite speeding.
IN THE CAB
The cabin of the AH400 is as comfortable as one could wish. The machine has excellent operator comfort with a good seating arrangement and good viewing to the front and sides.  A reversing camera monitor is located to the upper right, and E stops, gear shifter, brake and gauges are all in easy range both visually and physically.
There is a passenger seat complete with belts for a passenger should the situation arise. This could be a bargaining tool if the excavator operator needs a lift back to the crib shed at break time. Hitachi thinks of everything!
The cabin noise is minimal and one could easily hear the radio and two-way when under heavy load.
Mirrors are located on both sides.  As an aside, you have to make sure these are kept adjusted and clean, and aren't overlooked by operators changing from one machine to another. You rely on those mirrors to get these big buggers into some of those tight spots and in the correct position for those pedantic loader/excavator operators … they will let you know soon enough if you have upset them.
ON THE JOB
The Hitachi AH400 handled everything that could be thrown at it on this project. The in-dam conditions were horrendous as oozing, sloppy mud was hauled some 800m (round trip) up steep inclines and down through unstable, wet gullies.
The automatic tailgates were invaluable as they minimised the spilling of wet materials and therefore saved on continual maintenance and upkeep of the haul roads. Gear shifting was a smooth operation with the Allison transmission handling the heavy going with ease.
That transmission has some advanced and sophisticated features that allow it to select the optimum shift points based on the load and driving conditions. Power is automatically distributed equally to all three axles by limited-slip differentials that provide constant traction in slippery conditions.
The AH400 has an exclusive on-board weighing option that presents the operator with real-time information on the payload while the machine is being loaded. A limp-home mode can be activated if the machine is significantly overloaded, and there were many times that this occurred when I was in the cabin.
When it comes to steep slopes, the parking brake is automatically applied (even if you fail to apply brakes manually). This ensures the truck can park in position and avoid coasting away.
This was put to the test when an incident occurred with an on-site roll over while the machine was reversing into a tight area. The rear wheel was inadvertently directed up onto a bund, causing the loaded trailer to overturn and deposit its load onto the haul road.
Righting these machines in this situation is easily completed with the use of a suitably sized excavator to pull the trailer to its wheels. Rarely is damage done to the trailer or prime mover. In this case, after a thorough inspection of the vehicle the AH400 was back at work in quick time.
This was possible because the oscillation joint located between the cabin and trailer chassis is designed to swivel through 180 degrees, allowing the trailer to turn over while leaving the prime mover stable.
A word of warning: The opposite can happen if you overload with logs or large rocks which protrude well over the rear of the trailer. It is possible that if the ADT has to traverse steep gradients and the prime mover's front wheels lose traction and eventually come off the ground you may end up with the prime mover rolling over and the trailer being left grounded.
MUTUAL UNDERSTANDING
All excavator and loader operators should spend at least a week in an ATD to give them some perspective of the difficulty in handling some of these machines in arduous conditions.
I am not talking about general flat-going, hardstand, well maintained access roads but more like the conditions I encountered on this project.
Some excavator/loader operators have the skills and temperament to be forgiving of any truckie's inconsistencies in positioning correctly for loading. Those guys always consider the truck operator and have a smooth-flowing, consistent load time.
On the other hand, others treat the gear with disdain at times and can cause the truck operator untold grief with loading skills more suited to a skills-training workshop.
THE BOTTOM LINE
Articulated dump trucks are often referred to as Moxies, after the Moxy Norwegian-designed and -built ADTs which have been distributed by Komatsu for many years. It's a generic term similar to using 'Bobcat' to refer to all skid steer loaders.
Over the last two decades ADTs have changed the way the construction industry throughout the world approaches many projects. They now form an integral part on the construction team on any given site worldwide and allow projects that were once deemed unfeasible to be at least considered and, more often than not, completed.
In 2000, Hitachi Construction Machinery announced an alliance with South Africa's Bell Equipment to market the latter's ADTs badged as Hitachi products. Now things have come full circle, with most of Hitachi Machinery Australia's ADTs being sold under the Bell brand, with the Hitachi AH400 equivalent being the Bell B40.
If you are in the market for an ADT you should seriously consider a close inspection of the tyres, transmissions, differentials and articulation/oscillation bearings and bushings.
These areas need to be considered as they are very expensive — especially the articulation joints —and poor or non-existent maintenance procedures can cause expensive long-term downtime.
As with every second-hand purchase you must check the log books and service history before making a final decision and attempt to trial the item of plant in an everyday working situation if possible.
Hitachi Construction Machinery is up there as a world leader in all classes of heavy machinery manufacturing and design, and its range of ADTs is definitely no exception. 
Click here to find Hitachi off-road trucks for sale.
Click here to look up off-road truck specifications.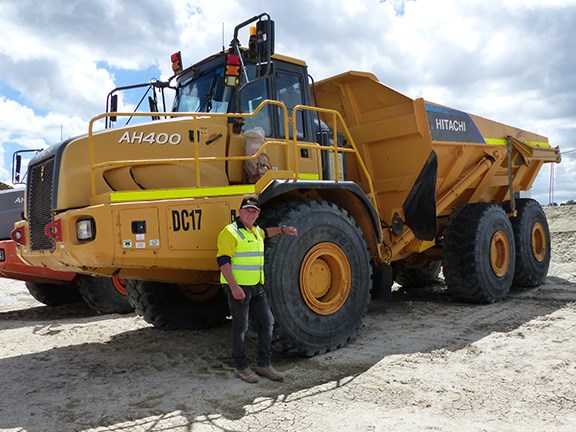 Reviewer Ron Horner with the Hitachi AH400 articulated dump truck.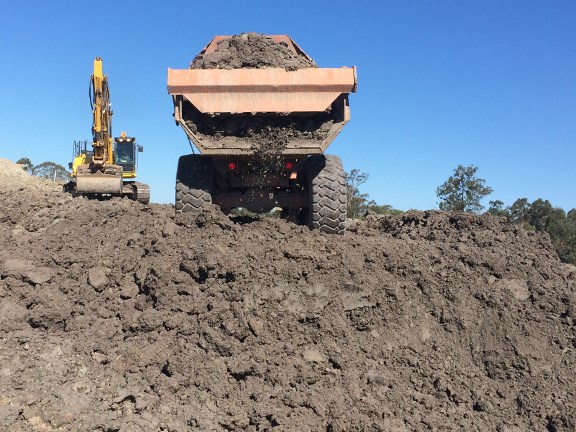 The Hitachi AH400 ADT has to deal with oozing, sloppy mud, steep inclines and unstable, wet gullies.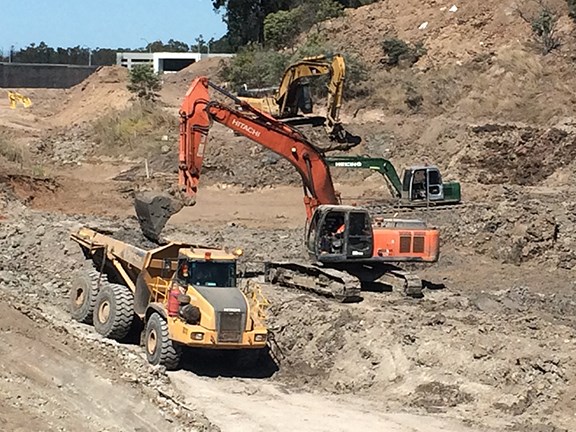 Parade of nations: Hitachi, Cat and Heking working together.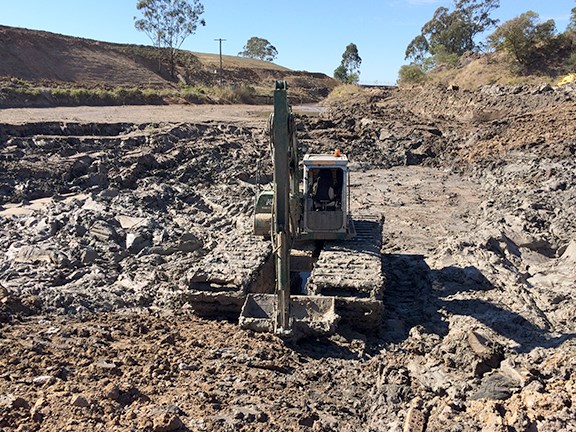 A Heking HK150SD floating excavator rebuilding one of the on-site sediment basins.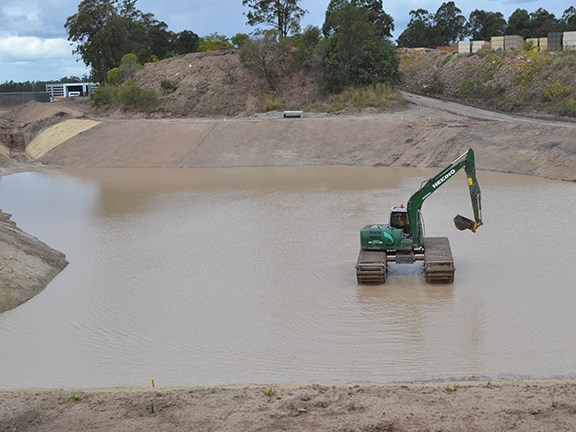 The Heking HK150SD excavator looking more at home in the completed sediment basin.

Subscribe to our newsletter
Sign up to receive the Trade Earthmovers e-newsletter, digital magazine and other offers we choose to share with you straight to your inbox
You can also follow our updates by liking us on Facebook. 

Loaders For Hire | Dozers For Hire | Excavators For Hire | Forklifts For Hire | Machinery Attachments For Hire