Review: Kobelco SK210LC-10 excavator
---
RON HORNER takes the new 21-tonne Gen 10 Kobelco SK210LC-10 for a test and finds that the company is showing its opposition how excavators should be designed.

Kobe Machinery (Kobelco) has been around for many, many years and, in fact, built the first Japanese Electric Excavator way back in 1930, developed the first Japanese fully hydraulic wheeled Excavator in 1963 (Yutani Industries) and has continued to be a leader in the heavy machinery manufacturing industry ever since.
For all the years I have been involved in the earthmoving industry I must admit to having spent very little time on a Kobelco excavator but, with all the hype around Kobelco's new Gen 10 range, I was keen to see how the 21-tonne SK210LC-10 held up once we put it through its paces.
BrisVegas Machinery at Wacol in Queensland was keen to let us try the newly imported digger so a Gold Coast construction site was arranged for a demonstration.
In the cab
My first role, once being introduced to the Kobelco SK210LC-10 excavator was to get it from the low loader out onto the construction site.
With my bum firmly planted in the seat, and with a quick evaluation of the controls and monitor, my first impressions were "this is a very comfortable, well-designed and spacious cab".
The all-round vision from the operator's seat is first class and is made all the more impressive through a redesign of the upper structure which enables perfect vision in front of and on both sides of the machine.
For example, Kobelco's relocated the fuel tank from the right hand side of the excavator to behind the cab. With the almost 400-litre tank gone, the designers have created a tapered step-up deck from the tracks to the engine bay, allowing an unimpeded view right through the cab window and beyond.
This profiled step and transition tapered front panel are not only aesthetically pleasing but also a big step in minimising the height and number of the hand safety rails required by OH&S.
Features of the cab include a large control panel monitor which comes in 16 languages (proof of Kobelco's world-wide popularity), three work modes — (H) Heavy, (S) Normal and (E) Economy — an option to depressurise the hammer hydraulic lines, two-speed travel control, auto deceleration, reversing camera, perfectly positioned air-conditioning ducts and an air ride seat perfectly suited to the spacious cab.
Another couple of technical innovations introduced by Kobelco are Geo-Scan, which allows you to use the internet to manage information from your office for machines operating in all areas, and the 'Emergency Acceleration Dial', which provides a manual backup to the ITCS Mechatronic control system.
Under the hood
Kobelco has run a version of the Hino JO5E engine since the inception of the Series 8 (this one is the Hino JO5E TA-KSSE) and has stuck to the tried and proven drive chain for the Gen 10.
Ease of maintenance for servicing has been a priority for the Kobelco team, and all servicing, other than checking engine oil, can now be achieved from ground level.
A triple fuel filter system is in place, with engine and hydraulic oil drain plugs and room for your oil tray sitting within the confines of the engine bay.
Even the battery isolator is at ground level. The Kobelco engineers should be credited for this redesign, which is not only a major safety innovation but creates easily accessible points to those areas which are normally deemed very messy.
On the job
The Gold Coast site we had secured was not necessarily the perfect testing ground but for the period of time I was able to run the machine I was very impressed.
The Kobelco SK210LC-10 excavator is an extremely well balanced machine with the long tracks just perfect for a general contractor.
The travel torque has been increased by 16 percent, fuel usage is 30 percent less in ECO Mode (compared to 2006 models), work volume is up 16 percent in H Mode and working range is up 30 percent due to the new technology as well as the larger fuel tank.
While I was working I realised I'd have to go a long way to find something as comfortable as this machine. I also liked its speed, smoothness of operation and effortless controls.
This machine being the long-tracked version, Kobelco has designed a single, longer foot step/boot cleaner off each track frame, which provides excellent access to the cab.
When it came to cleaning I was impressed with the undercarriage design which allows for easy access — though cleaning should be minimal due to the steep chassis track frame which would enable self-cleaning on most occasions.
A heavy-duty integrated cast-steel insert has been introduced and significantly stiffens up the boom and dipper arm (by 15 percent, the company says) to compensate for the extra power introduced into this model.
This machine was so 'hot off the boat' that there was no quick hitch fitted, just a standard bucket configuration.
Which brings us to something I was not happy with. As with many other excavator importers, Kobelco supplies factory-fitted Asian buckets that I think are poorly designed.
On the whole I think they run a poor second to those designed and made by Australian bucket manufacturers. Their buckets are more expensive than their Asian counterparts but this is the money end of the machine and should not be compromised.
One other small issue I have with the Kobelco is the factory-fitted hydraulic hammer lines at the dipper/boom region which stick out like elephants' ears.
These lines will be ripped out within a week of vegetation clearing and are a poor effort in comparison to the excellent attention to detail on the rest of the machine. However, they can be rectified easily and inexpensively.
The bottom line
Overall, the Kobelco SK210LC-10 excavator is a great machine which should not be underestimated.
Kobelco's attention to detail, excellent quality and proven reliability along with the new technical advances and engineering redesign are all very positive. Not only are they extremely beneficial to the end user but will also help Kobelco gain sales on its opposition.
Overall? Thumbs up. A winner. I love it.
For more information call 1300 KOBELCO or visit www.kobelco.com.au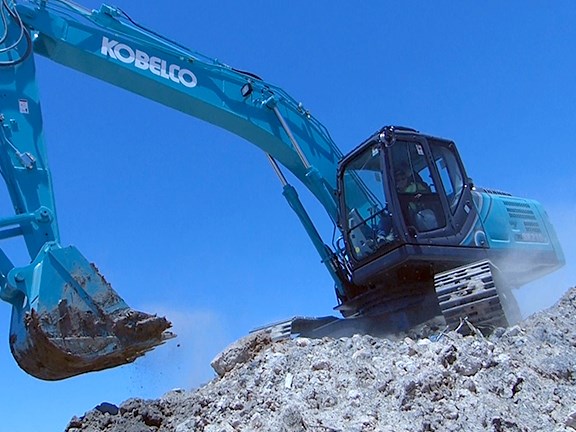 Kobelco's SK210LC-10 excavator is part of the new, improved Gen 10 range.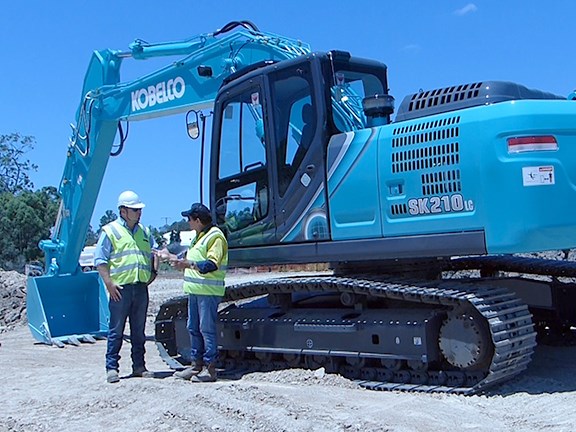 Aaron Lubbers from Kobelco dealer BrisVegas Machinery and reviewer Ron Horner discuss the merits of the Kobelco SK210LC-10 excavator.

Subscribe to our newsletter
Sign up to receive the Trade Earthmovers e-newsletter, digital magazine and other offers we choose to share with you straight to your inbox
You can also follow our updates by liking us on Facebook. 

Loaders For Hire | Dozers For Hire | Excavators For Hire | Forklifts For Hire | Machinery Attachments For Hire