Review: Used Cat 740 articulated dump truck
---
The Caterpillar 740 articulated dump truck is a well-made workhorse capable of moving a mountain of material over a long distance for an economical price at speed. Ron Horner jumps into the operator's seat of a 9,000-hour model

The earthmoving game has changed dramatically over the last 30 years (thankfully), and nowhere is this more evident than in the introduction of six-wheel-drive all-terrain articulated dump trucks, or ADTs.
Moving dirt was once left to dozers and scrapers or loaders and trucks, with most of our equipment being supplied out of the US. Surplus war equipment played a big part in what we got and how we got it, with a dribble of European and/or British-manufactured plant also making its way to Australia.
With manufacturers like Le Torneau, John Deere and Caterpillar leading the way in the States, we tended to follow suit and work with what we knew best.
Although the equipment became more technically advanced, we were left a bit stagnant.
In Europe, however, things were being done a little bit differently. ADTs and excavators were being used to move bulk materials in a way not previously thought possible, and in all weathers.
Caterpillar's team of engineers decided to make a foray into the manufacturing of ADTs back in the 1980s, and I was recently fortunate to run one of the early models imported into Australia — the 740.
 Watch Ron's Cat 740 dump truck video here
General appearance
Our test machine was kindly supplied by Brady, Mick and Jamie Reick who own Metal Trades Group located south of Brisbane. They specialise in bulk scrap metal and plant hire, and have a fleet of heavy haulage trucks, excavators and low loaders.
This Cat 740 ADT is top of its class when 'push comes to shove'. It is one of the most popular trucks on the market, is the most sought after size and model of its range and has the capabilities to move all types of materials over long distances in most types of terrain.
And if you think that ticks a lot of boxes, well, when you get down to operator comfort and cab layout and ease of servicing you realise that this machine is a good all-rounder for all the right reasons.
Under the hood
This Cat 740 is powered by the six-cylinder, 15-litre turbocharged Caterpillar C15 ACERT engine which develops 464hp (346kW).
This truck has seven forward gears with a top forward speed of 55km/h, has two reverse gears, weighs in at 33 tonnes and has a loading capacity of 38 tonnes and a payload of 23 cubic metres, all backed up by a 560-litre fuel tank to get you through the day.
It sits on 29.5R25 tyres.
With a width of 3.43m, this truck can be hauled as a wide load, free from costly Escorted Wide Load charges. That's a win for the contractor, client and haulage company.
In the cab
The first thing I noticed when boarding the Cat 740 was the solid construction of the machine from the very first step, the handrails and the closure of the doors. Solid yet detailed in almost every way.
Once in the cabin I realised the scale of this machine in comparison to the relatively small 12-tonne excavator we had on hand to load us for our testing sessions.
The vision from the operator's seat is quite good for a machine of this size. Two domed mirrors sit atop the very large, flat mirrors on each side of the machine perfectly positioned for rear vision when reversing.
The Air Ride seat is easily adjustable and inflated quickly to suit my rather short frame but still carried my excessive weight with ease.
Ignition on and all the front dashboard gauges lit up. There is no misunderstanding as to which gauge means what, and the hour metre reads just over 9,000.
The control levers are all laid out on the right hand side of the cabin with easy-to-understand icons on the seven- speed transmission gear shift.
This shift is positioned at elbow height right beside the raise, lower, float lever which operates the ruggedly constructed bisalloy tipping body. The air-brake control button is also at your finger-tips.
The steering wheel is fully adjustable with windscreen wipers located on its left side. A two-way, a radio and air conditioning are installed along with a front windscreen blind to assist you during those long afternoons when you are caught driving into the low-setting sun.
This truck has a simple yet effective dash layout and control panel, almost idiot proof … almost!
On the job
At the Earthmovers and Excavators/TradeEarthmovers testing grounds in South East Queensland we have the terrain and materials to suit just about any machine for reviewing, so it was perfect for the Cat 740 dump truck.
Rocks abound over the mountain landscape, there's plenty of soil to move and we have vegetation clearing in progress, which all make for a good workout in this bush setting.
Although it's a touch on the small side for our demonstration our load machine, a Cat 12-tonne excavator fitted with an Australian-designed and -manufactured Oz Buckets 'Rock Grab', did a good job loading us with large rocks during the day.
The Cat 740 had no trouble in moving this type of material and idled around barely working up a sweat, but then again the terrain was steep and the haulage distance was quite short.
During the vegetation clearing we engaged Jimmy, a local chainsaw man and snake catcher.
Jimmy was there to ensure that the logs were cut to a suitable length prior to loading and to relocate any snakes should we come across any.
It just happened that a 3.5m-long python was picked up in the vegetation. When Jimmy tried to pick it up and relocate it he was bitten on the hand — just another hazard encountered in our difficult and sometimes dangerous workplace!
The bottom line
Hauling vegetation and tree stumps is definitely a job for an ADT. The roads are usually pretty rough, vegetation is crammed into the body and the stumps are usually big and awkward to load and haul.
But these machines take it in their stride, especially since the big vertical tailgate enables the logs to slip out with ease. It makes your production day so much better when you don't have to come and sort out the dump site.
When it comes to hauling materials this Cat 740 is one of the best. Travelling at a top speed of 55km/h with a payload of 23 cubic metres on board, or 38 tonnes of material, certainly makes this an 'earthmover' in the true sense of the word.
A fleet of these will move a mountain of material over a long distance for an economical price at speed; that's just what the client wants to hear and a contractor needs to be confident in if he is to make any reasonable money.
This particular mine-spec machine was bought second-hand and has not created too many repair issues over the time. Brady Rieck has a couple of Cat ADTs but this one is the largest he has in his fleet.
I don't think there is too much more for me to say about the Cat 740 all-terrain articulated dump truck, except …. I love it.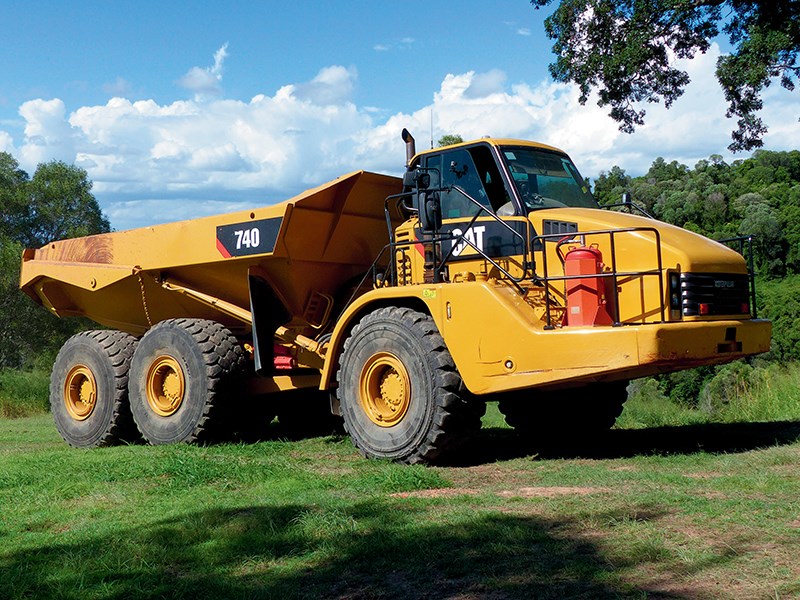 The Cat 740 was one of the first ADT models imported into Australia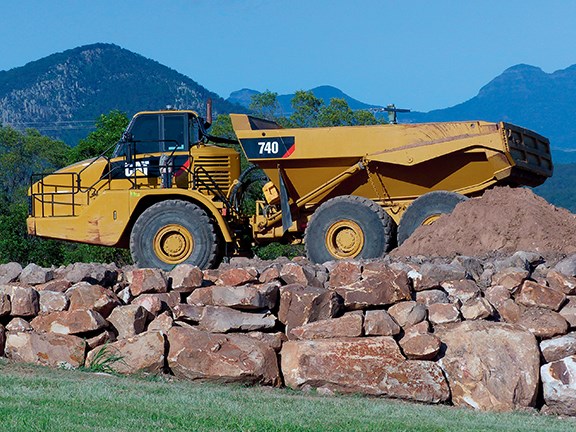 Subscribe to our newsletter
Sign up to receive the Trade Earthmovers e-newsletter, digital magazine and other offers we choose to share with you straight to your inbox
You can also follow our updates by liking us on Facebook. 

Loaders For Hire | Dozers For Hire | Excavators For Hire | Forklifts For Hire | Machinery Attachments For Hire