6 awesome mini excavators
---
Mini excavators are hot items in Australia, but there's are a heap of them on the market and it's getting harder to choose. So what's the best mini excavator? Here are six of the best compared, as reviewed by our team of professional machinery testers.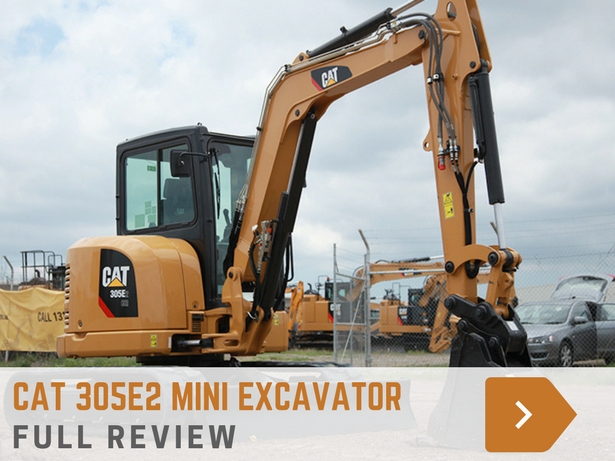 Weight: 5.1 tonnes
At a glance Cat excavators might not look as though they've changed much over the years, but they're packed with innovation, as EVARN COVICH discovered when he took the 5.1-tonne 305E2 compact radius excavator for a test run.
Caterpillar has forged more than a solid reputation over 90 years of making earthmoving equipment but it doesn't rest on its laurels and still has the capability to surprise us with its innovations.
This was the case recently when I had the opportunity to operate a Cat 305E2 compact radius excavator at the Hastings Deering testing ground in Brisbane.
From the Complete, Operation, Maintenance, Performance and Security System (COMPASS) to the 200-degree bucket rotation for enhanced spoil retention while loading trucks, and the new High Definition Hydraulic (HDH) system available on the new E2 range of excavators, Cat has addressed some of the issues that have long plagued excavator owners and operators.
These US-manufactured excavators are also available with an array of buckets and attachments that Cat has designed to suit each particular machine in order to maximise productivity and efficiency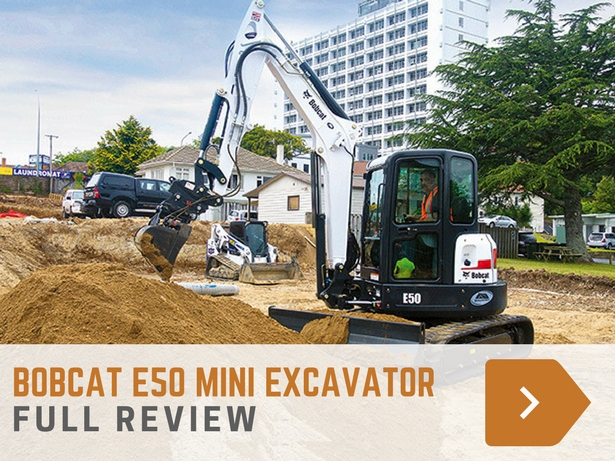 Weight: 4.91 tonnes
Randolph Covich heads to New Zealand's Waikato region to see if the 5-tonne Bobcat E50 excavator lives up to the brand's reputation.
So, putting my cards on the table, I will openly admit to always looking forward to operating Bobcat machines.
For me, Bobcat Company seems to take what they do seriously. That's not to say manufacturers of other brands aren't serious about what they do, because we all know that everyone in this game is deadly serious.
I guess what I'm getting at is that to me, Bobcat seems to do things with a bit of class.
While the Bobcat E50 excavator has been around for a couple of years now, some of its innovations are still ahead of a number of competitors and, for the most part, while they are not overly groundbreaking on their own, when combined together, the sum total presents a very attractive package ...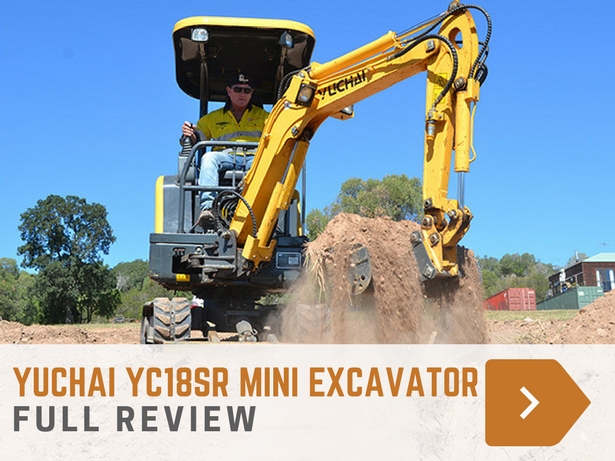 Weight: 1.75 tonnes
The Australian mini excavator market is bulging with choice for combo owner/operators. RON HORNER checks out the well-priced Yuchai YC18SR, which looks like a good choice to put into the mix.
This little excavator competes in the two-tonne range and is easily transported with a small trailer. It is zero-swing, powered by a 20hp Perkins diesel and comes with an open cab with a canopy or a sealed cab.
The hydraulic system is powered by a Japanese-made high-flow piston pump and main valve, which provides an auxiliary flow rate of 30 LPM.
The tracks can be expanded to 1.35m wide for stability or retracted to the minimum of 1.06m. The machine is fitted with two-speed track drive motors (1.7 or 3.0 km/h), rubber tracks, 0.05 cubic metre bucket, bi-directional piping and is well-suited to rock-hammer and auger work.
The YC18SR also comes with a manual spring quick hitch, a dozer blade as standard and an off-settable boom ...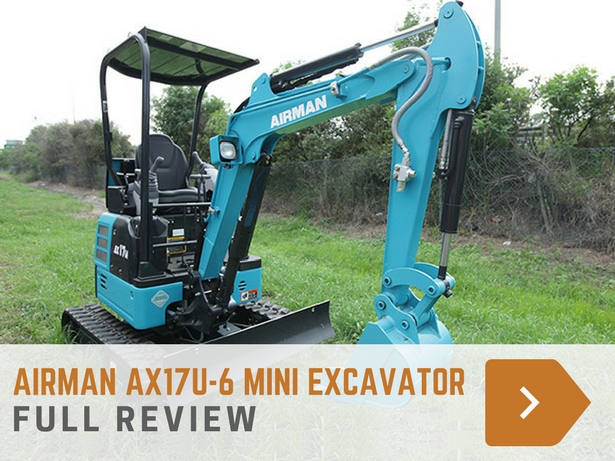 Weight: 1.76 tonnes
Evarn Covich gets behind the controls of a 1.8-tonne Airman AX17U-6 mini excavator, and finds a simple machine that ticks all the boxes.
The Airman brand was created in 1952 by Japan's Hokuetsu Industries, which had built a reputation for producing quality air compressor products since 1938.
Under the new name the company branched out into various other product lines, including the mini excavator in 1981. The successful AX line of mini excavators came out in 1992, with the latest offering being the Dash 6 range.
I recently took the opportunity to take an AX17U-6, one of the babies from this range, for a spin to see how it performed.
The 1.8-tonne machine looks sturdily constructed with clean, strong looking welds and good sized bolts holding on body panels, pin locks, etc ...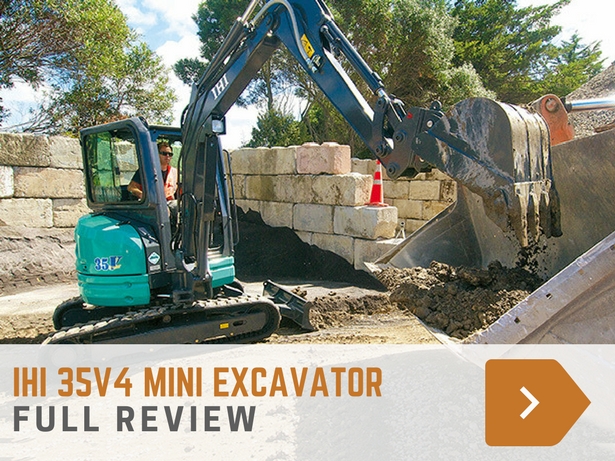 Weight: 3.53 tonnes
The 3.6-tonne IHI 35V4 has expandable tracks, giving it the ability to access difficult sites without losing its stability. JOSH SIMPSON puts it through its paces.
One thing that stood out for me straight away was the ease of access to the IHI 35V4's filters, which are placed under the large, side-opening cover and sit adjacent to the hydraulic bank and battery.
Having the battery there seems like a good idea as on some machines you need to pull the rubber floor mat out (which we all know can be a lengthy task on its own) and take out a floor panel when checking levels for maintenance.
The issue I did see with this was that it could be difficult to add water to the rear battery cells, but it's probably still better than having a battery out of sight and never checking it at all, I suppose.
But the feature that stood out to me the most – and is probably the IHI 35V4's biggest sales point, in my opinion – was the expandable tracks these machines have.
Starting off at 1550mm to be in line with the cab, the tracks will expand out to 1800mm.
This feature would come in to its own when accessing difficult sites, while still offering the advantage of expanding the tracks and giving the machine a more stable footprint to work on when you start moving materials ...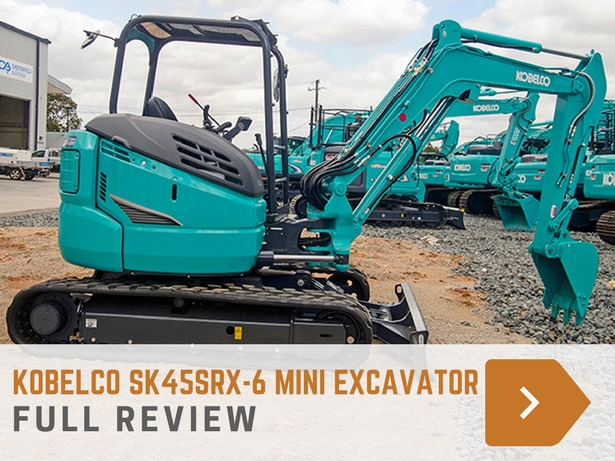 Weight: 4.43 tonnes
Evarn Covich test-drives a 4.5-tonne Kobelco SK45SRX-6 mini excavator and likes its low noise, good digging power and effective mix of old-school design with newer technology.
It's been around 10 years since I last operated a Kobelco machine, so when I was given the opportunity test-drive one of the company's 4.5-tonne Kobelco SK45SRX-6 mini excavators I was rather intrigued to see how much its products had changed in that time.
The Japanese manufacturer, which has around 85 years of heavy machinery and excavator building experience behind it, introduced the SK45SRX-6 along with the SK28SR-6, SK30SR-6 and SK35SR-6 in August 2014, replacing the Series-5 models.
Upon my initial walk-around inspection, it was good to see how everything in the engine compartment at the rear of the digger had a small amount of room to spare around the Yanmar 3TNV88-B water cooled, 4-cycle, 4-cylinder, direct injection diesel engine, with easy access to the engine oil filler and dip stick, radiator water bottle and serviceable items such as fuel filters and air cleaners ...

Want more?
Subscribe to our newsletter
Sign up to receive the Trade Earthmovers e-newsletter, digital magazine and other offers we choose to share with you straight to your inbox
You can also follow our updates by liking us on Facebook. 

Loaders For Hire | Dozers For Hire | Excavators For Hire | Forklifts For Hire | Machinery Attachments For Hire