Review: Komatsu PC200LC-8MO excavator
---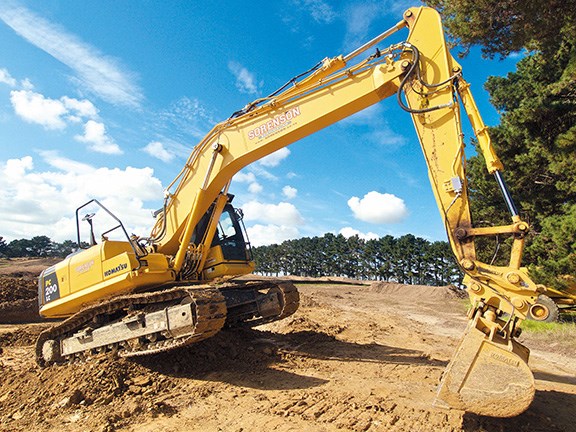 The 22-tonne Komatsu PC200LC-8MO excavator.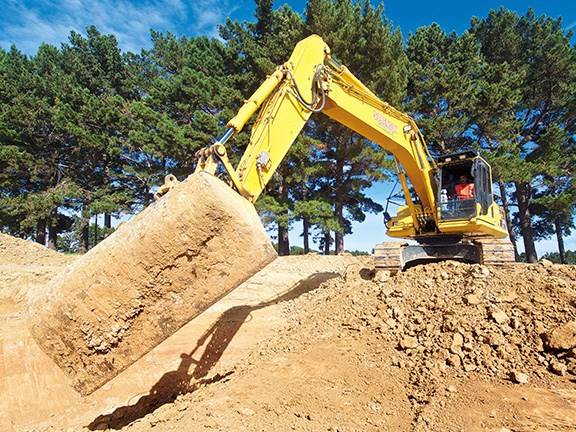 Randolph Covich gets to grips with the Komatsu PC200LC-8MO excavator.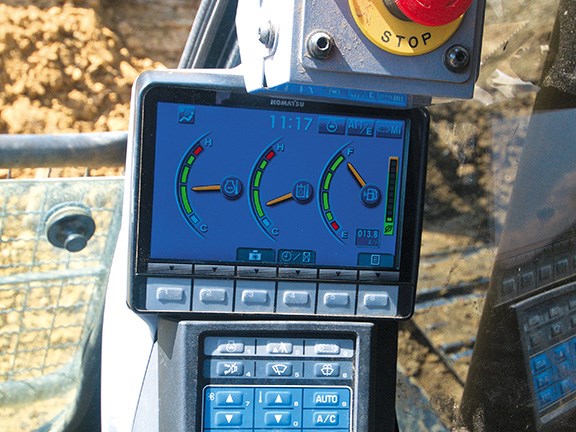 An LCD monitor shows all important performance information.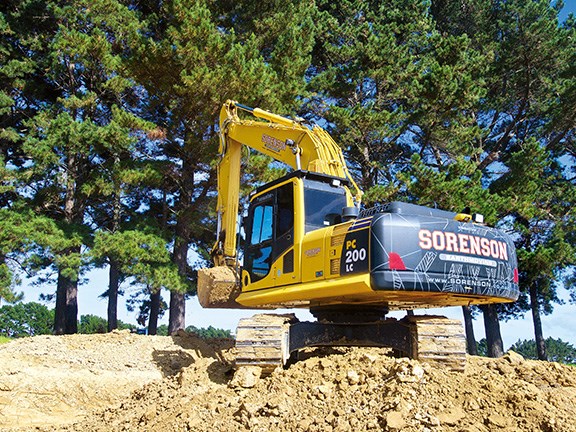 The Komatsu PC200LC-8MO is seen to be the best fit for Carl Sorenson's dirt track construction and deep-lift excavations.

Randolph Covich holds up work on a new motocross track to climb aboard a near-new 22-tonne Komatsu PC200LC-8MO excavator and give it a test run.

CARL Sorenson says that over the course of about 15,000 hours, a starter motor and couple of batteries were the only things that were replaced on a Komatsu PC200 excavator he operated.
That was about 10 years ago, but the reliability factor never left his subconscious and is what he now considers to be a key influence behind his latest acquisition — a Komatsu PC200LC-8MO.
A glance at the hour clock on the near-new earthmover shows that it's clocked up a bit over 800 hours since arriving three months ago and a bit of quick mental maths averages those hours out to somewhere around 60-70 per week. I'd consider that to be a pretty good workout so far.
There's not a lot of time to stop and talk, though, as Sorenson, his crew, and their machinery try to stay ahead of the weather in an all-out effort to put the finishing touches on a city-side motocross track near Auckland International Airport in New Zealand.
He tells me that it the track is the only one of its kind in Auckland and a project that has been in the planning and consent stages for a number of years. It will soon be the destination of many petrol-powered riders for their regular adrenalin hit and will be one part of a future motorsport park in the area.
The dirt track building business is something Sorenson knows well; his level of expertise has seen him creating indoor and outdoor courses both in NZ and abroad for all manner of wheeled sports events.
Stadium-based events are tricky, he says.
"Stadiums require us to make the track, let the promoters run the event, and remove all the placed-fill as quickly as possible before the grass underneath dies," he says. "There is only five days before the grass will not recover, so we have to work fast."
Sorenson is also the go-to man for many BMX tracks that, to the untrained eye, may seem to be piles of dirt tipped in a haphazard manner but are actually intricate pieces of formed work created to within very fine tolerances.
So, as one can imagine, when working on time-critical tasks – or on ones which allow no margin for error – having top equipment is a must.
Sorenson says that, so far, he feels his machine selection has been correct and, not being blinded by brand loyalty, has enabled him to select what he sees as the best machine for each specific role in his business.
A glance around his site shows at least three different brand types working in different roles. The Komatsu PC200LC-8MO is seen to be the best fit for the dirt track construction and also for the deep-lift excavations on the many apartment complexes Sorenson and his crew work on.
Walkaround
The 22-tonne Komatsu PC200LC-8MO excavator (MO = modified) has been specifically made for the New Zealand and Australian markets with everything designed to support local requirements and comply with legislation and site safety standards.
This includes a heavy-duty boom and arm, anti-drop valves, additional covers, factory-fitted quick hitch and hammer piping, along with additional mirrors and lighting, to name a few.
According to Komatsu literature, one of the main features of the newly developed low-emission (29 percent less than the PC200-7), six-cylinder 103kW (138HP) Komatsu SAA6D107E-1 engine in the PC200-8MO is the reduction in fuel consumption of approximately seven percent when compared to the previous model.
No doubt this figure would be very similar (if not the same) with the PC200LC-8MO model that Sorenson owns.
Komatsu technology is said to be the technological advancement behind the impressive figures of the engine, which I understand comes about from the combination of a multi-staged fuel injection controller, high-pressure fuel injection system and accurate matching of the engine with the hydraulic system.
Of course all the performance information is available on the equipment management monitoring system via the cab-mounted LCD monitor.
In the cab
On the outside it's pretty familiar territory, and even more so inside the cab. With the exception of the LCD monitor, sitting in the operator's seat, one could feel right at home after moving across from an older model to this new one.
One big change, though, is the rocking of the cab as you step into it.
"The suspended cab has taken a bit of getting used to and at first I sometimes felt that I didn't have the machine sitting stable," Sorenson says. "I'm used to it now, though."
What he is talking about is the viscous damper mounting for the cab which reduces vibration at the operator's seat. The days of tooth fillings falling out are long gone.
Boosting output
It is probably fair to say that fuel consumption wasn't at the top of Sorenson's mind when he bought the Komatsu.
One of the biggest benefits for him is the lifting mode – or boost mode as most of us would probably refer to it as.
According to Komatsu specs, pushing this button temporarily increases the hydraulic power (even when the engine is operating in power mode) by seven percent. While probably going against the fuel-saving intentions of the PC200LC-8MO, it's a godsend for those jobs that need the occasional bit of grunt to move things along.
"To be honest, I don't care about burning more fuel now and again," Sorenson says. "If I've got trucks waiting to be loaded then powering up the hydraulics through the lift cycle gets them loaded faster. It's actually more economical than paying hire for a truck sitting empty."
On the job
Once aboard the Komatsu excavator, it's only a short while before I am into some excavation work.
I can understand what some people say about the somewhat dated interior of these latest models and reckon an update to bring it on par with what's happening beneath the hood would not go amiss.
Having said that, however, it is still a long way ahead of some of its competitors.
As I would expect from a machine of this pedigree, it operates smoothly and I quickly find a nice working groove.
Being careful not to cut below the final levels of the meticulous stormwater retention pond that is nearing completion, I stockpile a decent amount of clay in readiness for loading onto another articulated dump truck. It is here that I find the lift mode button a brilliant addition to the PC200LC-8MO's arsenal.
Even though there is a lot of space onsite, the area I am working is now quite tight with the stockpile area sitting just behind the machine. As such, a push of the lifting mode button gives the perfect acceleration to raise the boom faster through the smaller slew area, allowing just enough time to dump the bucket's load and return for another bite.
This feature alone would have me signing the order for one of these machines.
From there, I try some fine grading along one of the batters. Initially there is some difficulty with this, which I blame on my poor selection of engine revs and clumsiness with the foot-control that operates the tilt-bucket.
Some quick adjustments to the engine mode setting and I'm producing some good results; although it pales in comparison to what I have seen from Sorenson's finished work.
The bottom line
The selection of different brands of excavators in this size range is abundant and I can understand how prospective purchasers can sometimes come away feeling confused from all the different offerings available.
I really believe that Komatsu is one of the few manufacturers that puts serious development into its products and doesn't just bolt together a bunch of generic components.
For what Carl Sorenson is using the machine for, I think he has made the right call.
Subscribe to our newsletter
Sign up to receive the Trade Earthmovers e-newsletter, digital magazine and other offers we choose to share with you straight to your inbox
You can also follow our updates by liking us on Facebook. 

Loaders For Hire | Dozers For Hire | Excavators For Hire | Forklifts For Hire | Machinery Attachments For Hire