Blast from the past: O&K RH6 excavator
---
Ron Horner finds a recently retired but still working 1970s-era O&K RH6 excavator just off the highway in South East Queensland and gives it the, um, O&K.


I was on one of Ronnie's Road Trips in South East Queensland when I saw the silhouette against the rising sun. I was having one of those days we know all too well — 5am start, a cuppa black in the drink holder of the 'Cruiser, ABC tuned in to check weather and traffic, body moving but brain still to come into gear — when … BANG!
The red and white paint scheme flickered through the trees and grabbed my attention as I sped past. What was that? Did I just see an excavator? Could it possibly be a …?
I did a quick U-turn and headed back along the highway in search of that side-track off the blacktop when I came across the tell-tale signs I was on the right path.
No one would've had too much trouble tracking down this old girl. As with most machines of its era, a long and clearly defined hydraulic oil slick led me up the old access road and guided me to something that had long disappeared from my memory bank.
As the sun rose the old girl looked like a phoenix rising out of the flames. "Oh my God," I thought, "am I in excavator heaven?"
What lay before me was an old 1970s-era (or close to it) German-made O&K RH6 excavator in original working condition and freshly forced out of work.
The O&K story
O&K was a leader in the manufacturing and designing of excavators dating back over 100 years — It was one of only a handful of successful excavator manufacturers to make the transition from cable operated to hydraulically operated equipment — and I regard it as one of the true pioneers in this industry.
The company was founded by Benno Orenstein and Arthur Koppel (O&K) in Germany in 1876.
It started with a revolutionary idea for moving mining materials. It is from here they decided to venture into building and designing railway rolling stock and steam engines to haul mining materials in a more innovative, cheaper and faster manner than any other method possible in its day.
By the 1890s O&K was exporting its railway steam engines to many other countries and was well on its way to becoming one of Germany's most successful companies.
Come the turn of the 20th century and O&K shifted its focus to designing and manufacturing earthmoving equipment. It specialised in … you guessed it … excavators.
By 1908 it had built its first cable-operated scoop excavator and a chain bucket wheel trencher. As the steam era declined during the 1920s and diesel engines became more efficient O&K made huge inroads into the industry with its chain-driven bucket-wheeled excavators.
The Nazis took control of the company to make machinery in World War II, but the company survived to come out the other side. By 1949 O&K was back on track and decided to make excavators on a larger scale and focus more on the domestic construction market to help rebuild Germany.
Altogether, in the second half of the last century, around 78,000 O&K excavators of various types and sizes were produced. When you add the production of 35,000 wheel loaders, 17,500 forklifts and 27,500 graders, you realise that O&K were now a big-time player.
In the same period O&K also built 10,000 goods wagons, 1100 underground or street trams, 900 'omnibuses' and 1800 diesel locomotives, as well as 900 open-cut mining machines.
As with many larger companies, shares were bought and sold and, in 1992, 55 percent of O&K's shares were traded and it merged to become Krupp Fordertechnik. The O&K mining division was sold to Terex Mining in 1997, and in 1999 the New Holland Group (a Fiat subsidiary) became the major shareholder before merging with Case to become CNH Global.
(Point of note: Krupp is still a leading German heavy manufacturing company. In the 1970s it exported the first hydraulic rockbreakers into Australia and I was one of the first to buy one — a Krupp 200 in 1976 — which I fitted to a Kato 350 excavator. I became one of the largest Kato and Krupp fleet owners in Australia and not only demonstrated for Kato for many years but eventually for Krupp as well.)
O&K RH6 excavator
This particular classic machine weighs in at about 16 tonnes in weight and is powered by an air-cooled 5-cylinder Deutz engine, which was very popular in some European designed machines back in the day.
I ran an old Atlas excavator for a short time on the Moomba to Sydney Natural Gas Pipeline, and this O&K reminded me of the similarities as they were both of German origin.
The operators had the pleasure of twin joystick controls, which was not the norm. Most machines of this era had foot and hand controls, so this was definitely state of the art.
Many other manufacturers still had chain-drive excavators but not this O&K. It had full hydraulic track drive motors (albeit protruding well outside the track frame), ran a two-piece fully adjustable boom and introduced an innovative 0.75-cubic-metre bucket — all of which made this German excavator very desirable in its day.
The hydraulic-drive track motors protrude way into the internal cavity of the track frame and were prone to being broken off when laid up on a rock in a quarry.
The dipper arm and bucket could never reach far enough under the body to hit the drive motors, but getting bogged, due to their location and size, was always on the cards.
The track gear of this O&K RH6 excavator was in pretty good condition with the top and bottom rollers all in working order and track plates all in place. It's a real challenge these days to find old diggers with everything still in original working condition.
In the cabin
The cabin didn't have much in the way of operator comfort compared to today's machines.
There was very little original glass left in the old girl, but remarkably she still had her original paint and decal design and, on reflection, I could see that this O&K excavator was way ahead of its time back in the '70s.
There was no radio, air conditioning, heater, sprung seating, wipers or two-way in this old classic.
I was totally taken in by the flip-up operator seat, similar to the old movie theatre seats that sprung up to the vertical once you lifted your big bum. This allowed for easier access and egress to or from the cab.
There are two joysticks mounted on the pedestal control posts, which sit in the most uncomfortable position well forward of the operator. I can guarantee that your back and arms would ache so much from operating after a big, long day in this position.
There is one single control monitoring gauge housing the limited but necessary fuel, battery and tacho information. A cable-operated hand throttle to the right of the operator's apple box (identified as a 'seat' in the specifications) let the operator create his own pace for the day.
Travel levers are located beside the operator's seat, and I can tell you it would be awkward to operate travel, boom and dipper arm controls when required in an emergency situation.
The bottom line
The old girl was inoperative on the day I passed, and with no operator in sight I realised I could not indulge myself in a simple shadow dig anywhere even though I wanted to.
The era of our pioneers is slowly but surely disappearing before our eyes. The advent of the 'scrappies' and the almighty dollar for scrap is definitely making a dent into our pioneering history with very few old excavators available for resurrection.
I would hope one day, somewhere in Australia, we could have an excavator museum where the future generations could view these old girls in original working condition and could then appreciate that the long-gone days were far from easy.
If that were ever to eventuate, this classic old O&K RH6 would have be one of the first ones there.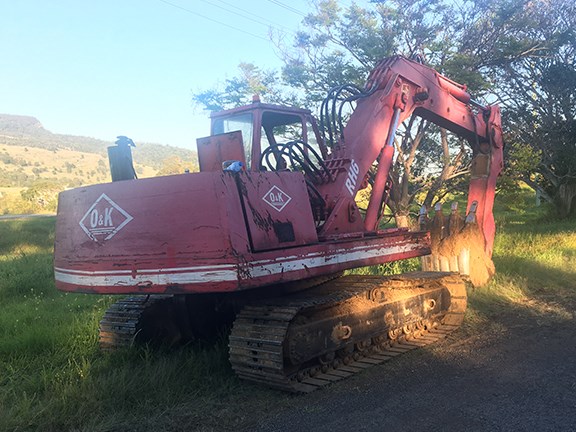 The O&K RH6 excavator with its two-piece fully adjustable boom.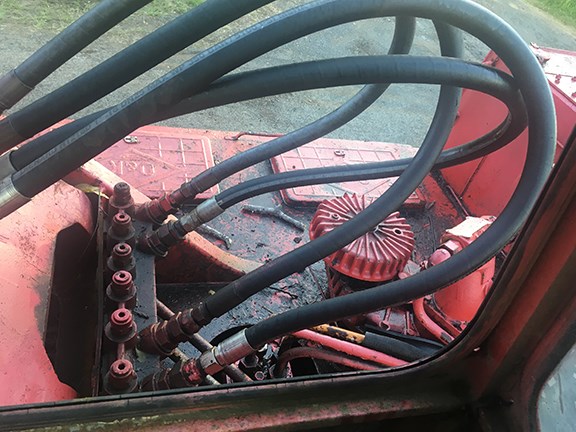 The O&K RH6 excavator sported an unusual hydraulic valve bank design.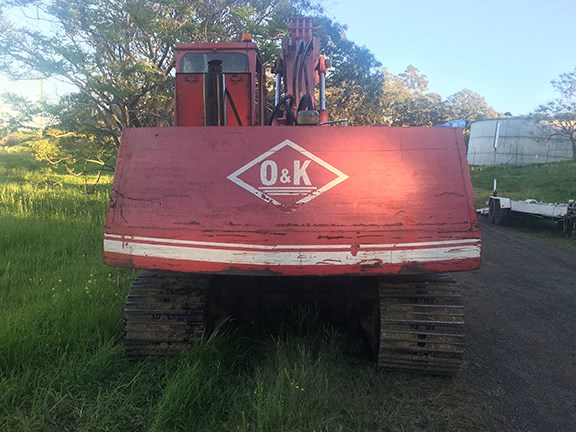 O&K was a hugely successful brand until the 1990s.

Subscribe to our newsletter
Sign up to receive the Trade Earthmovers e-newsletter, digital magazine and other offers we choose to share with you straight to your inbox
You can also follow our updates by liking us on Facebook. 

Loaders For Hire | Dozers For Hire | Excavators For Hire | Forklifts For Hire | Machinery Attachments For Hire