Review: Furukawa F70 hydraulic hammer
---
Ron Horner discovers that size does matter when he tests Furukawa's largest hydraulic hammer – the 4.3-tonne F70 – in a Queensland granite quarry.

Nothing has changed the usefulness and longevity of excavators than the good old hydraulic hammer, also known as a rock breaker or rock drill.
Krupp first introduced hydraulic hammers to Australia in 1976/77. These were the very first hydraulic attachments introduced into the country suitable for adaption to an excavator.
Hydraulic machinery attachments are now a full-blown industry of their own, and almost any conceivable attachment can be affixed to the boom or dipper arm of any sized digger.
It truly has been a perfect pairing, especially when you consider all of that power being developed from the hydraulic pump just begging to be diverted into something other than pushing a hydraulic ram in and out.

Part of my pleasure in watching the evolution of excavators is as simple as running a well-presented excavator with a beautiful hammer in a quarry.
This opportunity opened up for me recently when I was offered the chance to run a new Hyundai R520LC-9 excavator with a Furukawa F70 hydraulic rock breaker in a quarry near Brisbane.
I was on site to review the Hyundai, but thought the opportunity to test this hammer – the largest in the Furukawa range – was too good to pass up when I had it swinging off the dipper arm and its "rat-a-tat-tat" was bringing back great memories of a previous life.
Bigger is better
Made by Japan's Furukawa Group and imported by Porter Group, the F70 weighs in at almost 4.5 tonnes and develops an impact rate of between 250 and 500bpm (beats per minute).
To run such a hammer, you require a machine in the 45 to 70-tonne class (like the 52-tonne Hyundai R520LC-9 excavator), as you need a hydraulic oil flow rate of 250-340 litres per minute to drive it to its peak performance.
With an impact energy rating of 13,667 joules, the F70 hits harder than a Danny Green uppercut.
Don't even think about changing the moil-point on your own when it's required. The 180mm diameter and 860mm-long hammer point weighs a whopping 270kg, so unless you are on a steroid breakfast I would suggest you seek help from several trained professionals to get you back on track.
A bit of history
Furukawa Rock Drill has been around since it saw the potential when Noah was building his ark! Well, not quite, but the company was founded a very respectable 140 years ago and has since become a specialist in demolition and rock excavation.
The company builds quality, tried-and-tested products, and its new single-cylinder, single-liner design means Furukawa has eliminated the early issues of broken 'through bolts' in both the hammer carrier and the breaker body. Simplifying torque management and using fewer parts has also contributed to a reduction in maintenance costs.
There have been many innovative modifications to the Furukawa F70 – most notably a revision of the piston shape and rod impact surface in order to enlarge and improve the shape of the impact contact area, and also a change to the materials and heat treatment (increased hardness), which has improved reliability.
The F70 has a dust intake prevention system that keeps its internal parts clean. This, along with Furukawa's unique greasing system, which lubricates both the front head and front bushings, makes for improved longevity.
An option on the F70 is air compressor piping, which prevents water, dust, dirt and sand from entering the breaker unit. When you add auto grease piping, you have a hammer with lubrication automatically delivered to the front section of the breaker. Win, win, win!
The option of air compressor piping allows the hammer to be used underwater, which could be a deal-maker in many conditions once deemed impossible to work in.

On the job
The Furukawa F70 was certainly put to the test in this granite quarry. Anyone in the industry –especially those involved in quarrying or mining – knows exactly how unforgiving granite can be on machinery. Some days you may as well just burn a ute-load of $100 bills as the maintenance bills keep piling up.
There are certain avenues one can take to minimise the repair bill, and one of them is to have the correct equipment from the start.
Hyundai and Furukawa are a perfect match for this testing and trying rocky, barren hilltop.
The Hyundai has the short dipper arm and long track frame to handle the heavy going, while the Furukawa has the punching power to deliver the final blows to the oversized boulders being extracted for the boulder wall construction market in south-east Queensland.
The top-mount carrier frame is constructed in very heavy Bisalloy plate and, in my opinion, is a touch over-designed for this application – but that is not a bad thing. This rock is a bugger to break and, in these conditions, has sent many an aspiring excavator operator to the loony bin.
The bottom line
The old saying that 'size doesn't matter' won't even get a look in on this job … this is definitely one of those projects where bigger is better.
In this application it seems that contractor BWC, distributor Porter Group, and manufacturers Hyundai and Furukawa have combined to ensure the job is off to the best possible start.
Furukawa F70 hydraulic rock breaker … I am impressed!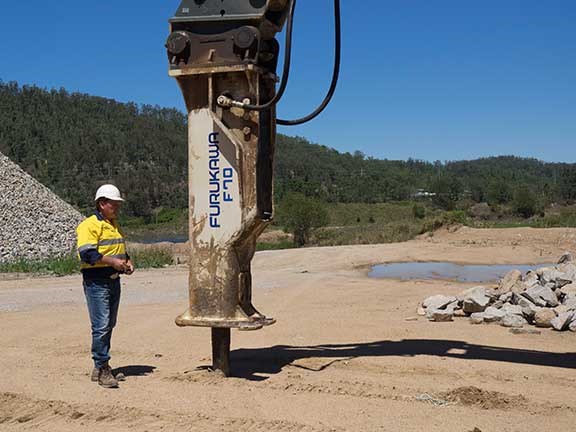 Size does matter in this unforgiving mountain of rock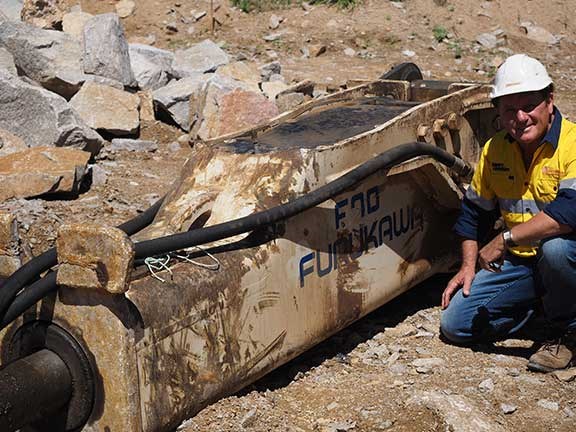 Ron Horner with Furukawa's largest hammer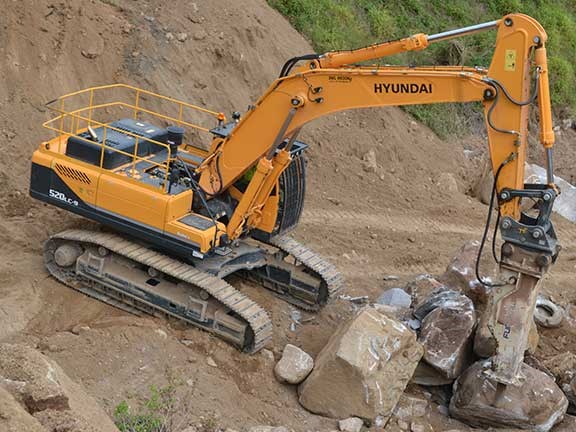 The 52-tonne Hyundai R520LC-9 is a perfect match for the F70

Subscribe to our newsletter
Sign up to receive the Trade Earthmovers e-newsletter, digital magazine and other offers we choose to share with you straight to your inbox
You can also follow our updates by liking us on Facebook. 

Loaders For Hire | Dozers For Hire | Excavators For Hire | Forklifts For Hire | Machinery Attachments For Hire