Review: JCB 3CX 70th Anniversary backhoe
---
The JCB 3CX 70th-anniversary limited-edition backhoe is a joy to behold in its 1970s-style retro livery. Ron Horner jumps into the operator's seat to see if its performance matches its looks.

To celebrate 70 years of manufacturing backhoes, JCB has decided to build and distribute 70 limited-edition 3CX backhoes, with seven of them allocated to Australia.
What makes them really special is that JCB decided to wind the clock back to the '70s and deck out the anniversary edition backhoes in the retro red, white and yellow livery last seen on the JCB 3CIII model.
I recently had my chance to demonstrate and review the only one in JCB's Brisbane yard … and let's just say I was in Backhoe Heaven.
A bit of history
JCB has always fitted Perkins diesel engines to its backhoe range for as long as I can remember. In fact, it was one of Perkins' largest customers … there was a great rapport and a lot of history there.
Then along came Caterpillar which bought out Perkins!
The crew at JCB were livid and, not wanting to find they were committed to Caterpillar (their major competitor), decided they would design and build their own engines for their own machinery.
They chose British firm Cosworth to design a totally new Tier 4 turbo diesel engine which they would make in their own factory.
A decision was made to make the effort to get it into production for the 70th anniversary, and the result is the JCB-branded four-cylinder fuel-injected Tier 4 turbo-diesel EcoMax engine under the hood of our test machine.
Walkaround
My first look at this classic remake just made my heart beat a bit faster. The '70s livery took me back to a time when backhoes were king and excavators were still struggling to make a mark on the Australian construction and earthmoving industry.
This particular machine was ready for delivery in two days, and some alterations in the livery colours had to be made at the request of the client. The wheel centres were painted black after originally being yellow and the bucket was painted black from being the original red.
Irrespective of the changes, this machine looked absolutely stunning. Needless to say we were warned: "You dirty it ... you detail it!"
This 3CX has a JCB-designed 4-in-1 front end bucket (with roll over forks), a factory-fitted extendable dipper with a Norm Engineering rotating hitch and a 1.2m-wide OZ trimming bucket. In my opinion it is perfectly set up for a contractor.
If the overall external view of the 3CX does not 'wet your whistle' then what is under those covers and in the cab definitely will.
Creature comforts ooze out of every crevice, and the technological, innovative and ergonomic advances remind one just why JCB hold a 50 per cent share of the world's backhoe market (40 per cent in Australia). 
This is truly an amazing feat, and a position every heavy machinery manufacturer would love to be in — if they knew the secret of Joseph Cyril Banford.
JC Banford personally designed and built the first of his backhoes in 1952, and would now be feeling very pleased with the efforts of his current 11,000 employees.
The limited-edition machine is based on the popular JCB 3CX Elite model, and has a front bucket capacity of 1.2 cubic metres and, with the extendable dipper arm, a maximum digging depth of 5.46m. The extendable dipper arm is factory-fitted and is the only option in Australia.
In the cab
Opening the doors of this retro classic is like heading into a new world of excitement.
The cab has been inspired by the automotive industry and features a heated air-suspension seat, a heated front screen, a chiller box and even your own coffee machine.
The operator has full 360-degree visibility through tinted windows, and the seat-mounted controls allow users to manoeuvre the machine with only their fingertips. There are three steering wheel rotations lock to lock.
Handling this machine is truly simple and effortless, and all other manufacturers will have a challenge on their hands to catch JCB in the near future.
When operating the bucket there is a foot throttle on the floor and a 3-speed twist grip on the dash. When wound up this will deliver a constant top speed of 40km/h from the Cosworth-designed 109hp engine and hydrostatic transmission.
Sitting in the operator's seat you have a 4-in-1 joystick control on your right-hand side which controls the front bucket hoist/lowering/dump and crowd, but with a quick tap of the seat release and a press of a button to 'backhoe mode' you can flip around in seconds and be ready to dig.
We just don't have the space here to describe all of the attributes of this machine, but let's just say that every conceivable extra is available — with the exception of Foxtel Sport.
Just one quibble here … although the mirrors are suitable I would like to see a set of larger domed mirrors attached to this machine.
Under the hood
These machines not only look fantastic in the retro livery but they are also great performers. The JCB EcoMax engines produce 109hp with a massive 516Nm of torque, and don't require a diesel particulate filter or AdBlue.
"This engine will raise the bar in the industry for its environmental credentials surpassing all Australian standards for emissions and diesel particulates," says JCB CEA backhoe national product manager Glenn Mcleod, who shared his knowledge and gave up so much of his valuable time in directing us around the 3CX.
"It will offer a broad appeal to operators and local governments who are moving quickly towards best practice in relation to the health of the environment and reduced fuel burn."
This engine has been shown to deliver up to 10 per cent more fuel efficiency than the current Tier 3 model on existing JCB 3CX models.
 All of the servicing and engine pre start checks can be done with the loader arms firmly planted on the ground. No need to lift and prop the arms here. If needed, however, the bonnet can be popped, the arms can be elevated, the engine covers can be easily removed and presto! It's all there for ultra-easy access.
Fuel filters, oil dip stick, radiator auxiliary tank, air filter and tool kit can be easily accessed from the left side and one position. The hydraulic oil sight glass is also located on the left side.
The polypropylene fuel tank and the hydraulic oil tank are located safely between the front and rear wheels.
Operator access to the machine is easier on the left-hand side, with three points of support via steps and handrails to gain entry to the cabin.
On the job
I had limited opportunity to test run the 3CX in a full work mode due to it already being sold and detailed.
With the "You dirty it ... you detail it" conversation we had earlier stuck firmly in my mind, I felt fortunate to just run it around the JCB Brisbane yard and have a play.
The hydraulics were smooth to operate on the front bucket, with no hydraulic fade when performing multiple operations at once. The machine travels at 40km/h over the ground but didn't get anywhere near that during the test run due to the restricted testing area.
The backhoe arm is a joy to operate, with the extendable dipper arm giving you over 5m of digging depth. The rotating quick hitch opens up all sorts of possibilities, with the multi-directional rotation allowing more bucket positions than the Karma Sutra.
I can only describe the 3CX in digging mode as smooth and effortless, comfortable and technically advanced. The seat can be positioned to operate at 45 degrees and the machine can be moved both forward and reverse without turning the seat to either a front or rear position by the flick of an override switch.
The bottom line
"The backhoe loader is what cemented JCB in the machinery industry, and we are very fortunate to get our hands on 10 per cent of the models produced," McLeod says.
Great performance and operator comfort is the ultimate here. I personally believe there should be an age limit on the guys wanting to operate one … no one should operate this unless they have accumulated 5000 hours of hard slog and done their apprenticeship on rubbish before getting their hands on one of these beauties.
They will be spoiled for life and will never want to go back due to the false sense of reality encountered by operating this machine.
I give this backhoe from JCB two thumbs up.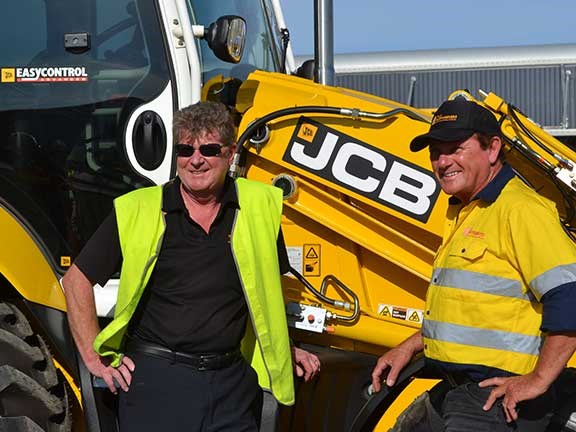 JCB's Glenn McLeod takes Ron around the 3CX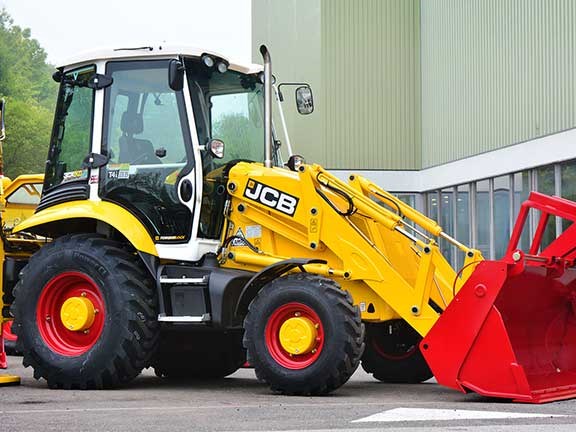 The 70th-anniversary 3CX in its true 1970s-era livery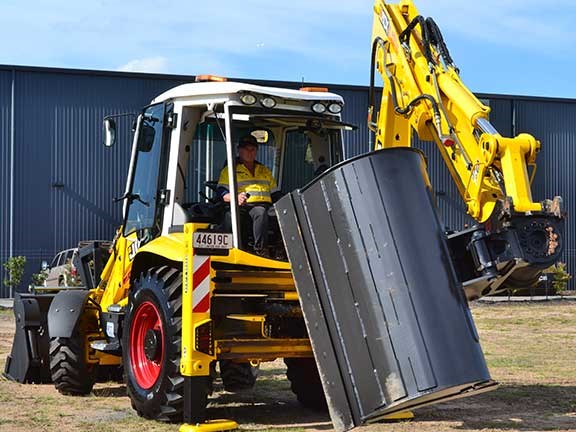 The multi-directional rotation allows more bucket positions than the Kama Sutra

Subscribe to our newsletter
Sign up to receive the Trade Earthmovers e-newsletter, digital magazine and other offers we choose to share with you straight to your inbox
You can also follow our updates by liking us on Facebook. 

Loaders For Hire | Dozers For Hire | Excavators For Hire | Forklifts For Hire | Machinery Attachments For Hire