Blast from the Past: Kato 550G excavator
---
When Ron Horner saw an old Kato 550G excavator in a Lithgow yard, it took him back to his first job as a 22-year-old heart and started his heart racing so much that he just had to stop and take a closer look.

Marvellous what you find when you start "seeing and not just looking". Recently, on what turned out to be the most productive 'Ronnie's Road Trip' yet, I once again found myself venturing into the bowels of NSW and, in particular, the Blue Mountains.
On part assignment and with some time up my sleeve to take in the sights for a change, I found myself in the lovely Blue Mountains township of Lithgow.
Now, to some folk that know me, this would not be an unusual event as I grew up there as a kid. I owned a pub there in another life, and it is where I started my earthmoving career as a contractor.
That was way back in the early 1970s, when I fitted the first Krupp 600 hydraulic rock breaker bought into the country to a new Kato 550G excavator for a major rail line reconstruction project.
And it just happened to be a Kato 550G that I spied in George Pierce & Co's Lithgow yard.
If you have a passion for machinery, cars, trucks or anything old, you'll know the feeling of that rush of blood and adrenalin you get when you find something that is as close to your heart as the old Kato 550G is to mine.
So it was that I just had to get in for a closer look. But first, a little background …
You must remember Thiess
Anyone old enough to remember Thiess Kato and Thiess Toyota would be very long in the tooth and probably suffering some form of dementia by now, so it might not be best to ask them … but I can tell you that without Thiess Brothers the current state of excavators in Australia would be nowhere as buoyant and exciting as it is today.
You see, way back in 1934 three brothers from Toowoomba registered a company and laid the foundation for what has turned out to be one of Australia's most successful earthmoving and mining companies, Thiess Brothers.
Leading by example and not being confined to old-school work practices, Thiess became the first Australian-based company to win a contract on the Snowy Mountains Scheme and went about securing equipment to complete the tasks.
A visit to Japan in 1959 to secure the Australian franchise of the tried and proven Toyota Land Cruiser marque led the brothers Thiess to investigate some earthmoving equipment seen working in the region.
With a naturally inquisitive nature, the boys were always on the lookout for something which could give the company a leading edge over its rivals. They saw a Kato hydraulic excavator and, seeing the potential in such a machine, made their way to the Kato Works factory and stitched up the Australian franchise.
The Katos were not the first excavators in Australia, as some other brands had found their way in via Europe and England, but they were definitely the most popular.
By the time the 1970s had come along, any reputable contractor wanted to own or already owned a Kato excavator. Reliable and with a parts availability second to none, Katos were the machines of the decade.
Their acceptance by the industry and popularity was unprecedented, and when Banbury Engineering took control of the dealership, Kato held a massive 80 per cent market share of all excavators sold in this country.
Defining moment
My involvement with Kato excavators started way back in 1974/5 when I was working on the original Moomba to Sydney Gas Pipeline and had the opportunity to get my hands on a brand new Kato 1500 which, in its day, was well regarded as not only the largest excavator but also the best in Australia.
Working the Ditch Crew I learned to operate diggers, first a Hopto, then an old Atlas. When the permanent operator got sick, Ditch boss Tom Ford threw me the keys to the 1500 Kato and, at 22 years of age, I sat my arse in it and became the Kato King for a week.
Little did I know that this was a defining moment in my life.
After finishing a couple of pipeline contracts and saving all of my hard-earned cash, I had the opportunity to buy my own excavator. Of course, there was only one on my mind and that was a Kato.
I went on to buy about 25 Kato excavators over a period of about 10 years and unintentionally became a pioneer in the industry of excavators and hammers.
The memories of those heady days live long and I'll always regard Horner Kato as one of my best achievements and legacies.
These days old earthmoving equipment, believe it or not, is getting pretty hard to find in any suitable condition for restoring or even in a basic working condition. The heady days of high steel prices saw many of them scrapped for their metal and melted down in some overseas steel mill.
Ironically, it was in the shadows of the ruins of Australia's very first steel mills that I found the Kato 550G. Lithgow, believe it or not, had the first commercially viable steel mills in Australia before Hoskins moved his Australian Iron and Steel Mills on to Wollongong and eventually combined with BHP.
Walkaround
A quick phone call to owner George Pearce requesting access to photograph and document the old girl was granted. His grandson, Craig, runs the George Pierce & Co contracting business these days, and took me on a personal tour of the yard.
We uncovered some real gems, with the Kato 550G being my favourite.
The Kato 550G weighs in at about 14 tonnes and runs a non-turbo Mitsubishi diesel engine. The four hand/foot control sticks and two travel levers are telltale signs that this machine is a real blast from the past.
The cabin is as basic as one could ask, with simple but effective gauges, but back in the day this was state of the art. You could have a radio fitted from the factory and windows that actually opened to let some air flow through the cabin.
The front widow could be lifted up and over the operator's head so you could see through the fogged-up windows and get some fresh air, but there was no air-conditioning or heating available on this model (a bit of a bugger in a Lithgow winter).
The seat was comfortable for the day and a big improvement on the apple-box seating arrangement of the old chain-drive Kato 350s that pre-dated this model.
No fancy hydraulics were required in those days as the small commercial hydraulic pump fitted to the Kato ran at one constant flow and was controlled by a simple link arm from the cabin controls to the valve bank.
Pull or push a lever and the linkages opened or closed the valves in the valve bank, ensuring effective operation of the relevant hydraulic rams. Simple, and nothing compared to the controls and technology available today.
This particular machine was plumbed for a hydraulic hammer and, as luck would have it, I found an old Krupp hydraulic rock breaker in the corner of the same yard.
The track drive motors proved that this was indeed an early model as the travel motors protruded well inside the track frames, but this machine had protective steel covers fitted to prevent any major damage should the operator get caught up on a rock in a quarry or pit.
The bottom line
Still painted up in near-original Kato colours with straight panels and extremely neat in appearance, this 550G machine would not be out of place in any contractor's yard today. The presentation of this digger is a credit to the Pearces.
Craig tells me that the machine still works two contracts a year with the Krupp rock breaker and, with a few new batteries fitted, it would start and run like a clock.
I developed of passion for diggers way back in the '70s – a passion which has never waned. I was then, and still am, in awe of the excavator and the continual evolution we witness today.
Kato and Thiess Bros, the Australian earthmoving, mining and construction industries thank you and will always be deeply indebted to you.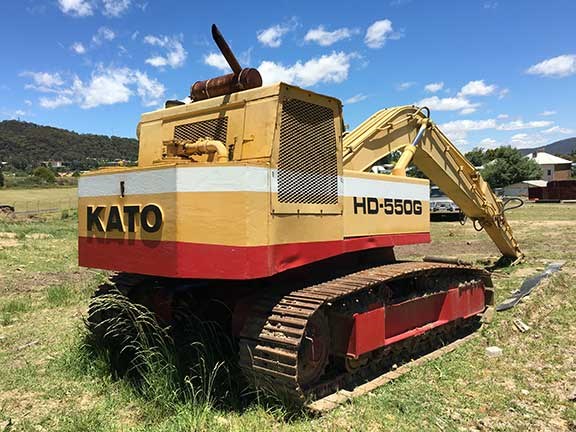 This 14-tonner is a true survivor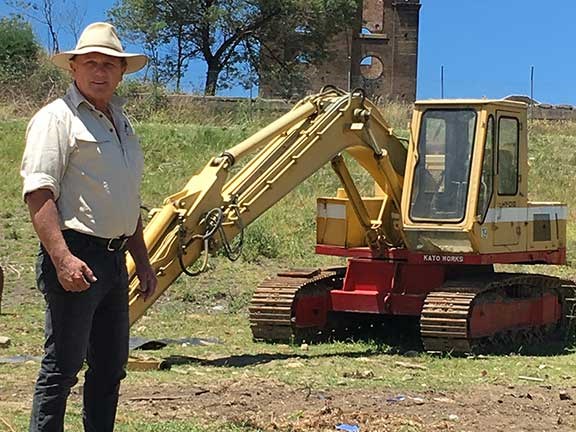 Ron Horner is taken back to where it all started

The Kato still works two contracts a year with a Krupp rock breaker

Subscribe to our newsletter
Sign up to receive the Trade Earthmovers e-newsletter, digital magazine and other offers we choose to share with you straight to your inbox
You can also follow our updates by liking us on Facebook. 

Loaders For Hire | Dozers For Hire | Excavators For Hire | Forklifts For Hire | Machinery Attachments For Hire