Used equipment review: Cat D8R Series II dozer
---
Ron Horner falls in love with a Cat D8R Series II dozer with stick rake and tree pusher.

One thing you will find when you travel this lovely country of ours is that you are sure to find some really lovely people who live in some pretty spectacular regions and, when these two attributes are combined, make these places a truly desirable place to live.
One such spot I had the fortune to find is Stanthorpe in the Granite Belt of south-east Queensland. Not far from our Earthmovers & Excavators testing grounds in Boonah, some 120km to the north, this little town has got it all.
With great community spirit, no graffiti, well-mannered and communicative teenagers (no I'm not fibbing), a backpacker-friendly attitude, a four-season climate and a thriving business centre, Stanthorpe has been voted as one of the 10 most desirable places to live in Australia. I kid you not!
The first country show on the Queensland agenda is the famous Stanthorpe Show, which just happened to be on during my stay.
The usual kids' rides, stalls, equestrian events, fireworks, ute muster and local business displays were prominent, but one in particular took my eye.
Sitting in pride of place on a corner block was a Cat D8R Series II dozer housing a big, 24-foot-wide (73m) root rake and tree pusher combined with a double-shank No. 8 quad-ram ripper on the back end.
I made a beeline to it and took it all in.
This stand belonged to Adrian and Maree Johanson of Applethorpe, just to the north of town, so I took all the details down and was determined to get to know this bloke … it looked like there was a good story behind this machine.
A couple of days later I caught up with Adrian on a job site nearby. He's a very approachable, knowledgeable and professional bloke, and we soon hit it off and started a series of very interesting events.
Adrian took us out to a block about 50km out of Stanthorpe toward Texas/Tenterfield way, where he was contracted to push in several kilometres of lightly scattered tree/scrub fence line, rake the loose material and stockpile.
The landowner had a real problem with dogs taking stock and, as he was close to a national park, had approvals to construct a 2m-high dog-proof fence to keep the marauding wild dogs at bay.
The creation of a 20m-30m-wide clearing along each side of the fence line allows clearance from any falling trees during storms, gives stock access when mustering, and provides an excellent fire break between properties.
On the day of the test, the dozer wasn't fitted with the stick rake as tree clearing was well underway but there was still plenty to do as Nurse Susie set up the still and video cameras.
On close inspection, this dozer reminded me of a State of Origin rugby league front row forward – all protective gear, stocky, solid and almost as tough as my mate Tommy Raudonikis. (Just a little less knocked around!)
In the cab
Once in the operator's seat, the first thing I realised is that the vertical vision is quite restricted. The mesh covers surround the side of the cab for glass and operator protection, but the scrub canopy covers almost the full length of the machine.
This is an integral structural and safety component for the operator and machine alike as it prevents serious injury or damage should there be a big tree or branch topple back or onto the dozer during operation.
The seating is typical for Cat. Operator comfort is more than adequate with an easy and comfortable reach to the blade and ripper controls located on the right, and to the travel speed buttons affixed to the diff-steer control lever to the left.
The dashboard is simple and effective, sitting in front of and in clear sight of the operator. Brake pedals are floor-mounted.
Under the hood
This Cat D8R Series II runs a tried and proven 306hp Cat 3406C direct-injection, turbo-charged diesel engine, which is matched perfectly with a Cat torque converter and differential steering to deliver fantastic power and reliability.
Adrian claims it is far superior to the D7 dozer he owned previously, saying: "We are in another zone with this old girl compared to our old D7 we ran prior to this purchase … very happy with it."
The transmission includes three forward and three reverse speeds. These are button controlled and integrated with the one-wrist-twist operation of the diff-steer lever, which makes controlling the dozer very easy and smooth.
Access to most components requiring checking, repair or replacement is reasonable when you pull the side covers off each side.
On the job
Nothing gets a bloke's adrenalin going more than when he hears that big Cat donk break the bush silence and sees the puff of diesel smoke drift up to the tree canopy … you've gotta love it!
When we cranked the old girl over I knew straight away we had a good one. A quick warm up, brakes off, a wrist twist, into gear and we were off.  
Our drive sprockets, upper and lower track rollers, track guards and ground-engaging components were all in tip-top shape and, with the machine surprisingly well balanced, it was effortless to drop the first few trees.
As I said above, your vision is quite considerably impaired by the full fall and scrub protection canopy, but once you get the feel for the straight-line pushing you feel a lot more at ease.
The Cat D8 Series II dozer was very responsive to the call of tight turns, quick pushes and even quicker retreats once the foliage was felled. You can accomplish a pretty good finish on the rough surface with this machine.
The old girl had no problem at all stockpiling the trees and logs, and the D8 handled the task so effortlessly that there were never any touchy moments when I thought my safety may be of concern.
This is unforgiving terrain and is particularly hard on track gear and ground engaging wear parts.  Adrian says that he gets about 1500 hours per side and only buys original Caterpillar track components (even at $60,000 per set, he says it is still the best value).
This high wear rate, about twice the normal average, has to have a reflection on hire rates and many an unwary contractor has come and gone due to not understanding the ground conditions.
The No. 8 quad rippers on the back end were not used on this site but were vital for keeping the balance of the machine in check by counter-balancing the heavy blade/tree pusher/rake configuration.
Adrian says they also come in mighty handy when ripping rock and very tight materials in dam and road construction, and also to provide easier-won material for his Cat 627 scraper.
The bottom line
As with most components made by Caterpillar, and especially the dozer range, the D8R is built to be rebuilt.
It is a well-balanced, powerful machine, modified to suit this particular application in the Australian scrub, and has provided excellent reliability and delivered many hours of hard work for its current and previous owners.
Now, when you are looking for a dozer – personal opinion only – I would not go past looking for a good second-hand machine such as the one Adrian has purchased.
With 8500 hours on the clock and running like a dream for a year since purchase, this dozer has plenty of life in it yet, even in some of these tough, granite rock-strewn mountains and gullies where Adrian is committed to work.
Caterpillar has claimed the market share on dozers in Australia for many years and has not let the customers down with inferior workmanship, product or parts availability. In Australia it is just as important to have a reliable and accessible spare parts division as it is to have a trusted supplier and manufacturer – another reason why Cat dozers are so popular in this country.
The Earthmovers and Excavators magazine or our TradeEarthmovers.com.au site can provide you with the links to some quality used equipment at very competitive prices.
This old girl has got my thumbs up for sure … I love it!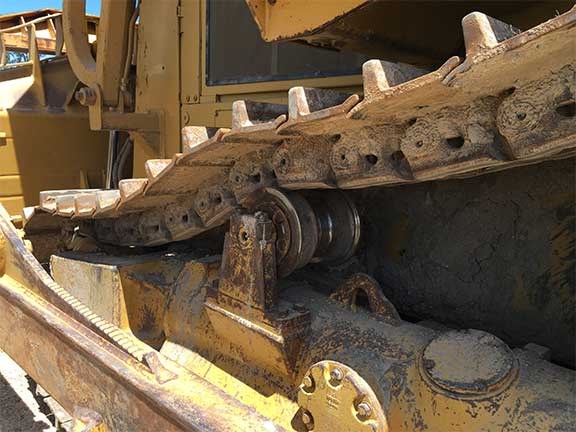 Our drive sprockets, upper and lower track rollers, track guards and ground-engaging components were all in tip-top shape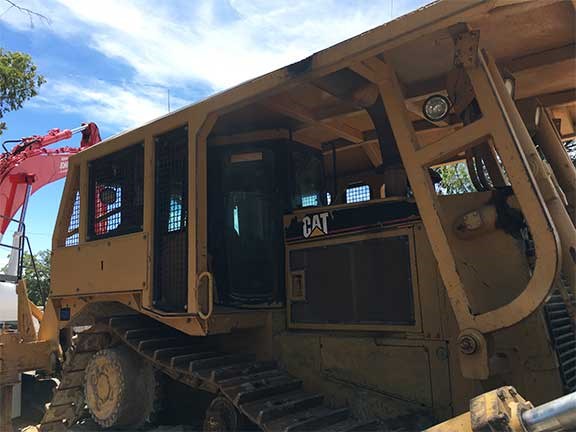 The scrub canopy covers almost the full length of the machine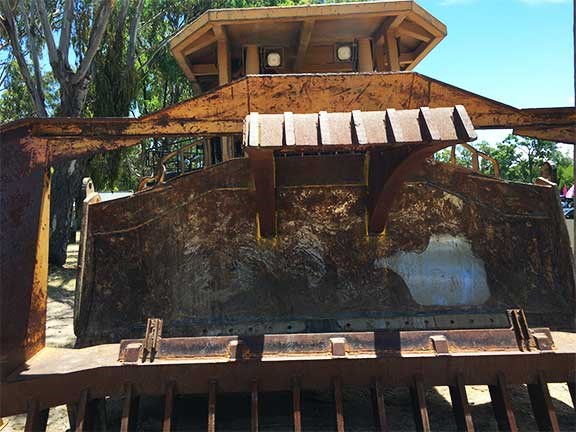 This is a well-balanced, powerful machine

Subscribe to our newsletter
Sign up to receive the Trade Earthmovers e-newsletter, digital magazine and other offers we choose to share with you straight to your inbox
You can also follow our updates by liking us on Facebook. 

Loaders For Hire | Dozers For Hire | Excavators For Hire | Forklifts For Hire | Machinery Attachments For Hire