Review: Great Wall Steed ute
---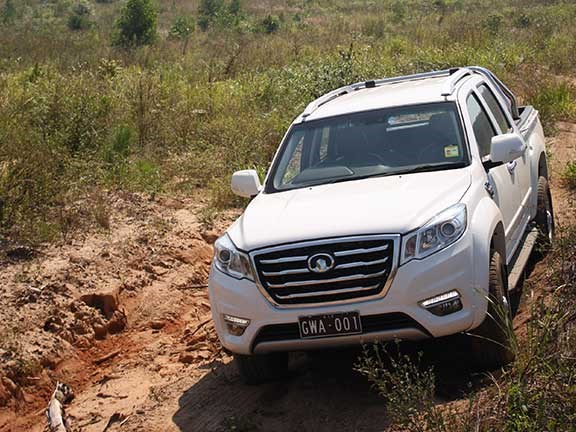 The Great Wall Steed does okay in low range. There's not a lot of grunt on tap, though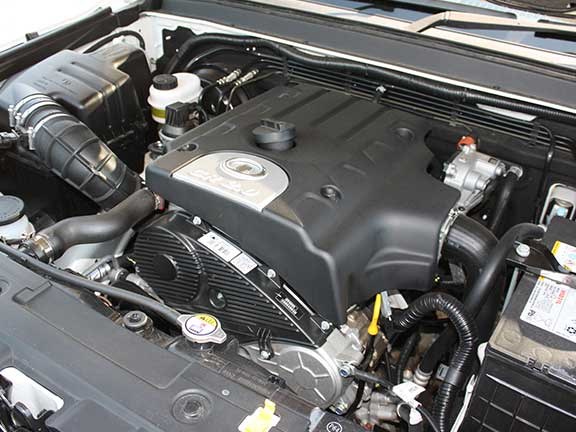 This bit makes lots of noise. It doesn't do a lot more than that, unfortunately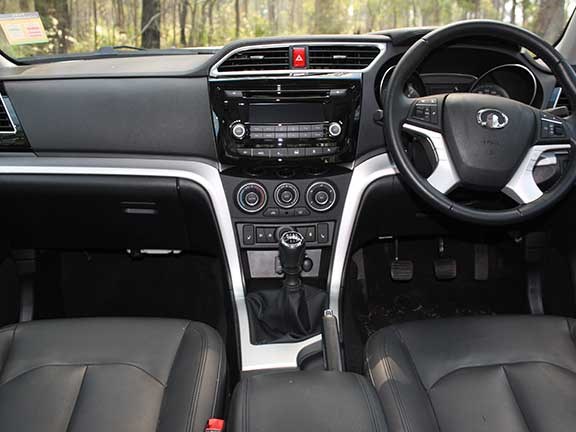 Cabin fit and finish is a big step in the right direction. The cockpit is actually quite a nice place to be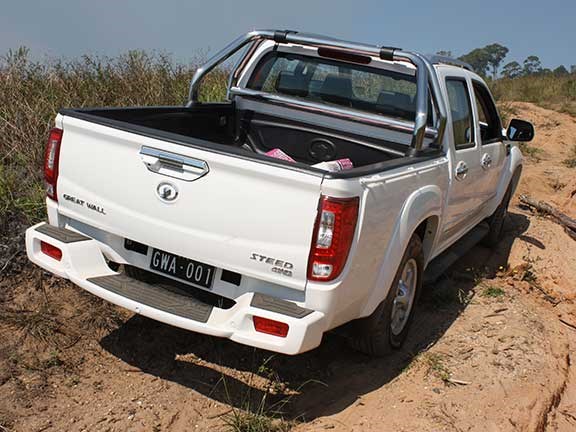 The Steed was predictable and capable enough on gentle bush tracks

Matt Wood takes the Great Wall Steed ute for a road test and finds that, while Chinese vehicle makers are well on their way to making quality machines, in this case there's still some hard work to be done.


Let's address the elephant in the room. Yes, Chinese-manufactured vehicles don't have a great track record in Australia. Cheap and cheerful only worked for a bit before issues around build quality, dealer back up, parts availability and, in some cases, reliability kicked in.
No doubt there's plenty of cultural chauvinism around these vehicles. However, only the naïve or the ignorant will state that the Chinese will never cut it.
Just as the Japanese did all those decades ago and just as the Koreans did more recently, make no mistake the Chinese manufacturers will produce world-quality cars and they are already well on the way.
Which brings us the Great Wall Steed, a facelifted version of the old Great Wall V240 ute that graced our shores a few years ago.
The relaunch, after a legal stoush with local distributor Ateco, has seen an exterior freshen-up, updated drivelines and some added tech and safety gear, as well as revised pricing. Great Wall Motors has now assumed control of local operations for the Great Wall brand as well as the Haval SUV line up.
The Steed is available in dual-cab guise as a 4x2 petrol or 4x4 and 4x2 diesel. The 2.4-litre petrol donk makes 100kW and 205Nm and uses a 5-speed manual trans. The oiler option is a 2-litre 110kW(148hp)/310Nm turbo-diesel that uses a 6-speed manual. Shift-on-the-fly 4x4 is a push button affair on the dash and has the option of 2WD, AWD (on-demand 4WD high) and 4WD low.
The dual-cab-only line-up will take a tonne in the tub, or tow two tonnes with electric trailer brakes.
We got our mitts on the top-of-the-range diesel dual cab recently for a squirt in the dirt as well as some highway kays with a load on.
In the cab
This model features faux leather, auto headlights and electrically adjustable driver's seat. It even has alloy wheels, side steps, a sports bar, and daytime running lights. Six airbags and electronic stability control are standard kit.
As the Steed is based on the old V240 platform, which was based on an even older platform, it also features the same cramped back seat and narrow rear doors of the old jigger. It's only slightly more comfortable than sitting in the back of an extra-cab ute. In other words, it's really only seating for people you don't like or kids for short trips.
Regardless of the age of the platform, initial impressions of the cockpit are quite good. There's carpet everywhere and heated seats to park your butt on, though, perplexingly, rubber floor mats are an optional extra. Other than that, fit and finish in this area is much improved. From behind the wheel it doesn't feel cheap and nasty.
Then you turn the key.
On the road
The 2-litre powerplant sounds a little like a campsite gen-set in operation. But it's the performance on said power plant that raises eyebrows. This engine takes the words 'turbo lag' to dizzying new heights.
Driven with anything less than a firmly planted right foot results in performance that can best be described as ponderous. This is the kind of vehicle that makes pulling into moving traffic a hair-raising ordeal, and it's even worse with 400kg of bagged cement in the tub.
A Master Chef contestant could make a soufflé, fail, have a tantrum and cry in the time it takes for any kind of forced induction assistance to take hold.
Driving in traffic required a kind of driveline wind-up approach as anything under 3000rpm resulted in the kind of acceleration you get from a loaded B-double tanker.
On the road, the IFS torsion bar front end is okay. However, the rear suspension is speaking another language altogether when unladen. It wiggles, jiggles and bounces like most empty utes used to long ago.
The addition of the aforementioned bags of cement settled it down somewhat, however the Steed then had a tendency to lean and squirm when cornering.
The guys at the Active Rear Suspension Engineering department need to do some work here. I'd hate to think what it would be like with a tonne on its back.
The Steed is also over-geared. The old-school single-turbo donk does not have the guts to handle tall overdrive gearing. Even empty, the Steed struggles to maintain 100km/h at 2000rpm in sixth in undulating country.
In the dirt
We hit some bush tracks in the Glass House mountains to give it a run in the dirt and, to be fair, in low range it did okay. Bear in mind we still had the 400kg cement in the tub. Unfortunately, when it comes to being in the bush, I found that you couldn't turn the parking sensors off. Which drives you absolutely nuts when maneuvering in the rough.
The self-locking doors also take a little getting used to. You get locked in once on the move, but when you come to a halt you have to unlock the door to get out if the engine is running.
This would drive those in the country nuts if you have to stop and open multiple gates. It's just one of many niggles.
Fuel economy was pretty good, though, 10.1L/100km average over bush tracks, city and freeway routes.
Then there's the AANCAP safety regime, which just rated the Steed with a dismal two-star rating. This wasn't so much due to a lack of safety equipment but down to a structurally weak cabin.
The bottom line
These Great Wall Steed utes are purely and simply workhorses in their home markets and, as such, don't require a whole lot of equipment. Export markets get the gadgets but the integration of these features is often clunky, such as the Steed's woeful Bluetooth, which is barely usable, or the parking sensors.  
Australia's demand for sophistication in 4x4 utes is often at odds with other parts of the world. This is one of the reasons it took Holden more than four years to get the Brazilian-engineered/Thai-built Colorado up to scratch.
At $29,990 drive away, the Steed is way too expensive. Another five grand or so gets you into a dual-cab Mitsubishi Triton GLX 4x4, which is a far superior car in every sense.
Great Wall needs a safe, well-specced, up-to-date 4x4 platform that isn't loaded with gadgets in an effort to emphasise the value equation. Aussie punters are already wary after the brand's last foray locally, and if our drive is anything to go by, there's still a lot of hard work to be done.
Subscribe to our newsletter
Sign up to receive the Trade Earthmovers e-newsletter, digital magazine and other offers we choose to share with you straight to your inbox
You can also follow our updates by liking us on Facebook. 

Loaders For Hire | Dozers For Hire | Excavators For Hire | Forklifts For Hire | Machinery Attachments For Hire